Capturing the attention of holiday shoppers is challenging for small businesses lacking the online exposure of more prominent brands. Consumers want to patronize small companies, but they need to know you exist and that your service will satisfy their shopping needs.
You can personalize your holiday marketing strategies to fit your target audience while delivering the right amount of value and information. Boost your seasonal sales using the following resources and marketing tips for the holidays.
1. Marketing for the Holidays: Plan Your Approach
How will you tackle the biggest shopping days of the year? You may have a list of deals based on overstock inventory and top sellers. But how does that translate into a holiday marketing strategy?
Think about your biggest shopping days, the deals you'll promote, and how you'll keep momentum through the end of the year.
Holiday Marketing Strategies 101
Follow these steps to create campaigns for the big shopping days while encouraging early and late shoppers to take advantage of your sales:
Create a holiday marketing campaign theme: Decide on a central message that you can use throughout the holiday season. Your theme must be flexible to fit Small Business Saturday, and last-minute shoppers come December.
Think about your marketing goals: Of course, you want to increase sales this winter. But, go a step further and set objectives for sales stemming from various channels, such as Facebook, your physical store, and email.
Select your target audiences: Take a look at your demographics by channel and use this data to guide your holiday marketing ideas. For instance, if your Facebook followers tend to be older than your Instagram fans, make a note of it.
Decide which channels to focus on: It's tough for small business owners to be everywhere at once. Make a list of your platforms, then prioritize them based on potential exposure and sales.
Choose holiday promotion ideas: What are you offering to current and new customers? Come up with holiday sale ideas for the Black Friday, Small Business Saturday, and Cyber Monday shopping fest.
Define your promotion plan: Use the information from above to create a promotion strategy for each channel and audience. List the platforms, potential content marketing ideas, advertisements, and deals you'll use.
Resources for Planning Your Holiday Marketing Strategy
2. Develop Holiday Promotions for Small Business Saturday
American Express launched Small Business Saturday in 2010. Last year "American consumers spent an estimated $19.8 billion at independent retailers and restaurants on Small Business Saturday."
American Express says, "small business owners rolled out a variety of giveaways and special offerings to consumers, a smart strategy as 43% of consumers reported that they took advantage of special offers or promotions from small businesses on the day." This year Small Business Saturday falls on November 27th, and your actions can impact sales through the end of the year.
Get noticed on Small Business Saturday using these holiday marketing tips:
Add your business to the American Express "Shop Small" map
Download ready-to-use free marketing materials from American Express
Customize signs and social posts in the American Express Shop Small Studio
Get involved in community events for Small Business Saturday
Get resources like a social media toolkit on the Small Unites platform
Host a giveaway and live stream your winner announcement
Partner with other small businesses for bundled prizes and deals
Bundle products for an in-store raffle
Resources for Small Business Promotional Ideas
3. Build Upon Existing Customer Relationships
Exclusive offers appeal to current customers who often feel left out of the one-time discounts for new shoppers. Yet, existing clients are your best customers! They recommend your business to their friends, share your social media posts, and regularly come back to shop.
When planning your holiday marketing strategy, consider special promotions for your customers. A coupon or online discount code included in a personalized email, direct mail, or text message can do the trick. Or invite them to shop your event early during a customer-only small business sale.
Don't forget to promote your shipping and buy online, pick up in-store (BOPIS), and curbside shipping options.
Getting Started With Coupons: Resource List
4. Create Festive yet Informative Holiday Marketing Content
Highlight your holiday marketing theme across all your digital and physical assets. This helps pull them together, so they're memorable. At the same time, deliver the details your small business shoppers want. Christmas shopping is fun, yet it's also challenging to find the right gift for certain people while sticking to a budget.
Your content marketing strategy for the holidays can enhance customer experiences, increase brand recognition, and improve relationships with shoppers. Keep your target audience in mind and optimize the content for search engines like Google, YouTube, and Pinterest. In addition, scatter short customer reviews or testimonials throughout your content.
Content promotion ideas for the holidays include:
Buyer's guides
Unboxing videos
Deal landing pages
Frequently asked questions (FAQs)
Downloadable checklists
Product recommendation quiz
"Best of" lists
Comparison guides
Reviews
Tips sheets addressing pain points
Guides and Tutorials for Holiday and Small Business Content Marketing
5. Leverage User-Generated Content in Seasonal Promotions
You've been collecting user-generated content (UGC) all year from various hashtag campaigns on social media. You may even have some images or videos from last year's holiday marketing efforts.
Put your UGC assets to work for you by including them in:
#ThrowBackThursday social media posts
Fun memes with past, present, and future brand holiday depictions
Content marketing assets, like buyer's guides and giveaways
Instagram Stories for the holiday season
Resources for Gathering and Using UGC
6. Appeal to Holiday Shoppers' Emotions
Small businesses offer an idea that many people are interested in: supporting local communities. They want to shop small because they want to see people like them succeed. And they appreciate the stores that keep their town busy.
Use storytelling to appeal to your customer's emotions. Talk about what you've learned — as a business owner and a brand — since the pandemic began.
Point out that an average of $0.67 of every dollar spent at a small business stays within the community. Back up this statistic by highlighting local vendors and partners that your business works with. Share images with teams you sponsor or your staff participating in local events or your charitable contributions.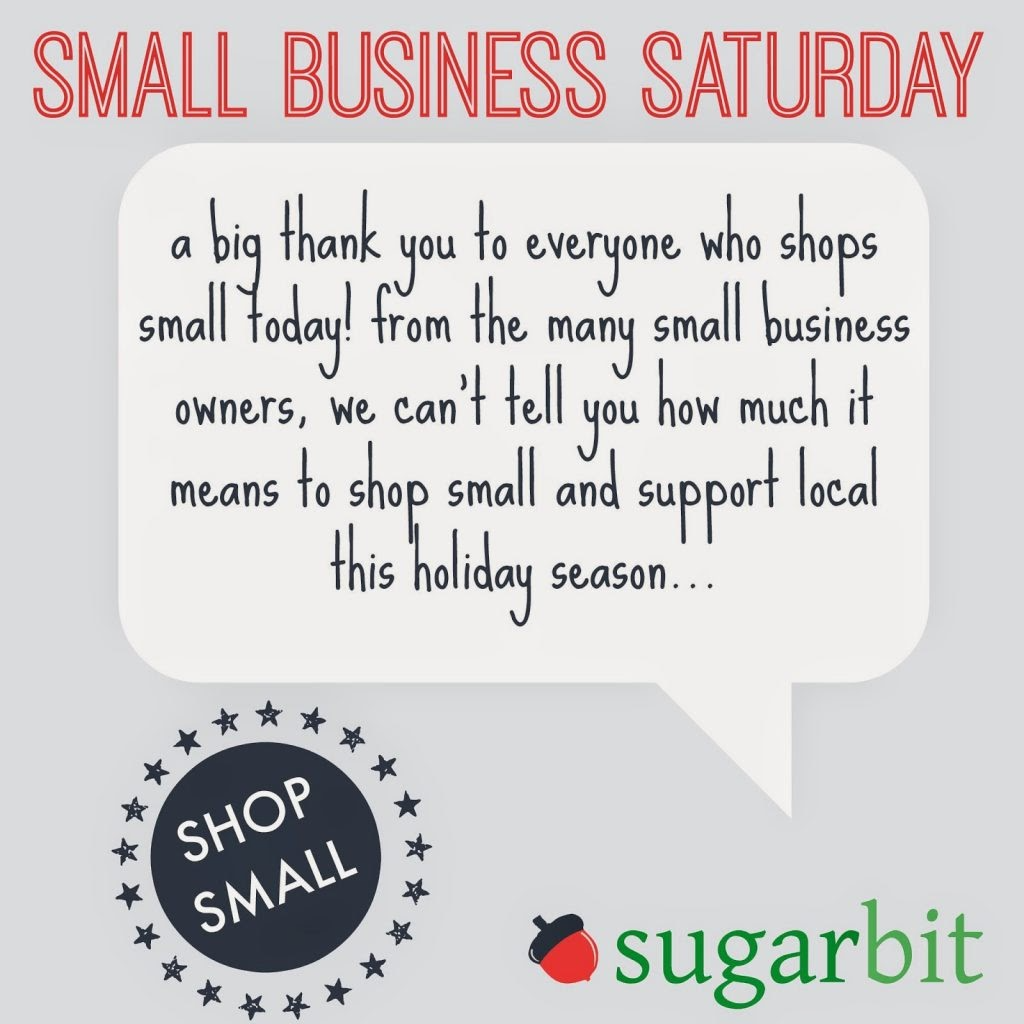 Resources for Small Business Storytelling
7. Get Social: Holiday Marketing Tips for Social Media
According to American Express, "more than half of Americans who shopped small on the day saying they supported a small business via social media — either by recommending their favorite small businesses on social media or shopping at a small business because of one they saw on social media."
Bring holiday joy to your social channels by changing your cover images to match your campaign theme aesthetics. Research hashtags on each channel and use a mix of high and lower volume terms, including #ShopSmall, #SmallBizSat, and #SmallBusinessSaturday. Plus, use variations of these hashtags for local areas, such as #ShopSmallColorado. Don't forget to tag American Express's @shopsmall on Instagram and Twitter.
Keep your social accounts fresh and festive using:
Short videos for Instagram Reels, TikTok, and Facebook
Longer holiday-focused content for YouTube and your website
Social media posts highlighting your employees and community
Interactive experiences like polls and quizzes
Giveaways with a holiday theme, like the 12 days of Christmas
Resources for Small Business Social Media Marketing Ideas
Put Your Holiday Marketing Strategy to Work
The biggest shopping days of the year are coming up, and people want to choose small businesses. Reach out to them and promote your offerings with a diverse marketing mix. Doing so builds anticipation, expands your audience, and increases brand trust.
Need help implementing your Q4 marketing ideas?
Ready to put your holiday marketing strategy into action but aren't sure where to start? Contact the Woobox team from 8 am to 5 pm PST, Monday through Friday at 1-360-450-5200 and via support@woobox.com.