The fourth quarter of 2021 is just weeks away, which means it is time to start planning your holiday Instagram marketing strategy. According to eMarketer, consumers spend more than ever during the holidays, meaning there are plenty of opportunities to increase revenue this year.
But how consumers find brands and where they make purchase decisions has changed with the addition of features like Instagram Shop, overall Instagram live usage, and additions like Instagram's explore tab.
Social media platforms and apps like Instagram are becoming crucial to the buyer journey. In fact, 72 percent of Instagram users say the platform has impacted their buying decisions–far more than other social platforms like Facebook and Snapchat.
If you want to make the most of Instagram this holiday season, we've curated a few of the hottest Instagram trends to pay attention to when creating holiday marketing strategies. Explore some of the latest Instagram trends and a few new angles on tried-and-true Instagram marketing strategies.
Video Matters: An Ongoing Instagram Trend
Instagram may have started as a photo-sharing app, but that's no longer its main purpose. The head of Instagram recently said the app is moving away from its photo roots to focus on entertainment, videos, shopping, and messaging. This might be the most important Instagram trend to keep an eye on as we go into early 2022.
Instead of focusing on just images, brands should explore other options, including videos, Instagram reels, and IGTV. For example, one of the newer Instagram trends is the rise of long-form video content, particularly for some niches on Instagram TV.
Overall, videos are a must-have on Instagram, but make sure to focus on the entertainment aspect, not just sharing products to maximize marketing strategies. For example, Sur La Table uses Instagram to share how-to videos like this one: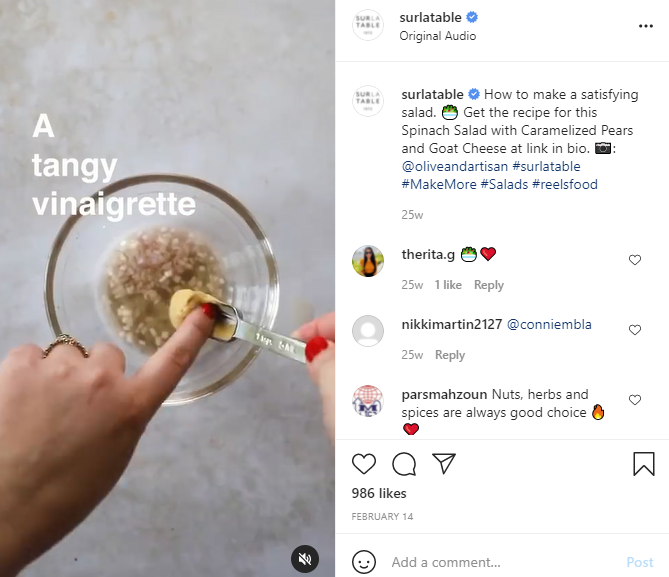 How to use video this holiday season:
If how-to videos make sense for your brand, they are a great way to drive engagement on Instagram. Here are a few other ideas :
Use Boomerang to create a funny loop of dancing at a holiday party
Share long-form videos of new holiday product launches
Add videos of your staff's Halloween costumes to Stories
Relatable Influencers Drive Engagement
Possibly the very first Instagram trend, Influencer marketing is a powerful way to drive engagement and brand awareness on Instagram.
According to Digital Marketing Institute, 49 percent of consumers use influencer recommendations to make purchase decisions. But are influencer marketing strategies the right choice for your brand during the holiday season?
Influencer marketing delivers 11 times the ROI of other forms of digital advertising, making it an ideal strategy for brands of all sizes. The good news is you don't have to spend millions on top influencers to leverage this strategy.
Micro-influencers, those with a few thousand followers in a niche market, can be just as effective and far more affordable.
How to use influencers this holiday season:
Find influencers in your niche using influencer engagement marketplaces. Look for influencers who post about topics related to your industry and reach out via direct message or through the marketplace. Costs can vary based on the industry and the number of followers, but you can expect to pay a few hundred dollars per post.
@butterbeready is a mid-level influencer with around 40,000 followers. They pair with food-related brands like Sur La Table and InnovAsion to share recipes.
Here are a few other influencer marketing ideas for the 2021 holiday season:
Pair with influencers to review your products/services
Sponsor an influencer gift guide
Partner with an influencer to run an online giveaway
Use influencers to review and promote holiday gift sets
Live Content Drives Instagram Users to Watch
Want to really connect with your audience this holiday season? Give live broadcasts a try.
Like Facebook Live, these live broadcasts are a great way to build a stronger relationship with your audience and expand your Instagram marketing reach. Instagram Live videos show up in users' feeds and can be shared later via IGTV, where they can be discovered by other users.
To start a live broadcast, tap the + symbol while logged into your Instagram account on mobile, then scroll to the "Live" option. You'll be able to add a title, comment, and even see how many viewers watch your video.
Remember to focus on entertaining, not just selling. Instagram users expect some marketing, but they come to the app to be entertained. For example, Tarte Cosmetic uses Instagram Live to share holiday-inspired makeup tutorials, and then shares them to IGTV:
Joanne Fabric Stores takes a similar approach, by sharing holiday tutorials and how-tos guides. After the live event, the videos can be viewed anytime on the IGTV section of their profile: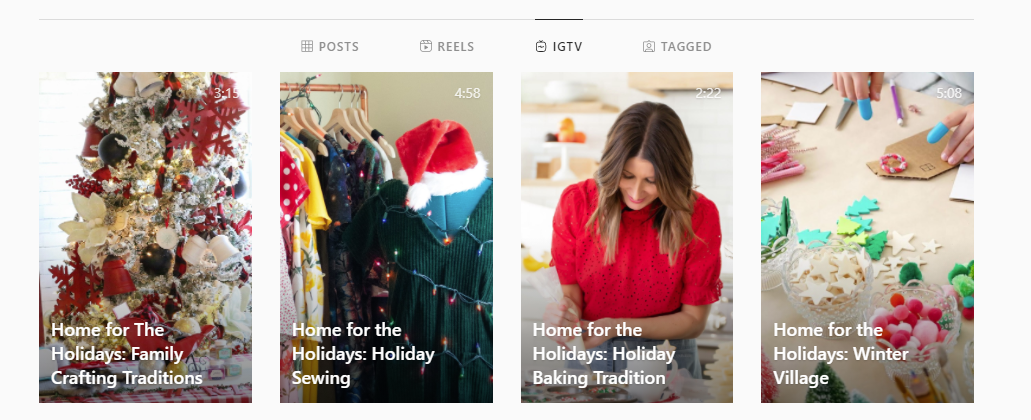 How to use Instagram Live this holiday season:
Host contests or giveaways
Unveil new product lines
Share unwrapping videos
Create holiday gift guides
Host Q&As with Staff or influencers
Bonus tip: While you can't run ads for IGTV content, you can use sponsored Instagram Stories to reach a wider audience with live videos.
Timely Content is the Key to Holiday Sales
Timely content, including posts related to upcoming holidays, shows you understand your audience's wants, interests, and likes. It creates a stronger bond and keeps followers interested throughout the holiday season. Timely content can also increase reach by targeting hashtags and topics users are likely to be searching around the holiday season.
For example, @bikerbarre ran an online holiday contest to encourage users to keep up with their workouts during the holiday season. They used holiday imagery and offered users an unlimited month of workouts for $100 as an incentive:
How to use timely content this holiday season:
Posting content related to the upcoming holidays should be a no-brainer. Look for ways to get creative and use hashtags users are likely to search around the holidays. Here are timely content ideas to inspire your 2021 holiday content calendar:
Share holiday sales (don't forget to use videos and Instagram Live)
Create a gift guide and include your products and related brands you love
Host a holiday-themed photo contest
Share behind-the-scenes holiday-related content such as staff Halloween costumes, holiday decorations, or clips from a holiday party (even if it's an online party!)
Don't forget to search and use popular hashtags to increase the reach of your content!
Instagram Stories are Still Hot
Instagram Stories, released in 2010, show up at the top of users' feeds and expire after 24 hours. They offer additional options to add music, stickers, polls, and even links. Even more importantly, Stories get more engagement than regular posts and reach 500 million people a day.
Instagram Stories allow you to get creative, share multi-post content, ask questions, and even add your favorite music clips. Plus, you can archive Stories by creating Highlights, which live just below your bio on your profile: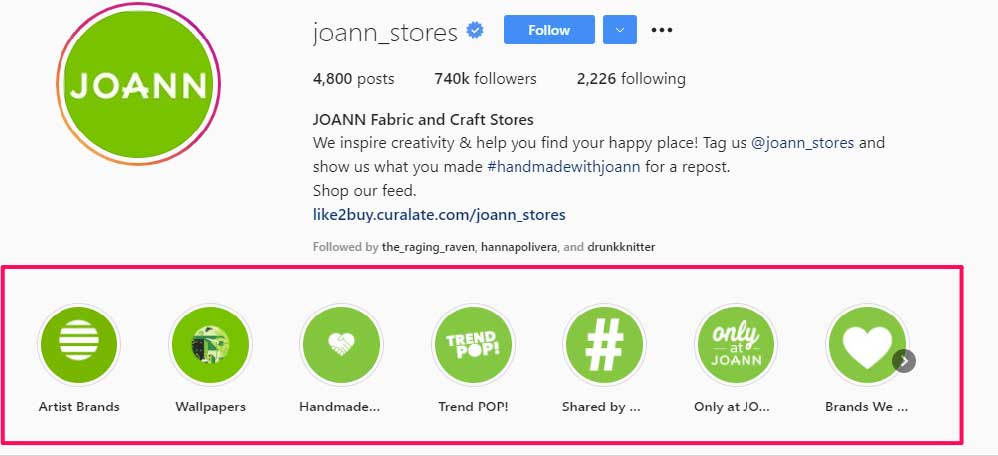 How to use Instagram Stories this holiday season
Share holiday-related how-to guides, such as DIY projects or recipes
Share holiday-themed menu items, products, or kits
Use the poll feature to ask customers what type of sales would interest them
Host a holiday-themed giveaway
Share your goals and aspirations for the New Year
Promote flash sales
Share a holiday music playlist
Bonus tip: Use Instagram Story ads to increase reach for your holiday sales, products, or giveaways.
Final Thoughts: Holiday Trends for Your Instagram Marketing Strategy
Summer may be just wrapping up, but holiday marketing is in full swing. All sorts of the latest marketing trends are useful to consider, whether you're using Boomerang for better video engagement with Instagram Reels and Stories, or creating more timely content to improve performance in the explore tab and gain followers.
Stand out even more by leveraging popular Instagram trends and features such as videos, influencer marketing, live video, timely seasonal content, and Instagram Stories. Consider hosting a holiday-themed contest or giveaway to encourage users to interact and share your content.
Want to learn more about setting up Instagram giveaways or contests? Woobox Support is available for help from 9 am until 5 pm PST, Monday through Friday at 1-360-450-5200 or support@woobox.com.