Have you started your holiday marketing campaigns yet?
While you might think "I still have plenty of time, Halloween isn't even here." holiday shopping has already started.
A survey conducted by RetailMeNot, in partnership with Kelton Global, found over half (54%) of shoppers plan to begin shopping for the holidays before the Black Friday weekend. If you are thinking you still have time, 25% of shoppers from the same survey said they planned to start their shopping before October.
While the right time to run holiday campaigns will vary from business to business, starting early ensures a better chance of capturing the percentage of ideal customers who are already planning their purchases. Starting early also gives your campaign a better chance of being seen and engaged with by your target customers before the mass flood of holiday deals and specials drown customer attention.
A Deloitte holiday retail survey found that decisions about where consumers will shop and what they'll buy will be largely pre-determined by digital interactions.
Let's cover 5 attention-grabbing holiday campaigns you can start now to make sure your business makes the shopping list this season.
1. Attract and entertain your target audience using a personality quiz with product recommendations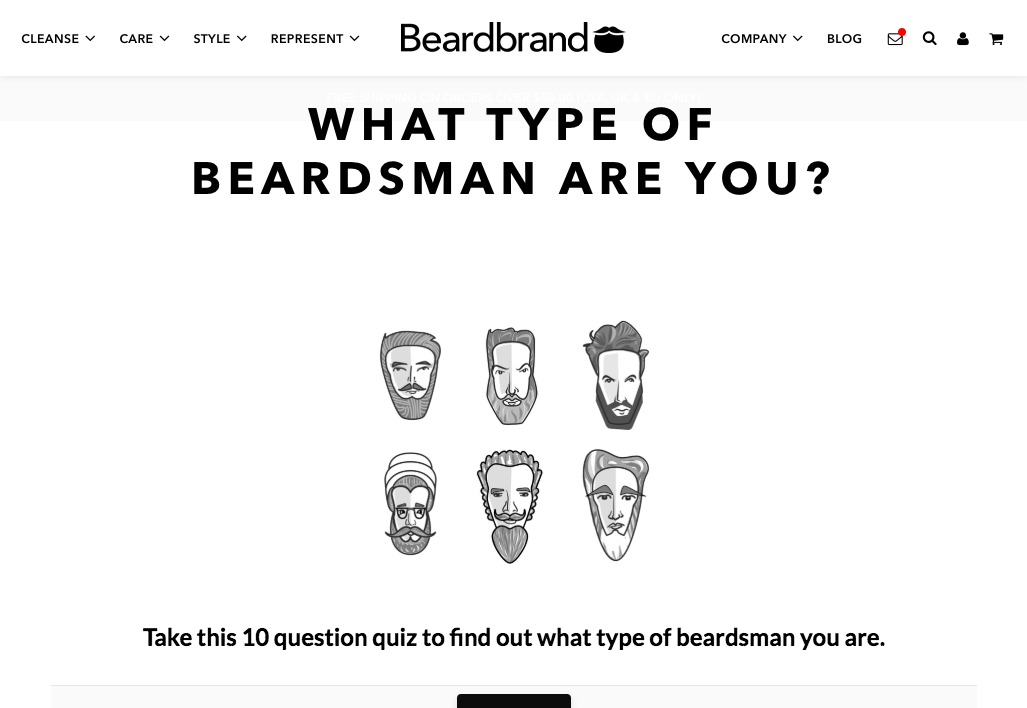 Our brains love quizzes, and BuzzFeed's success has proven both high engagement and virality of personality quizzes. A personality quiz can help your brand stand out amid the noise in a fun, less marketing, and more entertaining way.
For the Personality Quiz to Drive Sales during the Holidays, it must do 3 things:
It has to appeal to your target audience by asking a question that is enticing to them.
Your quiz questions and results have to relevant and engaging enough to make users want to share the quiz.
The quiz results must match the quiz taker to specific product recommendations based off of their quiz answers.
Here's a great example of a highly successful quiz campaign that included all three.
Beardsman, a brand selling beard and mustache care products, launched a personality quiz created to help their customers find appropriate beard products based on their lifestyle. The quiz generated over 150,000 leads and significantly grew their newsletter.
The Beardsman team knew their audience of men with beards valued standing out and differentiating themselves, so they created a quiz with 6 different types of "beardsmen". The quiz itself had fun, relevant questions (shown below) that would help the quiz taker find out which personality type he was.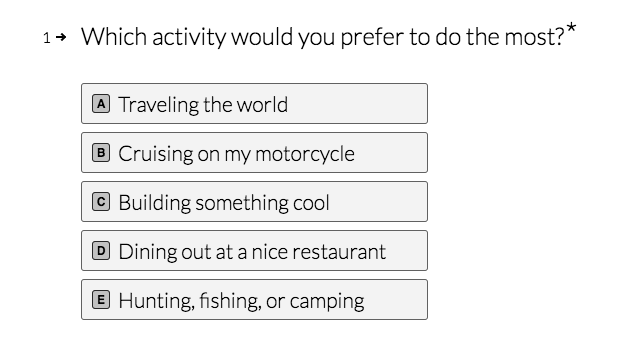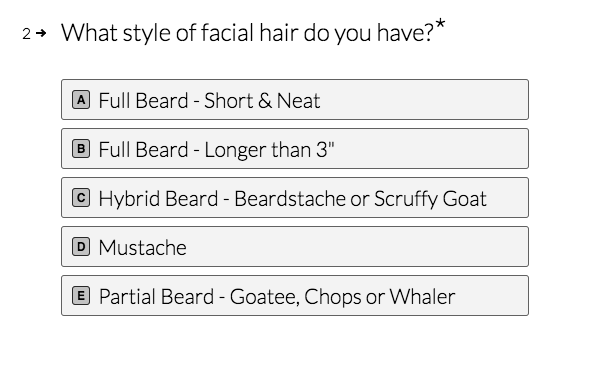 When they completed the quiz, a fun result description of their beardsmen personality type was provided, along with specific product recommendations for their personality and preferences.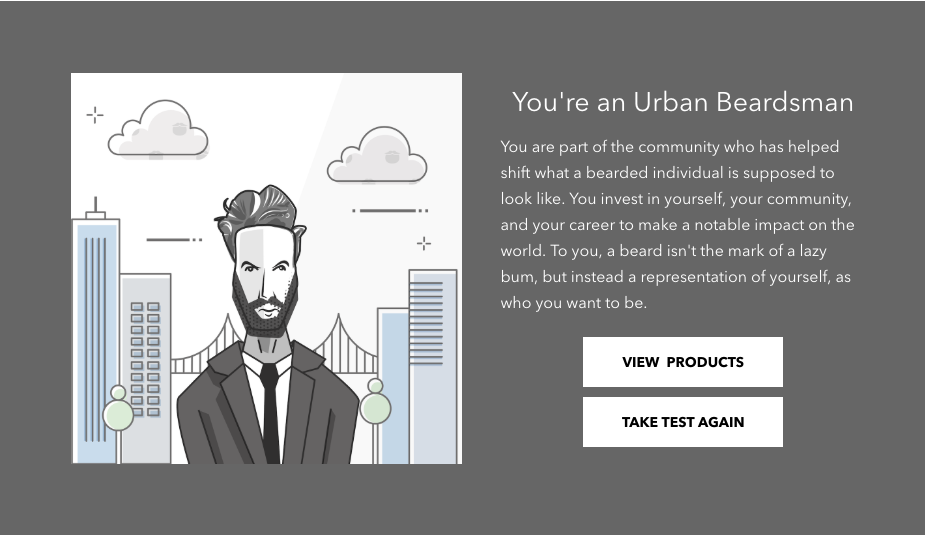 By tieing in personalized product recommendations, the quiz taker is more inclined to make a purchase while they are feeling a sense of pride and belonging to their newfound personality type.
Make sure to include an email capture with your quiz to build your list, embed your quiz on your website for both traffic and SEO backlinks, and provide each personality type with a specialized nurture campaign promoting the same product recommendations from the quiz result page.
The easiest way to setup a quiz for your marketing is by using a turnkey solution with your own branding that incorporates your product and service offerings, like Woobox. A personality quiz will not only make an effective holiday campaign, but can also be used well beyond the holidays to generate new leads.
2. Use enticing coupons earlier rather than later
While using coupons is not a novel idea, the numbers show that coupons are the most shareable content during the holiday season. A poll by Crowdtap found that when asked, "What type of holiday content are you most likely to share?" 67.2% percent said digital coupons and 63.4% percent said a link to a holiday contest or giveaway. Brands like Victoria's Secret continue to use coupons as a staple of their holiday campaigns.
There are a variety of ways to launch coupons during the holiday season (here are some ways to launch coupons without cheapening your brand). The most important part is that you launch your coupon campaigns earlier rather than later. Many shoppers will wait for sales before they make purchases, so the earlier you offer holiday deals, the sooner customers will consider making a purchase.
Another key to coupons during the holidays is marketing them online, but allowing them to be used both online and in-store. 65 percent of consumers plan to browse online and then go into a store to buy, and 90 percent of U.S. retail sales are projected to occur in brick and mortar stores. Having your coupons accessible for both online and in-store use will cater to all of your customers preferred shopping experience, and send more foot traffic through your stores if you have a physical location.
3. Turn your social media content into a gift guide
Let's start with some stats on how people are using different social platforms for shopping ideas.
It's clear that more and more people are turning to social media for their gift inspiration, and not just one platform, on several. Using the idea of a gift guide for a multi-channel marketing campaign is a clear way to move your products or services top of mind this season.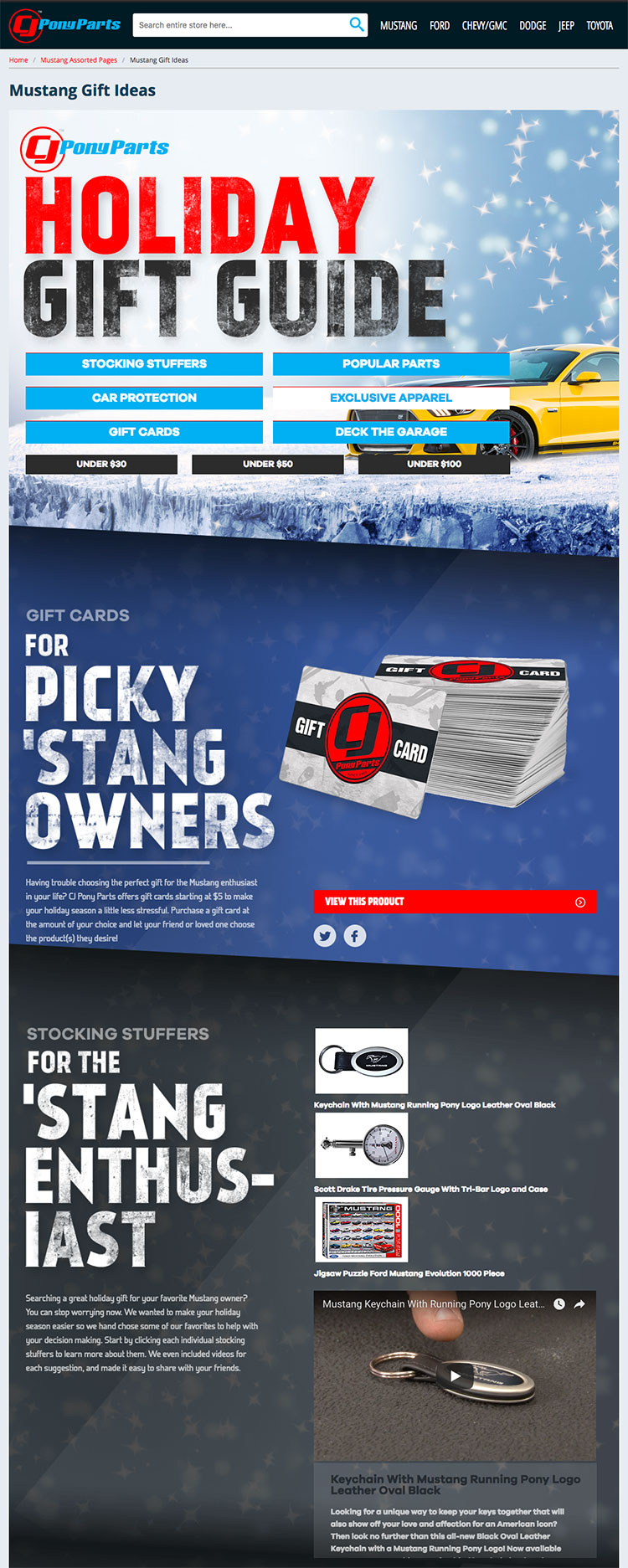 This auto parts company created an exemplary gift guide for Mustang enthusiasts incorporating video explanations into the guide. Let's cover one way to create a gift guide that generates new leads and sales, without having to hire expensive influencers to market for you.
Start with a landing page to house your gift guide to easily share on Facebook, Instagram, and Pinterest advertising campaigns. Your guide should call out the type of person the gift guide is for, like the example above that's intended for Mustang enthusiasts. Your guide should also include your products and detailed descriptions which ideally should be short videos housed on YouTube with SEO considerations in the titles. All of the products in your guide will also be pinned to your Pinterest page on a special board dedicated to the gift guide.
Run Facebook ads to promote both the landing page with its full gift guide and to share individual product videos as content. On Pinterest, run ads to individual gift guide posts, and use "Rich Pins" if possible for users to make their purchase right on Pinterest (learn more here). On Youtube, you can run ads, but we suggest investing more in the SEO of each video to make sure that your target audience can find you.
You can also read our recent article to learn how to create product reviews and run giveaways on Youtube to promote your gift guide. Want to make your holiday marketing strategy even easier to manage? A platform like Woobox helps you create the landing page and manage the entire campaign all in one place.
4. Launch a photo contest that gets your audience to think differently about the holidays
The most effective campaigns do more than inspire people to take action. They also have a core message saying something different — encouraging their audience to think differently.
One of the best examples of the above idea is a holiday campaign by REI, with their campaign #OptOutside.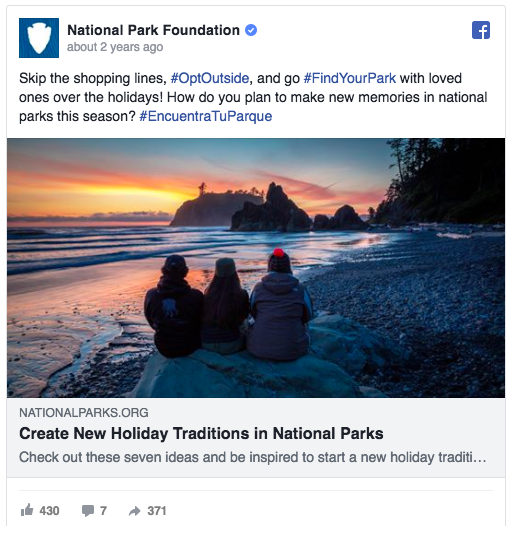 REI made headlines announcing it would close the doors on Black Friday, and invited its community to join employees in taking Black Friday off from work and shopping, and do what they love most: being outside.
Think about what your audience most values, like REI. They did something different, shaking up the holiday routine of their audience by sharing a message to encouragement toward their shared values of experiencing the outdoors.
Your brand could also create a challenge or contest that promotes giving, such as having your audience hashtag a picture of them performing a random act of kindness.
Once you discover a bold message, whether it's relevant-yet-different or simply true to the values of both your brand and audience, you can add a contest into the post. Reward the top 5 posts using a unique seasonal brand hashtag, something like a free product or a period of free service.
5. Make sure your campaigns cover multiple holidays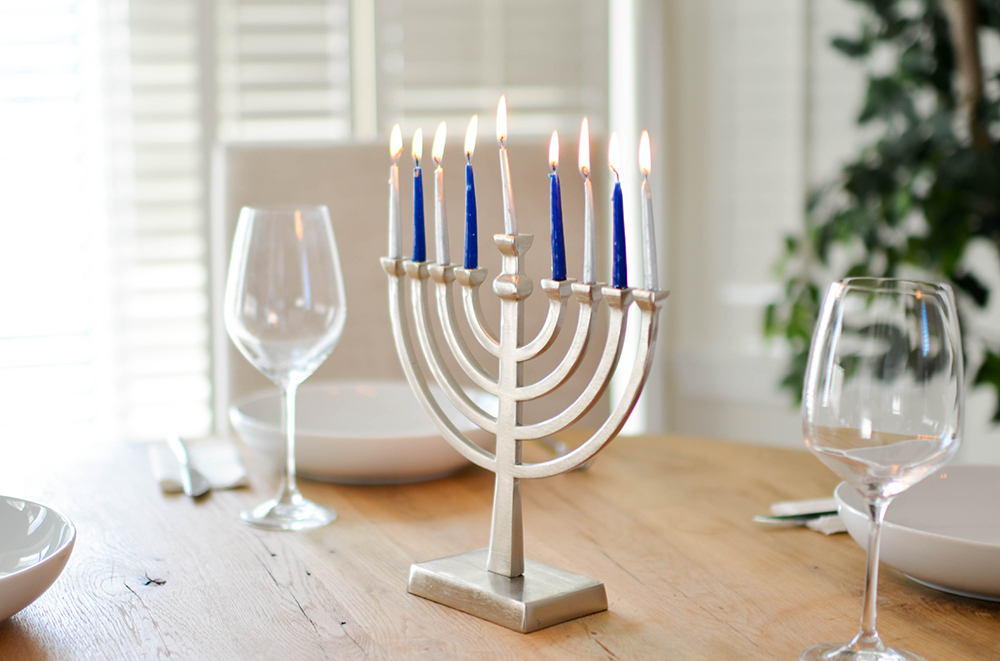 If your holiday campaign is only focused on Thanksgiving and Christmas, you're missing out on a large part of the U.S. population.
Did you know that 5.3 million Americans celebrate Hanukkah and 2.2 million Americans will celebrate Diwali?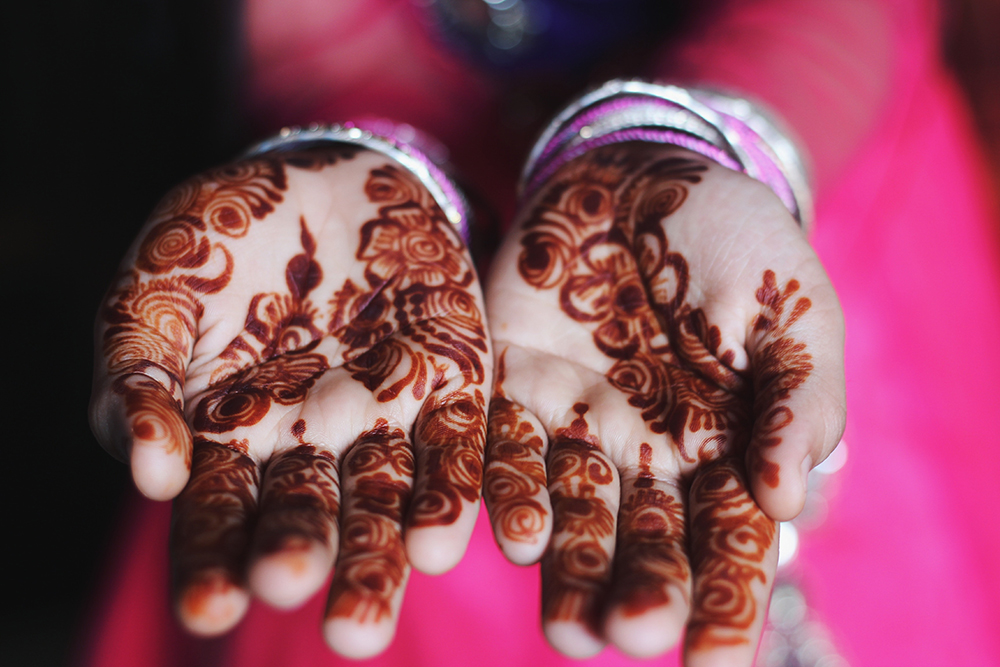 Choose one of the campaigns above, and make an iteration of it with custom messaging and creative for least one other holiday. Before creating your campaign, make sure to do your due diligence on the holiday you choose. Whether you consult someone who is on your team, interview customers who celebrate the holiday, or do your own thorough research, get informed before getting started. Learning about the meaning and cultural background of the holiday ensures your tone, messaging, and promotion will resonate with and intrigue your intended customer.
Conclusion & Recap
To recap, here are the key takeaways from the article.
54% of shoppers plan to begin shopping for the holidays before the Black Friday weekend. This means the earlier you advertise, the better chance you have to capture this large market of early shoppers.
A lead gen ad that works well during the holidays is a personality quiz with product recommendations. Easily make your quiz a turnkey solution that includes your own brand and product/service using Woobox.
67.2% percent of respondents said they're likely to share digital coupons during the holidays. Launch your coupon strategy earlier rather than later to capture highly engaged early shoppers, and make coupons available for use both online and in-store, since 65% of consumers plan to browse online and then go into a store.
Use a multi-channel gift guide to move your product or service top-of-mind each season, including the holidays. Woobox helps you easily cross-promote via Facebook, Pinterest, and Youtube.
Launch a photo contest that gets your audience to think differently about the holidays, and pick winners to receive a gift.
Ensure your campaigns cover multiple holidays outside of just Christmas, otherwise you're missing out on a lot of potential customers.
All of the examples in this article were created by businesses like yours using Woobox. Our marketing platform and tools can help you create all of the holiday ads covered in this article. From personality quizzes and Facebook ads to coupons and landing pages, we have everything you need to run your campaigns.
Creating your Woobox account is free, and you can make as many quizzes or any other type of promotions as you need. A Woobox subscription is only required to publish and run your campaigns.
Have a question?
Our Woobox Support staff is happy to help, and available 9 am – 5 pm PST, Monday through Friday at 1-360-450-5200 or woobox@support.com.