Contests, giveaways, and sweepstakes — they're incredible fun for creating awareness and generating leads for your brand.
Writing the sweepstakes or contest rules? Not quite as fun, in all honesty. That simple or cool idea to drive brand awareness and new leads just turned into a little headache because you're trying to figure out what to put in your "Official Rules."
Fear not, readers. We've put together this resource to help you on the path to putting together contest rules for your social media promotion.
That said, neither the author of this post nor Woobox is giving you legal advice here. Use this information to educate yourself on why contest rules matter, and what they could look like.
Quick Nav – Contest Rules, Templates, & Examples
Advice on Researching Relevant Contest & Giveaway Rules
Before launching your online sweepstakes, giveaway, or contest, you should do a little research on the following issues and how they may impact your promotion.
Look into the Laws
International Laws
Will you allow entries from countries outside of your own? Look into any regulations and laws that may govern giveaways in those countries before you launch.
Federal Laws
In the United States, different federal laws and regulations affect what you can and can't do with a sweepstakes or contest. Additionally, multiple federal agencies regulate sweepstakes and contests in the U.S. including: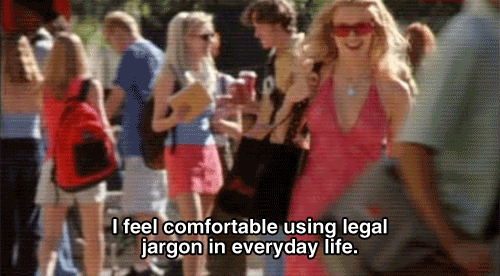 State & Local Laws
You have to comply with your state or province's laws concerning sweepstakes and contests. That's a given. However, did you know that you must also comply with the local laws of each state or province where you plan to run your contest?
Ugh, right? Ugh or not, you have to ensure your promotion is not going to get you into legal trouble. Some states rules are more stringent than others. Here's an overview of a few states' contest/sweepstakes requirements:
Florida: for any random drawing where the prize or cumulative total of prizes is worth $5,000 or more, you must register and bond the sweepstakes at least seven days before the start of the promotion. You must also file a list of the winners with complete names and addresses.
New York: requirements here closely mirror those of Florida except for the timing. You must register and bond the sweepstakes 30 days before the promotion begins
Rhode Island: for any contest or sweepstakes offered at a retail location that includes prizes with a cumulative total over $500, you must register the promotion with the state. Even if you provide an alternate method of entry (in other words, you don't have to visit the store to enter), it must be registered.
Michigan: a requirement to visit a store or retail location to enter a sweepstakes is prohibited in Michigan. The condition of a visit to a site is interpreted as "consideration" and is not allowed in a sweepstakes. Additionally, you may not run a sweepstakes related to tobacco products.
California: there are strict regulations in California regarding alcohol-related sweepstakes.
Check with Marketing and Legal Experts
Review resources at each of the authorities mentioned above and state government websites, but don't forget to look for other marketing and legal expertise to guide you.
You can find valuable resources by:
A note on Rocket Lawyer: this site offers a free contest rules wizard to help you build them for your sweepstakes or contest. The document is free with a one-week free trial.
We also recommend finalizing your official rules with the aid of a lawyer.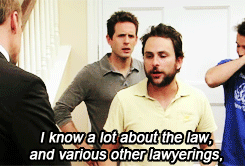 Understand What Each Social Media Platform Requires
Before you launch your promotion, be sure to research the social media contest rules for each platform where you plan to promote your contest or giveaway. For your convenience, here's a quick list of where to find them for each of the major platforms:
Contests & Giveaways: Do's & Don'ts
Now let's look at some of the Do's and Don'ts for your contest or giveaway.
Don't Create an Illegal Lottery
Let's start with the legal definition of a lottery. A lottery consists of three things:
Consideration — the participant must "offer value" to enter (purchase a ticket or product, invest time or resources to enter — in Michigan, traveling to a store to enter a sweepstakes is "consideration," for example)
Chance — the winner is chosen at random, no skill required to participate
Prizes
Federal and state laws prohibit private entities from running lotteries. If your promotion includes the three elements above — consideration, chance, and prize, you may have created an illegal lottery.
Do Ensure Your Promotion is Either a Contest or a Sweepstakes
A contest is a promotion where winners are, presumably, chosen based on skill. There is little-to-no random chance involved.
A sweepstakes, on the other hand, is a promotional drawing where winners are selected at random.
Ensure that your promotion is a legitimate contest or sweepstakes — avoid creating an illegal lottery.
Don't Require A Purchase to Participate in Your Sweepstakes
You've probably already got this, but it bears repeating. Do not require your participants to purchase anything to enter your giveaway. This point goes back to the whole idea of "consideration."
Do Create and Publish Official Rules
Make your contest or giveaway rules widely available and ensure they comply with applicable federal, state, and local laws.
Don't Forget Your Privacy Policy
People and governments are getting more and more serious about protecting their privacy and understanding how businesses plan to use the data they collect from consumers. You should include a link to your privacy policy or craft one specific to your campaign. You need to ensure that your privacy policy complies with the laws of the country, state, or province of your promotion's participants.
Giveaway Rules Template
The example below is just an example of what your giveaway or contest rules could look like. Bracketed fields represent areas you could replace with information specific to your promotion.
We can't stress this enough: this is merely a template and should not be construed as legal advice. If you decide to use this template, you assume all of the associated risks. Consult with a legal expert to ensure your final set of rules is compliant with current state and federal laws. Neither Woobox nor the author is providing legal advice.
Starter Template — Giveaway or Contest Rules
Preface your rules and conditions with a statement regarding no purchase necessary.
NO PURCHASE IS NECESSARY TO ENTER. YOUR CHANCES OF WINNING DO NOT INCREASE WITH A PURCHASE.
1. Eligibility
In this section, define who is eligible for the contest or giveaway. Be thorough and specific. Be sure to mention who is NOT eligible as well. For example, you may say "void where prohibited by law" and specify that your employees, as well as your subsidiaries, affiliates, suppliers, advertising and promotion agencies, employees' immediate family members, etc., are ineligible participate in the contest/giveaway.
2. Sponsorship
List your company name and address in this section. If you're partnering with any other organizations, list them under the sponsorship section, too. Explain how the sponsor(s) will conduct the promotion as described in your Official Rules.
3. Agreement to Rules
Ensure that you specify that by entering your contest, participants agree to abide by the Sponsor's (your) Official Rules and decisions. Include verbiage that talks about your right to refuse, withdraw, or disqualify entries at your sole discretion. You should also incorporate language that participant agrees to accept the decision of the Sponsor as final and binding.
4. Entry Period
Define the promotion period by giving the start date and time (include your time zone) and the end date and time with the time zone. These are the dates that you will receive and accept entries.
5. How to Enter
Explain the accepted methods for entering your contest or giveaway. Define things like the number of entries allowed per person, how to earn bonus entries, any limitations on bonus entries, etc. You may want to include a statement about fraudulent methods of entry or circumvention of the rules may result in the Sponsor invalidating a participant's entries.
6. Prizes
Provide information about what the winner(s) will receive and include the estimated retail value. Determine if you need to include information about whether or not the prize is transferable, how prizes may be substituted at your sole discretion, how acceptance of the prize grants you permission to use the Winners entry, name, and likeness for advertising, promotion, and trade without further compensation or remuneration unless prohibited by law.
If your prize is worth more than $600 and you are conducting your giveaway in the United States, you will need to collect the winner's social security number and issue a 1099 for tax purposes.
7. Odds
Provide a statement about how the odds of winning is dependent upon the number of eligible entries received.
8. Selection and Notification of the Winner
In this section, explain how the winner will be selected (random drawing, a panel of judges if a skills-based contest, etc.) under your supervision. Tell giveaway entrants how and when you plan to notify the winner. Define the timeframe that the winner has to claim his or her prize and the prize may be forfeited if he/she doesn't contact you within the time limit.
You may also want to add language about how the Sponsor (your company) isn't liable for the winner's failure to receive notification of winning if he or she provided a wrong email address or incorrect phone number or if their email security settings caused your prize notification to go into the spam or junk folder.
Additional considerations include 1) circumstances under which you may select an alternate winner, receipt of the prize is upon the condition of compliance with federal, state, and local laws, etc.
9. Rights Granted by the Entrant
Here, you should explain the rights that the participant grants to you, the Sponsor, upon submission of an entry into the giveaway or contest. This section may include the right to use the participant's submission, voice, likeness, image, statements about the contest, etc., for publicity, news, advertising, promotional purposes, trade, and so forth, without any further notice, review, consent, compensation or remuneration.
NOTE: if you're conducting a contest based on participants submitting photos, writing, or other work, you may want to consider adding language about how entries must be original work and not violate anyone's proprietary or intellectual property rights. You could also include the consequences for entries that infringe upon the intellectual property rights of others (disqualification of the participant) and any claims that arise as a result of infringement ("You shall defend or settle against such claims at your sole expense, and You shall indemnify, defend and hold harmless the Sponsor from any suit, etc.)
10. Terms & Conditions
Under the Terms & Conditions section, list everything that you as the Sponsor reserve the right to modify, suspend, cancel or terminate in the event that non-authorized human intervention, a bug or virus, fraud, or other causes beyond your control impact or corrupt the security, fairness, proper conduct, or administration of the contest/giveaway.
Discuss your rights to disqualify anyone who violates the terms, as well as your rights to seek damages to the fullest extent permitted by law in cases where a participant has caused deliberate damage or undermined the legal operation of the promotion.
11. Limitation of Liability
Specify how the participant's entry into your contest or giveaway constitutes his or her agreement to release and hold harmless the Sponsor (your company) and its subsidiaries, affiliates, employees, etc., against all claims liability, illness, injury, death, loss, etc., that occurs directly or indirectly from participation in the contest or use/misuse of the awarded prize.
12. Disputes
This section should cover how disputes will be handled. Carefully define how the entrant agrees, as a condition of participating in the promotion, that disputes not resolved between the participant and your company shall be individually resolved exclusively before a court located in your state, without resorting to any form of class action. Think about verbiage that states that the entrants waive all rights to punitive, incidental, or consequential damages, and they waive all rights to have damages multiplied or increased.
13. Privacy Policy
Tell your participants how their information is subject to your privacy policy and where to find the privacy policy on your website. International and even state governments within the U.S. have adopted privacy laws that you need to comply with when it comes to collecting consumer data. Be sure your privacy policy complies with those laws where you plan to execute your promotion.
14. Winners List
Tell participants how they can request a copy of the list of winners.
15. Social Media Platform Rules
In this section, you should directly address any rules specific to the channels where you plan to promote or administer your promotion.
For example, Facebook requires that you include the following verbiage if you plan to use Facebook to communicate or administer your contest or sweepstakes: The [Sweepstakes or Contest] hosted by [your company name] is in no way sponsored, endorsed, administered by, or associated with Facebook.
16. Affirmation of Acceptance of and Agreement to All of the Official Rules
Wrap up your giveaway rules by explaining that by entering the contest, the entrant has affirmatively reviewed, accepted, and agreed to all of the them. Also consider including a checkbox on your entry form that states something like, "By checking here, You, the Entrant, have affirmatively reviewed, accepted, and agreed to all of the Official Rules."
How to Include Your Official Contest Rules in Woobox
We made it through the rough part. From here on out, it's smooth sailing. Woobox makes it easy to display your sweepstakes or contest rules with your promotional landing page. Let's check it out.
Once you create your campaign, you can add your giveaway rules directly in Woobox. Go to your campaign, and click Settings > Advanced > Rules.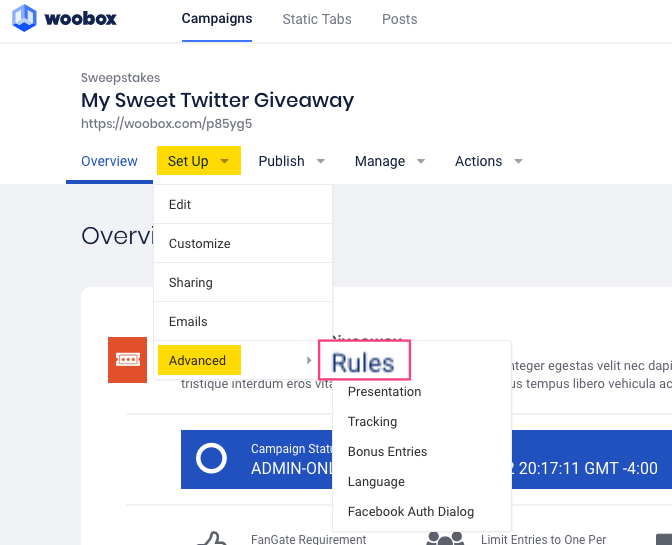 Next, you'll see the Rules set-up page. Here you can directly enter your Official Rules.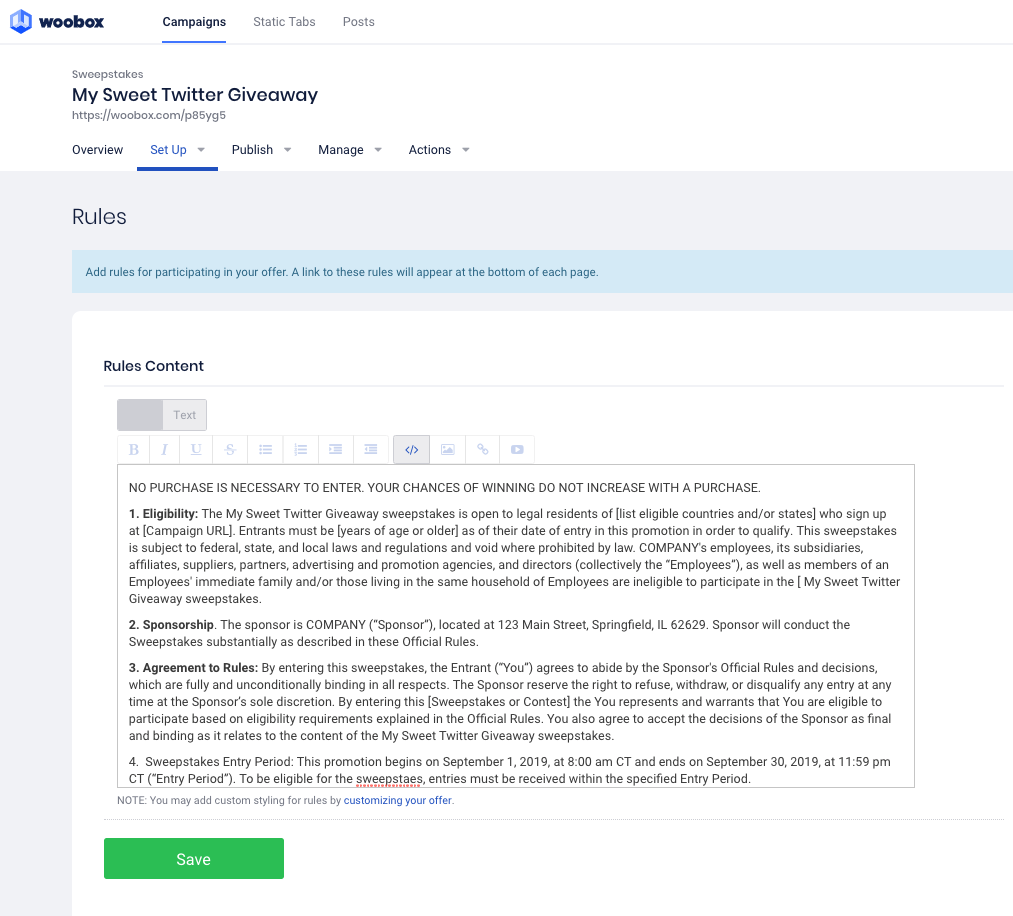 Or you can opt to direct people to a page on your website.

Now, visit your promotion's landing page. Voilà: a link to your official rules has been added. A link to your official rules will also be included with the Rules Checkbox field if you add one to your form.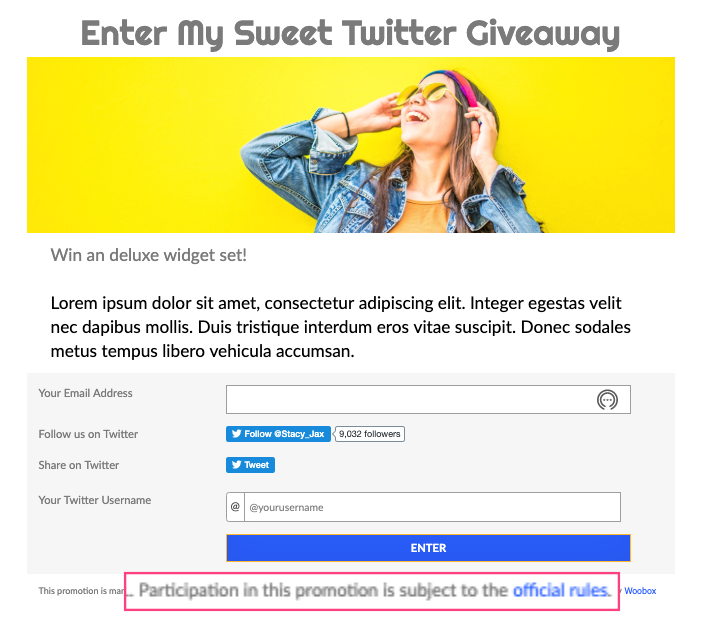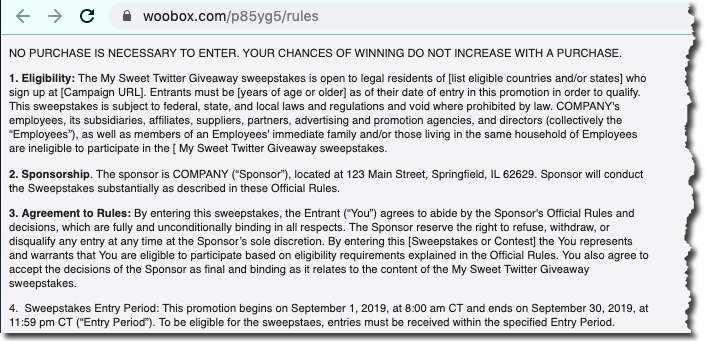 Wrapping Up
Whew! I know — we covered A LOT of information here, so let's do a quick recap.
We talked about:
Research tips. Consult with the websites of different agencies and states to understand the laws that govern sweepstakes and contests. Also, consult with marketing organizations like ANA and the American Marketing Association, sites like marketingprofs.com, and legal resources such as LegalZoom and Rocket Lawyer to educate yourself on sweepstakes and contests.
The Do's and Don'ts for these types of promotions, including one of the most important: never create an illegal lottery.
Our starter template/structure for giveaway and contest rules. The most important takeaway here? These rules are a framework to help you think about what you need. Work with a lawyer to create your Official Rules.
Use Woobox's super-simple Rules option to ensure your Official Rules get linked to the contests and sweepstakes you run through Woobox.
Do you need some assistance? Woobox Support is available between 9 am and 5 pm PST, Monday through Friday at 1-360-450-5200 or support@woobox.com.