The month of November is chock-full of gratitude-inducing moments. From recognizing our vets on Veterans Day to celebrating 30-days of gratitude, marketers who embrace these moments increase engagement while building better customer relationships.
However, the balance between selling and engaging is a thin line during a month of thankfulness. Yes, your audience wants and needs to purchase holiday gifts. However, people dislike when over-commercialization affects their generosity.
Hit the wrong chord, and you'll alienate people who feel taken advantage of. Strike the right note, and you'll increase brand awareness and generate goodwill that follows you into December. Discover how to enhance the holiday spirit by creating Facebook giveaways and contests throughout the giving season, then get started with a solid Facebook promotion strategy.
How to Plan Holiday Facebook Giveaways and Contests
November provides opportunities to engage your audience after the busy back-to-school season is over and before the stressful holiday season hits. That's why it's crucial to start planning your strategy now.
Pull out your editorial calendar, review these important dates, then design a Facebook campaign that generates leads while increasing your company's visibility.
November 11 — Veterans Day
November 28 — Thanksgiving
November 29 — Black Friday
November 30 — Small Business Saturday
December 2 — Cyber Monday
Veterans Day: November 11
Since 1954 the US has honored veterans on November 11. Celebrating our military veterans and their families is a fantastic way to start the month of November. Avoid an overly salesy approach. Instead, focus on the importance of our veterans and the agencies that provide support.
Develop a Giveaway for Veterans and Their Families
Since the day is about honoring veterans, narrow your campaign scope to focus on current and former military members and their families. Limit participation while requesting that others share this information with someone in your targeted audience. For example, DuGood Federal Credit Union gave away $250 to two local veterans. In their initial post, the credit union asked veterans to enter or friends and family to nominate a veteran.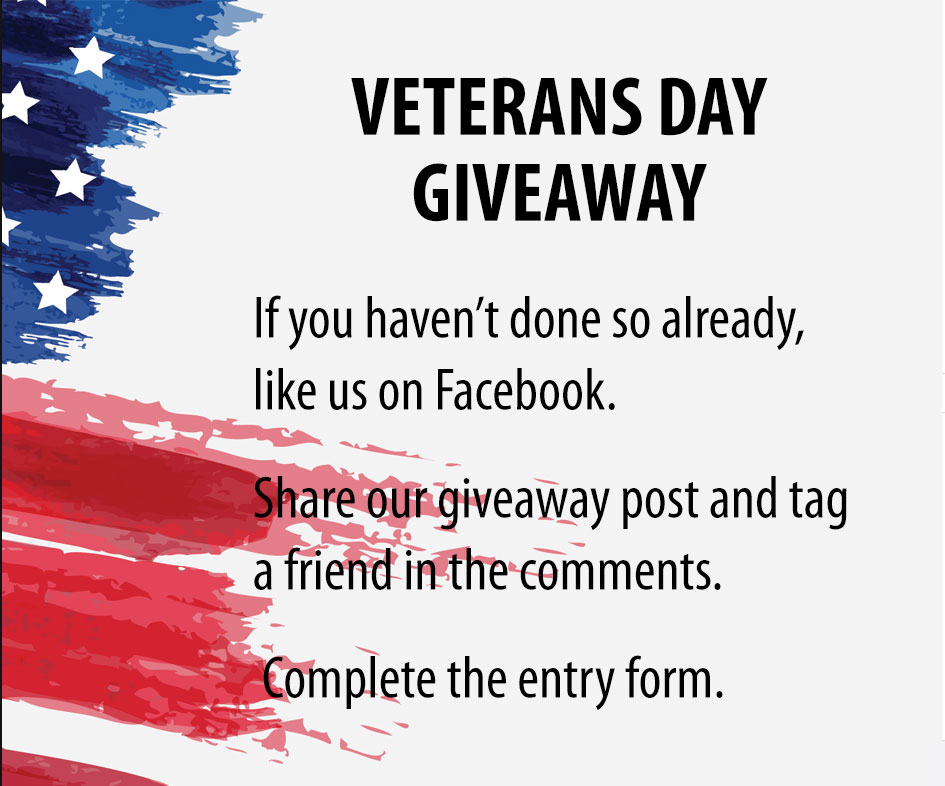 Create a Contest That Pulls in User-Generated Content.
People love sharing photos that honor their military family members. In this example, Charter College asks its audience to "submit a picture of the active duty service member or veteran who inspires you the most."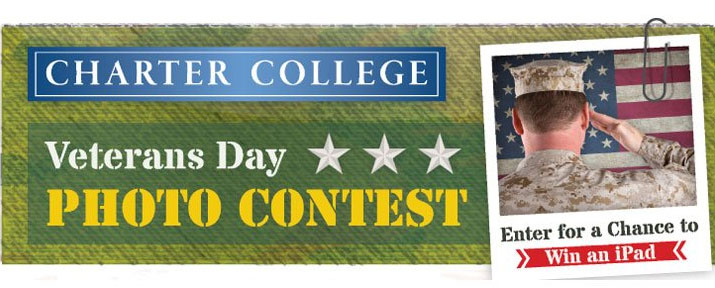 Takeaways for Facebook Giveaways and Contests for Veterans Day
Instead of promoting your brand, honor veterans, and share how the nominees will benefit from winning your Facebook giveaway. Some best practices include:
Set up Facebook rules that encourage current and former service members and their families to participate.
Reach out to community organizations and online hubs to promote your giveaways.
Use hashtags like: #VeteransDay, #thankyou, #ThankAVet, and #SaluteToService.
Thanksgiving: 4th Thursday of November
In the weeks leading up to Thanksgiving, social media users participate in games, polls, and contests to demonstrate gratitude. Mix up your approach with a combination of thoughtful (which person in your life are you thankful for) and fun (which morning beverage are you most grateful for) posts. Come up with a catchy theme then promote the holiday by giving thanks and encouraging others to do the same.
Design a Contest That Boosts Submissions of Photos
Start by asking followers to share a photo of someone or something they're grateful for, then share various user-generated images all day long on Thanksgiving. In this example, USO Japan requests that followers hold a sign that "says what you're grateful for" during their selfies.
Celebrate Thanksgiving by Thanking Your Loyal Customers
Give back to your generous followers by giving thanks in the weeks leading up to Thanksgiving. Incorporate daily or weekly Facebook giveaways that benefit those who already use your products or services. After all, existing customers make up 65% of your sales, and November is a fantastic time to recognize your brand ambassadors with a giveaway.
Takeaways for Facebook Giveaways, Contests, and Polls for Thanksgiving
Use a combination of polls, quizzes, and giveaways to produce user-generated content and increase engagement. This type of campaign focuses on the thankful, not commercial-side of the holiday. Of course, in between your giving posts, you'll also start dropping in a few shopping-oriented posts as well. However, first,
Participate in trending gratitude challenges, and activities.
Design campaigns that thank your followers, customers, and friends.
Use hashtags like #Thanksgiving, #Thanksgiving2019, and #TurkeyDay.
The "Big Three" Sales Days
Although Thanksgiving falls later this year, which pushes Cyber Monday into December, three significant sales events (Black Friday, Small Business Saturday, and Cyber Monday) provide plenty of sales opportunities.
Depending on your company, you might push for increased sales on one or all three of these prime selling days. Each event requires a slightly different approach in your marketing message.
Of course, you could always choose to combine a giveaway that combines Black Friday and Cyber Monday for one big ongoing Facebook contest. Or gather audience insights by sharing a Facebook poll that asks your followers to vote on their favorite day to shop.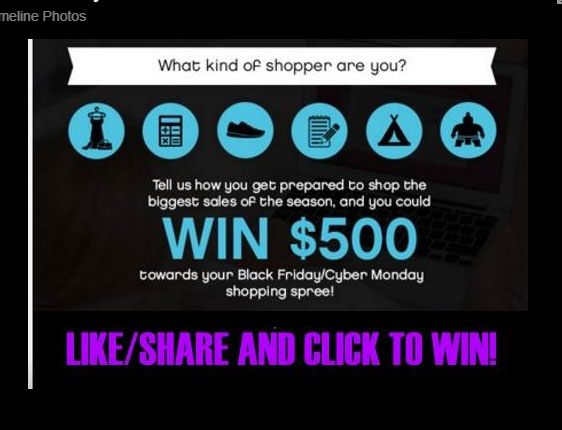 Black Friday: Day after Thanksgiving
While it's crucial to spend your month focusing on giving, it's also important to draw attention to your Black Friday sales event. Mix up your gratitude posts and giveaways by creating a Facebook contest designed to guide your audience towards purchasing on Black Friday.
Use Facebook to Promote Upcoming Black Friday Contests
If you're waiting until the week of Thanksgiving to start your Black Friday giveaway, then toss out a post or two to let your followers know what's coming up as Phoneta does in the following example.

More Black Friday Ideas
Host Facebook giveaways throughout the entire day.
Announce the winner during a live Facebook stream.
Request selfies of your followers shopping on Black Friday.
Takeaways for Facebook Giveaways and Contests for Black Friday
Your Black Friday contest may take a different tone than that of your #thankful giveaways in November. Determine if your business goal is to increase foot traffic to your store, encourage word-of-mouth referrals, or guide your audience towards sales after Black Friday ends.
Use hashtags like #BlackFriday, #BlackFriday2019, and #BlackFridayDeals.
Small Business Saturday: Saturday After Black Friday
While created to preserve and protect the small-town USA, Small Business Saturday is recognized across the web. Even without a physical storefront, your company can leverage the general goodwill and desire to support small businesses using Facebook contests. Like all of the other campaigns listed, to successfully celebrate Small Business Saturday, you'll create a series of posts that lead up to your big day.
Request Small Business Saturday Selfies
Create a Facebook giveaway that picks a winner from followers who share a selfie while shopping at a local small business. For example, The Daily Journal Online asks users to take a selfie and submit their photo on Facebook along with their branded hashtag.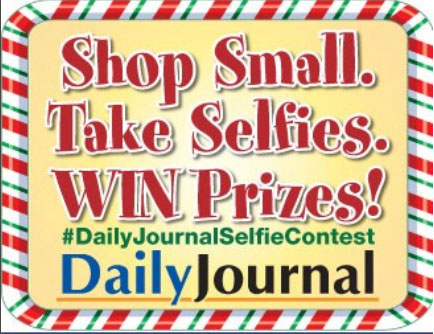 More Small Business Saturday Ideas
Ask users to nominate or recommend a small business.
Request your followers to tag a fellow solo entrepreneur.
Takeaways for Facebook Giveaways and Contests on Small Business Saturday
Emphasize small business support by showcasing suggestions from your Facebook followers while also promoting your small company. Small Business Saturday is a great time to partner up with other organizations for a group giveaway!
Use hashtags like, #SmallBusinessSaturday, #shoplocal, and #supportlocalbusiness.
Cyber Monday: Monday after Thanksgiving
Regardless if you have a physical storefront, Cyber Monday is celebrated by shoppers across the US. If Cyber Monday is your jam, and Black Friday isn't on your radar, then poke some light-hearted fun. Showcase how much better online shopping is compared to coping with Black Friday crowds. If you're unsure which shopping days that your audience prefers, then consider doing polls earlier in the month.
Gather Audience Research With a Facebook Contest
By asking your audience to share a link from your website, you're increasing site traffic while giving your followers a chance to dream a little. Hopefully, while on your website, users also get pumped about your upcoming Cyber Monday sales.
In this example, Von Maur asks users to share a link to their dream purchase.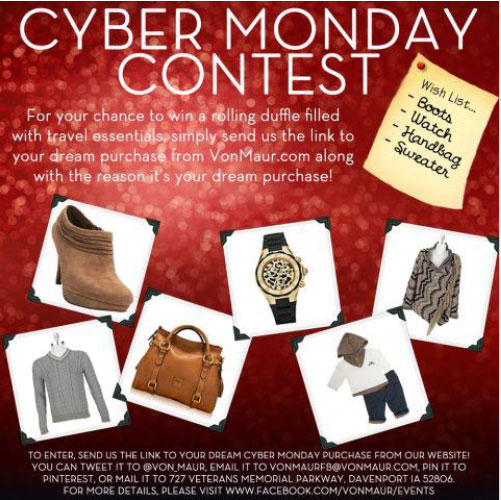 More Cyber Monday Ideas
Incorporate user-generated content From November's Black Friday selfies.
Build excitement by giving away coupons for use on Cyber Monday.
Takeaways on Facebook Giveaways for Cyber Monday
Attract attention to your Cyber Monday sales by designing a Facebook contest that encourages action. Cyber Monday is a great time to highlight sales that are different from other events throughout the year.
Include hashtags like, #CyberMonday, #CyberMonday2019, and #CyberMondayDeals.
Conclusion
If your audience wants to reflect on what they're thankful for during November, it's good to participate. However, plenty of shopping also needs completing. You can generate goodwill and support early in the month, then guide your audience towards making a purchase with your company during prime shopping days.
Get Help from Woobox Support
Are you ready to create a Facebook contest or giveaway? Woobox Support is available for help from 8 am — 5 pm PST, Monday through Friday at 1-360-450-5200 or support@woobox.com.