'Tis the season for festive holiday themed campaigns, and Woobox has you covered again this year! These templates aren't just backgrounds, they are full contest or giveaway templates including the elements you need to get your promotion up in two shakes of a jingle bell (but of course you can still customize your offers with your brand's personal touch).
Advent Calendar Giveaway
The Advent Calendar Giveaway features a festive, snowy background with garland at the top and a reindeer/North Pole landscape at the bottom. On the Entry page is our Calendar Countdown element. Click on the element in the Design section to add images and/or text to display for each day (these can be daily prizes or just fun holiday images). By default the Calendar Countdown element is set to "Day mode" with 24 days, and a start date for the countdown of December 1st, 2023, but the number of days and start date can be customized if needed.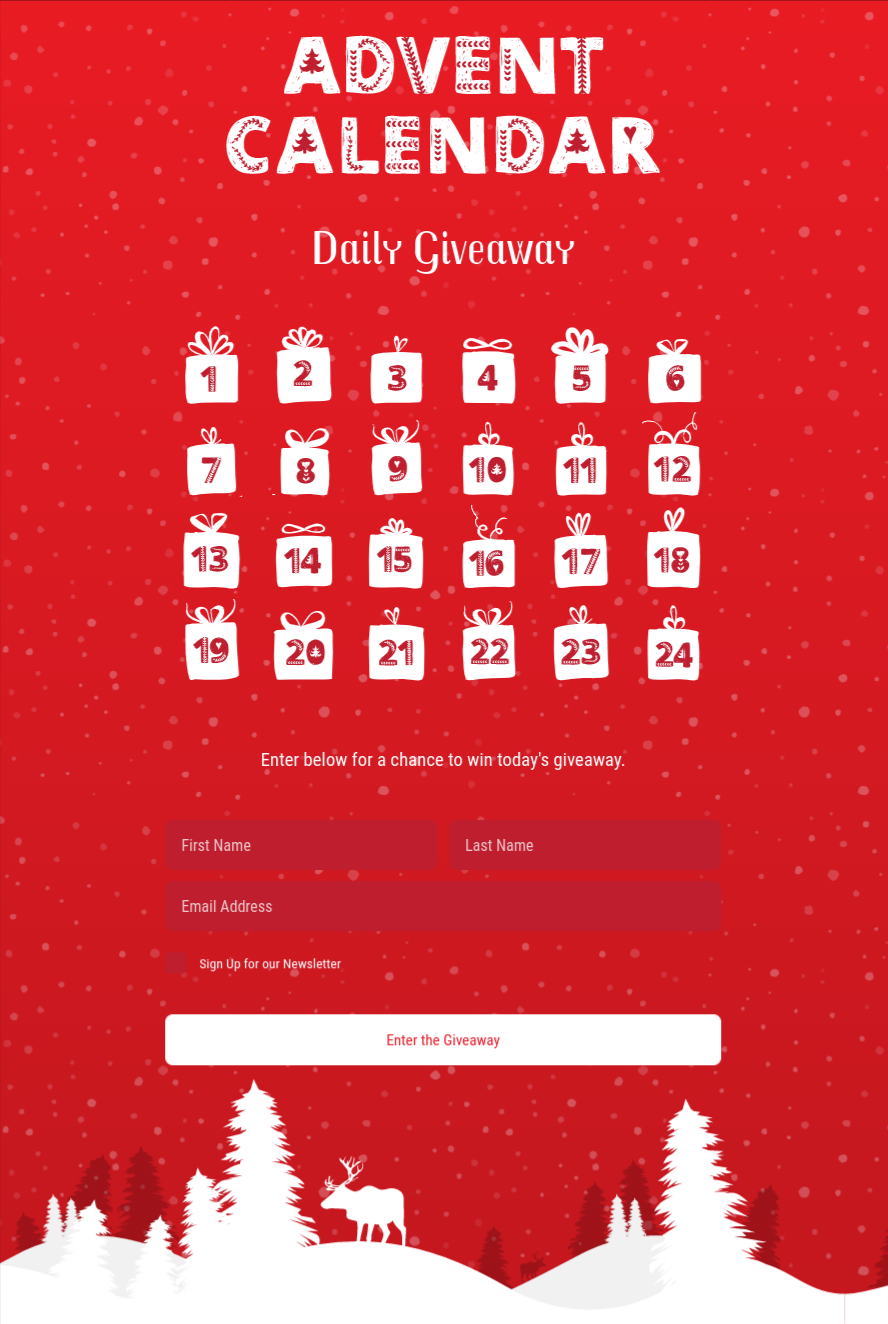 12 Days of Christmas Giveaway
The 12 Days of Christmas template is a giveaway/sweepstakes campaign that also features the Calendar Countdown element in Day mode, but with 12 days pre-selected so you can host your own giveaway based on the classic Christmas carol. Add images and logos to make it yours, then add extra form fields to collect the data you need for that New Years remarketing.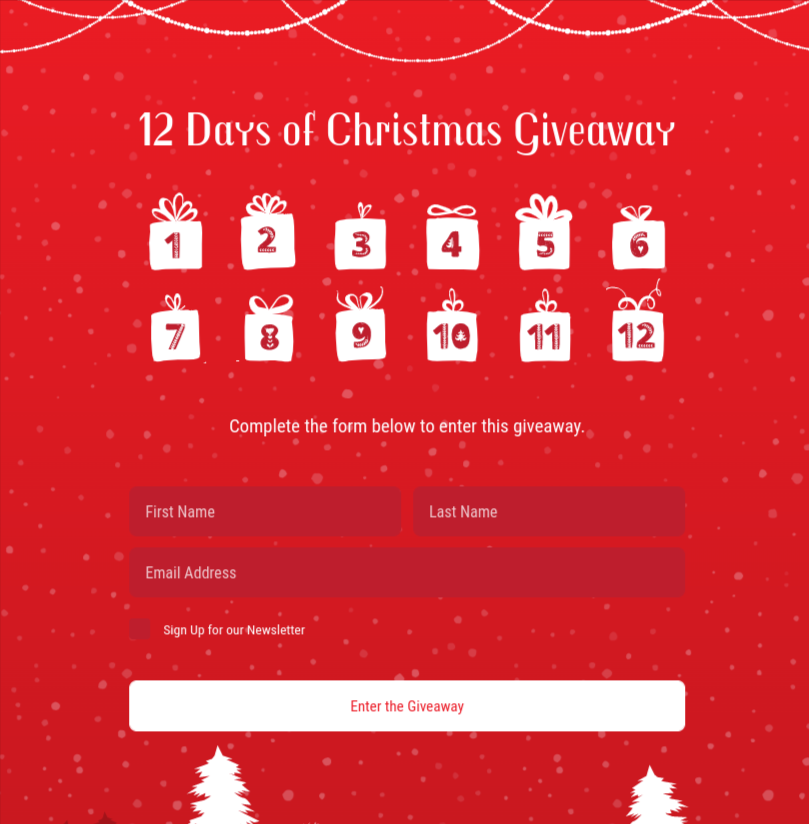 Ugly Sweater Photo Contest
Of course, our most popular holiday template is back! Just like an ugly sweater, this campaign type speaks for itself. This template's header and footer images have a warm "knit" look, and the landing page features a graphic of some holly-jolly sweaters. Have entrants upload images of their best (worst) ugly holiday sweater, then allow users to vote in the gallery or pick winners based on your favorites. Since this is a Photo/Video Contest template, you can enable hashtag entry and even accept video submissions.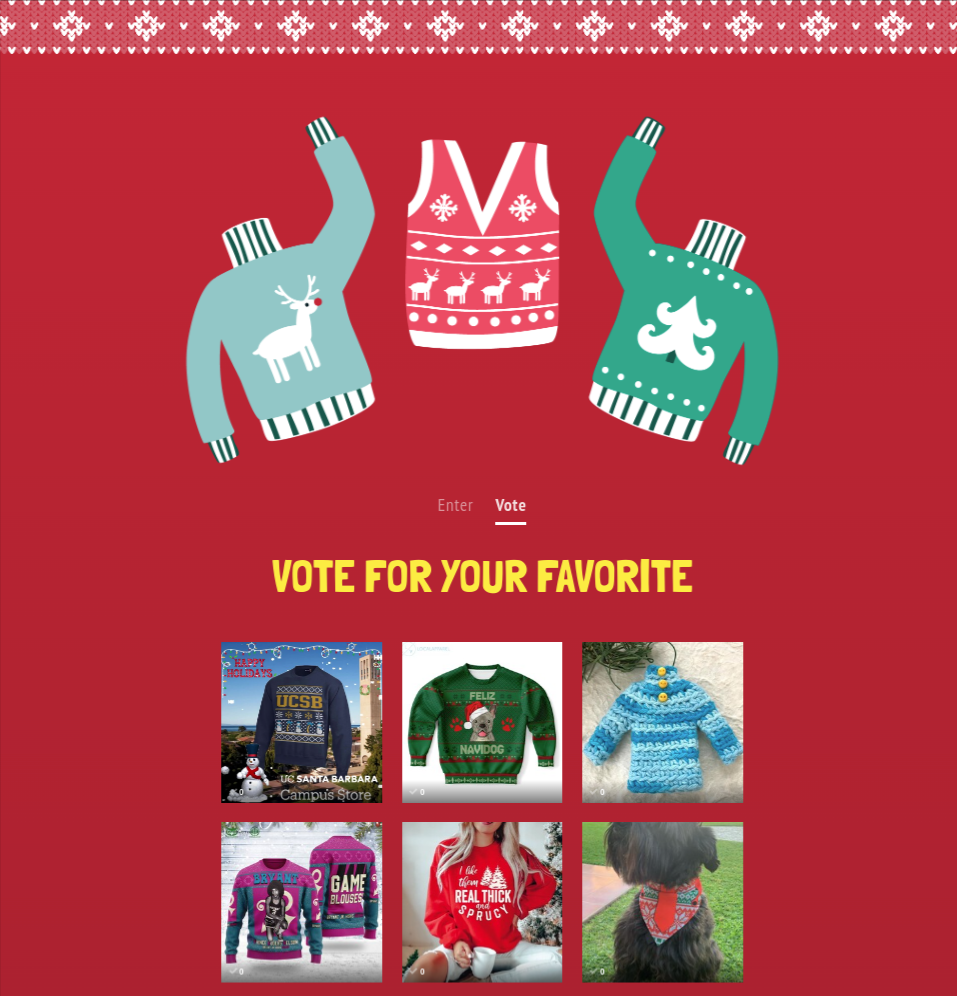 Gingerbread Photo Contest
Another festive photo contest template! This campaign is designed for a "Best gingerbread house" contest and features a header image of delicious, baked ornaments and a snowflake pattern background. If your contest isn't gingerbread related but you'd still like to use the theme, just edit the Heading and Paragraph elements to describe your campaign and you're ready to ho-ho-ho! Of course hashtag entry, voting, and all of the standard Photo/Video Contest features and settings are available in this template as well.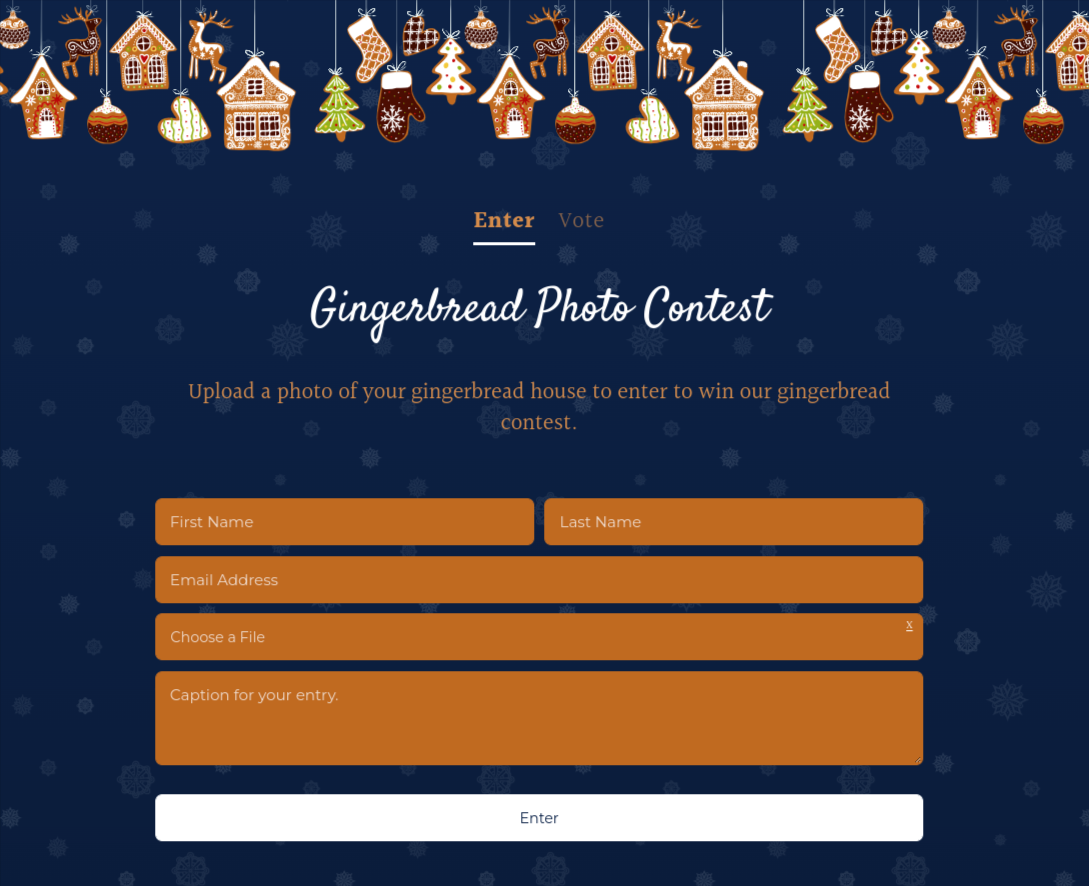 Holiday Themes
You don't have to choose one of the specific templates or campaign types to create your own holiday campaign. After selecting any campaign type, you can click the "painter's palette" icon (Styles) in the Design section, then apply and customize any of the themes used in the pre-made templates:
Click "show all" to see all options and variations:
Customize the background/overall theme color in the Background tab:
If you need help getting your holiday campaign up and running like a red-nosed reindeer across the sky, don't hesitate to reach out to support@woobx.com. Here's to a jolly and successful holiday season!