Think about the last time you needed a local business — where did you turn? Most of us head to Google and type things like "plumber near me" or "cake decorator in <my town>" to find a business that meets our needs.
How do you make sure your business shows up when someone types in terms related to your industry?
That is what local SEO is all about — and getting it right can be the difference between failure or success as a small or local business.
Just under half of all Google searches are for local information, yet 46% of small businesses don't even have a website. That means learning about local SEO and implementing a few basic strategies can quickly propel your business to the top in your local market.
Here are five local SEO strategies that will help your local business rise above the competition.
Claim Your Google My Business Listing 
When it comes to local SEO, this should always be your first step. The average Google My Business listing is viewed 1,260 times a month, and yet just 44% of local retailers have taken the time to claim their listing.
So what, exactly, is a Google My Business Listing, and how can it help your local business grow?
Google My Business is a free business listing that helps your business show up for local searches.
Your listing includes information such as your business name, address, website, online reviews, and even menus. Claiming your listing is the only way for your business to show up in Google's Local three-pack and on Google Maps, which show up at the top of the organic search results like this: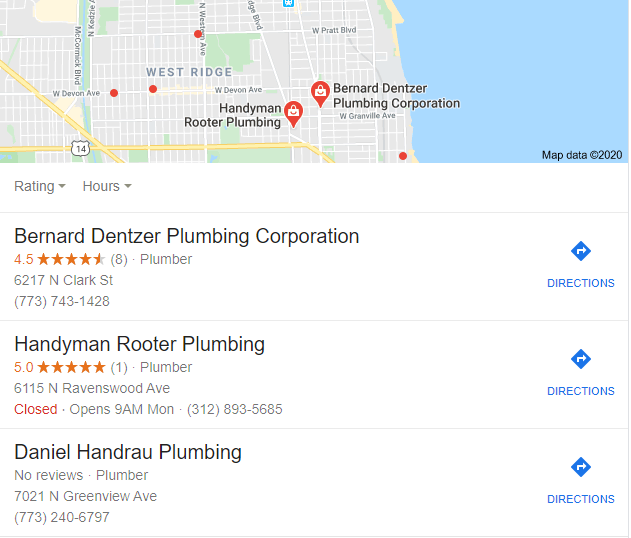 Start by claiming your Google My Busines listing.  Make sure to add as much relevant information as possible, including your website, hours, address, type of business, and phone number. For best results, make sure to optimize your Google My Business listing by adding photos and responding to questions.
Claim Local Citations on Sites Like Yelp 
Links to your business's website serve as 'votes' telling Google that your website is relevant and high-quality and helping your business website rank higher. This is why link-building is a popular topic in the SEO world.
However, building links to a bunch of spammy sites won't help your business — in fact, it could hurt it. Instead, look for links from popular sites like Yelp, Yellow Pages, and local directories. These are called local citations.
Claim local citations on sites like Yelp, Yellow Pages, Indeed, Facebook, SuperPages, and The Better Business Bureau. Then, look for more relevant citations by searching for "business listings <my city>."  Take a look at Moz.com's list of local citations includes citations for various business categories, including restaurants, service providers, and retail stores.
As you claim your local citations, make sure to use exactly the same name, address, and phone number (called NAP.) This helps ensure Google connects all those local listings and increases the legitimacy of your business. For example, don't use A1 Pest Control in one listing and A1 pest control, inc. in another.
Ask for Reviews 
Most small businesses have a love-hate relationship with online reviews. This is understandable — it can be disheartening when someone leaves a false or fake review that makes your business look bad. Avoiding reviews, however, can cost your business thousands of dollars in sales.
Local reviews help build trust with prospective customers. In fact, 90% of consumers say online reviews impact their purchase decisions, and just one review can lift your business' conversion rate by as much as 37%.
Once you have claimed your listings on sites like Yelp and Google, it is time to start asking customers to leave you reviews. Keep in mind that most platforms do not allow businesses to offer an incentive for reviews. However, you can ask customers who visit your location to consider leaving a review. Here are a few tips to increase your online reviews:
Add a review request to your website, receipts, and online orders.
Post signs in your location asking customers to leave reviews.
Include a request for reviews in your next email newsletter.
Respond to reviews — both negative and positive!
Share favorite reviews on your social media channels
Grow Your Social Reach With User-Generated Content Contests 
You don't need to be a marketing expert to know that organic reach is down on social media. Posting to your business Facebook page is likely to only reach a small portion of your followers. However, social media is still quite valuable for local businesses that use paid ads, Instagram stories, and strategic hashtags.
You might wonder if you have to sink money into paid ads to be successful on social media.
The truth is that paid ads can be incredibly effective at reaching a targeted audience — but you don't have to invest money to be successful. Most social algorithms rely on factors like engagement to rank posts. This means when people like, comment, or otherwise interact with your page, more users will see your content.
That is why contests can be so effective at increasing social reach — besides, who doesn't love the chance to win a prize? INYO Pools, for example, ran a photo contest where audience members were asked to submit pictures of their pool for a chance to win a free gift card. Those photos can then be shared on sites like Instagram to increase engagement — particularly if you select a winner based on popular vote.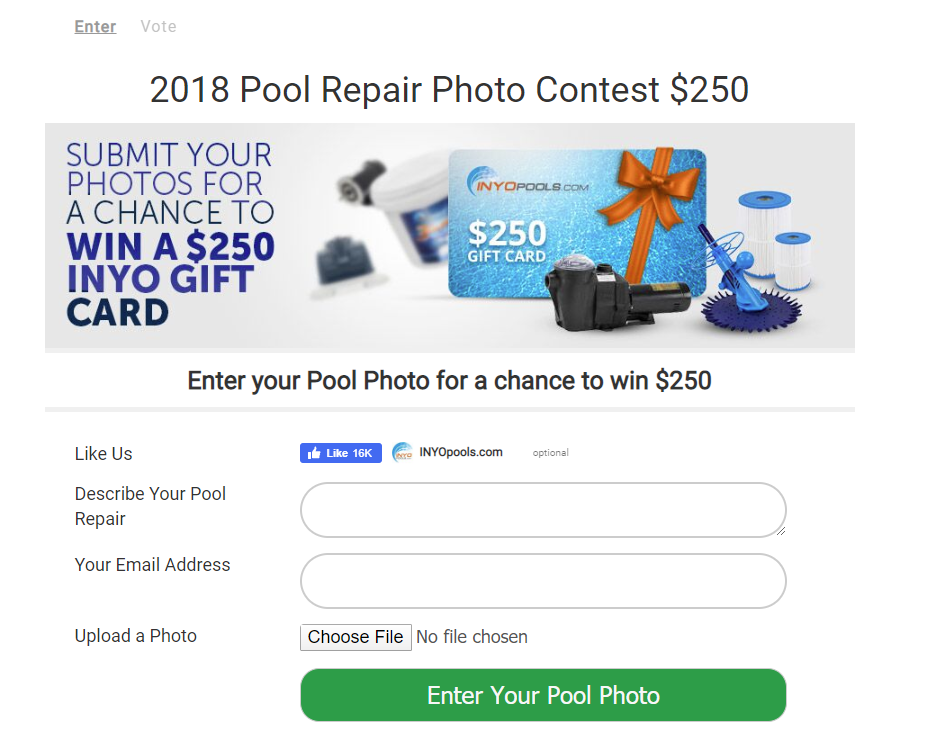 Giveaways, sweepstakes, and contests can increase your social reach and increase social engagement — and all for just the cost of a prize.
Pro Tip: If you are a local business, choose a prize that will appeal primarily to a local audience, such as a gift card or physical prize they must pick up. Amazon gift cards or generic prizes such as an electronic device may reach a wider audience, but those folks won't be in your target audience.
Publish Local Content 
Google loves content, but content creation can be frustrating for small and local business owners. You likley have a ton of tasks on your plate, and content creation might not be a top priority. The good news? Quality content is better than quantity. Just a few pieces of really useful content is all you need to increase your business' reach online.
Instead of covering every topic under the sun, focus on well-researched, high-quality local content. (And remember, you can outsource content creation!)
Write about issues relevant to your local audiences; for example, local events, politics, and local news stories. Here are a few examples for inspiration:
A bakery might publish a list of summer street fairs in their community
A bike shop could create an interactive map of the safest bike paths
A school or art supply store could publish a resource for teaching children to write
A local accounting firm could publish a tax guide for small business owners
Above all, local content needs to be useful and provide value to your community — don't just post content for the sake of publishing. Helpful content is likely to be shared, read, and used, which establishes your business as a trustworthy source of information.
Final Thoughts
Small businesses often struggle to compete with larger brands in the digital space, and it can be overwhelming to figure out what strategies will actually help your brand stand apart.  Start by implementing these five local SEO strategies:
Claim your Google My Business listing
Claim local citations m
Ask for reviews
Use contests to grow your digital reach
Publish local content
Then, dig in deeper with this Comprehensive Guide to Local SEO.
Need help creating your social media contest, sweepstakes, or giveaway? Woobox Support is available from 8 am to 5 pm PST, Mon. through Fri at 1-360-450-5200 and support@woobox.com