Although it's the digital age, word-of-mouth marketing is alive and well. People trust their friends, family, and co-workers more than ever before. But, consumers also extend this trust to strangers and friends of friends who leave reviews or offer solutions in social media groups.
With referral marketing, you can generate leads who are familiar with your brand and anxious to hear more. Explore ways to get referrals using giveaways and contests while building better relationships with your customers.
1. Host a Refer-a-Friend Giveaway
Everyone loves the chance to win a prize, from gift cards to free products. But what if your contest entrants could get bonus entries for referring a friend to your giveaway? The best way to track bonus entries is by using free or low-cost giveaway software, like Woobox.
The way it works is that people enter your contest after seeing your post on social media, website, or email. Then, contest entrants share a referral link to your giveaway landing page with their friends.
For each sign-up through your referral link, your original contest entrant gets an extra ticket to your giveaway. If you don't use a contest platform, you'll need to create:
Landing page for referred leads to enter your contest
Urchin tracking module (UTM) parameters to referrals
A way to track bonus entries for people who refer friends
However, it's important to remember each social media platform has different rules. For example, on Facebook, you can't require people to share your post to enter your contest. Instead, you can suggest it or offer bonus entries for doing so, but it can't be an entry requirement.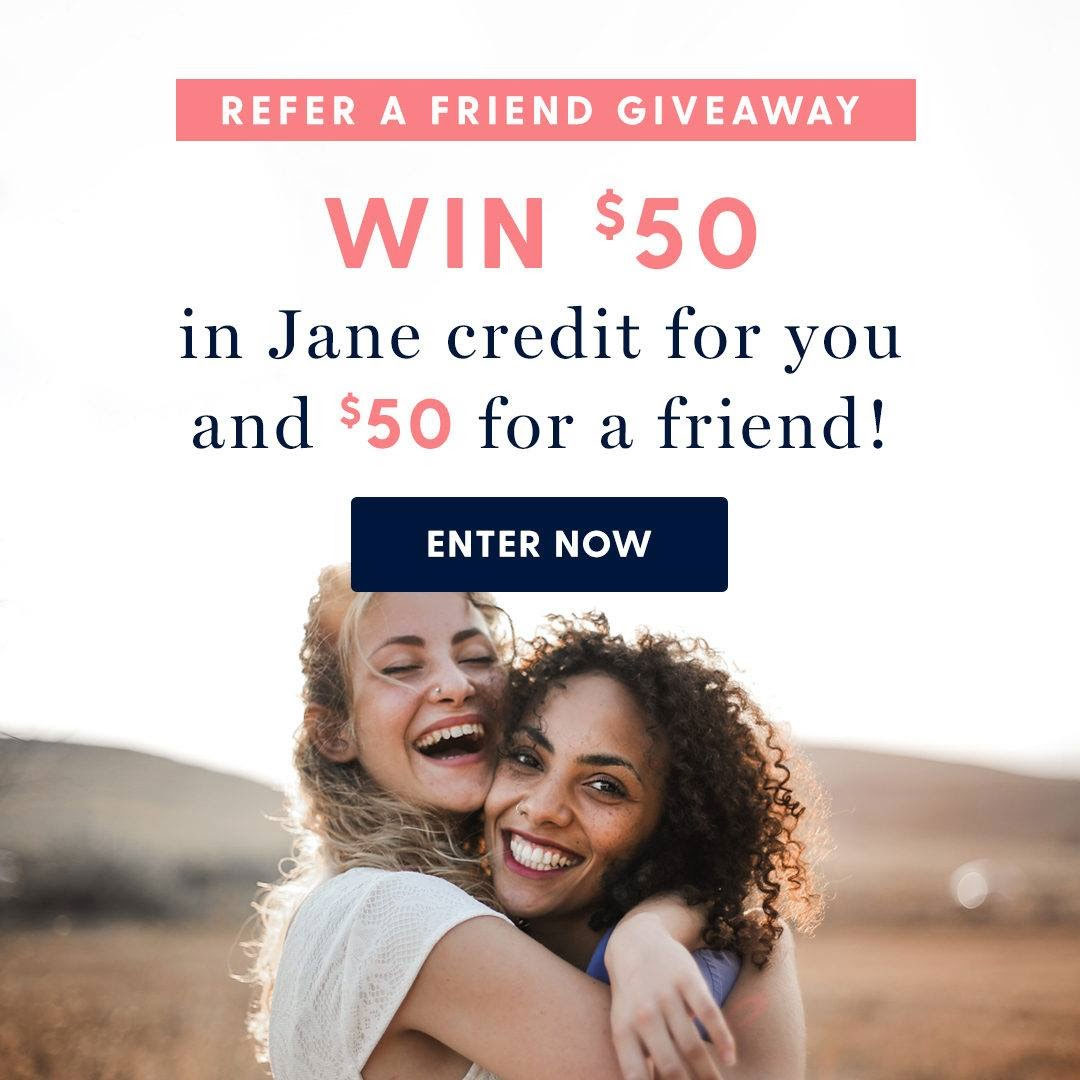 2. Identify potential brand advocates
Although many people are willing to refer a friend when there's an incentive, you'll also find plenty of consumers who simply love your product and want to share the news with the world. These people can be friends, employees, or existing customers.
They may post about your brand on social media, comment on your posts, and become repeat customers. Identify brand advocates by:
Using contest data to find people who enter and share your giveaways regularly
Looking at your email subscribers list to find out who frequently opens your messages
Collecting information about customer sentiment and brand mentions
Creating a poll for existing customers to assess their engagement level
Once you know who your brand ambassadors are, you can design giveaways and contests to attract more like-minded clients.
3. Cultivate relationships with your customers
The best way to get more referrals is to continually delight your existing clients. Ensuring correct orders, responding to messages quickly, and personalizing your communications are critical to successful relationship management.
You can witness the power of customer testimonials every day on social media. Recently, an acquaintance shared a story about receiving damaged boxes from Chewy, a pet food supplier. People responded to the post by sharing story after story of exemplary service and support from the company. From kind letters after a pet death to fast responses to a return request.
This slew of positive messages shows the power of building relationships and continually delighting the customer. Because when someone loves your brand and feels like you care about their business, they're willing to go to bat for you. And that is powerful.
A great way to nurture your customers is by hosting a customer-only giveaway. Encourage clients to share photos of your products in action using a user-generated contest with a gallery. Or create a comment-entry giveaway and ask fans to leave their best tip in the comments.
By continually engaging with fans and offering fun ways to interact, you can keep their attention and build positive sentiment.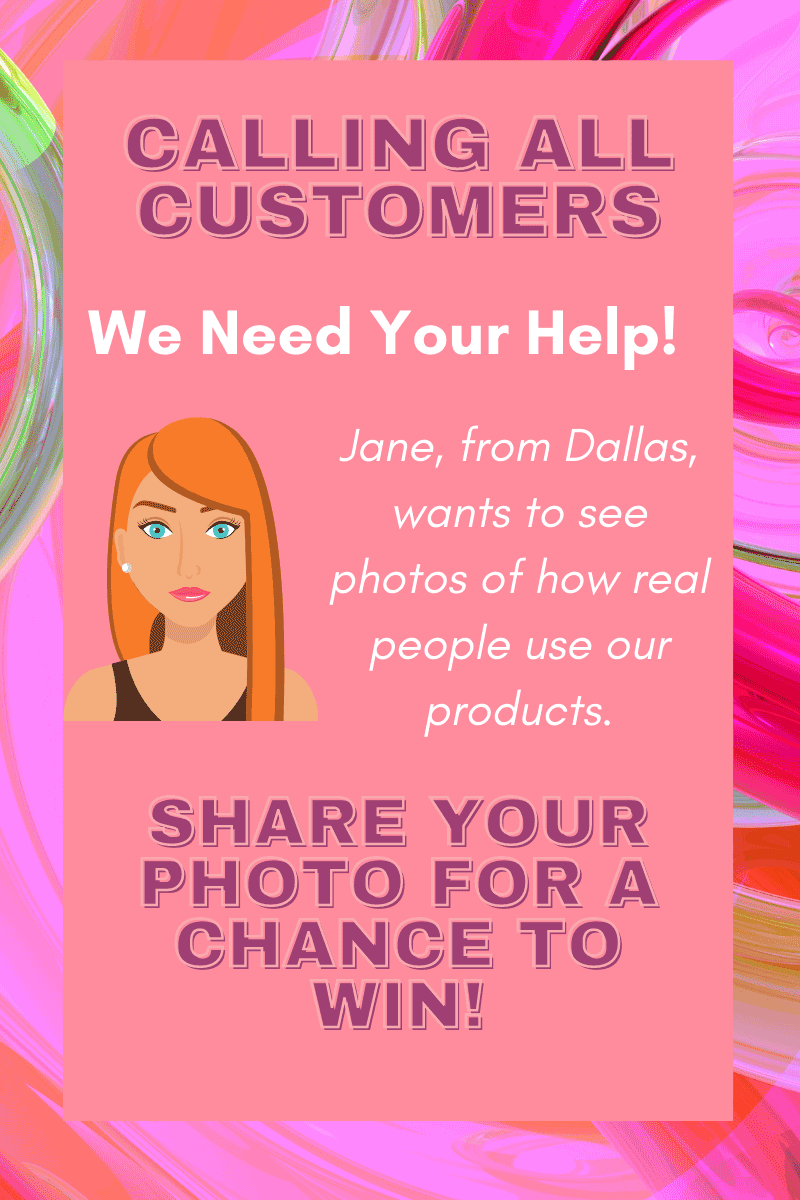 4. Develop strategic partnerships
Partnering with other brands, bloggers, and micro-influencers can generate business referrals and provide cross-promotional opportunities. Doing so allows you to tap into their existing customer base, increase local lead generation, and reduce customer acquisition costs.
Use strategic partnerships to increase sales by nurturing business relationships and finding ways to boost both companies' referrals. Get started by:
Identifying individuals or companies with similar values and target markets
Brainstorming ways to pair up and refer customers to both brands
Offering an incentive for client referrals
Creating a referral agreement for affiliate marketing
Sponsoring a blog post on a partner's website
Teaming up for a shared giveaway on Facebook or Instagram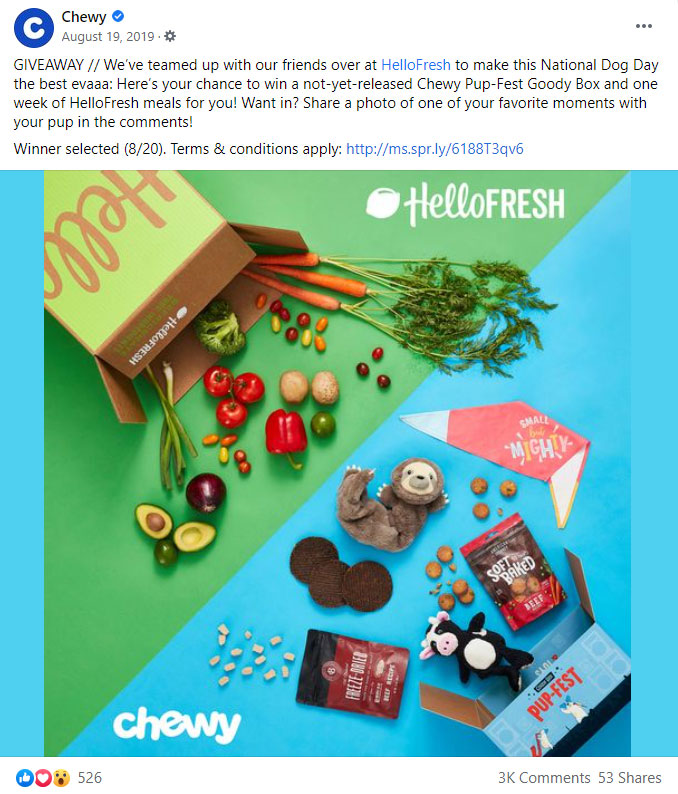 5. Get your employees involved
Your employees can be an invaluable source of referrals. They know your brand and the people behind your company. And when they refer a friend naturally, without being pressured, it comes off as very trustworthy.
Follow best practices to help your staff generate business referrals, such as:
Provide shareable content for use on channels like LinkedIn or Facebook
Interview employees and post interview snippets on social media
Get staff involved in content creation for usage across platforms
Encourage teams to add a referral call-to-action in their email signatures
Offer fair and straightforward incentives for confirmed sales leads
Want to boost employee engagement and get more referrals? Design an employee-only contest and offer a chance to win for every referral!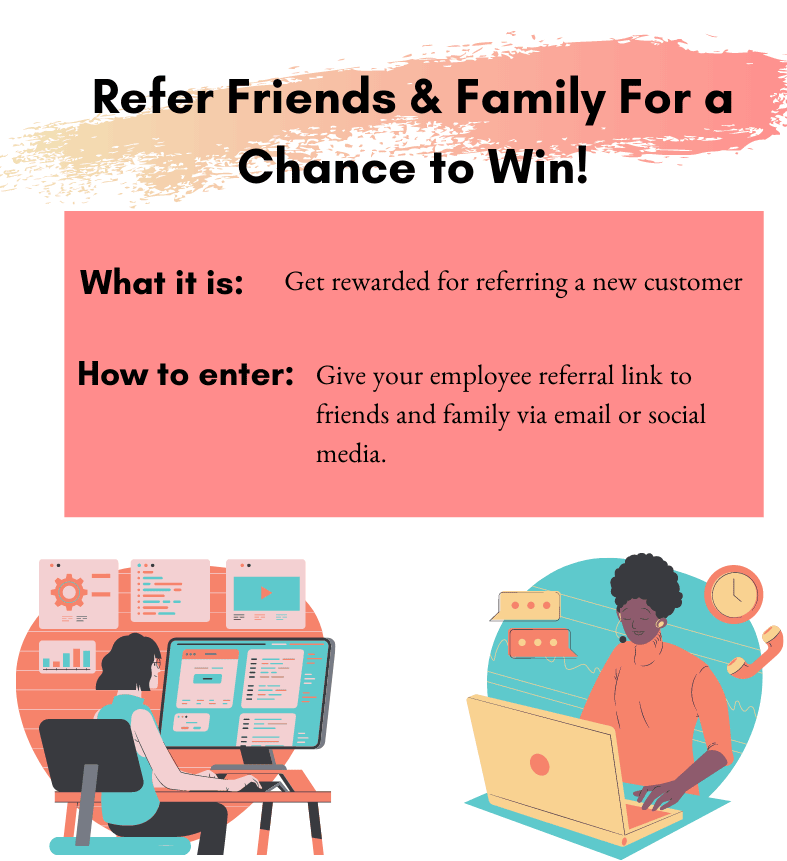 6. Devise a customer referral program
You can develop a standalone referral system or include it in your existing loyalty program. Loyalty rewards members are customers who already frequent your store to rack up rewards points. Up the ante by offering extra incentives for each referral who turns into a customer.
Many brands generate leads using a referral program. For example, Moo rewards people who refer a friend or a business. Both the customer and new lead get an incentive. Once you design a system, you can use marketing tools, from instant win games to giveaways, to promote it.
7. Simply thank your customers
Sounds easy, right? It is. Once a lead turns into a customer, shares your content, or writes a review, send them a note of thanks. Be genuine, show your human side, and that you're not just a faceless brand selling products. People will recognize that genuineness and share their stories with friends.
You may also want to host a customer appreciation giveaway. And don't forget to go big on National Customer Appreciation Day, celebrated every April 18th.

8. Build your review collection program
Regardless of your industry, getting more reviews should be a top priority. People look for reviews before buying anything. And each person who leaves a review is a possible repeat customer and referral source.
However, it's not only about good reviews. Responding quickly and professionally to a negative review can boost your brand's reputation resulting in a lifetime customer who'll help you solve the question of how to get referrals.
Generate goodwill with your customer review strategy by saying thank you to customers. Send them a promo code or coupon to use on their next purchase.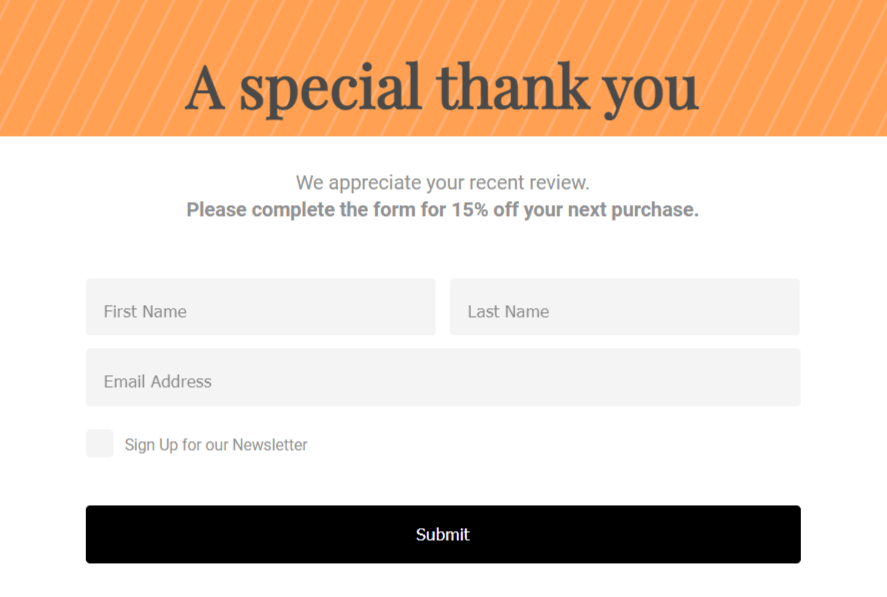 9. Ask for a customer referral
Of course, you can request a client's referral outright. But there are more subtle ways to make the ask as well. Build your bucket of warm leads by:
Adding a link to your email signature while asking readers to refer a friend
Putting a referral CTA on your thank you landing page after someone joins your email list
Incorporating a line to your sales receipt asking buyers to tell their friends
Reaching out to well-nurtured LinkedIn connections
With Woobox giveaways, you can use your post-entry page to ask entrants to share your promotion with their friends.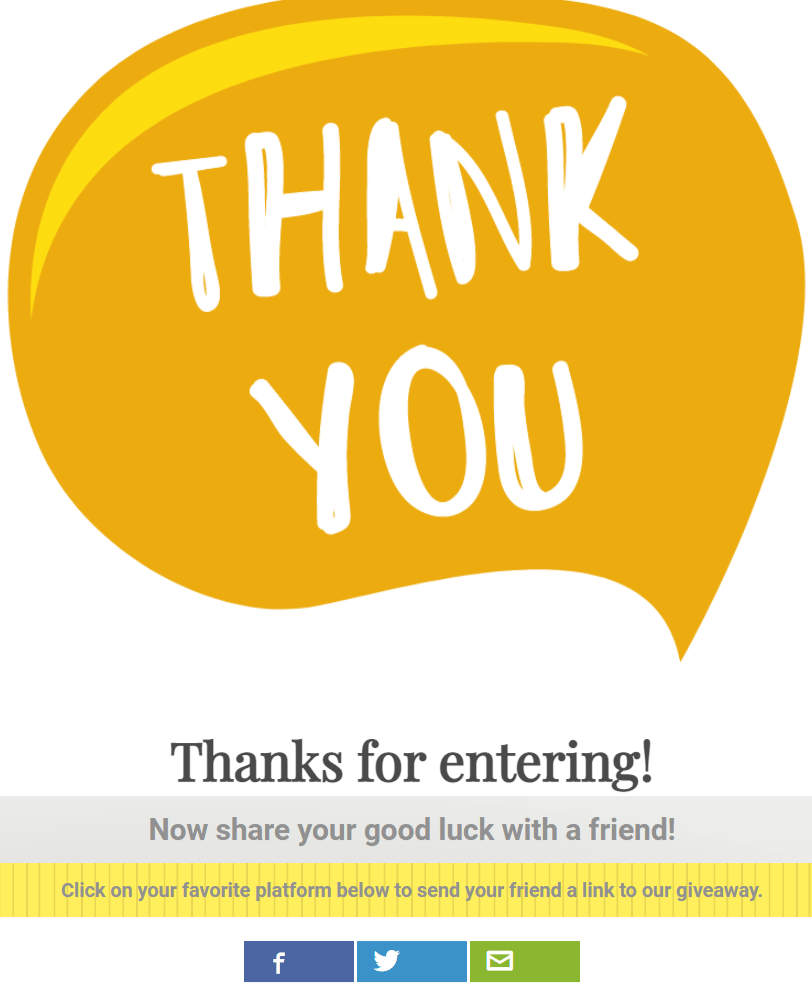 10. Create plenty of shareable content
Getting referrals doesn't have to be complicated, especially when using social media or email. Post engaging content that followers want to share with friends, and you can spend less time looking for referrals.
Add fun to your social pages and websites by asking followers to share:
Product-picker or personality quizzes
A funny caption-this post
Photos or comments about your brand
A short video review of your product or service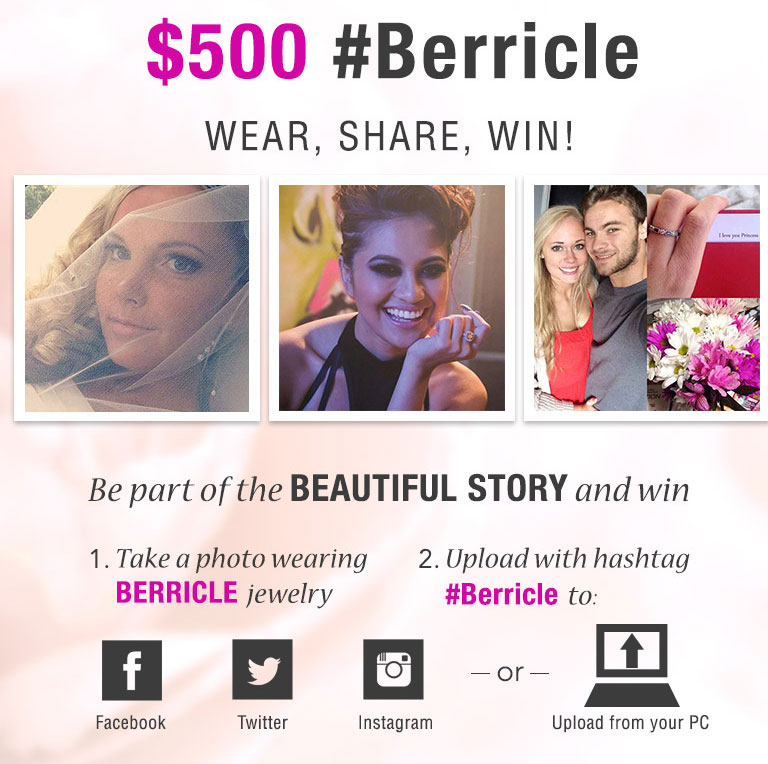 11. Boost Brand Awareness by Turning Any Promotion Into a Referral Tool
You don't need a refer-a-friend giveaway to award bonus entries. Instead, plan your next promotion and simply add referral bonus entries. This feature works on:
Sweepstakes
Photo contests
Quizzes
Polls
Forms
Decide how many bonus entries users get per referred entrant. For example, you may give one extra giveaway ticket for each referred fan. Or you can hand out up to 25 bonus entries per referral. Once you set-up your contest, Woobox handles the tracking in the background, so you can use your time to interact with fans online.
Use Giveaways to Boost Your Referral Marketing Program
By designing an effective referral marketing strategy, you can help customers amplify your brand across multiple channels. Their kind words and social shares can help fill your pipeline. But you get more than warm leads. The tactics used to increase referrals also improve current customers' experiences and help you build stronger relationships. With the built-in bonus entry feature, you can turn any promotion into a referral-generating machine.
Need Help Creating a Refer-a-Friend Giveaway?
Are you ready to kick-off your referral bonus program with a giveaway or contest? Our Woobox team is available from 8 am to 5 pm PST, Monday through Friday at 1-360-450-5200 and support@woobox.com.