Social media, mobile devices, and interactive digital marketing have made it easier than ever to reach your target audience without spending thousands of dollars on billboards, TV commercials, or newspaper ads.
For many small businesses, this levels the playing field, allowing them to compete with larger brands. Yet, many marketers and business owners are still looking for an effective way to gain an edge over their competition.
With so many options, it can be challenging to determine which marketing strategies are will actually help drive brand awareness and sales.
Are you looking for a creative, fun way to market your small business? Online interactive quizzes might be the perfect answer — particularly during a time when many people are staying home.
How Can Quizzes Help Your Business Grow?
Quizzes provide customers with a bit of entertainment — but those moments of fun can be incredibly valuable for your business. Nearly 12% of business owners say that generating brand awareness is their greatest challenge.
Online interactive quizzes increase brand awareness and online engagement, which can improve the effectiveness of other marketing strategies. For example, most social media platforms, like Facebook and Instagram, use engagement rates as part of their algorithm. This means more engagement = more visibility = even more engagement.
Quizzes can also provide access to useful information about who your audiences is and what drives their purchase behavior. This information can then be leveraged for remarketing, email marketing, and even market research.
4 Types of Online Quizzes & When to Use Them
Ready to start building a quiz to drive engagement and support your other marketing strategies? First, you need to figure out what type of quiz to host. Here are the four most engaging quiz types — and why they work so well.
Which -blank- are you?
Which Golden Girl are you? Which Harry Potter house are you in? Which -blank- are you quizzes leverage pop culture and fandoms to increase reach and entertain.
To create this type of quiz, create a list of questions that assign values based on how players answer questions — if your ideal Saturday is afternoon is drinking mimosas, you're clearly a Blanche!
Or, you could take a quiz to figure out which Teenage Mutant Ninja Turtle you are: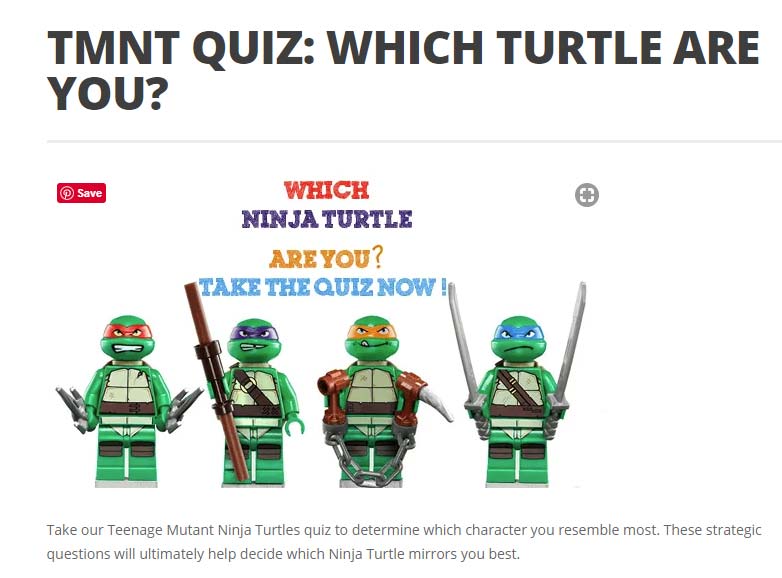 The quiz asks questions about your favorite mode of travel, what you most fear, how you'd fight in a battle, and, of course, your favorite pizza topping, and then tells you which TMNT you are. (Michelangelo, here!)
What makes this quiz work so well? There are a few reasons.
It's fun, which increases participation.
It's nostalgic, which makes people more likely to share
It uses pop culture, which makes it more popular — and helps target a specific age range of people who loved the show.
When to Use 'What _____ Are You?' Quizzes
When you are looking to drive engagement with a specific target audience.
Trivia quiz
Trivia quizzes ask players a serious of questions and then offer a score based on how many questions you answer correctly. Trivia is fun and it generates a bit of competition, which makes it hard to resist.
Take, for example, this quiz about Louisiana music: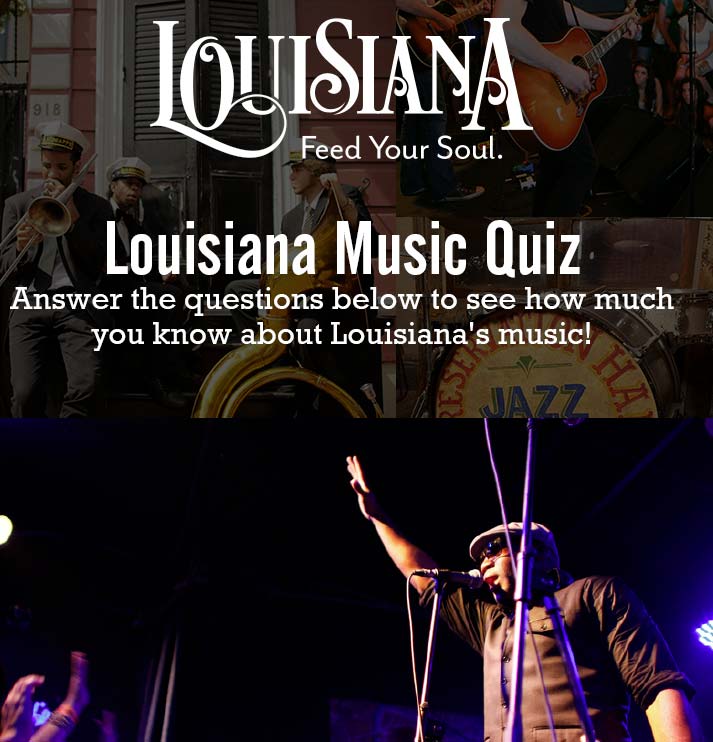 The quiz itself asks some pretty complex questions like "What is the second most recognized song in the world, made popular by a Louisiana governor?" But this works well for two reasons — it is actually challenging, which make sit more fun, but the questions also limit the type of people who want to play (and share) the quiz.
Here are a few more reasons why trivia quizzes are great marketing tools:
The questions help limit the quiz to your target audience.
People are more likely to share the quiz and encourage others to participate so they can compare scores.
They are entertaining and fun.
When to Use Trivia Quizzes
When you want to increase the overall reach of your business and target specific interests.
'Test Your X Skills' Quiz
Trivia quizzes tend to focus on more obscure knowledge. Skills tests, however, focus on how much people know about a specific topic. For example, Outbrain, a native advertising company that recommends content based on user behavior, created a digital marketing quiz which tells player if they are are digital marketing novice or whiz.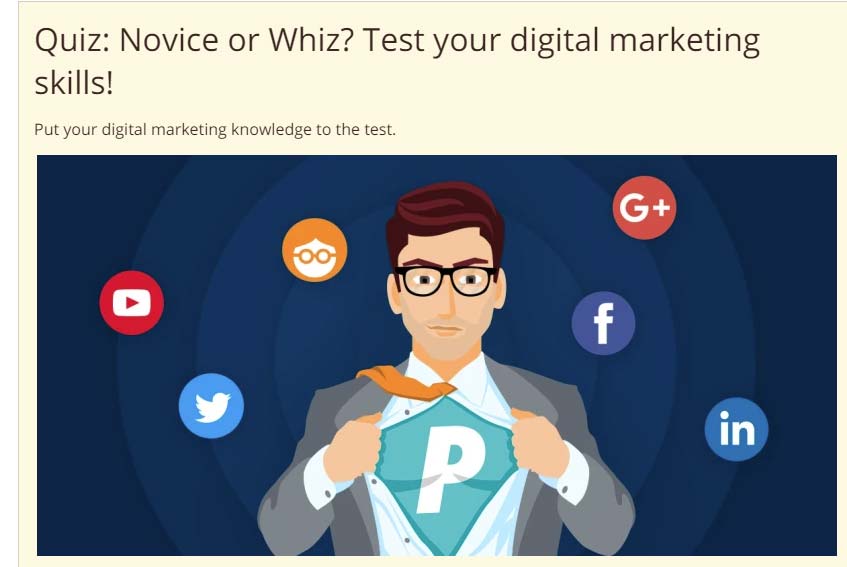 The quiz gives users bragging rights if they do well — but it also gives the brand information about topics users aren't familiar with. This information could be used to send targeted emails or suggest content players might be interested in.
When to Use 'Test Your Skills' Quizzes
When you want to engage a very specific audience. Testing skills related to your audience allows your brand to gather information and engage people who are interested in the products or services your brand offers.
Polls
This isn't your traditional fun online quiz — but it's interactive nature can be incredibly useful for businesses looking to better understand their customer base. Your polls can ask users a multiple choice question and provide a variety of answers.
Here's an example of a poll from Armor's Ale House in Ontario, who asked their audience which pizza they would prefer in this online poll: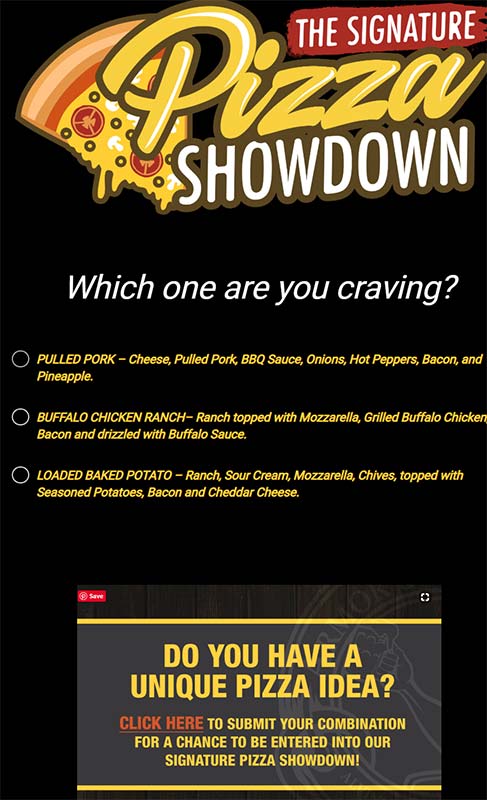 Why this poll works:
Armor's Ale House polled users about a topic many people are passionate about — pizza!
The poll is multiple choice, which makes the poll easy to take.
It does not require a login — but it does suggest users share the poll with their friends.
At the end of the poll, they ask users to submit their "unique pizza idea" for a chance to win, which increases participation.
When to use a poll: When you want to do market research.
Conclusion
Quizzes are more than just entertainment — they are also strategic marketing tools that can help your business engage with your audience online to increase engagement and support all your other marketing strategies.
A few of the most popular types of quizzes you can use to build your brand online include:
Which -blank- are you?
Trivia
"Test Your X Skills
Polls
After creating your quiz, make sure to develop an online promotion strategy to increase ensure your audience actually sees your quiz. Depending on your industry and audience, your promotion strategy might include paid ads, social media posts, and an email campaign.
Ready to build an online quiz to engage your audience? Sign up for your free Woobox account and start building today. If you need help. Our support team is available to assist Monday to Friday from 9 am to 5 pm PST at 1-360-450-5200 or
support@woobox.com
.