Will your customers choose your brand when the pandemic ends? Is it possible to generate leads when shoppers aren't buying your products? These are two top questions that professionals are asking across industries.
Even if sales are down, you shouldn't stop communicating with your customers—a consistent approach to marketing during the pandemic results in greater trust. Folks will remember the companies that supported everyone affected, from essential workers to small businesses.
Keep your brand in front of a captive audience with purpose-driven and interactive campaigns. Use these creative ideas to generate leads and increase brand loyalty.
1. Give Thanks to Essential Workers
Many of us still head out to work every day or rely on essential workers to deliver us food and supplies. Your audience emphasizes with essential workers and appreciates opportunities to say thank you.
Acknowledging their worth and the hazards they face is a good way to demonstrate goodwill and appreciation. Create a giveaway or an instant win contest. Your followers may tag, share a photo, or simply say thank you in the comments.
2. Add Video Gaming to Your Marketing Mix
One industry seeing a pop in new customers is the video gaming market. AdAge shares a statement from Mat Piscatella, a games industry analyst at NPD: "Whether together on the couch playing locally, or playing online, gaming has generated increased engagement, which has resulted in corresponding increases in consumer spend."
Is there a member of your company that plays video games? If so, create a user name on PS4, Xbox One, or Nintendo Switch. Create a campaign where you hand out coupons for each person your brand connects with. Denny's is participating in video gaming and posting about it on Twitter and Instagram.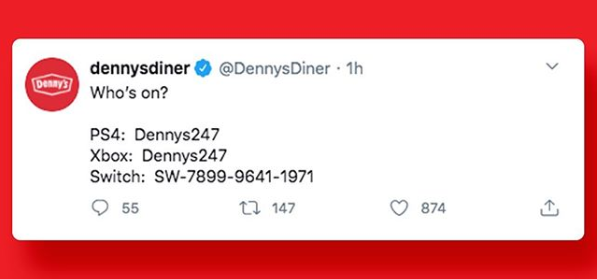 3. Stave Off Loneliness With Weekly Virtual Happy Hours
Staying connected continues to be a huge "must" for your audience. Invite friends to join you for a virtual happy hour. Use a platform like Zoom, Skype, or Slack. Or, host an event on social media, like a water cooler or coffee break session. Guide the conversation via live video and encourage fans to interact in the comments. Ways to increase engagement include:
Ask fans questions related to your theme.
Get other employees involved in your comments or video chat.
Answer questions in your livestream.
Use these tips from Anna Goldfarb in the New York Times for a successful virtual happy hour.
4. Join #TheGreatAmericanTakeout Campaign
This national campaign has raised $310,000 for charities that support restaurant employees and their children. Get your business and local community involved. The organization posts new dates and campaigns regularly. Plus, they give tips for promotion, including example posts for Instagram, Twitter, Facebook, and LinkedIn. Don't forget; you can add suggested copy for social shares for any of your Woobox campaigns right on your landing page!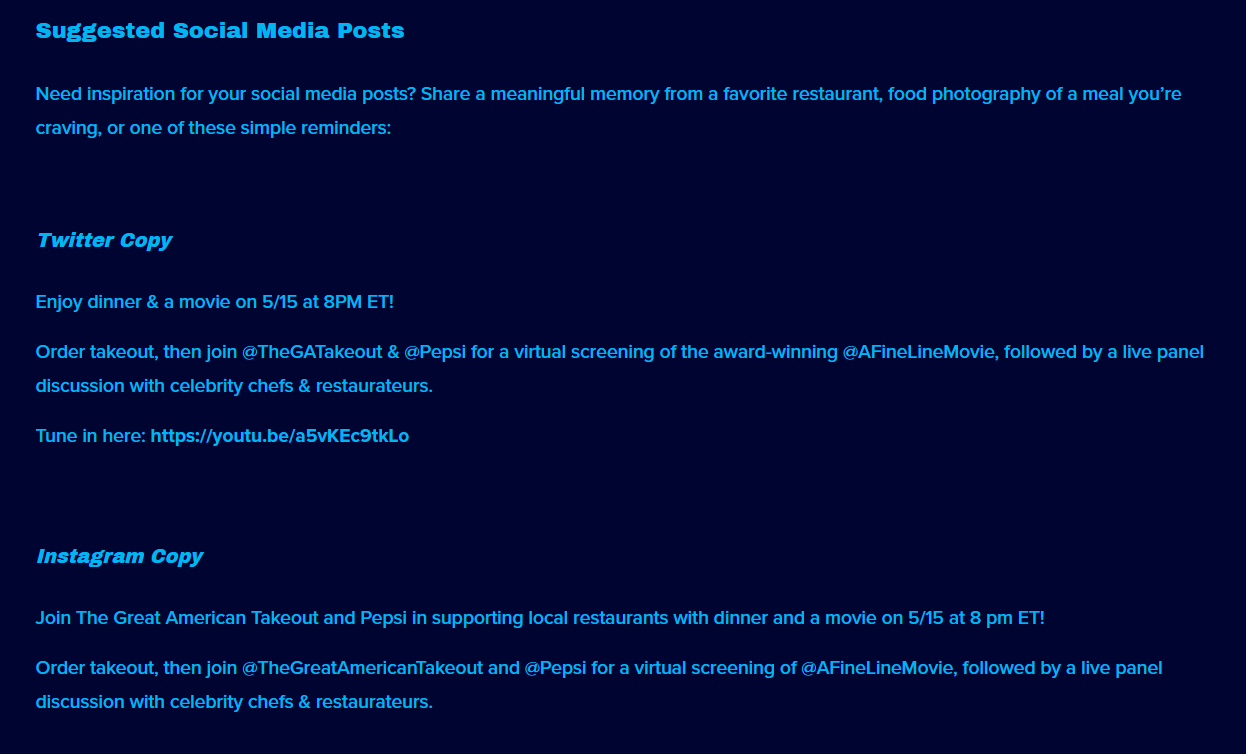 5. Help Fans Celebrate Birthdays
Celebrating birthdays while social distancing is another pain point for consumers right now. Kids and adults are looking for ways to celebrate when they can't invite family over or stop into their favorite restaurant. Look for ways to help folks observe these special days. Consider ideas like:
Add a web page where you highlight birthdays each week. Your followers send you the first name of the person, a photo if they'd like, and you showcase your fans on your page.
Create a landing page for people to sign up for your birthday club. Then send each one a coupon during their birthday week along with a personalized email.
Start a social media thread where folks can tag a friend or family member with a birthday for extra recognition.
6. Create a Branded Hashtag Contest
A hashtag contest is an excellent way to get folks sharing user-generated-content on their social channels along. It subtly increases brand awareness via your hashtag. Come up with a brand-related activity, create a hashtag, and run an awareness campaign.
The company Gym Source designed a #YourHomeYourGymChallenge. Customers share exercises on social media using the branded hashtag. Gym Source uses a variety of platforms, including YouTube, to boost brand and product awareness.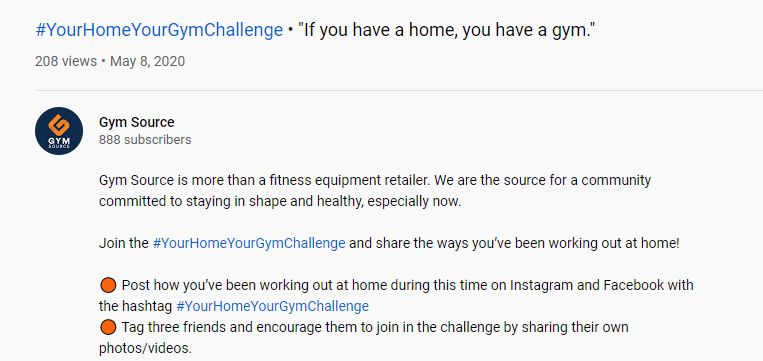 7. Share a Fun Quiz to Reduce Stress
Add a personality or trivia quiz to your campaign easily using Woobox. Quizzes are super sharable, fun, and a form of interactive content that people love. You can make your quiz brand-specific or product-related. Or pick a topic related to your audience's interests. Need help with ideas?
Check out this list of Facebook interests. It shows all the Facebook ad targeting options. And it gives you plenty of topic ideas for a quiz, poll, or contest.
Copy and paste these quiz ideas into your next campaign. Create a mix of interactive content using fun ideas that work for all audiences.
8. Ask: What's For Dinner Tonight?
A pretty common refrain right now is people saying it feels like they're making more meals than ever before. Help your fans connect through food. Examples include:
Create a giveaway where folks share a photo of tonight's meal.
Take a poll on who's ordering out and who's cooking a meal.
Poke fun at serving food to toddlers by asking for a photo of their dinner.
Get dinner suggestions by hosting a comment-entry giveaway.
The Baltimore Supper Club takes a different spin with its Quarantine Cook-Off video contest. Consumers submit their videos, and fans vote on their favorites in the gallery.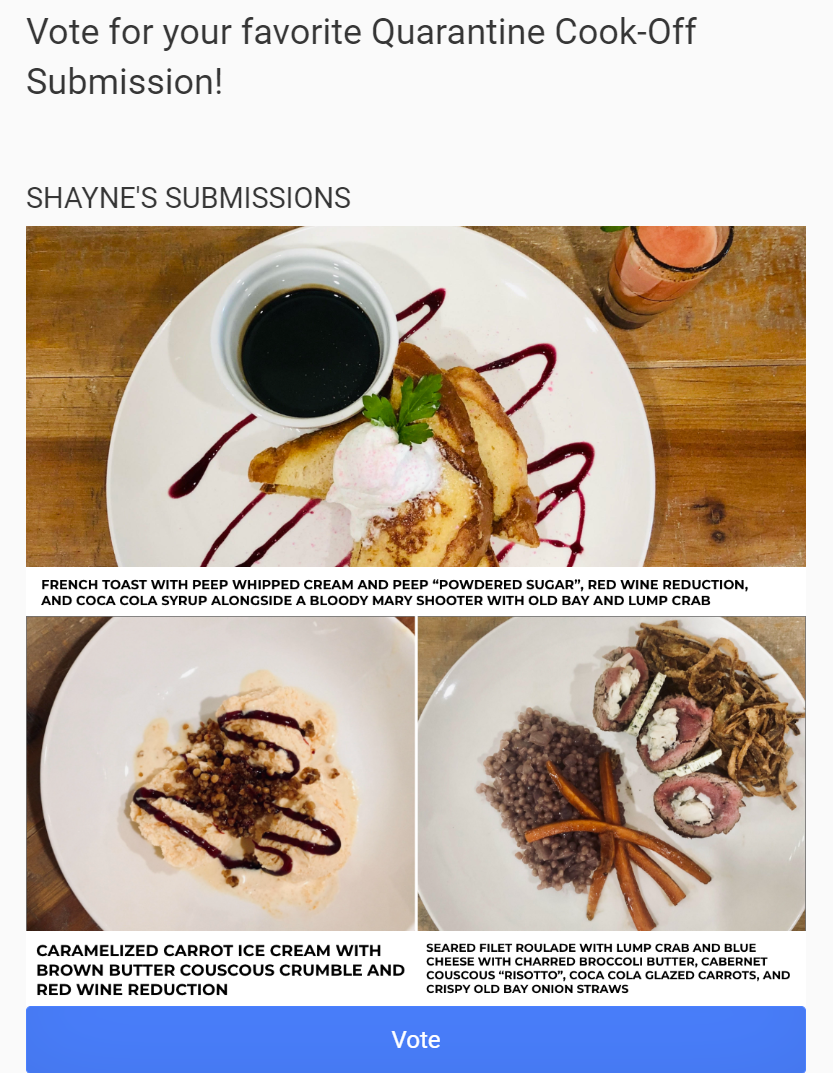 9. Host a Video Contest Where Kids Interview Caregivers
A popular Facebook post asks parents to share their children's responses to a series of questions. This is a fun way to get the family involved without sharing personal photos of minors. Give kids a chance to use their tech-savvy skills and interview mom, dad, or another caregiver.
Create a few questions and ask parents to let their kids run the interview. This video contest has a low barrier to entry as most folks have a device with a camera. This activity builds a bond between family members. It also gives caregivers a chance to laugh and connect with others online.
10. Take a Poll: Takeout vs. Cookout
As the weather warms up, more folks are finding ways to get outside. Create polls that embrace current activities. Ask fans to choose between two to four events by leaving a comment. Ideas include:
Give poll choices for popular or location-specific grill items.
Ask fans to create a virtual s'more by picking from photo toppings.
11. Create a Safe Space to Vent
Caregivers of all sorts are experiencing increased stress right now. Build relationships with your fans by giving them a judgment-free place to vent. Movo is hosting a hotline for moms. The brand invites fans to talk about their lives and hosts giveaways to win free Movo products.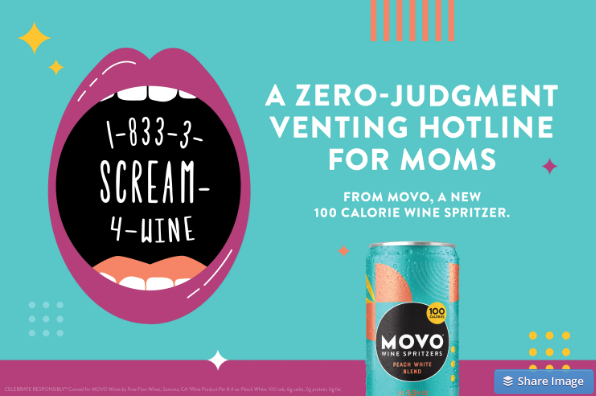 Allied School gives its audience an outlet by asking them to share their story to win a prize instantly. With an instant win contest, there's no waiting around for the giveaway to end. Many folks are happy to share a few words for a chance to win a prize.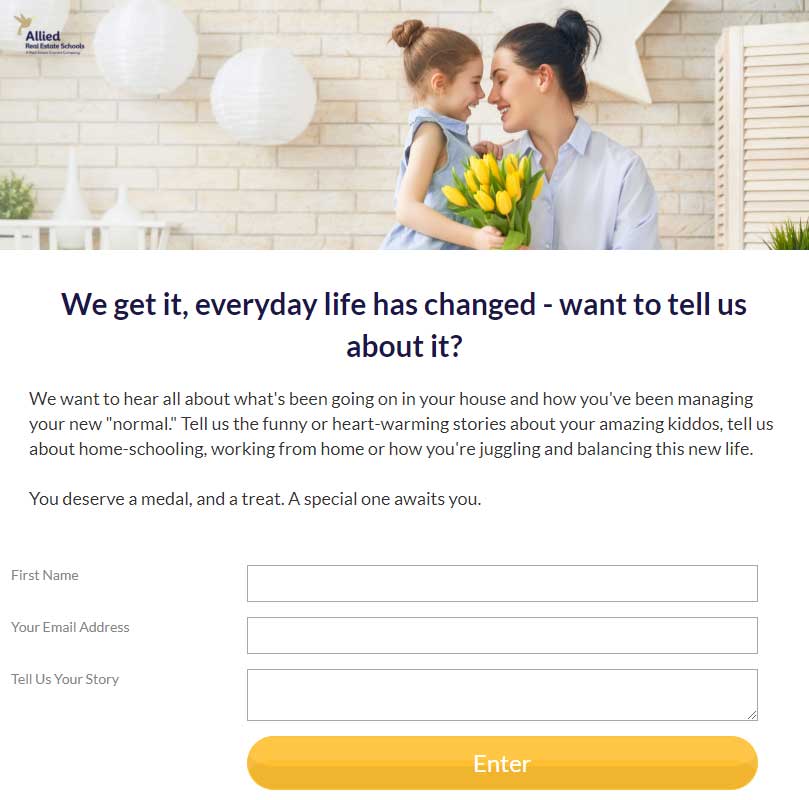 12. What's the First Thing You'll Do (Buy, Places You'll Go)
Tailor a poll or comment-entry contest by asking your audience about what they're dreaming about doing after quarantine. Try to relate this back to your brand in some way. For instance, Talkwalker reports travel companies are seeing an increase in searches for:
Beach, island, camping and lake vacations
Mountains, road trips, and camping
13. Recognize Medical Professionals
You can't pick a wrong time to host a giveaway for medical professionals. This is a great way to connect with your community or show appreciation for fans across the globe. You may partner with other companies to further your reach and give either a bigger prize or more of them. Need ideas for prize ideas or campaigns? RegisteredNursing.org offers an ongoing list of freebies, coupons, and discounts.
14. Create a Campaign Around a Popular Social Media Holiday
Spread positivity across your social channels by developing a campaign for a popular holiday. Create a series of posts highlighting customers, your employees, and quotes related to the holiday. Consider campaigns for:
June 8: Best Friends Day #BestFriendsDay
June 11: Make Life Beautiful Day #MakeLifeBeautiful
June 21: National Selfie Day #NationalSelfieDay
June 30: National Postal Worker Day #NationalPostalWorkerDay
15. Small Business Recognition
Team up with community partners to generate a buzz about local businesses. Use a bracket to create ongoing engagement over a longer campaign. In this example, 15 restaurants donated gift cards for the Chicago Burger Madness 2020 bracket. Each week folks vote on their favorite burger photo.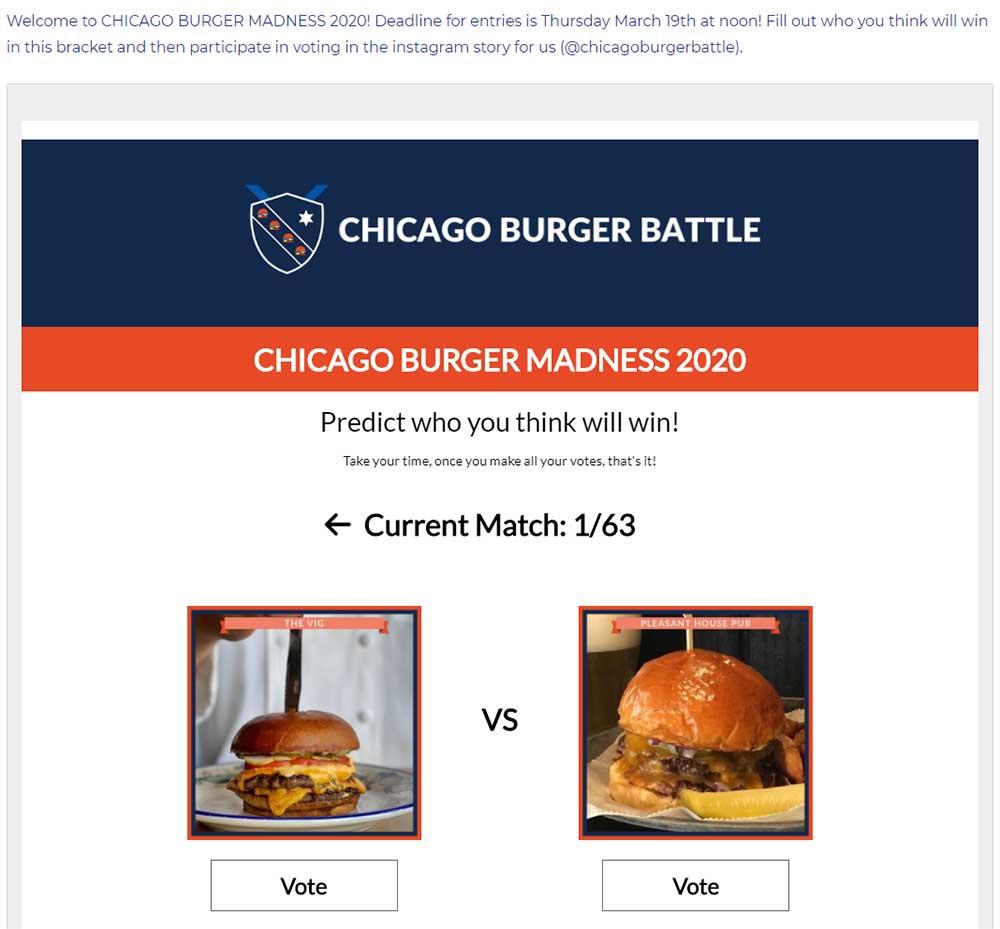 16. Hop on the GivingTuesday Train
Although the latest campaign, #GivingTuesdayNow ended, many people participate in GivingTuesday throughout the year. Give back to your community or support a customer's cause by participating in a #GivingTuesday event.
Consider giving a cash donation, gift card, or staff meal to the winning group. Get ideas from local business owners or search for opportunities near you.
17. Provide a Resource for Remote Workers
People continue to search for more Information about remote work. Giving a free resource that fits your audience's demographics and brand is a great way to increase your brand sentiment. You can keep it simple with a quiz followed by a results page with tips for remote work. Or go a step further by creating a:
Quiz or poll to gather research for an upcoming digital asset
Downloadable checklist, infographic-explainer, or guide
Landing page, lead form, and quiz content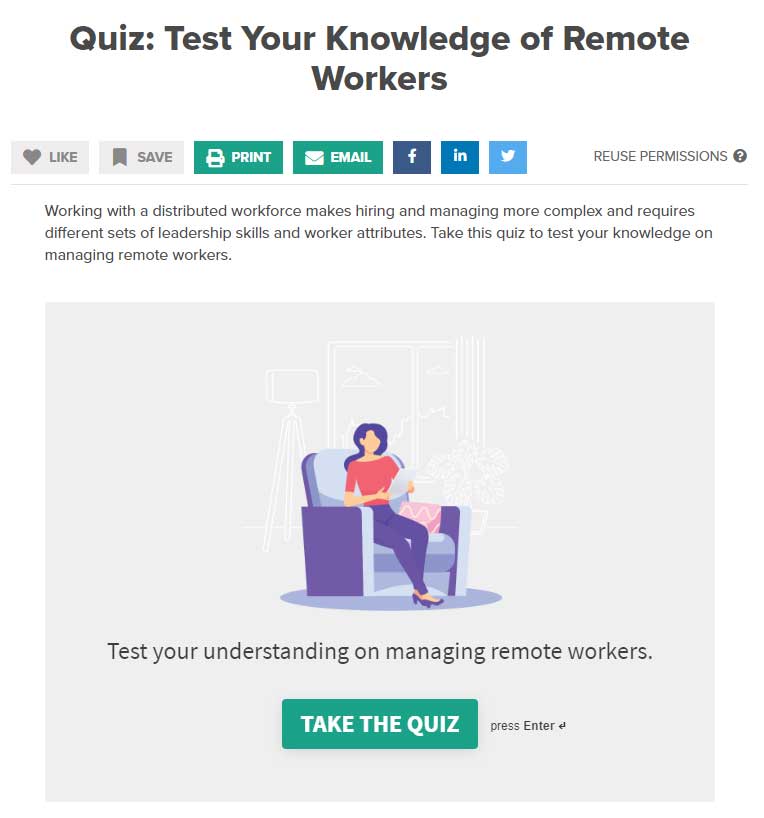 Use Easy Marketing Ideas to Connect With Your Audience
A consistent approach improves your relationship with customers while boosting brand awareness. Connect using a poll, giveaway, or contest that acknowledges current events. Unique marketing ideas display your personal side and encourage audience participation. Personalize these campaigns to reach goals and support loyal fans.
Need Help Creating Your Campaign?
From selecting campaign formats to using our updated Winner Picker, get your questions answered by contacting Woobox Support. Our team is available from 8 am to 5 pm PST, Monday through Friday at 1-360-450-5200 and support@woobox.com.