So you've decided to make the most of your growing Instagram audience by running an Instagram comment giveaway. In other words, a sweepstakes based on the selection of a random comment. Yay and fun, right? You can't wait to see all the terrific feedback and engagement your promotion will bring to the party.
Here's the less fun part: you have to ensure you handle the winner's selection in a way that is fair, unbiased, and compliant with federal and state laws. Boring? Maybe. Totally necessary? Absolutely.
Let's dig into the details on how you can run Instagram giveaways based on comment selection, doing it the right way to prevent trouble and assure followers that your random drawing is fair and square.
Here's what we cover:
What is The Woobox Instagram Comment Picker?
Woobox is a browser-based marketing app with promotional tools that integrate with your Instagram business profile. (The same is true for Facebook, Twitter, and YouTube.)
There are many apps for running contests out there. However, if you want to filter comments and run giveaways with a certificate of integration with Instagram — among other powerful features — Woobox will help you get up and running beautiful, powerful giveaways.
You can start using the free posts tool with a quick login, and by next connecting your Facebook and Instagram accounts. Your easier giveaways are almost ready!
Remember: you need an Instagram business profile to pick comments as winners!
Using Woobox, you can pull all your Instagram posts to instantly pick a winner (or pick winners) for your competition or giveaway. This can also be done for Facebook as well.
Additionally, you can post a URL landing page (created automatically when you start a new campaign in Woobox) and use said URL for your centralized promotion touchpoint. This giveaway URL can also be connected to Facebook, Twitter, YouTube, or practically any other social media source.
Need giveaway rules? Look no further than our competition and giveaway rules templates to get started.
How to Randomly Pick Giveaway Winners from Your Instagram Comments (The Right Way)

Step 1: Familiarize Yourself with Federal and State Rules & Regulations
First things first: I am not a lawyer. I've never played a lawyer on television. The following tidbits are based on researching what lawyers have written about random drawings and contests. With that disclaimer out of the way, here's the scoop from legal experts online.
Avoid running an illegal lottery. Lotteries are heavily regulated, and the government prohibits private lotteries. How do you know if your contest or giveaway is a lottery? Determine if these three conditions are present:
A prize with a value
An element of chance (random drawing/selection)
Consideration
Consideration is where things get tricky. If you require the purchase of your product or some other action that requires considerable time/effort on the part of the participant, that is "consideration." The easiest thing for you to do is remove any requirement of purchase or extensive time/effort. If you've ever wondered why so many sweepstakes say, "no purchase necessary," now you know.
Understand the state laws of the potential winners. Ugh, right? Intellectual property lawyer Matt Knight writes, "Since most giveaways are online, you need to consider the giveaway laws of every state when designing your promotional campaign."
Thankfully, as he points out, if you haven't created an illegal lottery, you probably won't have many issues when it comes to compliance with state-specific laws. Just remember that word, "probably." If you want to be closer to 100% sure, check with your lawyer or corporate counsel.
Step 2: Comply with Instagram's Promotion Policy
Whew! We've gotten past those pesky federal and state rules and regulations, but the compliance fun doesn't stop with the government. Instagram has its own set of rules that you need to follow when running a competition or giveaway on its platform.
Here's the thumbnail sketch on the do's and don'ts when running a promotion on Instagram:
DO
Provide official rules.
Explain contest terms and eligibility requirements.
Comply with state and federal laws governing giveaways and contest promotions.
Include a complete release of Instagram by each entrant/participant.
Acknowledge that Instagram is not a sponsor nor does it endorse, administer or have any association with your contest.
DON'T
Use inaccurate tags on content and don't encourage other Instagram users to tag inaccurately.
Expect any help or advisement from Instagram in the administration of your promotion.
Step 3: Define Your Instagram Giveaway Goal
If you aren't clear on what you're trying to achieve with a comments contest, then you're already starting on the wrong foot.
Why are you launching this contest? Do you want to increase engagement? Are you hoping to gain more followers by including a "tag a friend" requirement? Are you trying to generate awareness for a new product or service?
Think through your goals and align your giveaway with that goal. Just be doubly sure that nothing in how you plan to execute your promotion requires (or even hints at) any form of "consideration" for participants to enter.
Step 4: Determine What Constitutes a Qualified Entry
Since this post is about using comments as entries into a giveaway, a comment as an entry is a given. But are there requirements around the specifics of the comment?
Are you asking people to tag a friend in the comments? (Side note: Social Media Examiner explains that tagging people in a comment is OK for a contest; just don't tag someone in a picture or the post itself if they aren't part of the content.)
Do they have to use a specific hashtag or mention something specific in the comments?
Nail down your expectations for entries before you launch the promotion.
Step 5: Prepare and Post Official Rules
With a clear description of your promotion, eligibility, prize description, and other details, you reduce the chance of misunderstandings and sour grapes. Address these elements in your official rules and regulations content:
A description of the prize: name, accurate description, retail value, the total number of prizes that will be awarded.
Details about the sponsor: give the name and address of the sponsor and promoter.
Specifics on how to enter and how you will operate the giveaway.
Who can enter (US residents, anyone over 18, and so forth)
Who's excluded (people under 18, 13? People outside of the US? Employees or family members of the sponsor or promoter?)
Note the location of the giveaway (sponsor/promoter's location)
Highlight the fact that no "consideration" is required to participate (no purchase necessary)
An explanation of any restrictions
An outline of how you will execute the giveaway (how you will conduct the random selection, what will happen if there are ineligible entries, entry deadline, when and how you will notify the winner(s)
Make sure your official rules are easy to find and readily available. Add the high-level requirements with your Instagram post along with a link to a dedicated page that outlines eligibility, rules, and requirements.
Step 6: Pick a Random Comment as the Winner
When the big day to select a participant arrives, you have to pick a winner on Instagram randomly. If you're planning on just scrolling through your comments and stopping on someone, don't. Maybe you will be very consciously impartial in your "scroll, stop, select" process, but who knows what unconscious bias may get in your way of a truly random selection.
Instead, you need to avoid anything that looks fishy to your followers. Use an Instagram comment picker like Woobox offers; it's an easy way for you to select a random post from your comments promotion.
Upload your content to Instagram along with participation instructions spelled out in your caption.
When the day arrives to pick someone, you just log into Woobox, click Posts on the left, then select Instagram Comment Picker. Find your giveaway post and click Select.


Next, click Pick Winners at the bottom of the screen.

Woobox selects a random comment as the winner. If the comment doesn't meet eligibility guidelines, don't worry. Woobox doesn't automatically contact the random commenter. You can "unpick" the ineligible entry and try again.
When you use a platform like Woobox to select a winner randomly, you and your giveaway participants can feel good about how a winner was chosen.
Step 7: Announce the Winner
After you've got your randomly selected winner, it's time to spread the good news! Send a direct message to the person in question so you can notify that person first and make any arrangements to deliver the prize (getting his or her email address for a gift card, for example).
Next, share information on Instagram, your website, and other channels to celebrate the winner and the close of the giveaway. You might even take this chance to point out some of your favorite comments as a way to recognize fans for participating.
Instagram Giveaway Examples
For your inspiration, we've included some examples of how other companies have run their own Instagram comment giveaways.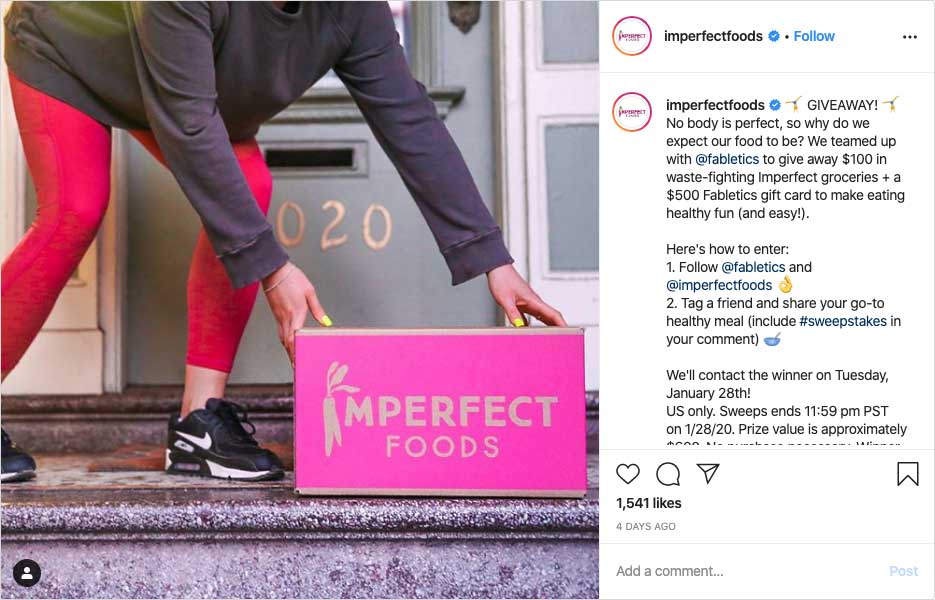 Imperfect Foods and Fabletics teamed up for a joint giveaway. Entrants just need to follow both brands' Instagram accounts, tag a friend, and share their go-to healthy meal with hashtag #sweepstakes in the comment.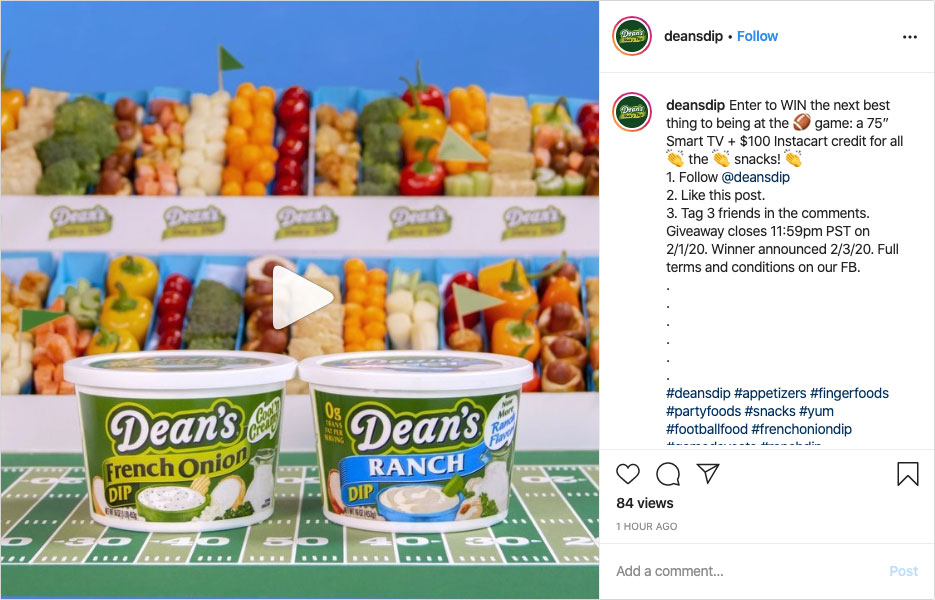 Dean's Dips wants to make a lucky commenter game-day ready with a chance to win a 75" smart TV and a $100 Instacart credit.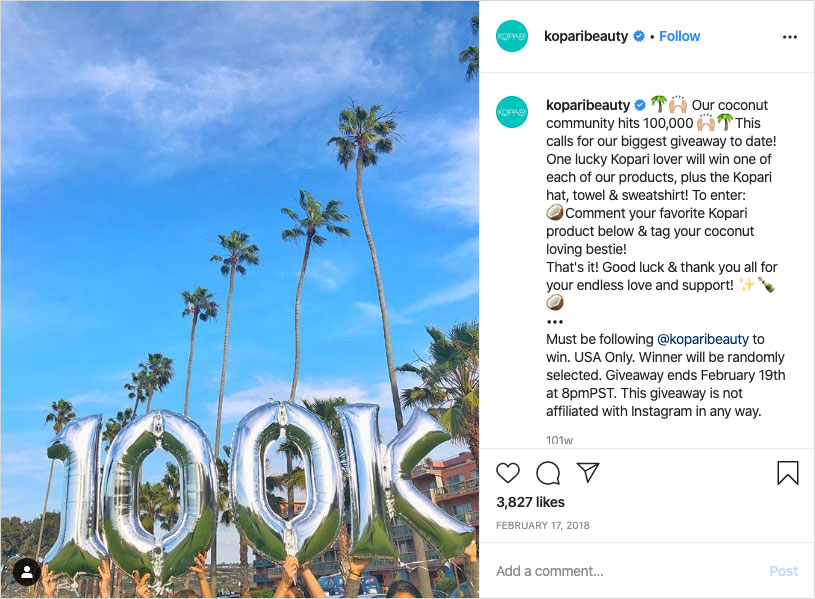 Kopari offered a prize pack to one lucky winner, based on a comment, in its giveaway to celebrate hitting 100,000 followers.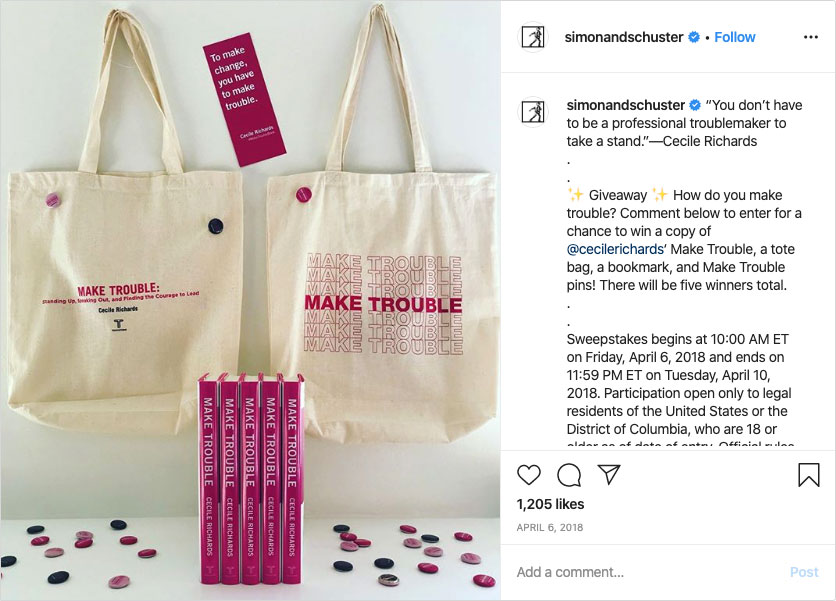 Simon and Schuster used a comments-based giveaway to promote Make Trouble by author Cecile Richards. Participants left comments about how they make trouble as their entries in the giveaway.
Ready to Run Giveaways with an Instagram Comment Picker?
If you are a fan of the "scroll, stop, select" method of picking a random comment as the winner for your Instagram Giveaways, maybe this post has made you reconsider. You have a couple of really significant reasons to consider using a tool like Woobox for random winner selection:
Woobox can help remove any hint of bias or general "shenanigans" in the winner selection process.
The Woobox method of random selection removes any appearance of "consideration." With "scroll, stop, select" as your means of choosing a winner, how can you prove you weren't weeding out non-customers?
Do you need some assistance? Woobox Support is available between 9 am and 5 pm PST, Monday through Friday at 1-360-450-5200 or support@woobox.com.