There's no doubt that the holiday season looks different from past years, making it hard to predict sales or estimate your marketing ideas and strategies' effectiveness. The good news is that "compared to last year, US general merchandise dollar sales increased 3% in the week ending October 10," according to The NPD Group.
But, there's some uncertainty about how huge shopping days, like Black Friday, will look for small business owners. Although the International Council of Shopping Centers (ICSC) finds that "90% of US adults plan to shop in-store for gifts and other related goods," many will start their shopping journey online.
So how can you support digital shopping experiences and ensure a stellar holiday season during challenging times? To find answers, we scoured more than a dozen reports by retail associations, research and analytic firms, and sales technology companies. Using these insights, we developed a list of the top marketing ideas and strategies to drive seasonal sales.
Holiday Season Overview
Folks don't expect brands to deliver the same experiences, with a Salesforce survey showing, "76% of consumers think brands should adapt to changing circumstances" versus returning to previous practices. Part of this adjustment relates to an increase in eCommerce shopping, as ICSC estimates a 25% uptick in online sales.
However, businesses with flexible pick up alternatives, like curbside delivery, pick up kiosks, and drive-through services, have a competitive advantage. Salesforce predicts a "90% increase in digital sales over the previous holiday season" for retail stores offering pick up.
Before jumping into your holiday sales and promo planning, it's essential to understand your audience, including behavioral changes and the driving factors behind their holiday shopping decisions.
Significant Changes to Customer Behavior
As lives evolve, so do shopping and buying habits. For instance, a Selligent survey finds, "36% of consumers are shopping online weekly, up from 28% before COVID-19." Key statistics about consumer behavior include:
56% expect to make a new purchase to support a shift to remote working. Selligent.
73% of consumers have tried a new shopping behavior: A different brand, website, retailer, or digital shopping method. McKinsey.
53% of consumers are more concerned about their health now than they were before Covid-19. Bain.
Consumer Shopping Channels
The data overwhelmingly shows consumers are shopping online more than ever before, with Deloitte predicting "eCommerce sales to grow 25% to 30% year over year." And an AlixPartners survey finds, "45% of Americans plan on doing the majority of their holiday shopping online," an increase of 15% from 2019.
An increase in digital shopping has also led to a boost in purchases made through social media channels. 13% of respondents to a McKinsey survey say they've bought something on social media since COVID-19 began. And 61% say they'll continue to shop on social platforms.
Customer Service Expectations
Consumers still expect speedy service. Selligent states, "93% of customers expect a response from a brand within 24 hours," a decrease of 3% from 2019." However, fewer people use the phone for customer service, dropping from 43% in 2019 to 33% in 2020. This suggests that brands must provide and monitor other communication formats, such as social media, email, website chat or messaging, and text messaging.
Critical Insights: How to Increase Sales this Holiday Season
The driving factors for shoppers this year are value and convenience. But, marketers must balance discounts and promotional messaging while remaining sensitive to regional differences in shopping activities due to the pandemic. Leverage data-based marketing ideas and strategies to personalize holiday promotions and campaigns to your target audience.
1. Update Buyer Personas
As behaviors continue to shift, marketers who review customer data can adapt marketing messages for a higher return on investment (ROI). Your clients don't fit into one neat box, so identifying different patterns allow you to tailor your marketing ideas to specific personas. Look at:
Google analytics. Are people using your website differently or clicking on particular pages more than in previous years?
Social media analytics. Are your followers' demographics the same? Who is sharing your posts, and what are they sharing?
Email analytics. What types of shoppers are opening, forwarding, or clicking links in your emails?
2. Focus on Value and Convenience
Price is a top concern this year for 34% of shoppers, according to Bazaarvoice. The desire for value factors into the dramatic increase in sales during Amazon Prime Day 2020, with small to medium businesses seeing an increase of nearly 60% from 2019.
Moreover, online chatter about the event skyrocketed. Retail Customer Experience says, "Sprout Social reported 402,294 total conversations tracked on Twitter during the two-day event," versus 184,610 conversations in 2019. As in most years, promo codes, free shipping coupons, and exclusive sales give customers the deals they crave.
But, adding value doesn't always mean steep discounts. Show customers how your product benefits them and perhaps reduces personal expenses. For instance, even if a client missed your buy-one-get-one promotion, buying your hair product still saves them $25 over a salon visit. Emphasize value and convenience by:
Sharing customer testimonials generated from comment-entry giveaways
Posting user-generated content highlighting product savings versus alternatives
Offering discounts for your preferred delivery method (curbside versus delivery versus in-store pick up)
3. Replicate In-Store Experiences Online
Although people are shopping more online, they definitely miss in-store experiences. You can help them adjust by providing virtual experiences similar to what they'd find at your business. For example, several beauty brands, like bareMinerals, give virtual consultations to assist shoppers. Soko Glam uses a short quiz to recommend products and offer their skin consultation services.
4. Use Content to Support Buying Decisions
With an overload of online buying options, consumers spend extra time vetting their decisions before purchase. McKinsey data shows, "20% of consumers are researching brand and product choices more now than previously." Adding more information about your products, services, and benefits enhance the customer journey. Increase your use of:
Explainer videos on websites and social media about products' value, benefits, and use
How-to guides to show how to get the best use or value from your product
Diagrams, charts, and visual aids to present buying options
In-depth product information, like technical details
Customer reviews on your website, social media, and third-party review channels
Furthermore, shoppers want transparency before making a purchase decision. Use online tools and content to show real-time inventory in stores and online, shopping options, and the precautions you're taking to keep customers safe.
5. Promote Convenient and Safe Buying Options
While everyone hopes for a return to on-site shopping, it's simply an unknown element. By adding convenient buy online, pickup in-store (BOPIS) options, and highlighting the benefits, you appeal to customers and have a backup plan. For instance, an ICSC survey finds 53% of consumers plan to use services like curbside pickup and click-and-collect. Key considerations include:
Showcase changes to pick-up services with videos showing kiosks or portable check-out options to reduce lines.
Provide flexibility in pick up arrangements with clear instructions for the process of each.
Prominently display your best-selling products online.
Improve your shipping information to soothe fears over long waiting times.
Offer expanded services such as free face masks and hand sanitizer stations.
Appeal to last-minute shoppers by emphasizing your easy BOPIS options.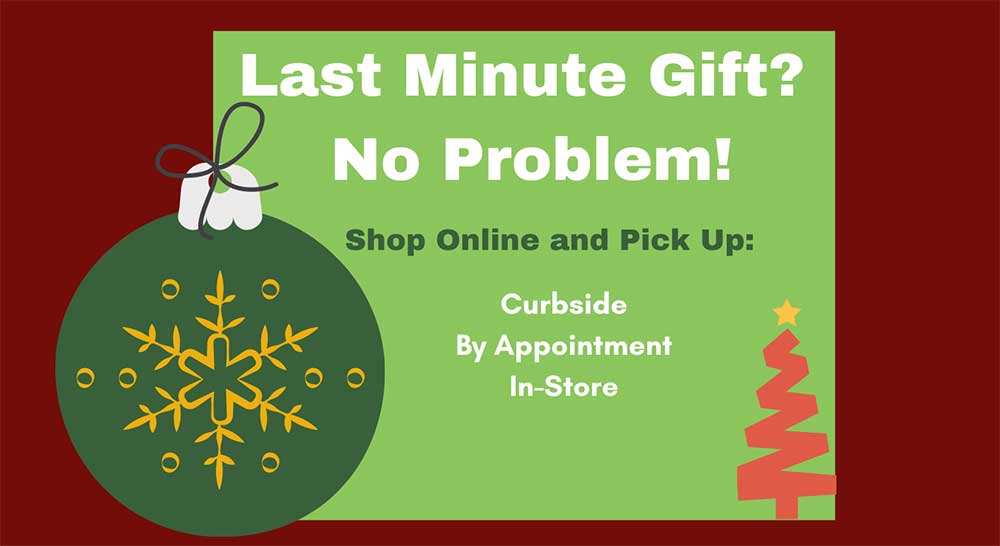 6. Appeal to Early Shoppers
Between the pandemic and only 29 days between Thanksgiving and Christmas, people are shopping earlier. According to ICSC, "77% said they planned to shop earlier than they usually would, with 67% saying they would start before Thanksgiving and 23% saying they would start as early as October."
AlixPartners found similar increases in early shopping, reporting that "49% of consumers plan to start their holiday shopping by Halloween or earlier." And stores are responding to these changes as well. Home Depot is offering Black Friday pricing earlier. While retailers, like Wal-Mart and Target, are keeping stores closed on Thanksgiving.
For marketers, this may mean offering buying guides sooner in the season or performing market research using social media polls to gauge shopping stages and sentiment.
7. Maximize Social Media Marketing Efforts
Your social channels influence buying decisions. And increasingly, people are warming up to the idea of buying right from an Instagram Story or Facebook post. Gen Z consumers really embraced social commerce during COVID-19, with 66% "stating that they've purchased on social during the pandemic," according to Salesforce. Overall, 22% of consumers say they're more interested in shopping on social media this year.
Even shoppers who don't purchase through social media find inspiration resulting in purchases. Salesforce finds, "76% of consumers have purchased a product they saw in a brand's social media post." And Retail TouchPoints reports, "65% of US consumers say the link in a post led them to a product they weren't originally interested in purchasing." Promote holiday shopping on social media platforms by:
8. Social Proof: UGC and Reviews
Along with product research, customers rely on peer-to-peer recommendations. Bazaarvoice reports, "Almost half of the respondents indicated that they 'Always' go online to read product reviews when purchasing products in-store, with only 1% never looking at reviews." Providing proof of your brand's trustworthiness is a priority in 2020, so ramp up your customer review collection.
However, 50% of respondents to a Retail TouchPoint survey say UGC makes them more likely to buy from a brand's social media." So find fun ways to share your fan's comments, testimonials, or product-related photos or videos. In the example below, the company could leverage its photo contest by sharing customer images and captions in its next campaign.
9. Put a Spotlight on Your Small Business
The threats to small businesses hit home with many consumers this year, leading them to put extra effort into supporting locally-owned or otherwise small companies. According to Salesforce:
69% of respondents said they appreciate small businesses more than before.
31% of people say they've liked or shared a social media post to help a small business.
26% wrote a positive online review to support a small business.
Showcase your small business status by hosting behind-the-scenes videos and live giveaways so that customers can see the people behind your brand.
Marketing Ideas and Strategies: Drive Seasonal Sales Online and In-Store
Although there are many unknowns about the upcoming holiday season, we're not entirely in the dark. People want value and convenience while staying healthy. Choose marketing ideas and strategies that amplify these benefits via social media posts, contests, buyer's guides, and UGC. Although shopping may look different, staying flexible is a win-win for your customers and company.
Ignite Your Holiday Campaigns With Help From Woobox
Are you ready to kick your seasonal marketing ideas and strategies into high drive? Get help from our Woobox team. We're available from 9 am to 5 pm PST, Monday through Friday at 1-360-450-5200 and support@woobox.com.