Americans spent an estimated $151 per person on Easter in 2019, according to the National Retail Federation. That adds up to over $18 billion annually. This popular holiday is fast approaching, and it makes for a great window to promote your business with contests on social media or your website.
Below, you'll discover a few ideas for Easter contest themes plus find spring examples for your online audience.
Do Kid-Focused Contests
A big part of Easter celebrations is definitely fun activities for kids. From egg hunts to Easter baskets, this spring holiday also emphasizes making the holiday memorable for whole families.
There are a few contest ideas that are kid-focused and great for giveaways. You can give away several Easter baskets with different themes, like specific cartoon characters or a certain animal, like big cats.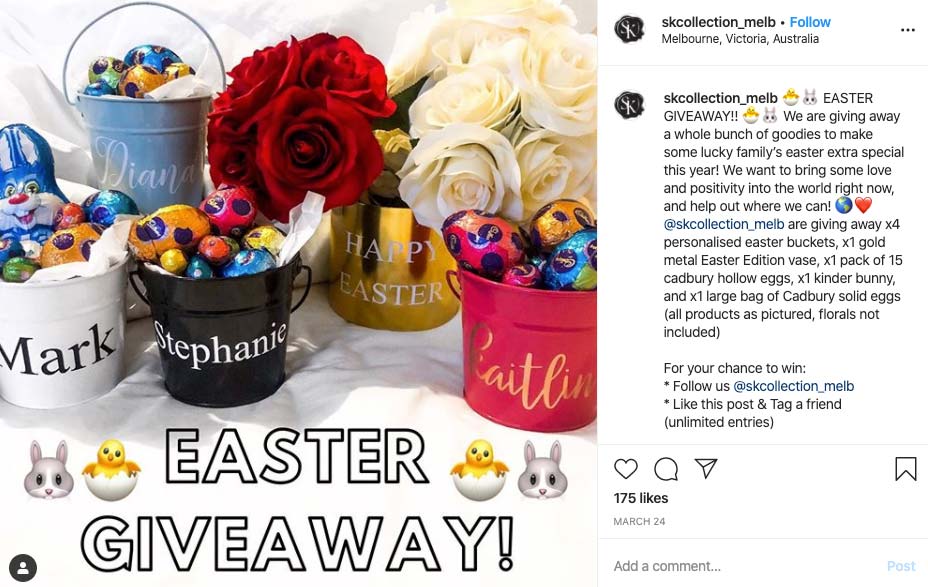 You can also offer activities that can be done outside since it's getting nicer. This could include sidewalk chalk, jump ropes, sunglasses, sunscreen, or even a bike.
Some items are bigger but you can ship them using a third-party, so the costs aren't too substantial to business. Many retailers like Amazon or Walmart offer free shipping if the price is over a specific threshold. Either way, parents and kids will love winning a fun Easter-themed contest that gives them something extra to make their holiday a bit more special.
Food Themes
Many people celebrate Easter with a large dinner for friends and family. Ham is usually served, as are traditional formal dinner sides and desserts, such as pie and mashed potatoes. If this is a popular custom with your target audience or your business is food-related, offering food gift certificates or something to do with celebrating Easter in the kitchen could be a big hit. This could include a cookbook collection or getting a ham and sides delivered from a place like the HoneyBaked Ham Company.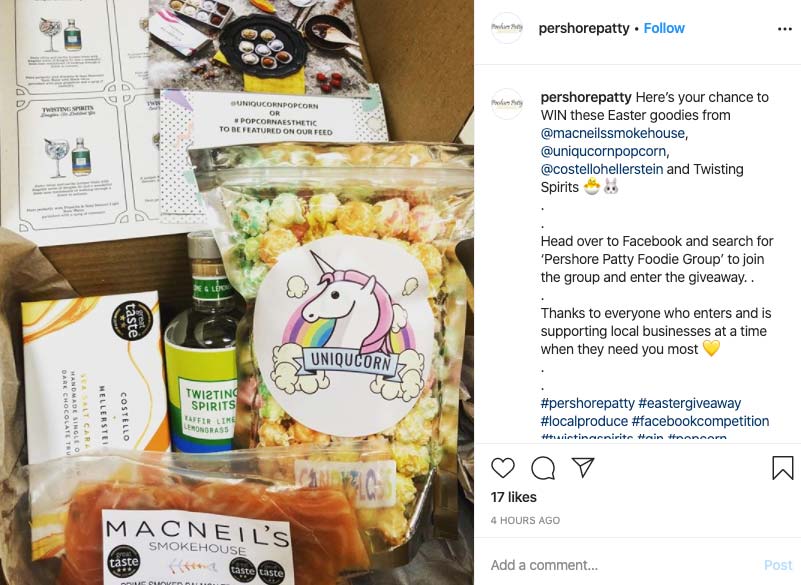 Spring and Outdoor-Focused
If you'd like to include the spirit of renewal and nature into your Easter giveaway, create a package that has a few spring-related essentials. For example, you could combine gardening kits, flowers, butterfly gardens, landscaping services, and gift cards to home or outdoor Improvement stores.
Because the main themes of spring always include fresh flowers and bunnies hopping around, it makes sense to center your Easter theme around these symbols of spring.
You can also include more activities that deal with being active outside, such as hiking gear, new athletic shoes, a golf practice at home set, pet supplies, a playset, or anything else that encourages people to be active in backyards and outdoors.
These types of prizes can appeal to adults and children alike, so you can decide whether to create a contest for both age groups or just one. Or, you could let them decide by giving away a gift card or options of prizes they can choose from. That way, they can choose the gear for the outdoor activity they enjoy doing the most. Something that someone may enjoy a lot, like rollerblading, could be dangerous for someone else. So, by offering options, you're allowing more people to get the prize they want and increase the likelihood of a higher number of entries because it gives people the freedom of choice.
Focus on the Future
Many spring or Easter themed giveaways focus on what's happening right now in the current season, but that doesn't have to always be the case. You could still do giveaways that are put into use later, such as gift cards. This also works for giveaways that go toward summer activities or a trip that happens at the time the winner chooses.
Many people like the flexibility that comes with winning a cash prize or something more flexible that can be used when they need it. Just because or give away is spring-themed doesn't mean you have to have a spring-themed prize. Your graphics could have those fun spring colors and art, but the prize could be something unrelated. If you aren't sure where your winner is going to come from or what they would like, sometimes offering something with more flexibility as mentioned previously is a promising idea.
Additionally, when a prize is more generalized, you may find that it gets shared more or has additional entries. You could try experimenting with a few different giveaways to determine the best approach is for you. It also depends on if you're promoting anything specific with this contest.
Promote Upcoming Products
That being said, you can use a spring contest to promote your upcoming products. Many companies release new products around this time of year, so if you have some new designs or products rolling out soon, it makes sense to center a contest around those items. It could be something never that's never been offered before or existing products that are going on sale or have a special promotion.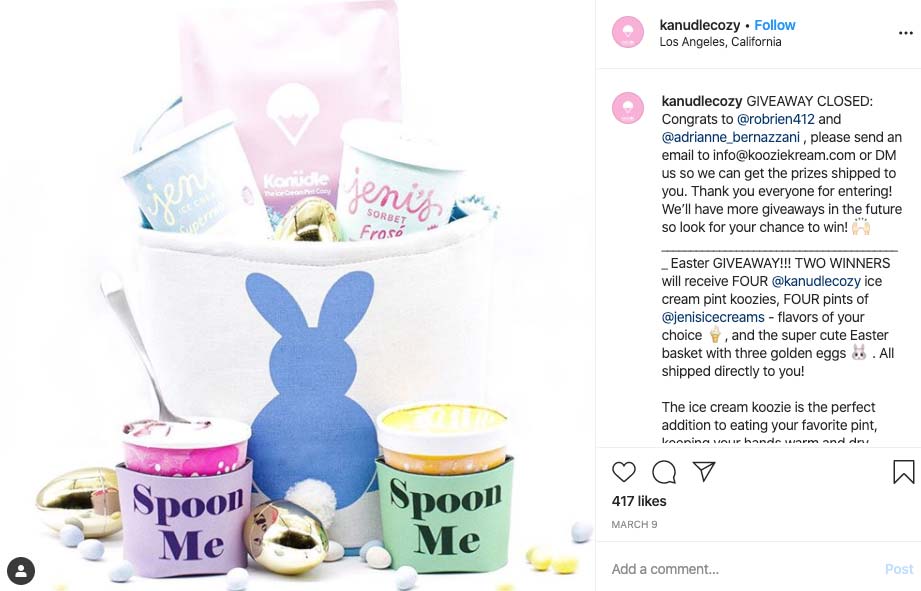 Many retailers choose to give away the very products they're promoting, whereas others will simply mention the products in their promotional content posts and offer a gift card or something else as part of the prize. Whatever you decide to offer depends on your products and audience. Usually, some strategies will work better for some than others and vice versa.
No matter what your prize is, the spring theme is something that's extremely popular this time of year, as people are excited for nicer weather and the chance to be outdoors again. Easter is a fun time of year and reason to offer a giveaway, as many people are spending more money on Easter baskets or (if they're in the northern hemisphere) getting their yards ready for nicer weather.
By offering a giveaway that caters to the needs mentioned above, you'll have a lot of good engagement and excitement about the pleasant time of year we are in.
Remember, if you need help with setting up your contests, Woobox Support is available from 9 am to 5 pm PST, Mon. through Fri at 1-360-450-5200 and support@woobox.com