You have questions, and we're here with answers. From marketing ideas to randomly picking a winner, find responses to the questions marketers ask before hosting a contest on Facebook, Instagram, or websites. Use this guide to plan your next campaign or come up with fun ways to engage your audience.
Find answers to frequently asked questions (FAQs):
General Giveaways FAQ

Q: Is it easy to launch a campaign?
A: Yes, it's super easy to launch a campaign using Woobox. Log into your account using email or Facebook. Then:
Select your new campaign: Landing page, popup, embed, or post.
If applicable, choose your experience like polls, photo contests, or giveaways.
Give your campaign a title and description.
Design your post, landing page, or other features.
Customize your settings.
Hit publish to go live.
Q: How do you do a giveaway on Instagram or Facebook?
A: Quickly host a giveaway on Instagram or Facebook by following these steps:
Select your marketing goals and winner prizes.
Review platform rules and create your entry guidelines.
Set up your giveaway in Woobox.
Promote your sweepstakes or raffle online.
Use the random winner picker.
Announce the winner on Facebook and Instagram.
Reach out to everyone who submitted an entry or commented on your post.
Q: How do you pick a winner for a giveaway?
A: Use a random winner picker or manually choose winners. Depending on the type of experience you select, your method may differ. For instance, it's easiest to use the random winner picker tool to select fans randomly after a giveaway.
However, photos, videos, or caption-this contests rely on picking winners with the most votes. Fortunately, Woobox automatically sums this up and presents you with a winner using its Facebook Likes and Comment Picker, Instagram Comment Picker, or YouTube Comment Picker.

Q: How do you announce a winner on social media?
A: All social platforms give you multiple ways to announce a winner after a giveaway or contest. You can keep it simple with a post, or go live on YouTube, Facebook, Twitter, LinkedIn, or Instagram. Plus, don't forget to add it to your Instagram Story!
Giveaway Costs and Types

Q: How much does it cost to run a contest?
A: Host a contest for up to 100 participates for free using Woobox, including unlimited campaigns and the winner picker tool. Other popular plans include our pay-as-you-go plan for access to full Woobox functionalities, and our fan-favorite is the annual plan, for a $60 savings and unlimited participants.
Q: What are contest types or experiences?
There are ten contest types on Woobox and many different ways to use these campaigns across your social media channels, website, and email. Learn more about each experience: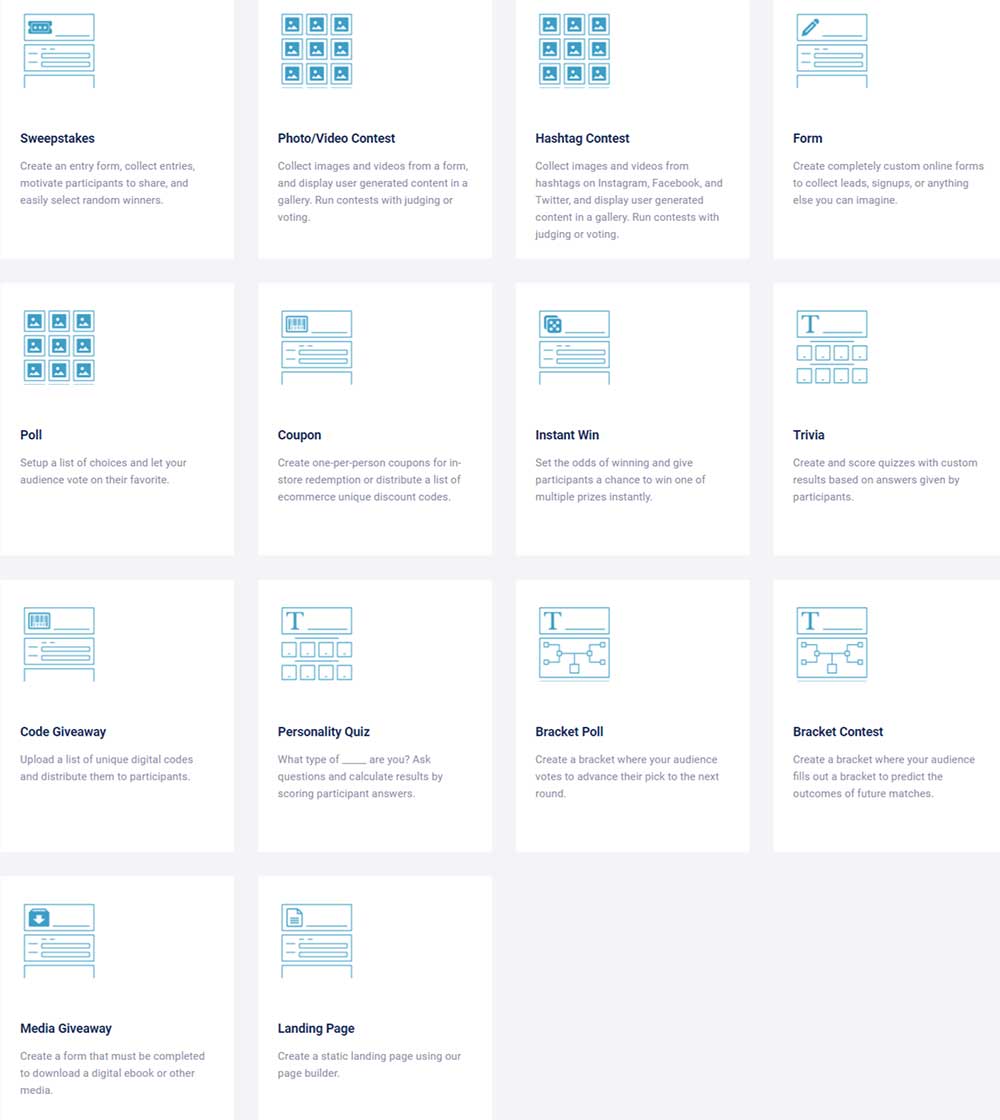 Giveaway and Promotion Benefits

Q: Will doing a giveaway result in more followers?
A. Yes, giveaways increase your follower count. Tailwind analyzed 60,000 Instagram posts and found, "An Instagram contest or giveaway can help you grow your followers 70% faster in three months."
Q: Are Facebook giveaways effective?
Yes, when you combine your giveaway with a Facebook promotion plan, you boost engagement on your posts resulting in more post views, entrants, and better brand awareness.
Instant Win and Giveaway Prizes
Q: Is my prize a good fit?
A: Pick the right prizes by putting yourself in your customers' shoes. Think about their pain points and solutions. If you sell products or partner with other small businesses, then award entrants with your items. Otherwise, use these guides to selecting perfect prizes:
Q: Will people enter just for a free prize then unfollow me?
A: Unfollowing is an extra step people have to take, so it occurs less than you think. However, if fans follow you only to get bored with your posts in their newsfeed after a contest, then you can expect an unfollow. Avoid this by:
Giveaway Marketing and Promotions
Q: Where can I feature my giveaway, quiz, contest, or poll?
A: With Woobox, you can put your experiences, from giveaways to polls, almost anywhere, including:
Q: How do you write a giveaway post?
A: Start with a call-to-action telling fans what to do, then give them the "why," which is your prize. Mention or link to your requirements, add a contest end date, plus toss in relevant hashtags.
Q: Where can I find promotion templates?
Woobox is set up for you to build your landing page, contest, or quiz inside the browser-based software. Each experience has its own template with editing tools for easy customization. Get more ideas by exploring topics like:
Q: Where can I get marketing ideas?
A: Start with Woobox Experience pages or our blog! On the Woobox website, you'll find current contests in categories like:
Or we post updated content on the Woobox blog highlighting seasonal campaigns, new social media tools, and engaging marketing ideas. Read posts such as:
Q: How long should a Facebook giveaway last?
A: Your giveaway timetable will vary based on your marketing goals, the season, and urgency. For instance, a 48-hour giveaway days before a major shopping holiday or event leaves your brand fresh in consumers' minds. However, collecting photos and votes for your UGC contest may go as long as two weeks.
Q: Should I use hashtags?
Absolutely use hashtags when hosting your contest on social media. You can even create a hashtag entry contest. For starters, include your branded hashtag. Then find a few more that your target market regularly uses. Use an amount appropriate to the platform, so two or three on Twitter but a couple of dozen on Instagram.
Q: How do I customize campaigns?
A: Under the design tab, you can easily customize your promotions using images, videos, text, and more. Learn how to use Woobox features and the design editor with these guides:
Q: What are contest rules for social media?
A: Always do a quick review of each platform's guidelines to avoid making mistakes in your campaign. You can find our general guidelines here or find rules for each forum below:
Customer Support
Q: Where do I find info about updates?
Learn about the latest Woobox updates by:
Q: How do I reach customer service?
Check out our help desk and support library to learn how to use Woobox. Or reach out to our team for help implementing a new idea or choosing the right package for your team: