Did you know the best Facebook promotions typically last about seven to ten days? Or that a marketing strategy for Facebook combines polls, giveaways, and other interactive approaches to engage audiences 52 weeks a year?
Coming up with a calendar of unique Facebook giveaway ideas takes time. So we've taken care of some pre-campaign work for you. Whether you're a local small business or an e-commerce store, these marketing promotions will help you engage with fans. Plus, you can find live Facebook giveaway examples to inspire your next sweepstakes or contest.
Explore these fun Facebook giveaway ideas to get more likes and engage your audience, all while growing website traffic and sales.
Facebook Giveaway Ideas & Examples Index
Click any of these links to jump your view to the category of facebook giveaway ideas and examples:
Facebook Giveaway Ideas to Get More Likes
Boosting brand visibility on social media is a top goal for marketers, and it's easy to do when you use a Facebook contest to get more page likes. Fans tap your like button to support a brand's message, show appreciation for a fresh image, or participate in a contest or giveaway.
Use these Facebook giveaway ideas to get better results with your next marketing campaign.
1. Get More Facebook Page Likes & Reward Fans Off-Site
Are you close to hitting 2,000 or more company page likes? Ask fans to help you reach your goal with a Facebook giveaway that lives on your own website landing page.
For instance, you could provide a contest sign-up link to your automatically generated Woobox contest landing page — then give a prize to something like the 100th new page like during your contest time frame.
This simple giveaway is quick to set up and easy for fans to enter, which is a win-win for you and your fans.
2. FOMO Facebook Giveaway for Likes
The fear of missing out (FOMO) is an excellent reason for folks to like your Facebook page. Doing so (along with signing up to your email list) helps them be among the first to enter your contests, polls, and giveaways.
Create a sense of urgency by highlighting a once-a-year sale or promotion during your sweepstakes. Use wording such as: "Don't miss out on our once-a-year giveaway! Follow us to take advantage of this annual promotion."
3. Say Yes by Clicking Like on Facebook Posts
Ask any relevant question and ask fans to click like if they agree. This is a fast and effortless way to generate interest and expand brand awareness. Remember to share a link to your giveaway signup page as well.
Some relevant Facebook giveaway ideas and examples:
Did you join our virtual event last week or watch the pre-recorded version on YouTube? Click Like if you want more happy hours in your life.
Are you ready to head back to the gym? Like this post, if you miss your daily workout.
Have lifestyle changes affected your sleep? Click like if you're getting less rest during the quarantine.
Giveaway Ideas for Facebook Groups
A Facebook group giveaway is a neat way to increase engagement in your community. Groups give your fans a space to interact with like-minded shoppers and get their questions answered. Browse these Facebook group giveaway ideas to find a good fit for your audience.
4. Member-Only Giveaway Ideas
Exclusivity is a marketing tactic that works well for any type of Facebook giveaway idea. Companies create Facebook groups for loyal fans, employees, and people in a specific industry. When you host a member-only giveaway, you're targeting your ideal market in your group. Facebook giveaway ideas include:
Share your story: Ask members to share a brand-related memory.
Ask your question: Encourage fans to get help with their top problem.
Inspire others: Share a cherished memory that led you to your career.
Boost views by interacting with users throughout the contest duration. Once you've announced a winner, turn stories or questions into a digital asset for added value (and more email subscriptions).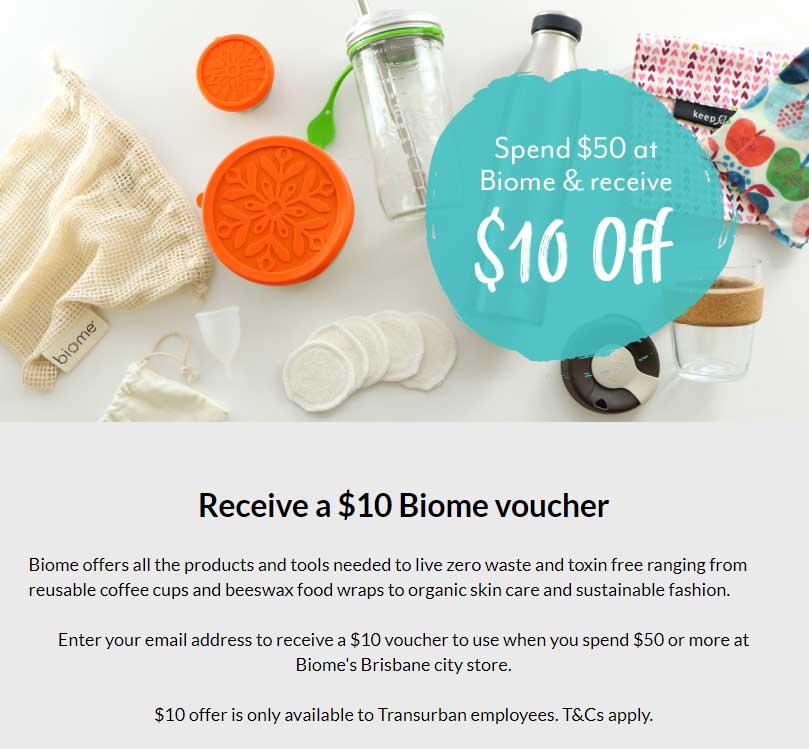 5. Facebook Group Giveaway Featuring You
Why do people join your Facebook group? Often, it's to learn more about your products or services. They want insider tips and access to industry leaders. Popular prizes for Facebook group giveaway ideas include:
One-on-one coaching or question and answer (Q&A) sessions
Free service giveaways, like a complimentary haircut or massage
Another way to increase engagement while running a group giveaway is to give all participants a bonus, like a promo code, coupon, or downloadable template.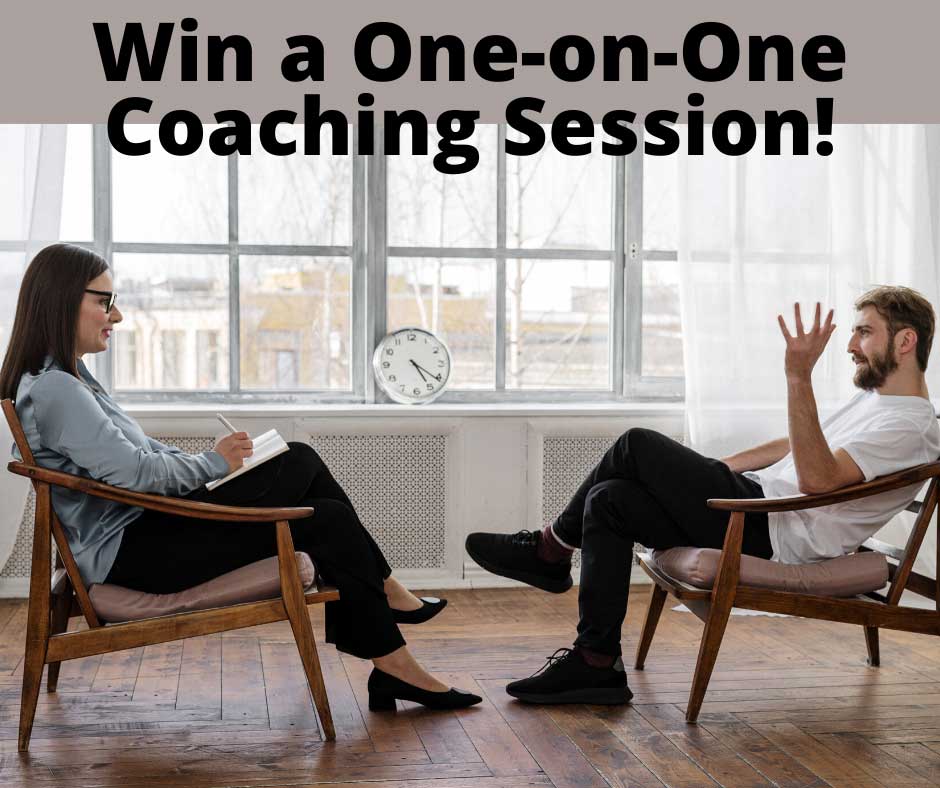 Facebook Contest Ideas to Get More Followers
The most captivating marketing campaigns combine an eye-catching image or video, strong call-to-action (CTA), and an enviable prize. But for even more attention, devise a Facebook contest promotion strategy that boosts your organic reach.
As with any campaign, follow Facebook's policies by avoiding wording that's not allowed. For instance, Facebook says you can't require folks to:
Share on your timeline to enter.
Tag your friends in this post to enter.
Share on your friend's timeline to get additional entries.
You can still encourage fans to tag friends or share on their timelines. It just can't be a "requirement" to enter your Facebook contest.
6. Spin the Wheel: Instant Win
Instant Win contests deliver immediate satisfaction, which is fantastic for an audience that doesn't like waiting. Plus, you can distribute a discount code for non-winners while encouraging them to stop by every day for another chance to win.
But, instant win giveaways aren't limited to spin the wheel games. Involve your audience further by:
Giving a reward for those who answer lead qualifying questions
Asking fans to share a tip, advice, or product recommendation
In the instant win giveaway example below, this brand asks a series of questions. Each line provides marketing data to create targeted campaigns. In return, everyone who completes the form gets to claim a prize.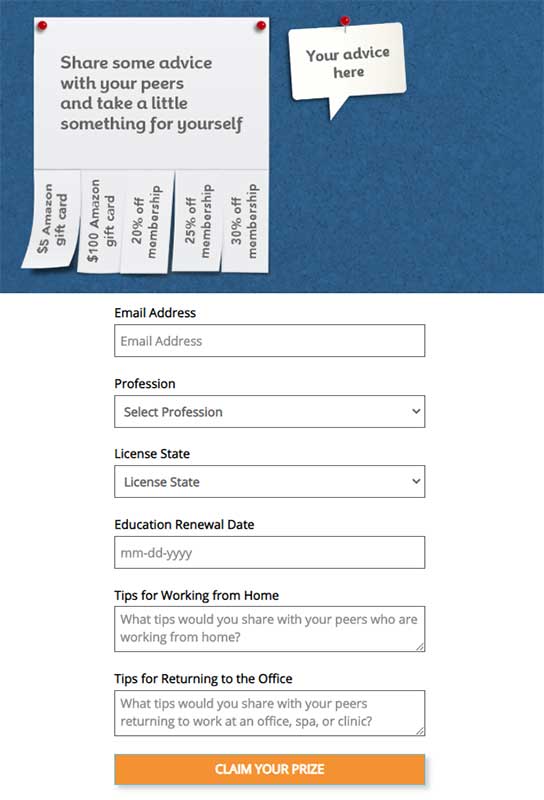 7. Refer-a-Friend Facebook Promotions
Have you ever bought a lotto ticket for yourself then went in on a shared ticket with co-workers? Extra chances to win are always a good thing. With a refer-a-friend Facebook contest, your audience gets bonus entries for sending entrants to a custom link. Get more referrals and build your following by:
Enticing fans with a desirable grand prize
Enabling referral bonus entries
Thanking fans in your comments each time they refer a friend
8. Facebook Sweepstakes for Two (or More)
Some of the best rewards are those we share with partners, family, or friends. Create a giveaway where you gift a winner and their tagged friend each a prize. Or give away a shared reward, like tickets for two. Consider wording your sweepstakes by saying:
Tag a friend who loves gourmet pizza as much as you do!
Tag your pet's best friend so each animal can win a new toy.
Tag an essential worker who keeps your community running.
Ticket Giveaway Ideas on Facebook
People prefer experiences over things, which is why giving away tickets that your target audience loves is a great idea. A ticket giveaway for Facebook can highlight your next event or showcase local activities.
9. Vote to Save Big on Your Next Trip
Where is your audience headed for their next vacation? Partner with another business to offer a mid-week stay at a local travel destination or tickets to a water park. The idea is to save folks a few bucks when planning their trip.
In the Facebook giveaway example below, fans vote on their top choice for vacation. For extra reach, encourage them to tag their travel mate in the comments.
10. Comment to Win Tickets to a Local Event
A comment entry contest increases Facebook post engagement and gives you a chance to interact with your fans. Target ideal customers by finding a local event of interest. For instance, look for a wine tasting, community food truck event, or opening night for the latest movie or live show. Ask fans to leave a comment that answers a question like:
Tell us who's coming with you.
Have you ever attended this local event?
What's the first food or drink item you'll buy if you win?
Another fun way to expand brand awareness is to follow up with fans who didn't win and offer them a discount on tickets. Or make the tickets the grand prize and select three other winners for a gift basket related to the event, such as a professional wine opening kit or a movie-at-home basket.
11. Use a Contest to Promote Social Awareness
Facebook giveaway ideas that benefit local nonprofits or a social issue dear to your fan's hearts are a big winner on social media. People want to support organizations, but many times they aren't sure how to do that when money is tight. Start by choosing a donation amount, and then you can run a:
Comment entry giveaway where fans list their favorite nonprofit in the comments
Voting contest so your audience can vote on which nonprofit to receive the donation
Video contest where fans send a personalized message about why their organization should win
Go viral by talking to various nonprofits and tagging their organization in your posts. Your campaign may share a post each day that showcases the nonprofit's good deeds while asking fans to "vote here."
Facebook Giveaway Ideas for Your Small Business
The neat thing about these Facebook business page promotion ideas is they're an excellent fit for any type of company. You don't need to spend thousands of dollars on fancy prizes. Instead, reward loyal fans with gifts that fill a need in their lives.
Use these Facebook business giveaway ideas to expand your reach, target new customers, and delight social media users. These tactics are easy to incorporate into any type of marketing campaign.
12. Everyone's a Winner!
Facebook promotion ideas for small businesses get fans excited about your company's services or products. And who doesn't love a freebie? Promo codes allow you to make everyone a winner. This type of contest works great when you give away a grand prize for a free product or service, then pass out discounts to others who comment, share your post, or tag a friend.
13. Fill in the Blank to Win
A fill in the blank contest is super easy. Simply ask a question and leave an empty space. Your fans add an answer in the comments for a chance to win. You can keep it on-brand or target your question to a specific customer pain point or current life circumstance. Possible questions include:
Having a _______ would make working from home easier.
Cleaning the ______ is my least favorite thing to do.
Last night I had ______ for dinner.
The best birthday gift I received was a _______.
14. Small Business Selfie Contest
Selfies aren't going away. Take advantage of our love of photos by sharing your selfie first, then asking folks to enter your contest by:
Sharing a screenshot (and tagging participants) from their last Zoom call
Adding a selfie with their co-worker, pet, or child
Snapping their photo with your product
Giveaway Ideas for Facebook Live
Use Facebook live contest ideas to promote your reopening, a new product, or to give your fans a face to go with your brand. Use these tips to get the best results:
Mention your giveaway in posts leading up to your live stream event.
Open your live video with a captivating reason to enter your contest.
Keep fans watching by sharing raffle details during the last few minutes.
Your live event may kick off your week-long sweepstakes or use a comment entry contest to generate participants while you're live streaming. Below we've compiled the best Facebook live giveaway ideas for your business.
15. Host a Question and Answer Session
Do your prospects have questions for you or other members of your team? Lead up to this contest by creating a series of Facebook posts and polls that find out what your fans want to learn. Then keep folks engaged by encouraging them to ask questions in the comments, and you'll answer them live.
An alternative version is to host a "Bust a Myth" live session. Come up with a few myths surrounding your theme and ask fans what they think and why.
16. Live Stream Your Trivia Contest
With the internet, anyone can get answers to questions instantly. By hosting your trivia contest online, you can reward those who comment the fastest. Offer promo codes or coupons to everyone who answers, then announce a grand prize for Facebook fans with the highest number of correct answers in the comments.
Facebook Business Page Giveaway Ideas
Many business owners use a personal and business page for their brand. With a business page, you get more insights, but many people trust a personal page more. Get the best of both worlds by asking fans to share your post on their accounts. Leverage these Facebook page contest ideas to increase brand awareness and delight fans.
17. Dynamic Special Days Giveaway Ideas
Facebook contests related to a holiday or brand-relevant special day are easy ways to fill your marketing calendar. Almost any type of campaign works for a holiday giveaway. It's dynamic because you change up your contest to fit a trending topic or special day. Examples of Facebook page contest ideas include:
Create a poll asking a question about trending content found on Google Trends, like the latest blockbuster movie.
Celebrate a national holiday with a weeklong giveaway and announce the winner the night before the big day.
Ask fans to enter a photo contest by sharing a holiday-related image.
Riff off of a social media holiday, like National Doughnut Day or Pizza Lovers Day.
18. Brand-Based Recurring Contests
Weekly raffles give fans many chances to win and keep them coming back week after week. Notice how the brand below asks fans to follow its page and stay tuned for updates (or, in this case, "pupdates").
A brand-based contest should focus on your ideal buyers, emphasize your products or services, and gift a unique prize each week. Your brand-based game may be:
Trivia-focused: What year was our company founded?
Product-related: On a scale of 0-10, how useful is our latest product?
Tied to an in-store promotion: Kick off a sale by gifting the winner a bigger in-store discount.
Wordplay: How many words can you make from our brand name?
Customer-focused: Highlight your happiest customers with a Fan of the Week contest.
Hashtag-contest: Share your experience with this branded hashtag on your personal page for a chance to win.
19. Celebrate With Us to Win
Whether you're celebrating six months in business or ten years, invite your fans to celebrate virtually with you. This can be a one-day-only event or a month-long celebration leading up to a grand prize giveaway. Along with Facebook posts about your contest, share a variety of information related to your brand throughout your campaign. For example:
Reshare top winners and their user-generated content from past contests
Post your favorite customer testimonials, Facebook comments, or email snippets
Build excitement about your grand prize with links to product pages and reviews
Facebook Giveaway Game Ideas
Fun Facebook giveaway games excite fans and get folks sharing. From hilarious polls, caption-this contests, or quizzes, you can use these Facebook game giveaway ideas to enhance the user experience.
20. Play on Pop Culture Quiz
Personality and trivia quizzes encourage fans to interact with your brand and learn more about your products. Although you can use quizzes in various ways, content based on trending subjects is a great way to make it go viral.
Choose any topic highly relevant to your audience and create a few questions. Find out what's trending by checking search trends, reviewing your fan's feeds, or looking at trending hashtags. For example, fast and fun quizzes this week might revolve around the latest Justice League movie, an upcoming concert, or a gaming product release.
Increase visits to your Facebook page by prompting fans to enter their score in the comments or referring a friend for an extra contest entry.
21. Search and Reward Games
Search and reward (or seek and find) contests increase time spent on your post, which puts your content in more people's feeds. Plus, an attractive image boosts shares on your followers' personal pages, so don't be afraid to make it funky or add a pop of color.
Design an image mashup with a variety of your products and other related elements. Hide one object in your photo, then ask followers to find the secret surprise. Keep it simple by using a piece of swag, like a company-branded pen or koozie. End your raffle by randomly selecting a winner.
22. Crack the Riddle Facebook Sweepstakes
Riddle me this or solve the riddle games are well-suited for e-commerce stores. Fun facebook game giveaway ideas include:
Create a question that describes a product and asks fans to guess your item.
Make a riddle that walks your audience through an in-store activity.
Write a short mystery and ask fans to solve it.
Competition Ideas for Facebook
Build on your fans' competitive spirit by designing a contest where the person with the most comment, photo, or video likes wins. These contests really build up your fan base because entrants share your post on their personal page and ask friends to vote.
23. Photo-Based Caption Contest
Pick a photo, any photo, and ask your fans to leave a comment to enter your sweepstakes. You can get a caption-this contest up and running in minutes, making it a popular choice for time-strapped business owners. Consider Facebook giveaway ideas using a photo like:
What's your top tip for parents when a kid does this?
Put the words into this pet's mouth.
Caption this funny Zoom shot.
24. Best 15 Seconds to Win Video contest
Video contests take a bit more time from followers, but they tend to increase views and brand awareness. That's because those who take the time to create a video want to get more eyes on it. Host a video contest by:
Choosing a theme or basic topic
Setting video guidelines, such as length
Encouraging fans to get votes to win
25. Name this Product, Package, or Service
Are you brainstorming a new dish for your restaurant or gift basket for the holidays? Ask your audience to help you come up with the best name or description. You can do this in a few different ways:
Share your top four ideas with an image and ask fans to vote on their favorite.
Tell fans to create a name in the comments based on your picture and product description.
Simply ask: What would you call this collection of products?
Don't forget to let folks know that the comment with the most likes gets the grand prize. For extra reach, showcase your winner and answer in a blog post, email, or social media image.
26. Virtual Carnival Contest Fun
Guessing the number of jelly beans in a jar is a game that's been around forever. Stick with candy or use a photo with a large stash of your product inventory. This low-barrier to entry contest is easy, fast, and fun.
27. Host a Sports or Trending Topic Bracket
Brackets bring people back to your Facebook page over and over. The built-in leaderboard keeps fans engaged while they try their hand at predicting the big winner of each round. Consider:
Giving away smaller prizes to winners along the way
Summing up the results with a nice visual
Targeting customers using a bracket related to your products or their favorite hobbies
Facebook Boutique Giveaway Ideas
When you want to boost your boutique sales, or find more ways to stay in touch with customers, use an eye-catching contest. Deliver extra value with your Facebook giveaway by sharing resources to help fans make their next product purchases, like personal recommendations or how-to video guides. Keep it classy with these online boutique giveaway ideas.
28. Virtual Event-Focused Giveaway
Are you hosting a virtual fashion show? Create a marketing campaign that leads to a higher turnout on your big day. Devise a few contests, polls, or Facebook giveaway ideas that directly relate to your event. Consider offering prizes like promo codes, coupons, or even something from your new line. Boost virtual event attendance by:
Doing a five-day countdown with new winners announced daily
Enabling bonus entries into contests when fans share your event giveaway with friends
Announcing the winner live during your event
29. Cross-Promote With Micro-Influencers
Micro-influencers may be local product reviewers, bloggers, or just folks who love sharing great tips with their friends. Many will happily partner with you or cross-promote a Facebook giveaway.
The best part is that you can find micro-influencers on any social media platform. They'll send contest participants to your landing page, website, or Facebook post. Try these giveaway ideas for your next contest:
Earlybird Facebook giveaway: Get help from an influencer to try out, promote, and increase excitement about your latest products.
Top five list: Feature your influencer's favorite five products and gift the lucky winner all five!
Facebook Photography Giveaway Ideas
Since the creation of smartphones, nearly everyone is a pro at taking photos. Your photo contests can feature products, ask fans to share the last picture they took, or fit a specific theme. You don't need to do anything special for photo contests, but you can host it in different ways. For instance:
Keep it simple and have fans add their photo to the comments.
Make it a gallery where followers vote on their favorites.
30. Pick a Theme Facebook Photo contest
Start with a question, then ask for a photo. What did you do with your family over the weekend? Where did you eat this week? What movie did you watch with your partner? All your fans have to do is share a photo they took in the comments.
31. Product & You: UGC Photo Contest
Do your fans have a favorite item from your store? Or maybe it's on their wish list? A user-generated content contest showcases your followers and products. For a unique take, ask fans to Photoshop their image to include a product they don't own yet.
You may even want to start your contest by sharing a photo of yourself with your products. A UGC contest allows your fans to dream a little, spend time browsing your site, and demonstrate their creativity.
Create Your Best Facebook Giveaways
The best contests and giveaways for Facebook increase brand awareness, generate leads, and boost website traffic. By combining a few concepts into your marketing campaigns, you'll develop a captive audience who's excited about receiving your products and following your company.
Need Help With Your Facebook Marketing Ideas and Promotions?
Are you ready to plan your next Facebook giveaway? Our Woobox support team is here to help. Contact us from 9 am to 5 pm PST, Monday through Friday at 1-360-450-5200 and support@woobox.com.