The internet is a noisy place. The average internet user sees between 6,000 and 10,000 ads a day. That's an average of 1 ad every 5 seconds. This rate does assume you sleep 8 hours a night, so your mileage may vary. However, between our phones, work, watching television, and even driving down the road, we're exposed to thousands upon thousands of ads daily.
With that much exposure to advertising, we start to ignore ads — which is a problem if you are a brand trying to reach new customers.
If your brand is struggling to stand out in the fast-paced digital world, it might be time to time to try something new.
Enter interactive marketing.
What is Interactive Marketing?
Interactive marketing is a marketing strategy that encourages two-way communication between the consumer and advertising. Traditionally, advertisement communication goes one way — a consumer watches a television ad, reads a sponsored ad, or sees an ad on Facebook.
With interactive marketing, however, the consumer is encouraged to respond or interact with advertising content by clicking, dragging, or answering questions. Interactive content can then be adjusted based on the interaction. Examples of interactive content include online quizzes, interactive infographics, and calculators.
What are the benefits of Interactive Marketing?
Interactive content is the perfect tool to help brands guide and educate prospective customers. But is it worth the effort? If your brand is looking to build a stronger relationship with consumers, interactive content is the way to go. Here are a few benefits of interactive content:
Educate customers: Most people learn best through hands-on learning where they can test their knowledge or try new skills. Interactive content can educate customers and streamline the sales process.
Increase social engagement: Several social media platforms use engagement as a metric to determine what posts users see. According to DemandGen, interactive content gets two times more engagement than non-interactive content like posts.
Increase retention: According to a Content Marketing Institute study, interactive content increases retention for 73% of marketers.
Stand out from the competition: Business2Community reported that 88% of marketers find that using interactive content helps them stand out in their industry.
5 Interactive Marketing Examples to Inspire Your Next Campaign
In a world where standing out and actually reaching customers is becoming increasingly difficult, interactive marketing might be the silver bullet your brand needs to succeed. Here are five examples of interactive content to consider for your next marketing campaign.
Quizzes
Quizzes are one of the original forms of interactive content. Users answer questions in exchange for a personalized assessment or content. These can be fun — such as BuzzFeed's "Which Golden Girl Are You?" or related to the brand, like Zenni's face shape quiz.
The online retailer walks prospective customers through how to find the right glasses for their face shape and delivers customized suggestions based on the user's preference.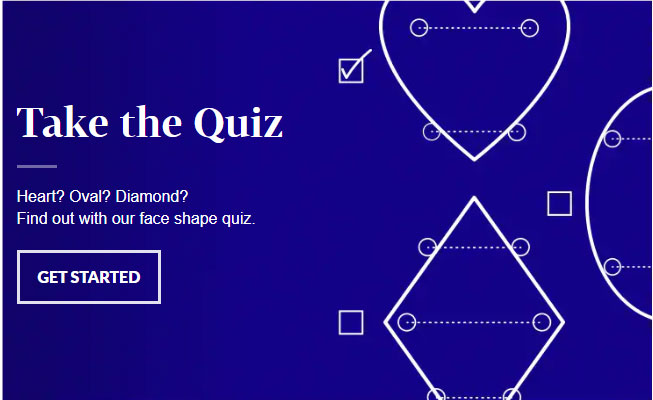 Photo Contests
Photo contests are a double hitter — they are interactive and encourage user-generated content, which can drive more engagement, increase time on page, and help customers discover new brands. If you want to stand out in a crowded market, a photo contest is a quick way to do just that.
For example, the Creation Station encourages families to submit photos to join in their attempt to create the Guinness World Record's largest online photo gallery of collages.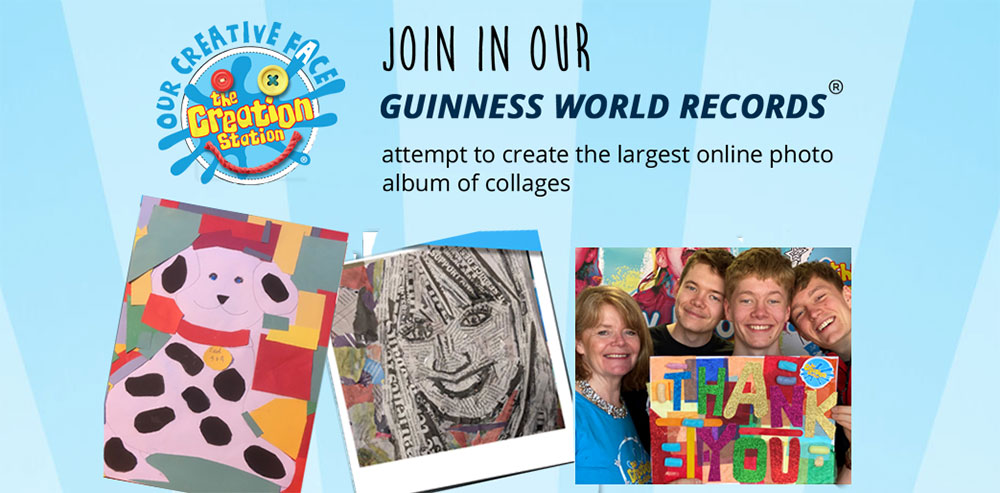 You could go a step further and offer a prize for the picture with the most votes — this will increase entrants and encourage entrants to share their submission with their friends and family to get more votes.
Video Marketing
Video marketing has been a top priority for marketers for years due in part to its popularity with online viewers. Nearly 80% of people watch online videos every week, and most prefer online videos over television. Videos are already popular, but can they be interactive?
They can. Take a look at this interactive video from Deloitte. It follows a new recruit at the company showing up for their first day of work — and accidentally spilling coffee on the back of a partner. The viewer is then prompted to guide the story by choosing the next step.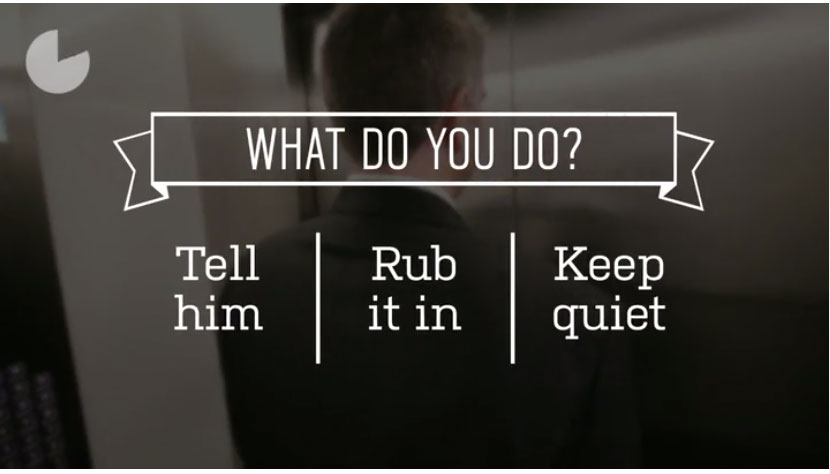 The video is fun (the partner comes to your desk to yell at you if you keep quiet, by the way!) but also highlights characteristics that are important for Deloitte workers.
The good news is, you don't need a million-dollar ad budget to create interactive videos. Consider adding links to YouTube videos to introduce team members in a video with a complete bio or offer additional resources.
Interactive Infographics
Infographics are another popular marketing tool that has gotten a cool new makeover thanks to the introduction of interactive marketing. Infographics allow brands to share detailed information in a fun, visual format. Adding that interactive element makes them even more effective.
For example, Marriott created this interactive infographic that offers suggestions for family-friendly spots to visit in Scottsdale, Arizona. Users answer questions about the age of their kids, the type of experience they are looking for, and whether they want to explore outdoors, and the infographic offers tailored suggestions of restaurants, ranches, and preserves to visit.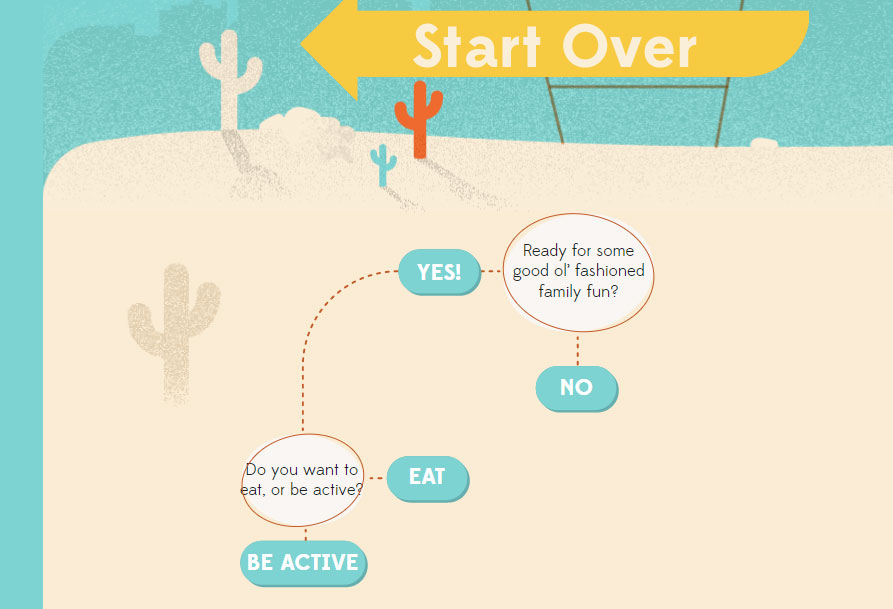 While Marriott's version reads more as a "build your own adventure," interactive infographics can also allow users to scroll, look around, or click to read more information about topics users find interesting.
Interactive Brackets
Bracket contests use a tree diagram that allows users to choose the winners in a tournament, such as basketball or football. Users fill out their best guesses, which are then compared against others in the pool. If you've ever played fantasy football or joined a Super Bowl Challenge, you've likely used brackets to see who wins.
So how can brands use these? Brackets are, by their nature, interactive. Users must guess the outcome of games, and the winner (whoever gets their bracket as close to the game results) walks away with a prize, usually one of considerable value.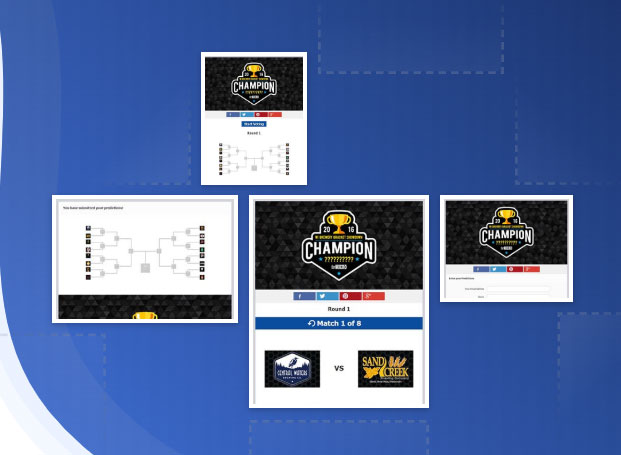 Brackets are usually used for sports games but can be used for any tournament-style game. Using Woobox, brands can display leaderboards, let users score their brackets, and announce the winner.
Summary
Interactive marketing combines highly effective marketing strategies — like infographics, videos, and games — with the strength of interactive marketing to deliver a powerful strategy that grabs attention and drives actual actions.
The most common types of interactive marketing include:
Quizzes
Photo contests
Videos
Interactive infographics
Bracket contests
Interactive content is the future of advertising — and it doesn't have to be expensive. Use Woobox to create quizzes, games, and voting or predictive bracket contests and launch them in minutes. Need help getting started? Reach out to Woobox support from 8 am to 5 pm PST, Mon – Fri at 1-360-450-5200 and support@woobox.com.