71% of US adults between the ages of 18 to 29 use Instagram. Over 200 million people visit at least one business profile daily, making it the third most-used channel behind Facebook and YouTube.
To consistently delight users and offer a diverse content mix, brands run a variety of Instagram giveaways.
Sifting through dozens or hundreds of entries and staying transparent about how you pick a winner can be time-consuming. However, with a free Instagram Comment Picker, you can simplify your giveaway, draw a random winner, and stay focused on interacting with your followers. 
In this guide, we'll explore some of the best Instagram giveaway posts, giving you examples of what works for boutique brands and well-known organizations. Additionally, we provide key takeaways from each contest or giveaway, along with ways to select a random winner for your cross-platform campaigns.
9 Best Instagram Giveaway Examples from the Last Year
Below you'll find Instagram giveaway examples from well-known companies and niche brands. Each uses the free Instagram Comment Picker to level up their marketing strategy, get more eyes on their giveaway posts, and gain followers.
Use these verified tips and tricks to make your business and promotions stand out, getting all the comments.
1. Teeccino & Zesty Paws
Teeccino partners with Zesty Paws to offer consumers unique giveaways for humans and pets. Both companies share Instagram giveaway posts with enticing opening lines and clear instructions. Plus, the white space and emojis make the caption easy to follow.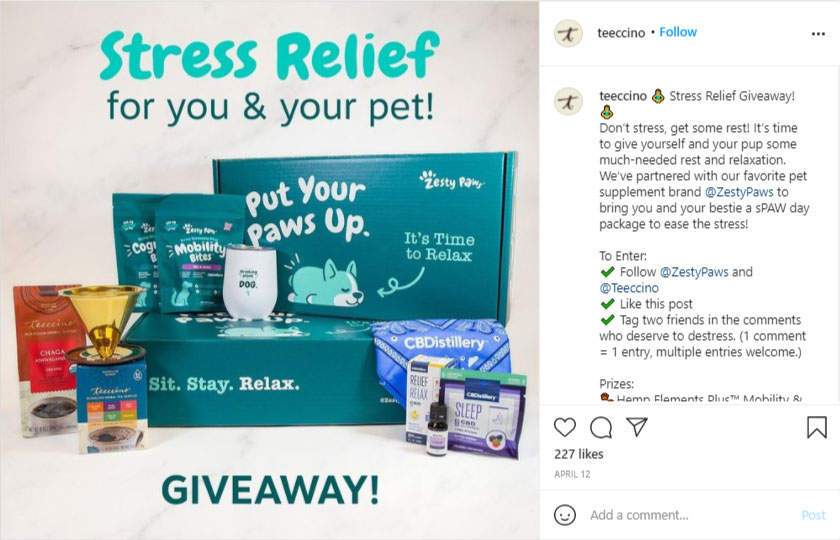 Key Takeaways
Hit your fan's pain point immediately: If your prize helps a customer alleviate a problem, say so in your first line.
Team up with other brands: Partnerships can increase your giveaway prize value and double your exposure.
Use emojis to break up text: Add a pop of color to keep the user's eyes moving through the caption.
Provide simple instructions: Follow and like contests make it easy for followers to join your giveaway.
Tag other accounts: Tag other companies in a shared giveaway or mention your team members in your post.
2. Juvea
Spice up your fan's feeds and celebrate a social media holiday. Juvea's products "deliver all-natural rejuvenation," perfect for an Earth Day giveaway Instagram post. The green emojis add a pop of color, while the mix of hashtags attracts people who appreciate environmentally friendly goods.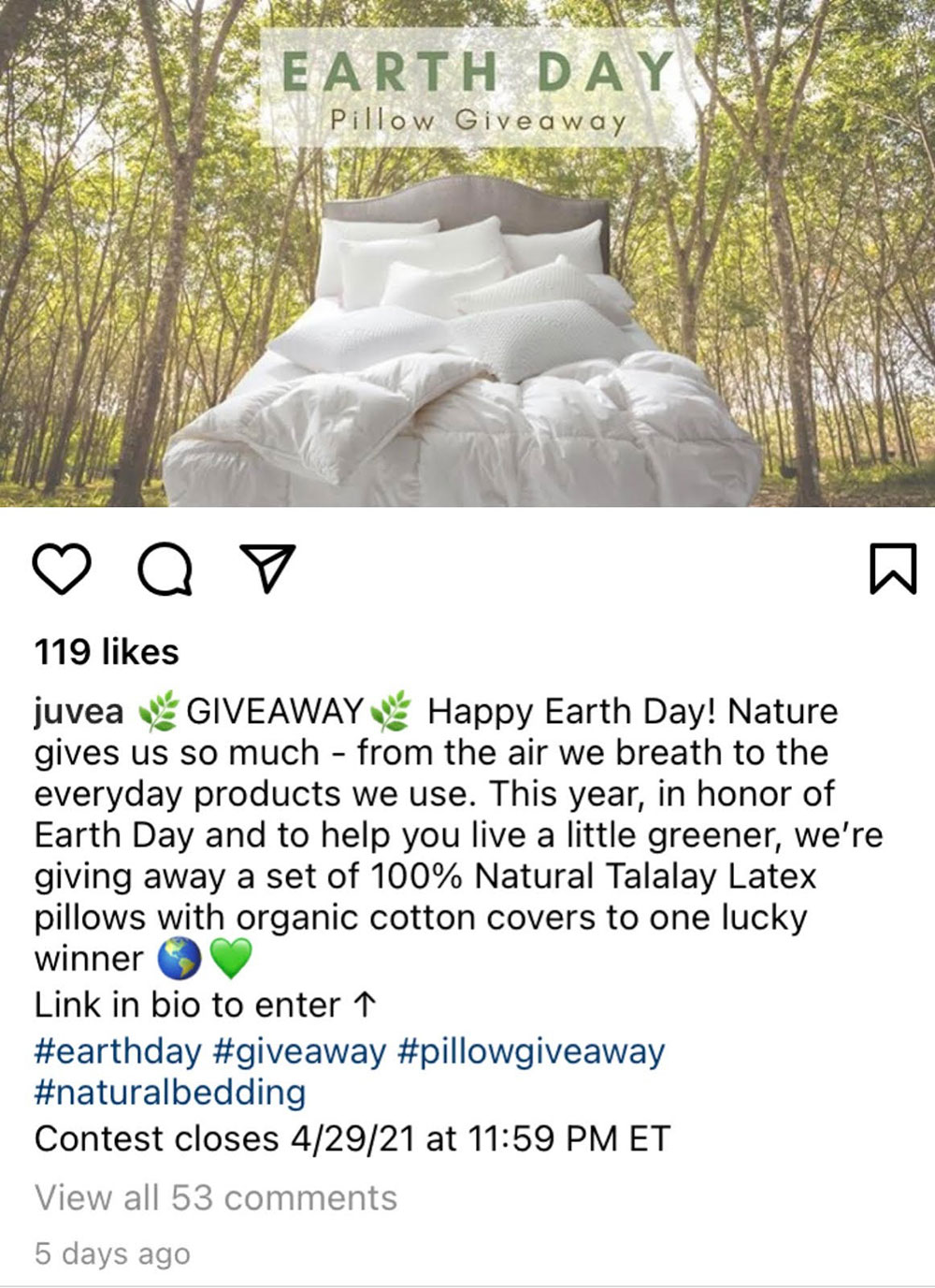 Key Takeaways
Pick holidays relevant to your brand: Host giveaways on popular social media holidays that fit your mission, values, or fan's hobbies.
Use hashtags with varying popularity: Type your hashtags into the Instagram search bar, then choose a couple of well-known ones (#earthday and #giveaway), plus niche hashtags (#pillowgiveaway and #natural bedding).
Respond to comments: Share an emoji, or a friendly thank you with people who post a comment under your Instagram giveaway.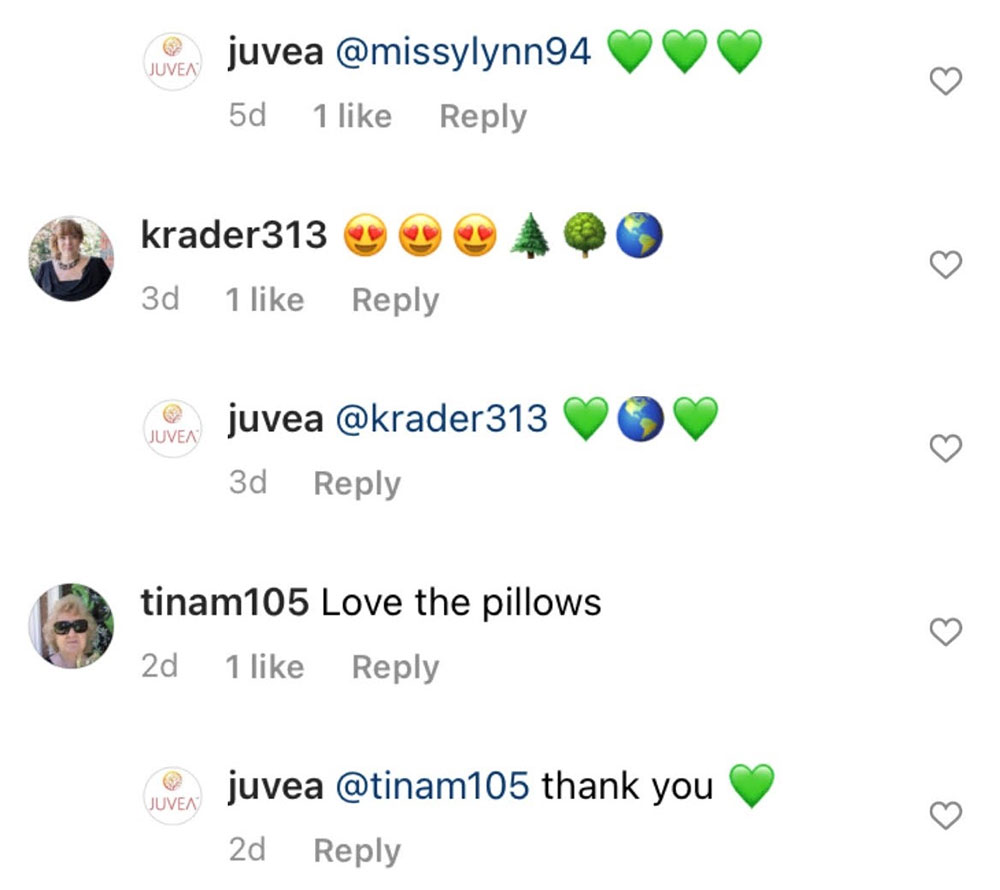 3. BlackOvis & Camofire
This duo teams up to feature giveaways with their products and prizes from other businesses. BlackOvis captures additional entries by sharing a second giveaway post shortly before the contest ends. In the following example, BlackOvis and Camofire garnered nearly 2,000 likes and 3,700 comments between three posts.

Key Takeaways
Share your giveaway multiple times: Grab those last-minute entries by referencing a "limited time" offer to nudge your audience's fear of missing out (FOMO).
Tag the brands for your prizes: Mention the business in your giveaway post and tag the account to expand your audience.
Create a video: With the Woobox tool, your business can design a video for your landing page or share a video on your giveaway Instagram post.
Add prize info on the landing page: Use a contest landing page to give details about your prizes and provide links to product pages.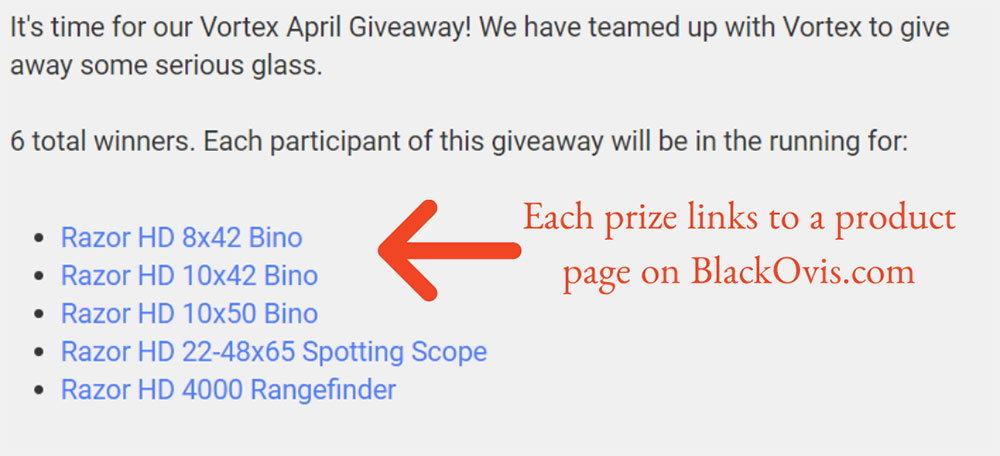 4. Capri Blue Candles
Capri Blue Candles regularly offers giveaways and uses an Instagram Comment Picker to select prize winners automatically. This time-saving tool helps them keep up with frequent contests and to quickly update posts with the latest winners.

Key Takeaways
Clarify what counts as an entry: Capri Blue Candles notes that "one comment = one entry" on some contest captions to reduce confusion.
Update Instagram giveaway posts: Add "Closed" once your contest ends, so people see the giveaway is over before they comment.
Use a random comment picker tool: Doing several giveaways can get confusing, but a free Instagram Comment Picker helps you track entries and pick a winner.
Tag winners in your post: Being transparent about winners ensures viewers of authenticity and boosts your brand image.
5. Hoover Vacuums
Hoover Vacuums and influencer Brandon Pleshek launched Hoover's latest product by going live on Instagram, Facebook, TikTok, and YouTube. Along with posting on multiple channels, Brandon reminds Instagrammers that "I will be randomly picking the winners from those who enter via the link in my bio."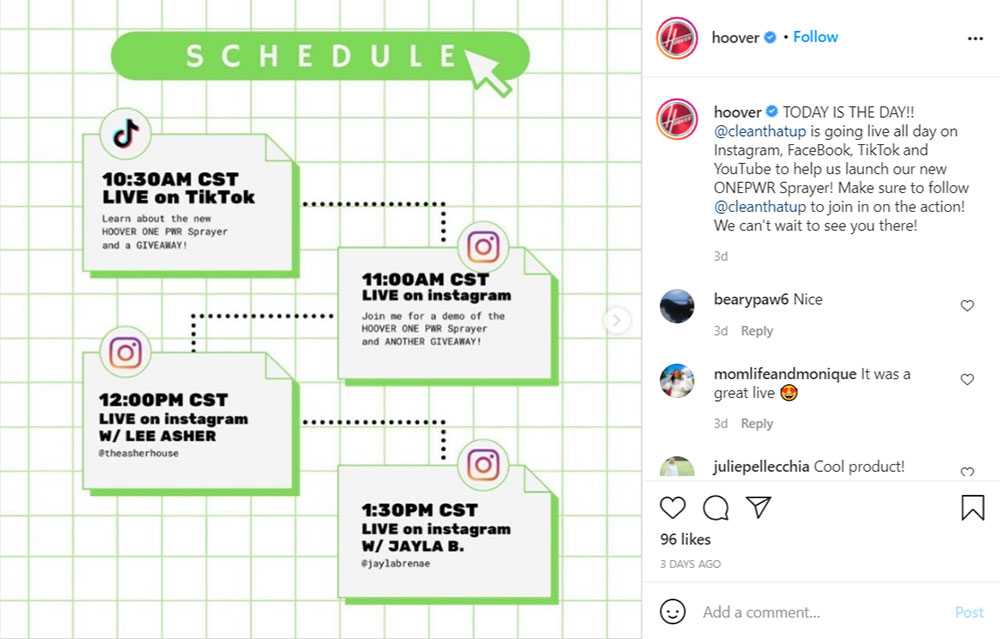 Key Takeaways
Partner with an influencer: The right influencer can share your posts, host contests, and even randomly select winners on your behalf.
Live stream on social media channels: Announcing your giveaway winner live on Facebook or Instagram is an excellent way to keep viewers engaged.
Use a giveaway to launch a product: Hosting a contest or giveaway as part of a product launch campaign builds excitement before the big day.
6. ShopHQ
The TV shopping network, ShopHQ, puts the spring sweepstakes information in its Instagram bio linking to the giveaway landing page. Plus, the company set up UTM tracking on the landing page to accurately capture data on how many people click back to the ShopHQ.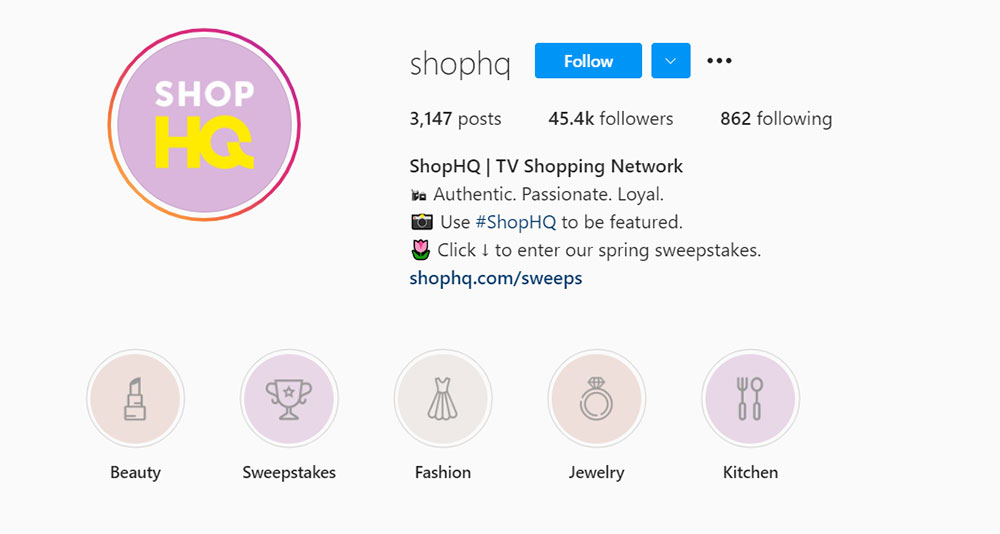 Key Takeaways
Make your giveaway stand out: Add contest information to your bio and Instagram Stories to extend your reach.
Track your contest performance: Use UTM codes and connect your Woobox giveaway to Google Analytics to learn more about every click.
Allow daily giveaway entries: Keep users engaged by encouraging them to stop by and submit their entries every day.
7. Casillero del Diablo US
Casillero del Diablo US hosts simultaneous sponsored giveaways to entice its diverse audience. The bio link uses Linktree to showcase several URLs leading fans to Facebook giveaways and landing pages. Instead of typical entry requirements, Casillero del Diablo picks one random comment with the correct answer to the question.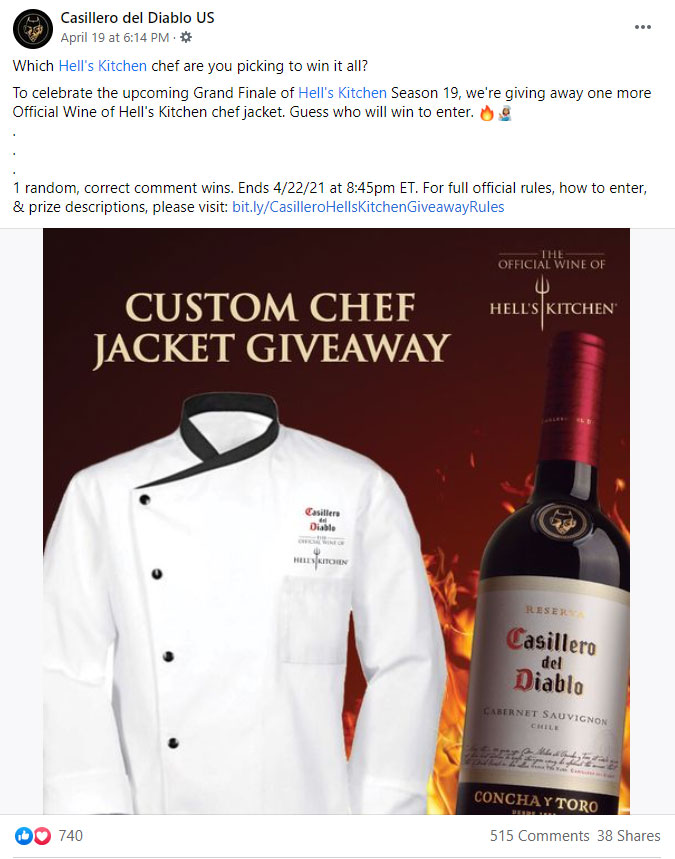 Key Takeaways
Share multiple links in your bio: Put your Instagram account bio to work using a tool, such as Linktree. Users can pick from several URLs with a single click.
Follow the rules for sponsored posts: Casillero del Diablo notes, "The sweepstakes is sponsored by Fetzer Vineyards, Hopland, Mendocino CO., California. ("Sponsor")."
Ask a question: Mix up your giveaways by asking users to leave the answer to a question in the comments.
8. Goodness Gracious
On the first Tuesday of every month, Goodness Gracious offers a "Tuesday's Child Award." The company places the Woobox contest URL in their profile and shares an Instagram post with details. Instead of choosing a winner via comments, Goodness Gracious asks people to vote for their favorite animal shelter or rescue.
Below, Goodness Gracious introduces its unique Instagram giveaway and encourages users to leave their favorite shelter in the comments.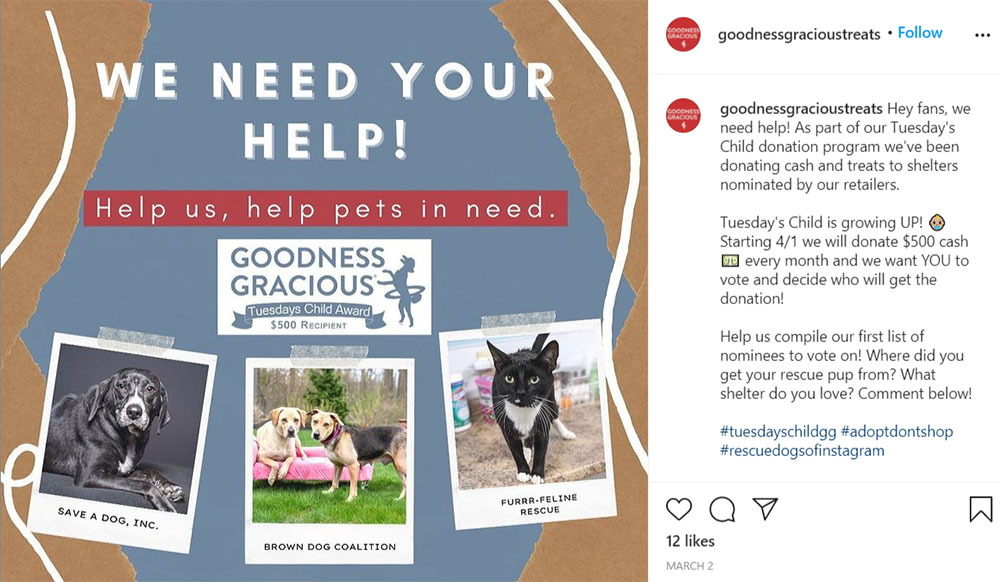 Key Takeaways
Connect online fans to a cause: Contests or giveaways can help your audience support a cause and feel a sense of purpose.
Create branded hashtags: Make it easy to track brand mentions and shares by adding branded hashtags in posts and your account profile.
Use a giveaway app to boost consistency: Host a number of contests across Facebook and Instagram using a free tool to track data and draw a winner.
9. Gretsch Guitars
Gretsch Guitars leverages multiple channels to create brand awareness, connect with fans, and secure contact information for potential customers. The Instagram post directs followers to its profile page, where there's a URL to the landing page with contest rules and business terms and conditions.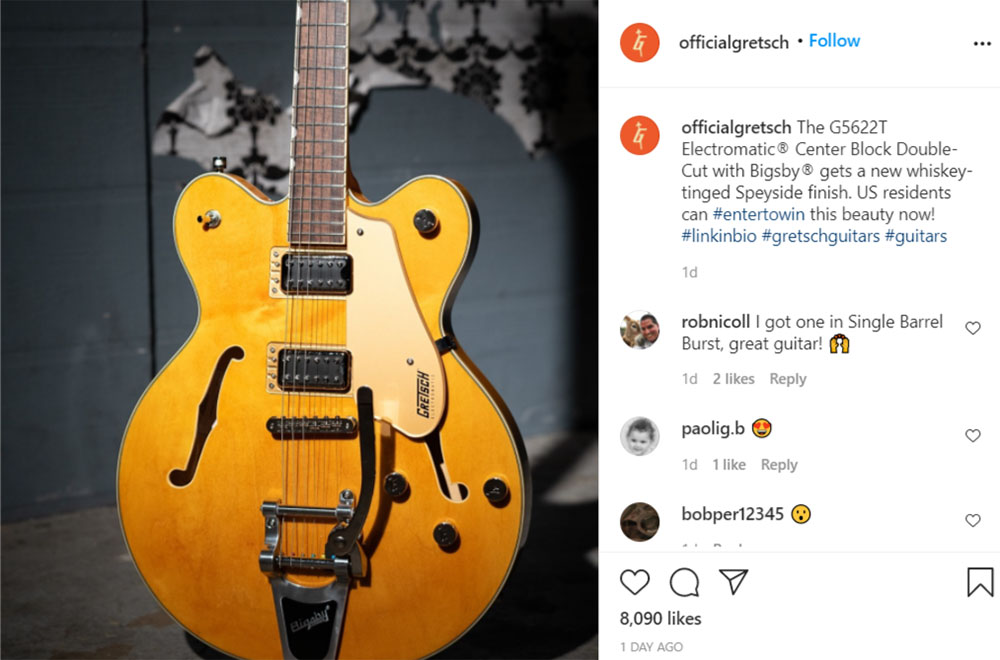 Key Takeaways
Offer multiple ways to enter and win: Instagram fans may feel more comfortable using a form or want to share your contests on a different platform.
Promote Instagram giveaways across several platforms: At a minimum, share once about your contest on each social media channel. Also, consider mentioning it in a blog or email.
Create a prize photo: Show users what they'll win with a compelling prize photo that entices fans to enter your giveaway immediately.
Instagram Random Comment Picker & Giveaway Options
Whether you want to boost brand recognition or increase Instagram followers, the right tool can save you time when picking one or more winners. The Woobox app works on many social media channels and integrates with email platforms, making it easy to share your giveaways and design compelling promotions for your business account.
Instagram Comment Picker
A comment picker tool helps you select an Instagram comment or comments from your dashboard.
Plus, with the Woobox Instagram Comment Picker, you have the flexibility to unpick Instagram users who don't meet your eligibility requirements, didn't follow a rule, or simply as a way to filter duplicate users.
Woobox also helps you filter (or not) users who comment multiple times on your Instagram giveaway. You can pick random comments from multiple posts when you pick winners, or just Instagram comments on a single post.
Instagram Hashtag Contest
With an Instagram hashtag contest, you can collect videos, images, and comments or enable voting. Additionally, you're not limited to Instagram! Woobox's Hashtag Contest automatically pulls content from Twitter, Facebook, Instagram, and your giveaway form.

Facebook Comment Picker
A giveaway picker for Facebook lets you choose winners randomly based on reactions or comments. You can even pick a winner from more than one post or limit your selection to one comment per user. The Facebook Likes & Comment Picker is a free app available via Woobox.
YouTube Comment Picker
Increase subscribers to your YouTube channel by hosting giveaways and picking random winners using the free YouTube Comment Picker. Like our other comment picker tools, you can select one or more winners from your comments and use the Woobox prize claim forms to get contact information and verify eligibility.
Twitter Retweet Picker
Want to pick a winner from followers who retweeted your contest tweet? The free Twitter Retweet Picker makes it easy to randomly pick a Twitter user. Best of all, you can view the usernames of everyone who retweeted to contact the winner or offer a coupon to all participants.
Hashtag Gallery Embeds
Don't wait for fans to check out your contest entries on social media. Instead, embed your photos, comments, or videos seamlessly on your website. Or upload media submissions received via forms or email to your website's Hashtag Gallery. With a steady stream of user-generated content, you can keep your website fresh and relatable.
Use the Random Comment Picker for Instagram Giveaways
Put your contests and comments to work by promoting your sweepstakes across several platforms and offering prizes related to your services and products. Write eye-catching captions paired with high-quality photos to draw attention to your Instagram giveaway.
For best results, use tools and apps to create effective campaigns while saving time with a giveaway picker.
Need help with a comment picker tool or giveaway?
Our Woobox support team can help you get started with Instagram giveaways. We're available from 8 am to 5 pm PST, Monday through Friday at 1-360-450-5200 and support@woobox.com.