Have you heard? Instagram has over 1 billion active accounts every single month. Another amazing fact? The majority of accounts — around 90% — follow a business on Instagram. Additionally, Pew Research Center's Social Media Fact Sheet states that 63% of Americans use Instagram daily, and 21% use it weekly.
In other words, Instagram is a prime social media channel that you need to use if you want to lift brand awareness.
But, maybe you're wondering how to really maximize your time and efforts on Instagram to get the most out of your Instagram profile. Contests can be a fun and easy way to lift brand awareness and engage with your target audience, and we've got 10 ideas to help you get started.
10 Instagram Contest to Try Today to Improve Brand Awareness
1. Comment to win
A comment to win contest can generate buzz and awareness when you take time to consider the right subject matter for your contest. You need to run with an image, prize, or concept that your target audience will love.
In this example, Barnie's Coffee & Tea found a way to bring a little of the Mardi Gras festivities to its comment to win contest while targeting coffee lovers near its Winter Park location. The only requirement for entry is that you had to post a comment for a chance to win a $25 gift card.
Attractive photography plus a terrific selection of hashtags — coffee related and location related — make this a perfect promotion to generate some buzz for the Winter Park, Florida, Barnie's unit.
Woobox makes it easy to run a comment contest with its Social Comment Winner Picker. The platform gathers all of the comments on the contest post. Unpick those comments that don't qualify, then execute your random drawing.

2. Tag a friend
Sometimes you need friends to help you achieve great things. In this case, we mean your followers' friends, of course.
A "tag a friend" contest rewards your followers when they tag one of their friends in the comments section of your post. You can even combine the "tag a friend" with the requirement to make a comment along with tagging a BFF as Fourth Ray Beauty has done in its Mulan and Clourpop PR Box Set. To enter, people enter a comment about their favorite Mulan song and tag a BFF. Easy!
To run this type of giveaway with Woobox, you could use the comment picker. If you randomly select someone who didn't tag a friend (part of the requirements for entry), just unpick and select again.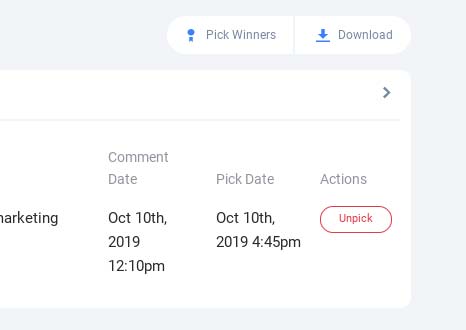 3. Caption this photo
A caption contest can be a fun way to build more awareness and engagement for your brand. If you've got a mascot, like Stewart's Shops, you can make it the star of your "caption this photo" contest.
Ask your followers to share their caption in a comment on your contest post. You can select the winner based on total likes for a caption or by inviting a panel of people to choose the best caption. Those people may be your employees, vendors, or a group of experts in your industry or community.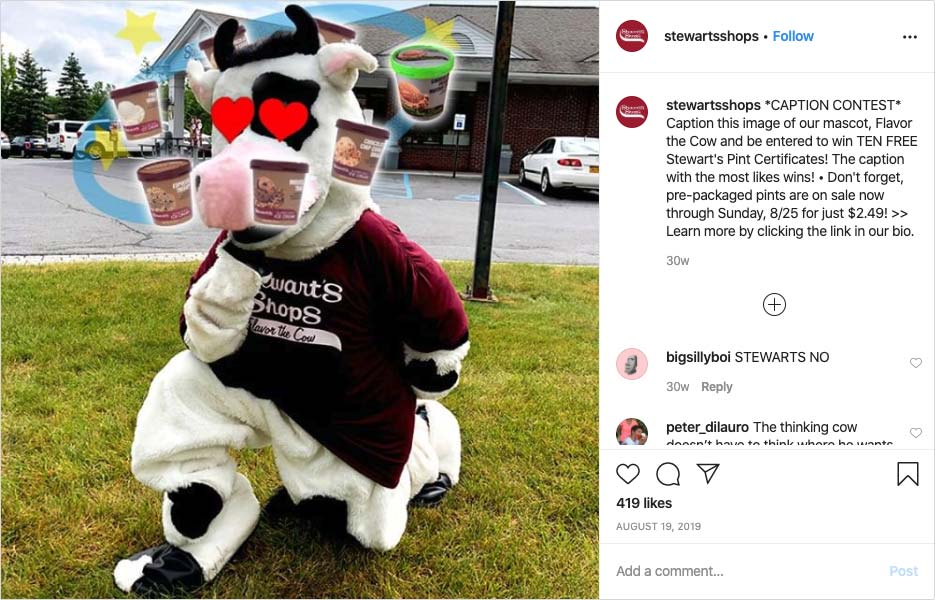 4. Best comment
You can run a "best comment" contest in a fashion similar to that of the photo caption contest. You request that your followers share a comment in response to a question or concept from your contest post.
You can rely on the "most likes" or a panel of judges to choose the winner.
Some ideas for how to use a "best comment" contest on Instagram could be to ask participants to:
Name a new product (like a flavor of ice cream)
Describe a unique way to use your product
Tell a short story about your product
Explain why he/she deserves to win a month's supply of your product or service
Share a story about a local hero who deserves to win
5. Vote to win
If you'd like to run a contest with a voting component on Instagram, it's super easy. Just spell out the voting options in your post, both in the caption and in the image itself. This type of contest can be a great way to get feedback on your products, your business hours, your marketing, and more.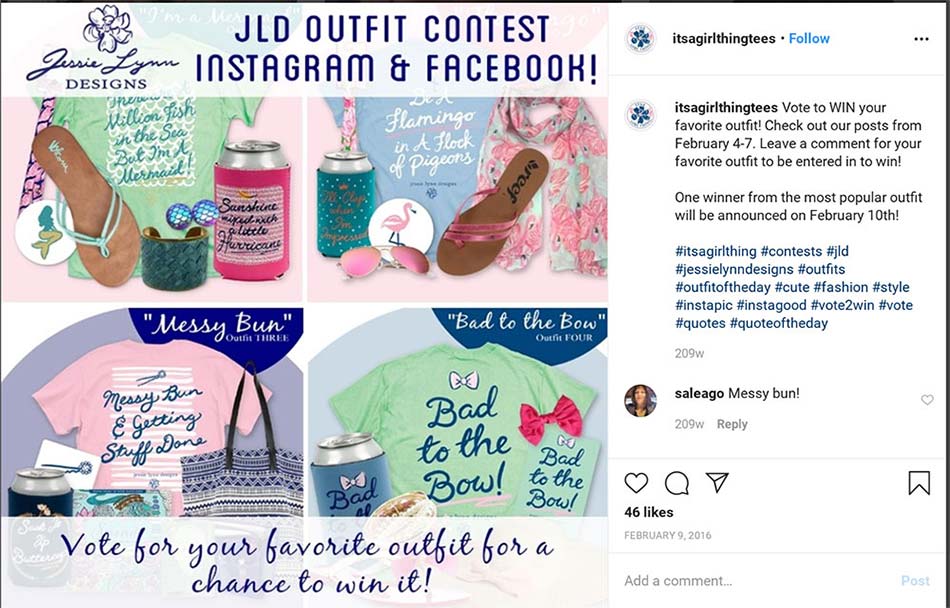 You can use the comment picker tool in Woobox to randomly select a winner from the pool of people who voted.
6. User-Generated Content Contest
User-generated content (UGC) contests can be great for brands to run for a few different reasons.
People who use Instagram already love sharing photos, so you've got a pool of folks who will likely be up for a photo contest challenge.
If your contest includes a voting component, all of those contestants will be drumming up traffic to go vote for their entry in your contest.
When you promote your contest effectively, you should get a ton of UGC that you can use to promote your brand. Just be sure you include rules about the use of entries in your marketing efforts and getting signed releases. Talk to your lawyer about the specific details.
The winner is probably going to share the winning post all over his or her social media profiles, thus getting you some additional social media love.
These types of Instagram contests work very well for products that people can use creatively, such as food, art supplies, fashion, makeup, pet costumes. Speaking of pet costumes, check out Petco's UGC contest for Halloween!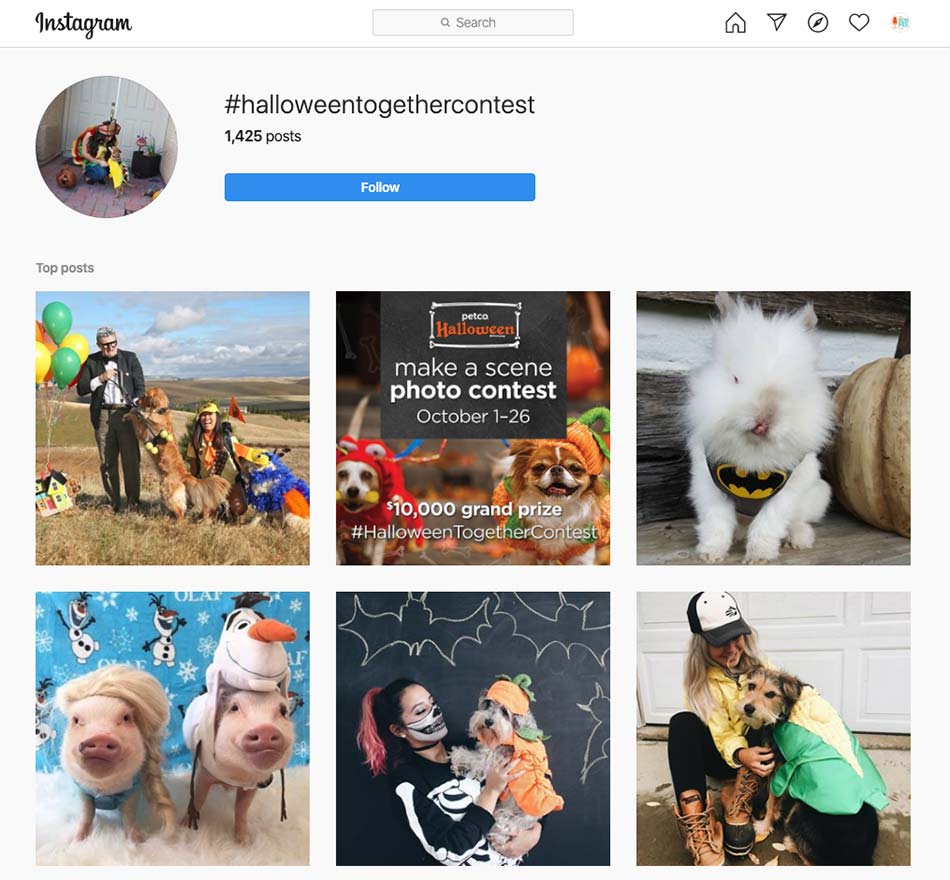 Maybe your product or service doesn't have an obvious UGC angle. Don't be afraid to think outside the box. You can ask your contestants to enter photos that represent a concept about your product or service. Or, maybe you ask them to submit pictures that tell a story about the result of using your brand.
Just use a hashtag entry option, and all of the tagged UGC entries can be added to your Woobox UGC contest campaign.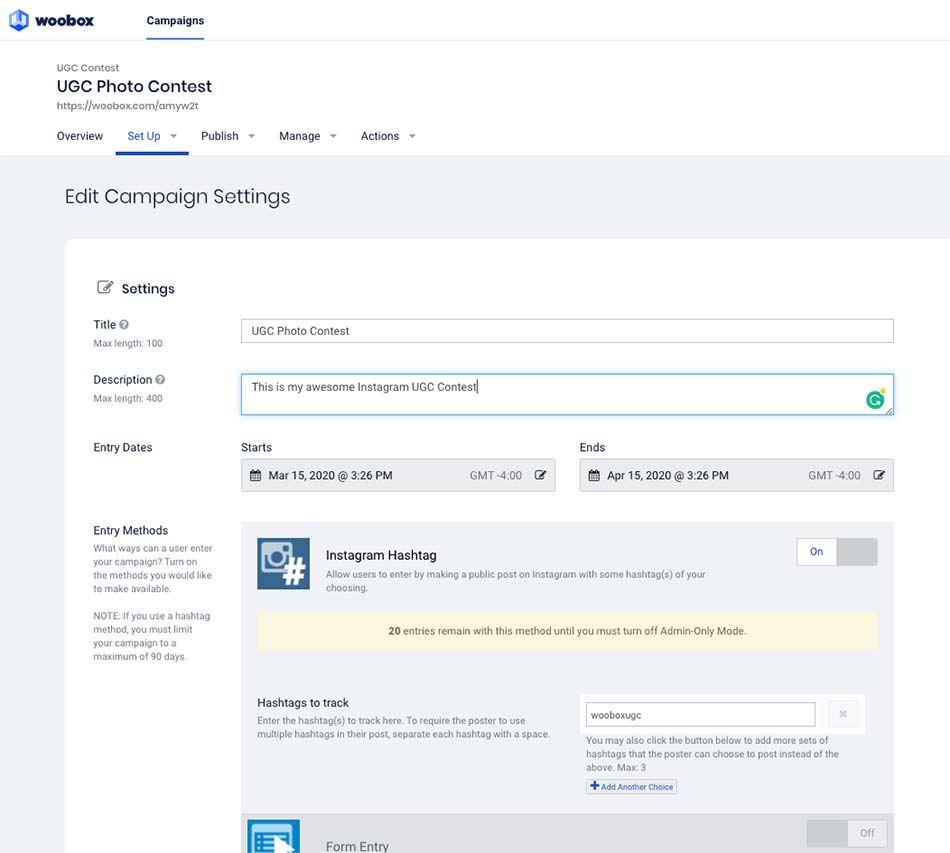 7. Branded hashtag challenge
A branded hashtag challenge can be a cool way for your biggest fans to show off their love for your brand. Come up with a branded hashtag that includes or alludes to the challenge for your contest.
There are different approaches you can take for a branded hashtag challenge.
Ask participants to comment on your Instagram contest post by sharing a story or idea using your branded hashtag. Use a tool like the Woobox comment picker to select a random winner.
Incorporate a UGC aspect to your contest and have participants post their photo to Instagram using your branded hashtag. Gather entries based on the use of the hashtag using Woobox and display them in a gallery for voting.
Marc Jacobs has had great success with branded hashtag challenges. The original #CastMeMarc challenge resulted in 70,000 photo submissions from people who wanted to be one of the faces featured in a Marc Jacobs campaign. In 2019, Marc Jacobs had a contest that required video entries on Instagram for the #WhatIsPerfect campaign.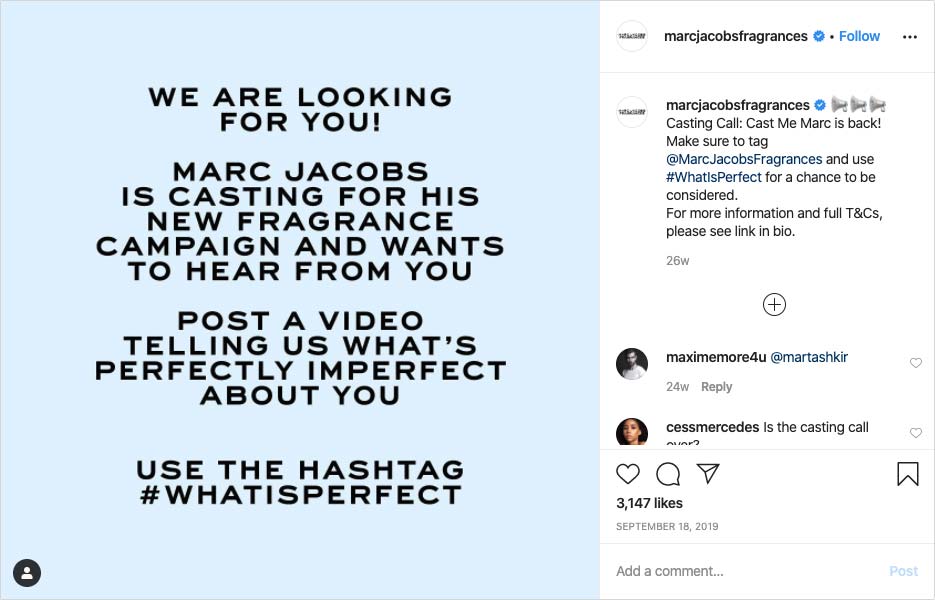 8. Company milestone-related giveaways
Did your company just celebrate ten years in business? Did you just surpass 10,000 Instagram followers? That's a reason to celebrate! Look at the milestones coming up for your business and use them as the basis for an Instagram giveaway.
Ten years in business? Giveaway ten prizes to the best comments on your post.
Sell your millionth widget? Host a photo contest where people get to show off the ways they use your widgets in their lives.
Set a new record for volunteer projects? Offer to donate in the name of a comment contest winner to one of three company-backed charities.
9. Selfie contests
Let's face it. A lot of people on Instagram LOVE to share their selfies. Why not capitalize on that? Ask people to share photos of themselves using your products. You can use a branded hashtag to pull entries into Woobox for your contest.
This type of contest gives your brand social proof. If you want to use any of the images in your marketing beyond the contest itself, be sure your rules spell out how you may use the photos and get a signed release from the winner.
10. Guessing challenges
A guessing challenge asks contestants to guess something about the photo you post on Instagram. Here's a simple example from Vienna Pediatric Dentistry.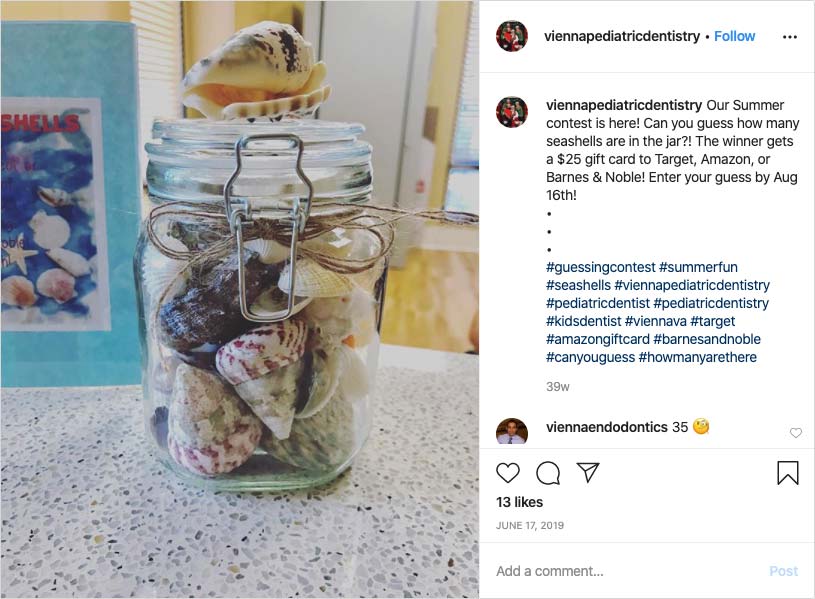 Your guessing contest doesn't have to be about the number of objects in a container, though. Other ideas include:
Zooming in super close on an object and asking people to guess what the object is
Showing a wrapped gift of a sealed envelope with a couple of clues and asking people to guess what's inside
Teasing a new product launch with some photos and clues then asking people to guess what's coming up in your big reveal
Obviously, there is only going to be one right answer; however, it is very possible that multiple people will come up with that "one right answer." Be sure to clearly explain how the winner will be selected in the event that multiple contestants answer correctly. Will it be the first person to respond correctly? Will you do a random drawing from the pool of people who gave the correct answer? Outline the rules so that there are no misunderstandings later.
Are You Ready for an Instagram Giveaway?
As we mentioned at the beginning of this post, Instagram is a popular platform with very active users who tend to follow business accounts. It's time for your brand to take advantage of that channel and use it to your advantage.
Try one of the following ideas for your first (or next) Instagram contest or giveaway:
Comment to win
Tag a friend
Caption this photo
Best comment contest
Vote to win random drawing
UGC photo contest
Branded hashtag challenges
Company milestone-related giveaways
Selfie challenges
Guessing contests
Woobox has features to help you implement most of the ideas you can dream up when it comes to engaging your audience with an Instagram contest. Give it a try.
Need help creating your social media contest, sweepstakes, or giveaway? Woobox Support is available from 8 am to 5 pm PST, Mon. through Fri at 1-360-450-5200 and support@woobox.com