If the popularity of game shows like Wheel of Fortune, The Price is Right, and Jeopardy have taught us anything it is that people love games. We love both participating in games and watching them. In fact, there is an entire industry based entirely on our love of watching other people play games and rooting them on!
As a business, you can use that love of games to grow your business through contests, polls, quizzes, and, more recently instant win contests, with Woobox.
An instant win campaign can be an effective way to start or build a relationship with your audience, drive engagement on social media, increase your newsletter or mailing list, and increase brand awareness. Before digging into all the ways you can customize your instant win contest, let's look at how these campaigns work and how you can make your contest more attractive to your target audience.
What are Instant Win Campaigns & Are They Effective?
Woobox offers an Instant Win campaign option, which allow brands to create custom campaigns that notify entrants immediately if they are a prize winner. These differ from other contests, which take more time to notify entrants if they won. You can create an instant win campaign the same way you create other contests, by creating a free account with Woobox and then selecting "Instant Campaigns" from the options list.
Instant win campaigns are pretty simple to create and offer tons of options for customization which allow you to create the most effective campaign possible for your target audience. The goal of this post is to talk about why instant win contests are effective and provide a few marketing strategies you can use to increase the number of entrants your contest gets. (You might want to read step-by-step instructions for creating an instant win campaign first.)
Why are instant win games so effective? To start, people love to win. It makes us feel good and we like getting things for free. But the instant win model means entrants can find out right away whether they won or not. This instant gratification model makes the contest even more attractive. They don't have to wait a week or more to find out if they won something awesome, they can find out right now. In our world of fast tech, this is huge.
So, if you have considered creating a contest before but weren't sure if it would be effective, the instant win campaign could be a good option. Worried about getting too many random entrants who don't care about your brand? There are additional ways you can customize your campaign to make it more appealing to your target audience and weed out those who are just there for the free stuff. Let's look at a few of those strategies.
Use Brand Colors and Logos
Have you ever been scrolling through social media and recognized a brand solely by a photo, even if it wasn't from their account? The colors, the font, maybe even the photo composition was immediately recognizable. Or, have you ever recognized the soda someone was holding without even being able to see the brand name? Consistent branding is what makes this possible. Carrying over branding colors, tone, and logos when possible helps increase awareness of your brand and instills trust in your contests.
Help entrants recognize your contests and your brand by using all of the color and background customization options at your disposal. In the screenshot below, you can see all the different pages each instant win campaign has, including Entry, Pre-Start, Ended, Voucher, Voucher Expired, Not a Winner, and Fan-Gate.

For each page, you can adjust the text, change background colors for text boxes, upload images, and change the background of the entire page. Use these customizations to create a campaign look your audience will recognize.
Educate Entrants About Your Brand
You can add add a wide range of media to your contest, including images and videos as well as custom HTML. In addition to using the email addresses you gather, consider using the contest landing page to educate your audience. Share a photo of your beautiful store, include a video about a best-loved product, or share a bit of your brand story. Make sure to use the opportunity to share something unique about your brand that will entice entrants to consider hiring or buying from you.
To add photos, videos, and more, select Elements in the left navigation bar in your campaign builder.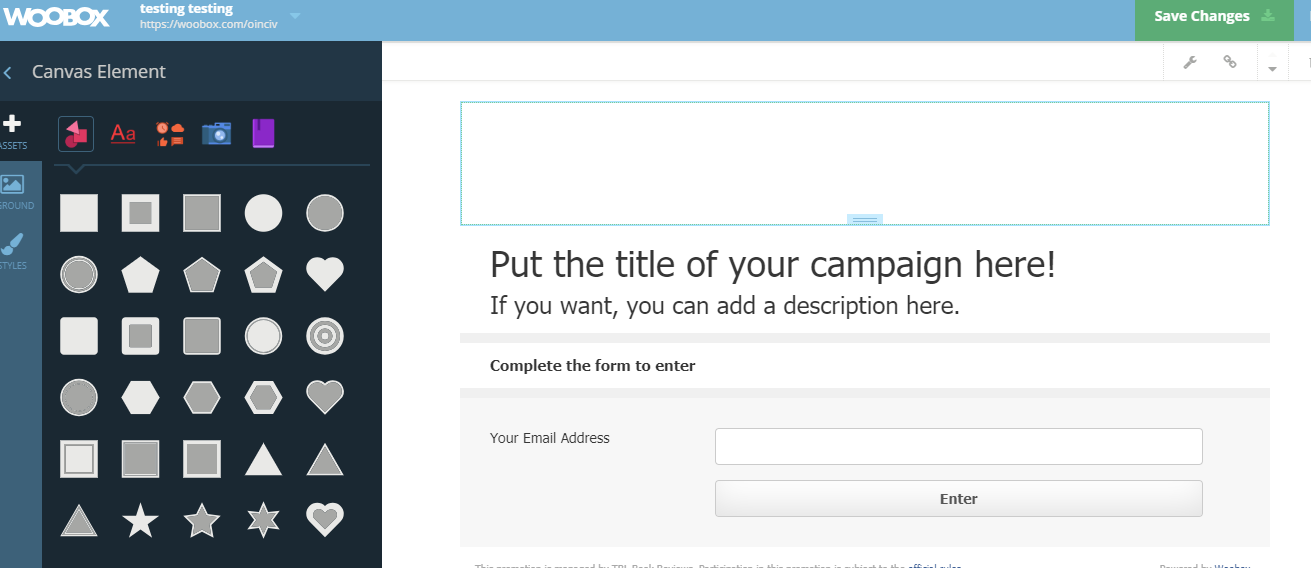 You can also use the Canvas option, which functions as a simple graphic design program, allowing you to add shapes, text, photos, and more.
Make It Easy for Them to "Like" You On Facebook
In order to reduce spammy contests, Facebook does not allow you to require entrants to like your page in order to register for a contest.
But you can add a 'like us' button next to register questions and ask entrants to like your page.

It is a simple ask, and can help you increase the likes you have from entrants who are interested in your brand and active on social media .
If your goal is to increase visibility on social media, there are a few other ways you can customize your campaign. For example, you can activate the Facebook Auth Dialog function, which allows entrants to enter using their Facebook profile. You can also ask for shares, which is the next strategy.
Ask Entrants to Share Your Contest
Currently, the bonus entries function that allows registrants to earn more contest entries through referrals, visiting specific links, sharing on social, and so forth, is not available for Instant Win campaigns. However, there are other ways to encourage entrants to to share your contest. Remember, you can't make this a requirement but you can ask!
For example, on the "Not a Winner" page. This page can be customized by changing the text, adding brand colors, and so forth. In the screen shot of the Woobox dashboard, you can see the social sharing buttons right below the text.

Simply asking for a share might seem simple, but it can have a significant impact. According to a study by Hubspot, simply saying "Please retweet" on Twitter results in 4x more retweets. In most cases, people are happy to help if you. Consider offering a small consolation prize, like a discount on their next purchase, after asking for a share.
Limit Entry By Geographical Location
Some people like free stuff so much they will enter contests they don't really care about just for a chance to win. One of the ways you can limit this is by limiting the geographical area entrants must live in to enter your contest. You can do this by navigating to the Entry Page>Settings>Add Form Field>Country.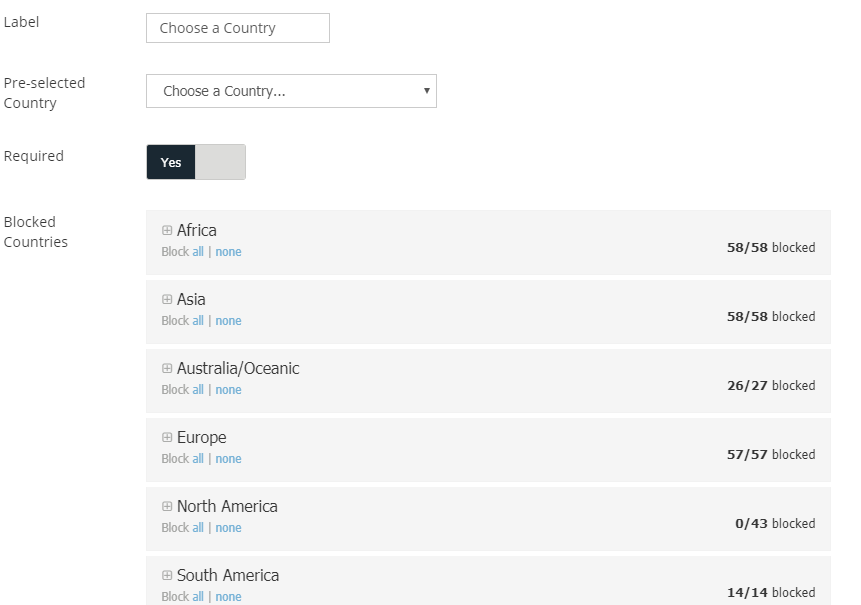 Using this function, you can block entrants from countries outside of your target audience. For example, if you own a bike shop in South Africa, you likely don't want a winner from North America. This feature allows you to prevent that. If location is a major concern, I suggest making this field required, and consider adding a rule addressing location requirements.
Allow Entrants To Try Again
One of the main benefits of creating an instant win contest is entrants find out immediately if they have won. This can also be a drawback if you are hoping to keep contestants engaged – if they didn't win they carry on with their lives and might not think of your brand again.
One of the best ways to increase the life of your contest and generate social buzz is by allowing entrants to allow entrants to try again. You can access and customize this feature from the main control dashboard for your campaign under Edits>Attempts, which is located just under Entry Dates.

This allows you to permit non-winners to try again after a specific time frame you set. If you were running a very short campaign, you could set the time frame at just an hour, or for longer campaigns allow entrants to try to win again every 24 hours.
This keeps entrants coming back to your contest and gives you more opportunities to engage with them. The excitement may also increase social shares.
Choose Prizes Your Audience Will Love
The type of prize you are offering can make an impact on how many people sign up for your contest and whether or not they have any interest at all in your brand. For example, if you giveaway $100 you will get all types of entrants. If you are just launching a new product or service, that might be okay. But that is not so helpful if you are trying to attract entrants in the enterprise tech industry.
Before you choose your grand prize, ask the following questions.
What types of hobbies or interests does our audience have?

What does our audience really value?

What will help use create a stronger relationship with our audience?
Will this prize turn the winner in to a brand ambassador? Do we want that?
Will this prize attract a wide range of entrants? If so, do we want that?
It is also worth considering how the value of what you are gathering compare to the value of the prize. Higher worth prizes will attract more entrants, and you wouldn't want to waste a valuable prize asking for, say, just a zip code. (Most likely, any way.) It is okay to ask for more from entrants when the prize has a higher value.
On the other hand, if you ask 20 questions and the grand prize is 10% off an online order, entrants might feel a big cheated. Entrants are also less likely to fill out a longer form when the prize is less significant.
Choose a prize that its both who you are trying to attract to your contest and fits with your brand and your goals for the contest.
Conclusion
An instant win campaign can be a highly effective way to engage with current and prospective customers or clients. The strategies above are aimed at helping you create the most effective campaign possible. Keep in mind there are dozens of other ways to customize your campaign and every brand is different. Above all else, make sure you create your contest with your target audience in mind.
Ready to build your Instant Win contest with Woobox? Create a free account and you can start customizing your contest right away.