Although reports of declining engagement abound, Facebook's latest earnings report demonstrates the platform's continued popularity. Since the beginning of the year, Facebook added a million new daily active users from the US and Canada, along with 63 million users from other parts of the world.
Facebook's steady stream of potential customers is why 70% of marketers choose Facebook to reach their business goals.
From lead generation to brand awareness, a Facebook contest provides more opportunities to meet your objectives without spending a great deal of time or money. Create a Facebook contest for nearly any business goal by determining your contest strategy, then choosing a format best suited for your purpose.
Your contest strategy
Ways to Create a Facebook Contest
Facebook Contests: Do's & Don'ts
Before you get started, keep in mind this list of essential do's and don'ts of Facebook contests. After all, you don't want to go through the steps of the process only to watch your hard work go down the drain due to bad practices.
Facebook Contests: Do's
Do:
Focus your contest on a specific goal.
Read the latest Facebook contest rules.
Combine concise rules with a secure entry method.
Choose a prize that aligns with your brand.
Promote your contest in a friendly, non-sales-y way.
Facebook Contests: Don'ts
Don't:
Require Facebook users to tag a friend or share your page for an entry.
Inadvertently turn your contest into a lottery.
Design a contest without your mobile users in mind.
Forget to track your goals and measure the outcome.
Your Contest Strategy
Business owners develop a variety of plans for meeting their goals. The process is no different when creating a contest. Having the right objectives based on market research provides the foundation. Next, you'll determine how you'll measure progress while also creating a post-contest strategy. Each part of your plan takes into account both Facebook rules and your business brand guidelines.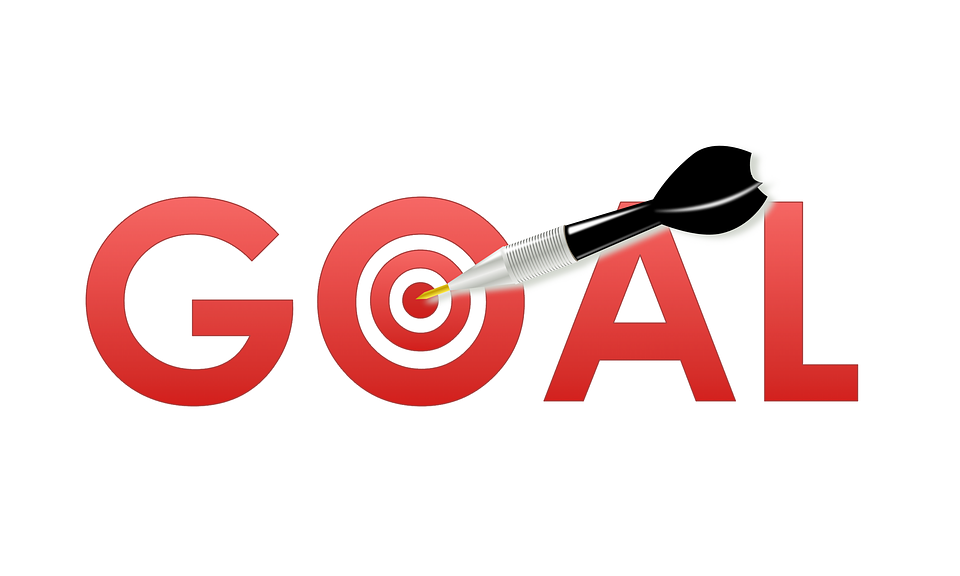 Picking the Goal
Before creating a Facebook contest, it's essential to determine the purpose. Choosing a goal helps you focus on your audience and their specific needs. It ups the chances of appealing to your audience and expanding your marketing reach.
For example, if your goal is to generate new leads, then a contest that engages your current audience and encourages them to share the contest with others works best. However, if you want to create brand awareness, then focus your giveaway around a theme that aligns with your brand message.
While it's possible to meet a couple of goals with one well-placed social media sweepstakes, start with one objective and tailor your contest accordingly.
Generate new leads.
Create brand awareness.
Drive sales.
Promote new products.
Interact with your current audience and brand ambassadors.
How to Use Facebook Audience Insights
Now that you have a goal, your next step is to make sure that objective aligns with your market. Facebook Audience Insights provides data on your current connected audience, along with Facebook users as a whole. You can define your custom audience and then compare that to information from Facebook profiles on Facebook users.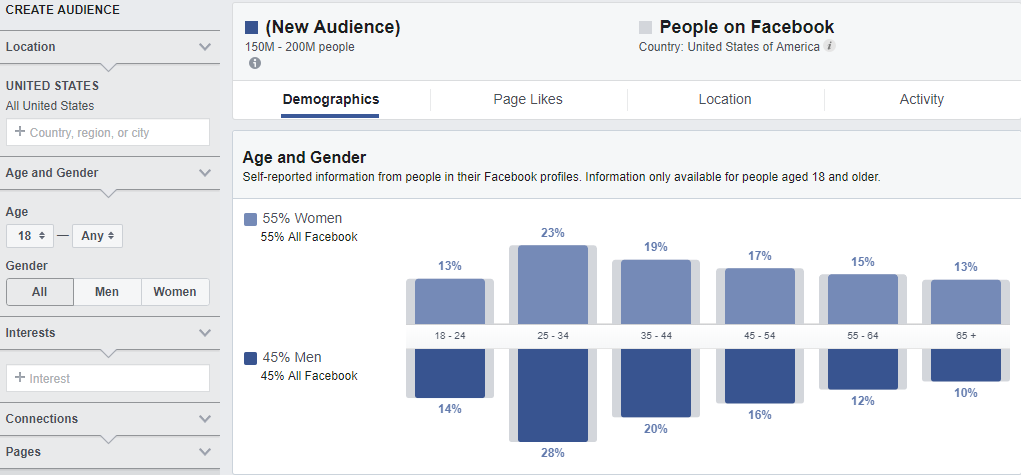 Demographics. Discover the age, gender, or location of your current audience.
Interests and hobbies. Does your audience love dogs or cats? Perhaps, they're interested in tech subjects as opposed to DIY.
Lifestyle. This result combines relationship status and location to give you an overview of your audience's lifestyle.
With Facebook Audience Insights, you'll see what types of devices your audience uses, how many ads they've clicked, and which posts they've liked. Combining this information helps you understand your audience more deeply. In return, you'll create more effective contests.
What are the Facebook Contest Rules?
In the past, you'd tell your audience to share your post or like your page as a contest requirement. However, this is a huge no-no. Ensure that every Facebook contest meets legal guidelines by adhering to social media contest rules. After all, there is nothing to stop any social media platform from taking down your page or deleting your posts. Both of which can be detrimental to your business and reputation.
According to our legal cheat sheet to Facebook contests, Facebook promotions require:
An acknowledgment that your contest isn't associated with Facebook and
A release from each participant.
Adding Your Brand: Tips & Advice
Customers that remember your brand are more likely to share your details with friends. In fact, brands that are consistently presented to consumers are four times more likely to experience brand visibility. Established companies, like Medium, share brand guidelines that set the visual style and tone on the platform.
Regardless of your contest objective, well-branded content captures the attention of consumers over the long haul. When you share social content that repeats your brand's color, style, and tone, then you deliver a sense of trust and familiarity with your audience. In return, this increases engagement and generates leads.
Refer to your branding guidelines during contest creation.
Align each element of your contest with your brand standards to ensure consistency throughout your social promotions.
Customize your prize, images, landing page, and CTA.
Design a Facebook contest for your brand using fonts, colors, and branded images along with several other elements. Sticking with your brand guidelines during social promotions helps you reach not only your main goal but also secondary objectives relating to brand visibility.
Ways to Create a Facebook Contest
With your contest goal in mind, sort through your options for creating a Facebook contest. Some formats work for multiple types of goals, whereas other options generate the best results for one goal. Avoid creating extra work for yourself with a giveaway that doesn't actually align with any specific goal or purpose. Otherwise, you may be disappointed with the results. Instead, match your objective to a contest designed for those particular results.
Facebook Timeline Contest
Giveaways on Facebook, also known as sweepstakes, entice consumers because it's very easy to enter. On your end, a timeline contest is simple to set up, especially with the Woobox Facebook Comment Picker to choose one or more winners randomly or by hand. Plus, you can use contests like sweepstakes to meet a variety of business goals.
For example, Hootsuite reports that a countdown giveaway campaign earned Kettle Brand 340,000 impressions, which helped them reach a goal of increased brand awareness. Kettle Brand's Facebook timeline contests are so successful that the company repeats different giveaways regularly. This allows them to complete a variety of objectives, such as building brand loyalty, crowdsourcing opinions, and increasing brand awareness.

User-Generated Content (UGC) Contests
Consumers love to share photos. With user-generated content, you can get your audience actively involved with your brand while also adding content to your editorial calendar.
Photo Contests
If your goal is to generate content for social proof and your editorial calendar while increasing engagement on Facebook, then photo contests are the way to go.
With a general photo contest, you can appeal to the majority of your audience with a low barrier to entry and boost your engagement levels. In the example below, the only stipulation is to purchase their product and take photos while on an adventure.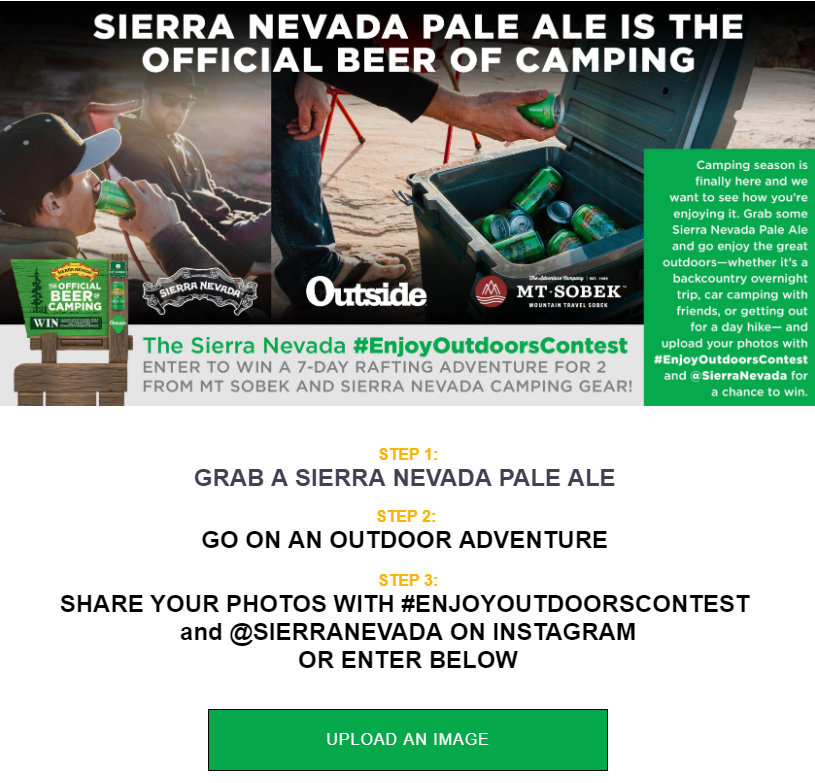 You can also combine a photo contest and a giveaway. Arden Grange perfects this method using a Woobox contest to collect images for their 2020 calendar.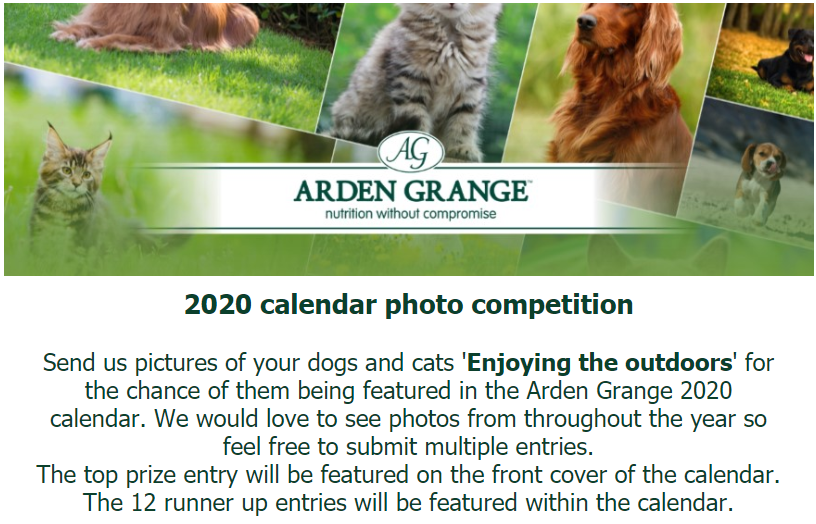 Now if your business goal is to generate high-quality leads, then consider adding extra stipulations. Think about how your sales team qualifies leads. Turn that insight into a qualifier for your photo contest. Doing so roots out those who are only entering to win and won't necessarily purchase your product or service.
Video Contests
Video contests are fantastic for lead generation. Since these contests require a bit more effort, you'll get fewer people who are in it solely for the prize. For example, VitalBiome combined their video contest with a giveaway. Their contest increases brand exposure on Instagram and YouTube and provides excellent social proof for use across their social channels and website.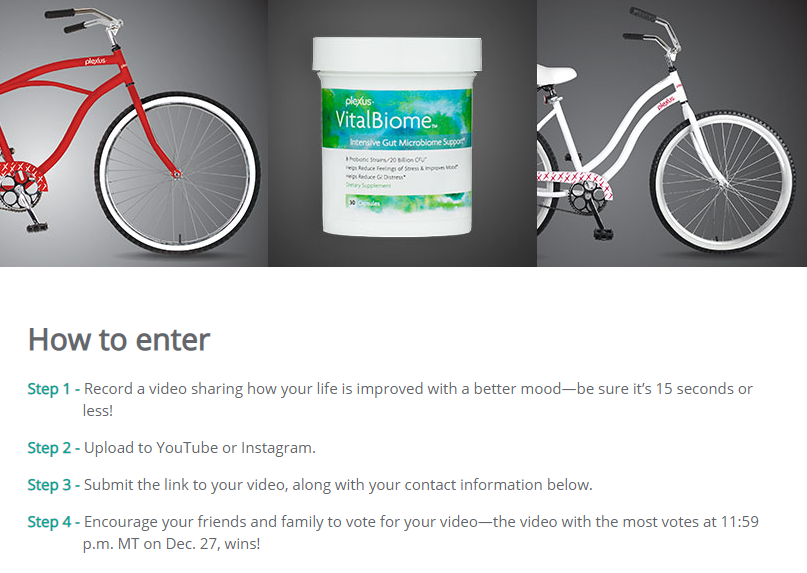 Polls
If your goal includes expanding your organic social reach, then consider adding a Facebook poll to the mix. Creating a poll or survey is a fun and easy way to engage your audience. Plus, polls help you gather opinions on current products or those in development.
This Facebook poll asks the audience to pick their most-wanted feature on a mobile banking app. What a great way to do product and market research!

Quizzes
When you combine a quiz with a giveaway, you can pre-qualify new leads while also gathering first-party audience insights. Develop a Facebook quiz that speaks to your target audience while boosting their confidence. With Buzzfeed's quiz, the questions are self-explanatory, and regardless of the quiz's outcome, everyone is a winner.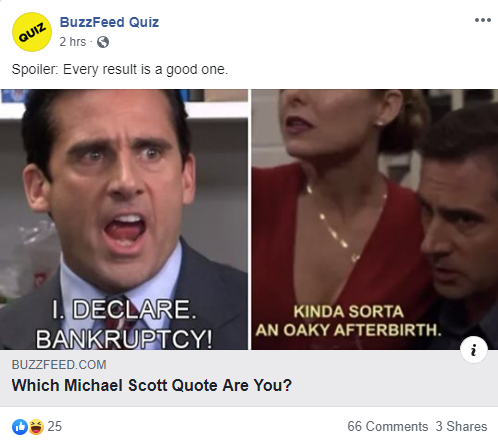 Conclusion
Although the pace of change is quick, consumers won't be turning away from social platforms like Facebook anytime soon. In fact, a survey of more than 22,000 consumers finds that 37% list social media as an inspiration for their purchases. By choosing a business goal based on your audience insights, then developing a Facebook contest explicitly meant for your purpose, you'll increase your chances of success.
If you're ready to generate leads on Facebook and increase your engagement levels, then Woobox Support is here to help. We're available from 8 am until 5 pm PST, Monday through Friday at 1-360-450-5200 or support@woobox.com.