Wondering how to do a photo contest this Halloween, either partially or fully virtual? Or maybe you need creative holiday contest ideas that appeal to families or B2B organizations. Celebrate a frightfully delightful season by giving your fans more ways to win!
Surprise followers with experiences like interactive virtual events complete with giveaways every half an hour or ask fans to spin the wheel for an instant win. Improve your fall marketing promotions and discover ways to promote your brand or business this Halloween with these creative ideas and examples.
Do's and Don'ts of Pandemic Halloween Campaigns
According to Gartner, "74% of consumers believe this year's Halloween will be more important than those of years past." For brands, this means you have opportunities to engage and create interactive experiences consumers will remember.
Hershey tackled this challenge by developing an entire website dedicated to Halloween 2020. Hershey recognizes that customers want brands to deliver more than products. It's that dedication to relationship-building and investing in shared experiences that drive fan loyalty.
Things to Do When Creating Halloween Promotions
Flexibility is critical to all 2020 social media campaigns. Traditionally, marketing in October involved coming up with creative contest ideas and cross-promoting local events. However, for many folks, Halloween looks different this year. Tailor your campaign to your market by using these do's:
1. Do: Understand and adapt your messaging to reflect pandemic regional differences in how people are celebrating the holiday.
2. Do: Tailor your giveaway prize to your brand and style. For instance, perhaps keep super scary skeletons off of your family-friendly happy monster giveaway.
3. Do: Monitor social channels to respond to or remove negative comments regarding holiday celebrations.
Things to Avoid With Halloween Giveaways
Your Halloween giveaway should stay consistent with the approach you've taken since the pandemic began. For instance, many brands offer consumer safety tips or a behind-the-scenes look at the brand's safety measures. Doing so helps reassure customers before and after purchasing a product or service. Make sure your spooky campaigns deliver a return by avoiding these don'ts:
4. Don't: Pretend nothing is different. You don't have to go into why our lives changed, but please acknowledge that Halloween doesn't look the same as last year.
5. Don't: Ask fans to submit user-generated content (UGC) that goes against public health best practices.
6. Don't: Forget to analyze new trends and changes to consumer behavior to ensure your promotion matches expectations.
Giveaway Types with Examples & Ideas
Are you ready to start planning your Halloween promotions? Mix it up by sharing content on different platforms and taking advantage of interactive activities. Bring the joy of harvest or creepiness of Halloween to your campaigns using boo-tiful images and eerie fonts. Explore marketing experiences like:
Socially-distanced Instagram Reels video contests
Halloween trivia quizzes
Ghoulishly delightful instant win games
Supernaturally special promo code giveaways
Magical Halloween landing pages
Halloween Video and Photo Contest Giveaway Ideas
Turn fun user-generated content into spectacular campaign assets by hosting a Halloween photo contest. From ghoulish DIY activities to freaky Friday giveaways, your sweepstakes are a neat way to keep fans in Halloween's spirit. And your followers love to share creative ideas or find new ones to try!
Deliciously Devilish Minute-to-Win-It Video Contest
Even if school parties get canceled, you can still bring the party to your fans. Design a fun and easy challenge that uses minimal props (or give a few options that people might have around the house). A great Halloween contest idea is called "Face the Cookie." Ask followers to:
Put a cookie on a player's forehead.
The player has to move the cookie into their mouth (no hands!) in 60 seconds.
Submit a video contest entry and comment on our Facebook post.
Spooky Kitchen Creations
Even kitchen connoisseurs enjoy laughing at foodie flops. So encourage your fans to submit various hair-raising pictures by hosting an Instagram photo contest with several categories. Let your followers pick the experience that suits them by handing out prizes in each category. Use creative holiday ideas like:
Eat, Drink, and Be Scary photo contest
Tales of Kitchen Horrors on Hallows Eve comment entry giveaway
Gory Creature Intestines: Submit your frightening creations
Fang-tastic Quarantine Cocktails: Share your recipe in the comments!
The Great Pumpkin Carving Photo Contest
Decorating pumpkins is a pretty universal event, although everyone does it a little differently. This is another type of photo contest where you can offer prizes in different categories. Fans submit photos of carved pumpkins, painted pumpkins, or even bejeweled magical treasures. Start your contest early to take advantage of the power of UGC:
Create Pinterest pins showcasing different pumpkin styles
Add UGC to your Instagram Stories
Share a daily pumpkin photo on Facebook
Family-Focused Giveaway Ideas
When it comes to families, it's essential to entertain adults and kids. Do this by using Halloween ideas that involve the whole family or create digital assets, like downloadable coloring pages, to engage the little ones. Plus, don't forget to award family-friendly prizes such as a Fright Night movie basket or Tales of Horror Bonfire bag.
Hack-the-Mask: DIY Pinterest Giveaway
Consumers turn to Pinterest in droves to collect Halloween ideas and plan purchases. With compelling images and targeted keywords, your brand can capture attention for your Halloween Pinterest promotions. Design a challenge for your Pinterest followers by creating a how-to project pin and encouraging fans to try it out and report back.
You can even host your contest on Facebook or simply link to your giveaway landing page. Halloween is massively popular on the platform, with Pinterest reporting:
There are 228 million searches for Halloween-related content.
48 million pinners engage with Halloween content.
An incredible 940 million Halloween ideas are saved.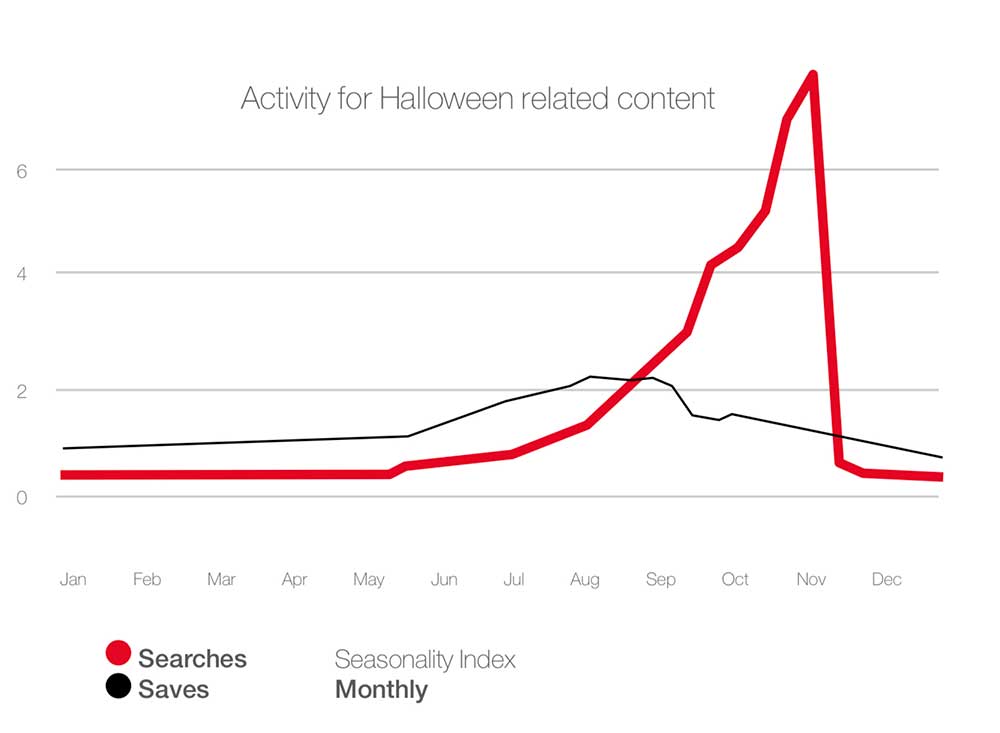 Instagram Reels Frightfully Funny Family Costume Challenge
Can your Instagram followers showcase their family members in 15-seconds or less? Ask your fans to highlight family costumes, one person at a time, starting with the youngest to the oldest.
Just like a traditional costume contest, you can give out prizes for different categories:
Fan pick: Top rated Instagram Reels
Best Duo or Group Halloween Costume
Most fear-inspiring family costumes
Delightfully wicked witch contest
Best overall group Halloween costume
Spooktacular Spin-to-Win Contest
Make everyone a winner with a prize draw campaign. These easy-to-customize games let you pick odds for different prizes and set time limits for entering, like limiting entries to every 24-hours. Spin-to-win contests are a fan-favorite because it doesn't take much time to stop on a promotional post and spin for a chance to win. Attach a promo offer or BOGO coupon sent via email to build your subscriber list while offering fans a way to shop and save.
Halloween Giveaways for B2B Marketing
Even your B2B customers want to get into the holiday spirit. Make it easy with a fun Halloween trivia quiz. While a quiz works well for any age group or market, the right mix of Halloween trivia and industry-related questions keeps your B2B crowd engaged and informed. Use these Halloween questions and answers for your marketing quiz:
What's the most popular Halloween candy? Chocolate
In what state is it illegal to dress up as a nun or priest? Alabama
What's the second most popular Halloween candy? Candy corn
How much did consumers spend on Halloween last year? $8.8 billion
What was Dracula's real name? Vlad the Impaler
The first jack o' lanterns were carved from what? Turnips
Virtual Event Halloween Giveaway Ideas
Bring together your social media community by hosting a virtual event for Halloween. Create an hour-long activity where folks can pop in or leave whenever they want. Publish an agenda detailing various group, individual, and family activities you'll offer every 15-minutes. Make sure to highlight special times where you'll announce the latest winners to your giveaways or contests.
Zoom-Me-This Dizzy Mummy Event
Although toilet paper feels a little more important in 2020, your fans still want to participate in a hilarious Dizzy Mummy game. Get followers to sign up for a time slot, make sure everyone's screen is working, and then see which player can quickly mummify their partner. Winners get compensated with toilet paper, so it's a win all around. Plus, don't forget to video your attempt to share in your Halloween promotions!
Scary Movie Event Giveaway
People wait all year to celebrate gruesome, scary movies, or haul out their most impressive Halloween decorations. Turn any experience into a thrill by referencing terrifying films. Creative Halloween ideas include:
Share a poll on social media with a trivia question: What color is Freddy Krueger's sweater?
Design a scary movie quiz with several questions: What horror movie stars a serial killer wearing a mask inspired by an Edvard Munch painting?
Post a comment-entry contest and ask fans to caption a scary movie mashup image.
BOGO Halloween Offer
End your fall campaign with a bang by sending out a Halloween voucher. This limited-time offer in a cool way to connect with fans who've visited your website or signed up for your email list. Get them to take the next step and order your product by sweetening the deal with an exclusive coupon.
Boost Sales With Creative Halloween Giveaway Ideas
Shoppers are already obsessing over fall decor, which means it's a fantastic time to host your Halloween photo contest or freaky Friday giveaways. Turn these marketing ideas and examples into engaging experiences that promote your brand while thrilling fans.
Need More Halloween Examples or Inspiration?
Get more eyes on your fall promotions with help from our Woobox team. We're available from 9 am to 5 pm PST, Monday through Friday at 1-360-450-5200 and  support@woobox.com.