With 250 million active users and 5% of all referral traffic to websites coming from this platform, Pinterest is one of the most promising ways businesses can expand their audience reach and drive lots of new and promising leads.
Pinterest's highly active user base and discovery-focused nature make it an ideal environment when looking for a social media network to run a contest on. And, what makes running contests on Pinterest different from other platforms is that content from brands is highly welcomed, with 73% of Pinners saying that brand content makes Pinterest more useful.
Now that you're convinced, the rest of this article will take you through 8 steps (with examples) on how to create the most effective type of Pinterest contest—known as a "Pin-To-Win".
1. Pick a Theme, Know Your Purpose, & Understand Pinterest's Contest Rules
Let's start with the rules. Just like Facebook and other social platforms, you have to play by Pinterest's contest rules in order for your campaign to run. The platform discourages spammy and misleading marketing but highly encourages engagement and creativity. The following image covers a few of the top things to do and not do (go here for all rules).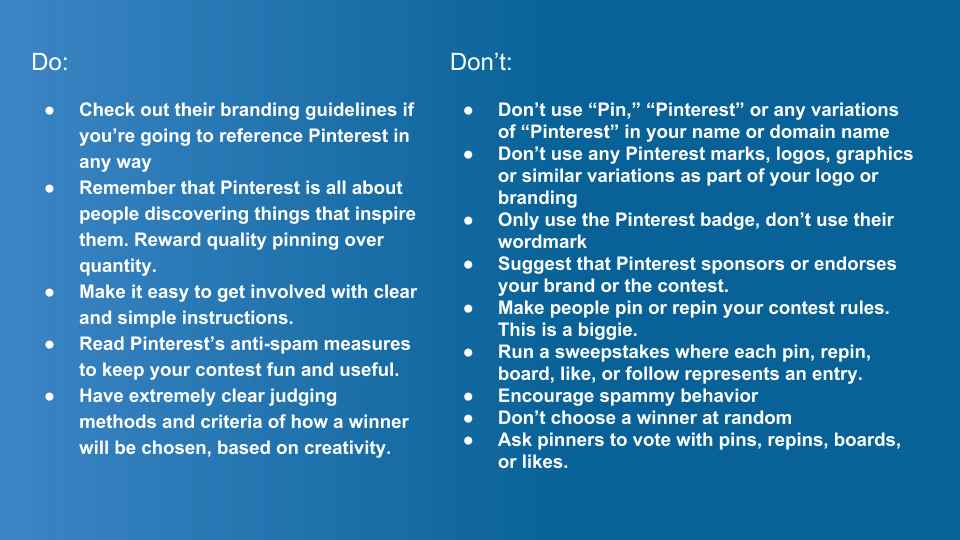 Next is your Pin-To-Win theme. The theme of your contest should tie into important elements like the item(s) or service(s) you're giving away, any major holidays that are happening at the time, a major event, or major company launches/milestones. For example, if you're creating a Pin-To-Win around the holidays, a holiday theme is highly appropriate and something you can assume many of your customers will be doing searches around.
Like any other giveaway, it's also pivotal to choose your campaign goal(s). All of your giveaway content from the prize chosen to the rules and regulations of the giveaway need to align with why you are holding the contest in the first place.
Do you want to drive sales for a specific product? If so, your giveaway item should be the product you are aiming to sell, along with the required pins for contest entry.
Do you want to drive more leads in general? Your giveaway could include items—or services—that give contestants a well-rounded idea of what your brand offers, and it could also introduce them to your company.
Here's a great Pin-to-Win example from Woobox user, Prana, who decided to give products away for special popsicle recipes from their website, along with gift cards, for the giveaway prize.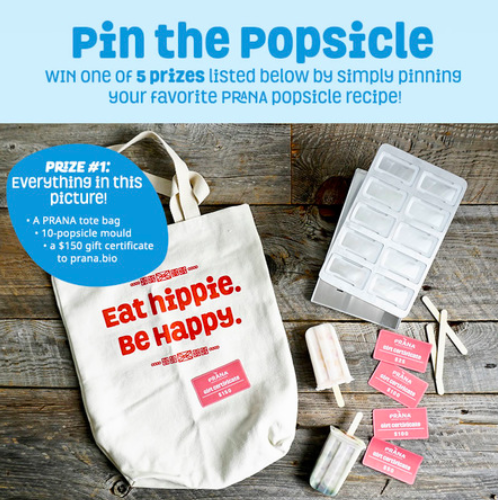 2. Creating Your Pin Images
The ultimate goal of both the cover Pin and re-Pin options in your contest — and really every pin you create — is to get noticed. The key to getting noticed is having high-quality images and a high aspect ratio, infused with creativity and your branding.
Given that 90% of Pinterest users say the network helps them decide what to purchase, creating quality images is well worth your time investment.
To start, Pinterest's preferred image aspect ratio is 2:3. Use the following image size guideline for your Pins. Tall, vertical images tend to look the best on Pinterest, so it's recommended to choose one of these sizes and be consistent.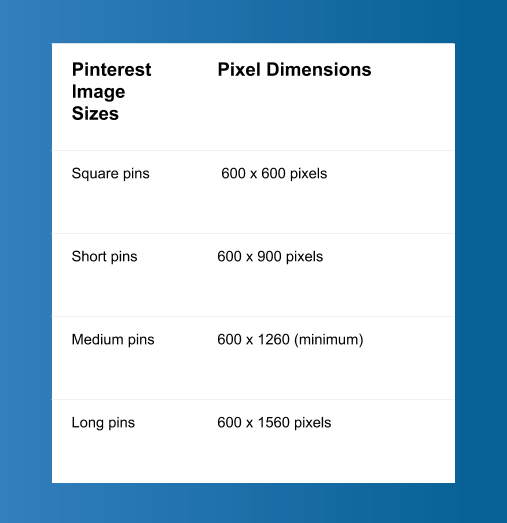 Next, you'll want to create a style guide for your Pins. Use the following guidelines and make sure each image checks each box before posting.
1. Find a style of photo that compliments your brand.

For example, if your brand is about simplicity, choose high res photos, with no clutter, and a solid background.
2. If you use font, make sure it's the same font each time.
3. Choose a color palette that compliments your branding.
4. Add your logo to images so people instantly recognize your Pins.
5. Always choose quality over quantity. If your image is not high quality, don't post it.
Lastly, make sure you always view your Pin in mobile, checking that mobile view doesn't crop the image. Most Pins are viewed on mobile, so you don't want to forget this step. For more tips on creating engaging Pinterest photos, check out our recent blog post.
If you can, hire an experienced photographer to capture professional photos for your contest. It's a great investment. If your budget doesn't allow for that, newer smartphone cameras have really stepped up to the plate. Make some time to study-up on the best practices and place your products in a well-lit, aesthetically pleasing location (consider the season and your branding) and use an editing tool to adjust the quality and finish.
Here's an example from Woobox client, Fossil, using the above design advice in their Pin-To-Win.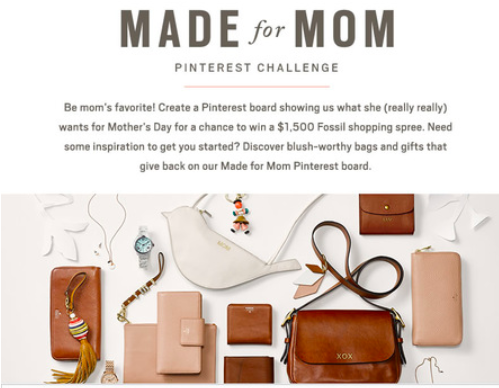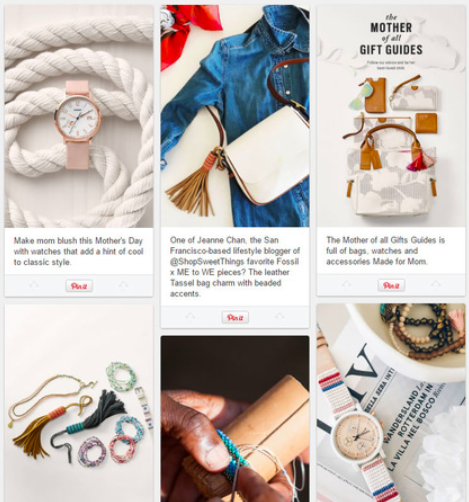 3. Make a Custom, Intentionally Curated Board for Your Pin-To-Win
Using the design guidance from step two, create a custom board on your Pinterest business page with all of the Pins you're including in your contest to re-Pin. You can also include other Pins that compliment the contest rules. It organizes your content not only for the contest, but also puts your content to use well-beyond the contest end.
Also, make sure you mention in the board description that this is a contest board, and provide instructions on how to enter.
For example, Prana, a Woobox user featured above, created a custom board on their Pinterest for the contest, dedicated to popsicle recipes.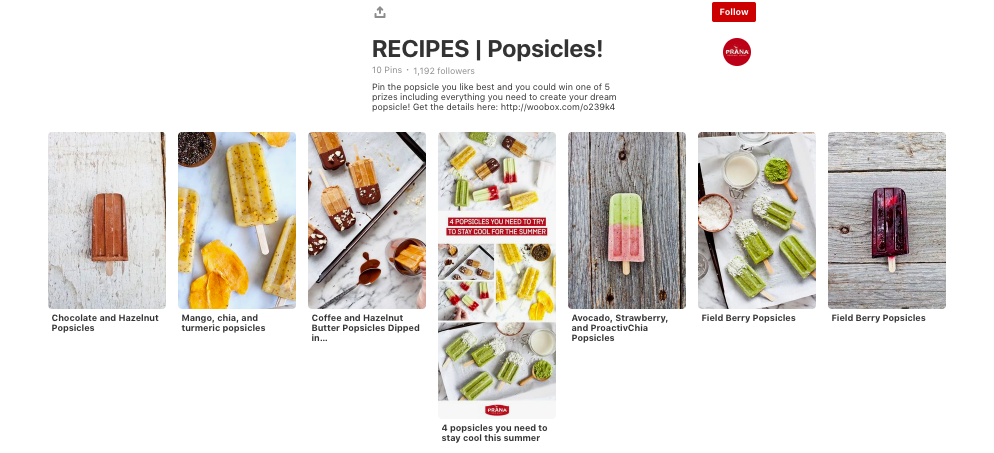 4. Link Your Contest Pins to Your Website Content
When uploading each Pin, make sure to link your Pin to a corresponding page on your website or directly to a sales page for that product or service.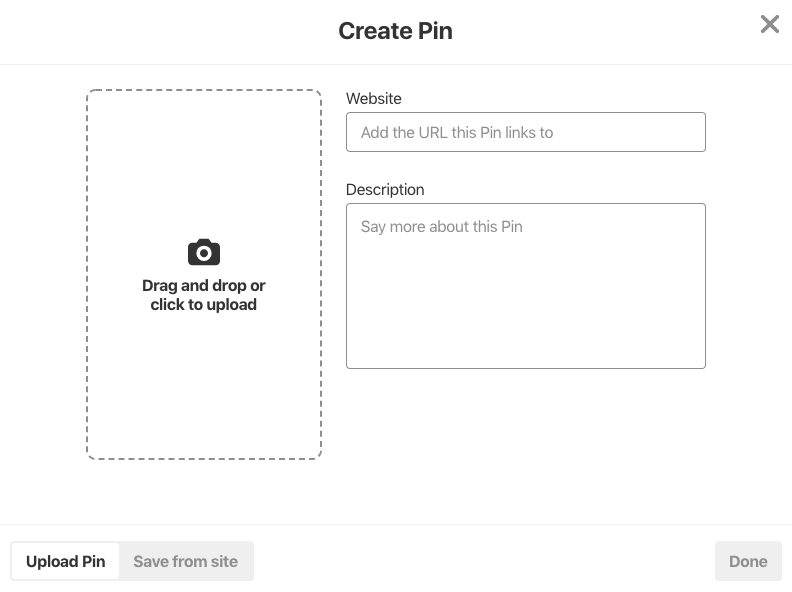 Use the website link to do this. To capitalize on the influx of traffic, and knowing that a large percentage of Pinterest users shop via the platform, this is a step you don't want to forget.
5. Create the Contest Landing Page, Clearly Explaining the Rules to Win & the Prize(s)
This landing page will be your entry form to promote your contest and collect entries, including valuable lead information that you can use for future marketing campaigns like names, emails, and an idea of what type of product they are interested in.
Here's another Pin-to-Win example from a Woobox user:

The easiest way to create and manage your Pin-To-Win landing page is by using a marketing campaign software, like Woobox. Let's go through the important components of a Pin-To-Win landing page by re-creating the example above using Woobox.
How To Create A Pin-To-Win Landing Page
1. Create a new campaign on Woobox, choosing "landing page" and then "Pin-To-Win"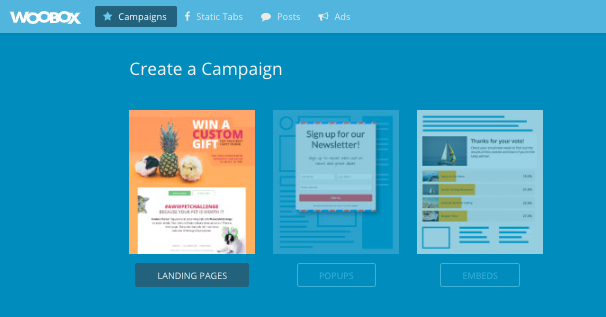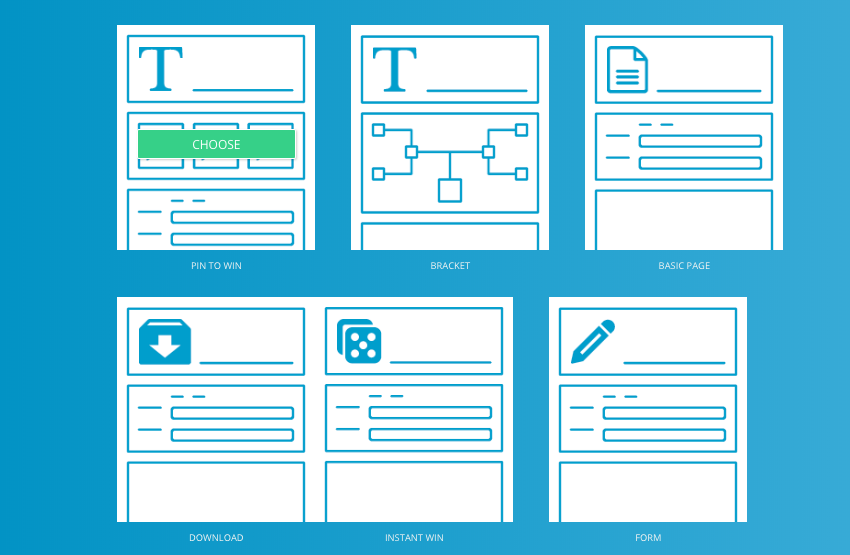 You will be taken to the editing page: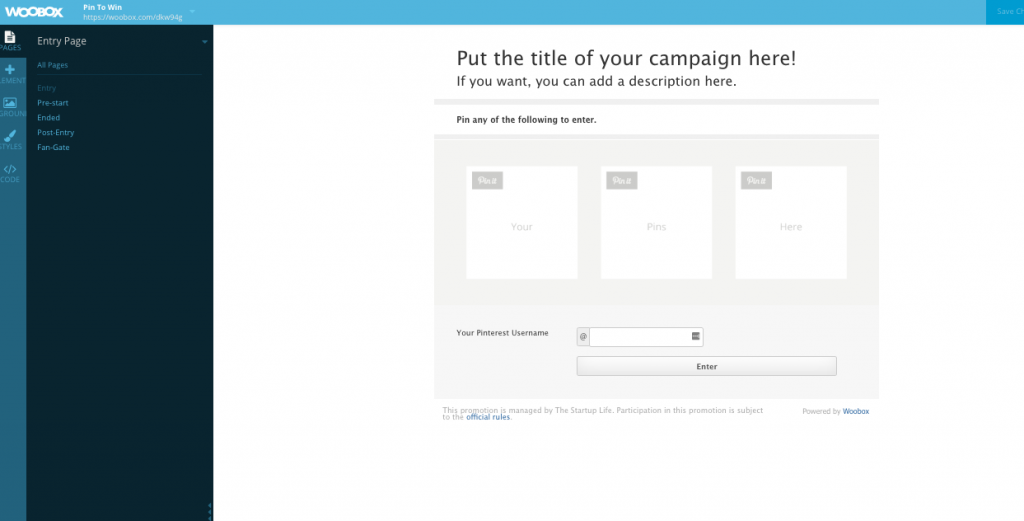 2. Add your display image at the top.
Your image should incorporate the prize and theme for the giveaway.
To add your image you will go to "Elements" and then "Image" and upload your image.
3. Add your text, which will be a clear explanation of how to enter the contest and what the prize(s) are.
Click on the text box to edit the text on the page.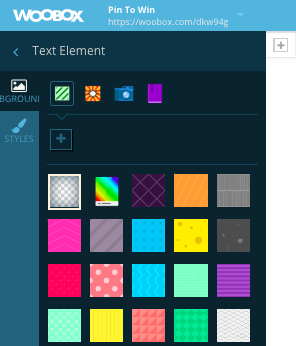 You can edit the text color, background color, font style, and more. Make sure to stick with your color branding palette.
4. Link your Pins from your contest board to your contest landing page.
When you click on the gallery space to do this you will be taken to an upload page.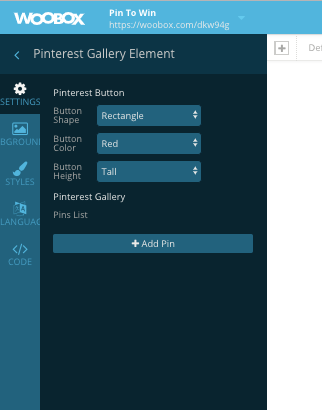 Use each Pin's link from the board to upload. Pin descriptions will automatically populate.
5. Create your entry form, including important lead details like name and email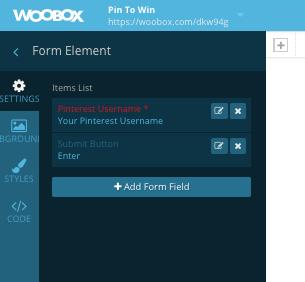 You can edit and customize your form fields. Be sure to include "Pinterest Username". You can also include a URL box for their custom Pinterest board if this is part of your contest entry rules.
6. Add your full contest rules, set your entry period, and entry methods.
Make sure to comply with Pinterest rules and best practices mentioned earlier in this article.
You can also customize what users will see when the landing page is shared on Facebook.
Hit publish and you are ready to share out your Pin-To-Win.
6. Share and Promote Your Contest on Facebook
It's now time to spread the word, and the best place to start is Facebook. You can create a post on your business page to get the momentum rolling, and you will want to have an advertising budget to promote your post to reach as many new leads as possible.
You'll also want to set up a few versions of your contest ad. For step by step instructions for how to advertise your contest on Facebook, go to our previous blog post on facebook lead generation advice.
7. Promote Your Contest on Pinterest
Create a contest Pin using the "Rich Pin" feature—Pinterest's advertising option. The best option would be their "Recipe Pin" which you can customize to include your contest image + a description of your contest. You will want to link your Pin to your contest landing page URL.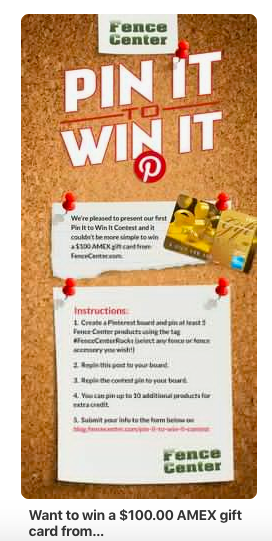 Note: You will need a Pinterest business account to advertise.
8. Pin the Winner and Announce
At the end of your contest when you've chosen a winner — based off of creativity and not at random — create a Pin image to make your announcement.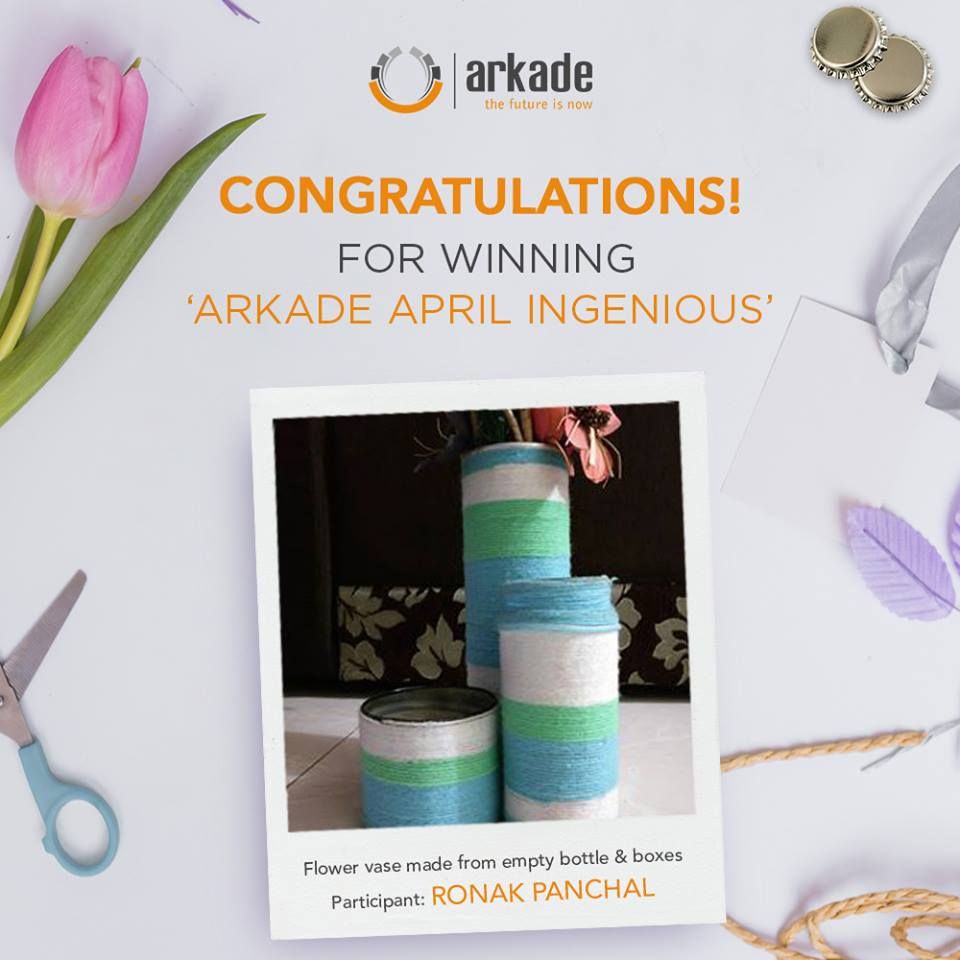 Make sure to Pin this to your contest board, share on Facebook, and anywhere else you've promoted your contest.
Once you've announced the winner, make sure to email them and send them their prize, thanking them for entering the contest.
Pro tip: You can ask (but not require) your winner(s) to share out a photo of their prize and what they thought of it on their social media, and repost to your own social media.
Quick Recap & Conclusion
As mentioned above, there are 8 steps to set up a Pin-To-Win Campaign.
Start with choosing your theme and goals, and thoroughly review Pinterest's contest rules
Create your Pin images using the sizing guide and branding tips mentioned above
Create a custom contest board on your Pinterest page
Link all of your Pins, using the tips above to encourage sales with the strategies mentioned earlier.
Create a contest landing page using campaign software like Woobox, and include each of the components mentioned earlier
Share and promote your contest on Facebook.
Then promote it on Pinterest, using the "Rich Pin" feature mentioned earlier
Create a Pin announcing your winner, contact them, and send them their prize
If you are ready to create your own Pin-To-Win, head over to Woobox and create your free account. You can make as many Pin-To-Win or other promotions as you need. A Woobox subscription is only required to publish and run your campaigns.
Have a question?
Our Woobox Support staff is happy to help, and is available 8am – 5pm PST, Monday through Friday at 1-360-450-5200 or support@woobox.com.