Brands use Halloween contest ideas on social media to increase brand awareness and connect with new followers. Meanwhile, consumers head to social channels to find inspiration for Halloween costumes, home decorating, and more. In short, Halloween is an excellent time to show your company's frightfully fun side while meeting marketing goals.
Fill your cauldron with spooky prizes and hair-raising promotions, add a pinch of personalization, and sprinkle a witchy marketing brew across social media. Below you'll find nine Halloween contest ideas and social media captions you can use to create Halloween posts for Facebook, Instagram, or any platforms used by your audience.
1. Boo-licious Hair, Makeup, and Nails Contest
Celebrate your customers' individual styles with a photo or video contest. Lead up to your giveaway by sharing TikTok, Instagram Reels, and Facebook videos of various hair, makeup, and nail styles. Then announce your giveaway or sweepstakes during a livestream.
Keep the good times going by sharing user-generated content (UGC) during your giveaway or asking followers to hit "like" on their favorite styles. For a bonus, create beauty tutorials with product links used to create the bewitching good looks.
Share a Facebook Halloween post with a caption, such as:
It's a Bloodcurdling Selfie Contest
Hocus Pocus, Are you the ghostess with the mostess?
Share Your Witch-tastic Looks
What's your hauntingly unique style?
Boo-tiful or Bone Chilling Looks: Which suits you?
Possessed or Enchanted: DIY Makeup Styles
2. Frightfully Fun Photo Contest for Kids
Every parent snaps photos of their spooktacular children in their finest Halloween styles. So why not ask them to enter your contest and submit a photo? If your audience is wary about sharing pictures of their kids, let them know they can put a sticker over their faces and still enter your contest.
If your audience is large, you may want to add different categories for age groups. Or make it more inclusive by allowing fans to drop a comment with their costume ideas. Then you can pick a random comment for a winner.
Halloween contest ideas and captions include:
Baby Boo Halloween Contest
Not-So-Scary Halloween Contest
Toontastic Halloween Photo Contest
Pose for Mummy Costume Contest
Boo-tiful Photo Contest
3. Deliver a Pawtacular Treat With a Pet Photo Contest
Reward your audience's furry friends with pet-friendly treats for the top three winners of your pet photo or pet costume contest. Users can leave their photos in the comments of your Facebook Halloween post or share an Instagram image using your branded Halloween hashtag.
Pick a random winner using the Woobox comment picker or select the comments with the most likes. Add one of the following captions to your Instagram or Facebook post:
Hallo-Woof Dog Costume Contest
Purr-tastic Black Cat Halloween Contest
Growl-O-Ween Pet Photo Contest
Howl-O-Ween Dog Costume Contest
Barkfest Pet Photo Contest
Be Spooky or Cute: Pet Photo Contest
Cutest Halloween Contest: Pet Edition
Barktacular Costume Contest
Halloween Howl Dog Costume Contest
4. Continue the Cursed Story in the Comments Contest
Create a Facebook or Instagram Halloween post with a theme and the first part of a story. Ask your fans to continue the story in the comment section by adding an image, video, GIF, or meme.
Use the following story contest ideas to come up with a ghoulish or gory tale:
The zombies are coming! What happens next?
Hear Ye, Hear Ye, Beware of Unearthly Events
Smirks and Stares: A Tale of the Demons Who Walk Among Us
A Princess and a Witch: Friends for One Day
All Hallows Eve Tales from the Crypt
Is it paranormal or superstition? You decide.
Phantom Sounds Coming From the Ground
5. Hallo-Weekend Contest & Spine-Chilling Discounts
Since Halloween falls on a Sunday this year, there's a good chance the festivities could happen earlier. Even on years when Halloween doesn't fall on a weekend, there's no point in waiting to start the fun. Combine a Halloween marketing idea with a giveaway or contest to boost online and in-store sales.
Use one of the following titles to lure social media fans to your cursed event:
No Tricks. $100 Treats.
Halloween Bootique Is Open
Get a Screaming Good Deal
HalloWIN Contest
We're Having a Monster of a Sale
Bubble, Bubble, Toil & Trouble: Grab a Deal for a Steal
Fly, Slither, and Crawl to our Event for Fall.
Caution: This Contest Ends Tomorrow
Halloween-After: Gruesome Deals for Ghostly Fans
6. Ghoulish Good Food & Drinks Contest
Host a spooky menu photo contest and invite social media followers to share a photo, recipe or leave a comment with their menu items. Promote your Halloween contest idea by offering up your boo-licious recipe and provide a link to your blog post for a printable version.
Come up with a catchy caption for your food and drink contest, such as:
The Great Snack-O-Lantern Contest
Eat, Drink, and Be Scary
No Tricks, Just Treats
Brew Up a Twisted Treat
Got Treats? Post a Pic
7. Cackle & Cursed Pumpkin Design Contest
Pumpkin decorating photo contests are another simple yet fun way to engage with your fans. You could create categories for different design types, like carved versus painted, or pick a random photo entry.
Caption your Halloween Facebook post with a title, such as:
The Great Pumpkin Carving Contest
I Believe in the Great Pumpkin
Jack-O-Lantern Carving Contest
Carve Out Some Good Times
Glitter or Gore: Share your Carving, Paint, and More
8. Eerie Design: Show Your Halloween Talent Contest
From DIY fright nights to trunk or treating, your fans design unique Halloween backdrops and decor. Encourage them to share it with your audience by hosting a Halloween coloring, decor, or design contest.
Although you can post this contest idea on social media, you may also want a dedicated landing page. This lets you collect email addresses and a larger variety of document types, such as PDFs.
Use a title for your contest that is fun yet reflects what it is, such as:
Design Madness Contest
Screamin' Fun Coloring Contest
Trunk or Treat: Who did it best?
Fang-tastic Meme-O-Rama Contest
Goblins and Monsters, Oh My! Kid-Friendly DIY Decor
Spine-Tingling Yard Displays
9. Enchant Your Customers With Halloween Sweepstakes
Use the Sweepstakes App to design your landing page, then customize it by adding a Password field. Users can come back each day and enter the password to participate in your giveaway. But how do they find the word of the day?
That part is up to you. The simplest way is to post it on your Instagram or Facebook accounts daily. But, you could also ask fans to scan your web page, open an email, or reveal a code on your Halloween promotion landing page.
Caption ideas for a password contest include:
Do Not Pass Unless You Know the Secret Code
Scavenge for the Hidden Password for Your Daily Chance to Win
Beware: Password Required to Enter
Is your entry guaranteed? Type the password to find out.
Enter the Password for a Spooktacular Surprise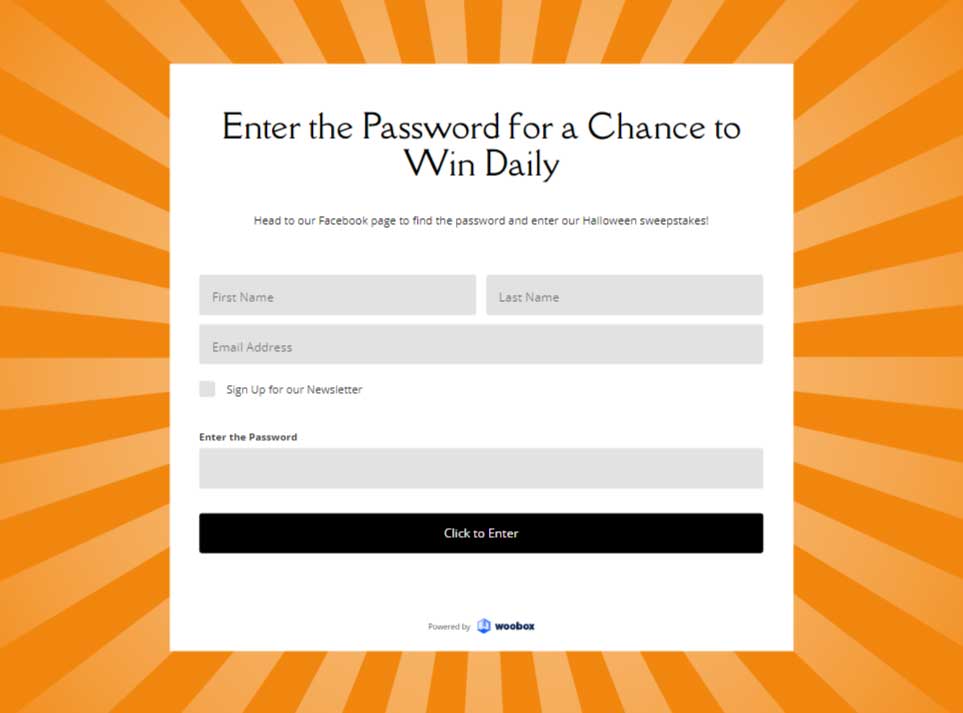 Halloween Contest Ideas for Ghoulish Good Fun
Social media contest ideas take many forms, and it's best to look at your audience demographics and choose a theme that appeals to your crowd. With a spine-tingling caption, monstrous call to action, and a thrilling image, you can increase engagement and get plenty of user-generated content.
Need help implementing your Halloween contest ideas?
Create a multi-channel giveaway or contest using Woobox. Our team is available to answer your questions from 9 am to 5 pm PST, Monday through Friday at 1-360-450-5200 and via support@woobox.com.