What do a kid's birthday party, a 4th of July picnic, and a baby shower have in common? They are all places where people are likely to be playing games. Hopscotch, horseshoes, bean bag toss, pin the tail on the donkey, we love all the games. And it shows by the money we spend on them.
In 2017, the video game industry was valued at 18.4 billion dollars in the US alone. Every year, nearly half of Americans and 70% of adults in the UK play the lottery. Last year, 800 million people played games on Facebook at least once a month, up 23% from the year before. And worldwide, mobile games generated over 40 billion dollars in 2017.
It is clear that people love games.
Our love affair with games is one of the reasons why using games is so effective in marketing. Applying game properties to non-game contexts is so popular, we've even given it a name–gamification.
Why Are Instant Win Contests So Effective?
Before we start looking at how to build an instant win contest, we need to talk about what makes contests so effective. There are a few reasons.
Contests boost engagement exponentially. While social media platforms' algorithms rank content a bit differently, they all reward engagement. Contests encourage likes, shares, and comments, which in turn means more people see the content, which leads to more likes, shares, and comments.
People like free stuff. I mean, who wouldn't, right? But it turns out there is actually some science behind it. Dan Ariely, a researcher in behavioral economics, says "Free! gives us such an emotional charge that we perceive what is being offered as immensely more valuable than it really is." (from Predictably Irrational) We are also likely to feel the need to reciprocate when we get something for free.
Contests create a sense of urgency. Imagine you are shopping for a new laptop online and find two that seem to fit your needs. As you hem and haw, a notification pops up "Only two left at this price. Buy now!" Your heart rate picks up. "Well, it does seem to be popular. I can always return it if it isn't quite right. Plus, I don't want to miss out!" The website made you feel like you had a limited time to make a decision, which caused you to click that buy button. (They also created a sense of scarcity, and these are often related.)
Instant prize contests are like super-charged contests. They magnify all the reasons why regular contests are effective by lowering the barrier to entry and playing into our love of instant gratification.
From a brand's standpoint, instant contests offer more options for customization. For example, you can set the odds of winning and give away multiple prizes. You can allow for multiple entries to keep your audience engaged. You can set social sharing requirements, geographical requirements, and much more.
Build a Successful Instant Win Contest
Before you start creating your instant win contest, take a look at what other brands are doing. By seeing what works, you can reduce your learning curve. Each section wraps up with the main takeaway that you can use in your own instant win contest to build your email list, increase brand loyalty, drive sales, and gain visibility on social media.
Use Instant Win Contests to Drive Newsletter Signups–And More
Canadian cleaning product company Libman hosted an instant giveaway where entrants were invited to spin a virtual wheel for a chance to win free Libman products. In exchange, entrants were asked (but not required) to sign up for the company's newsletter.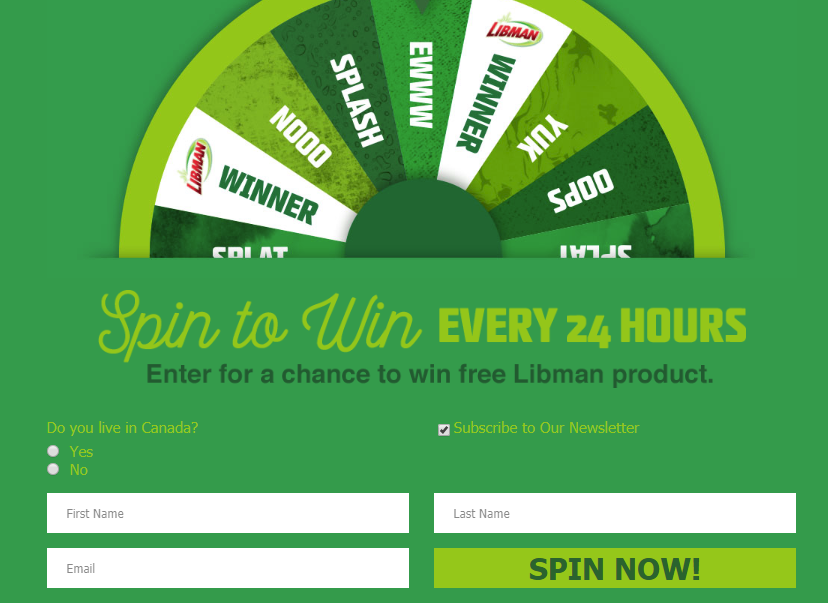 Below the sign-up form, they added social icons so entrants could easily share the contest on Facebook, Twitter, and through email.
This contest offers Libman two benefits–it helps them build their email list. People are used to being asked for their email address for everything from signing up for school to creating an account to pay their gas bill. Libman can later use the list to promote their products, send coupons, drive traffic to their website, and more. Second, the prizes help increase brand loyalty and help entrants associate a positive experience with the brand. Winners might try products they haven't used before and become regular users.
Another strategy Libman used worth noting is that entrants are allowed to spin the wheel once every 24 hours, which means they are likely to keep coming back to the page. There is also a good chance people will share it on social media, if only to save the link for themselves.
The takeaway: Instant win contests are an effective way to build an email list, but don't be afraid to use other strategies to double down on the benefits. 
You Can Encourage Sales
Lighting and home decor company Cleveland Lighting hosted an instant win contest where entrants were given the chance to win deep discounts instead of physical prizes.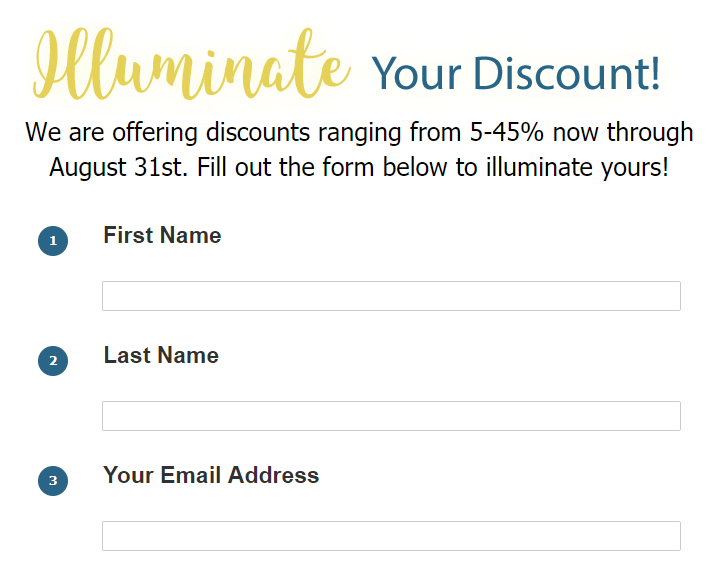 In exchange for sharing their email address, entrants had the chance to win a discount on items at Cleveland Lighting. The company also used the entry page to share more information about their company, including the address of all four locations, services they offer like lighting installation, and images of their showroom.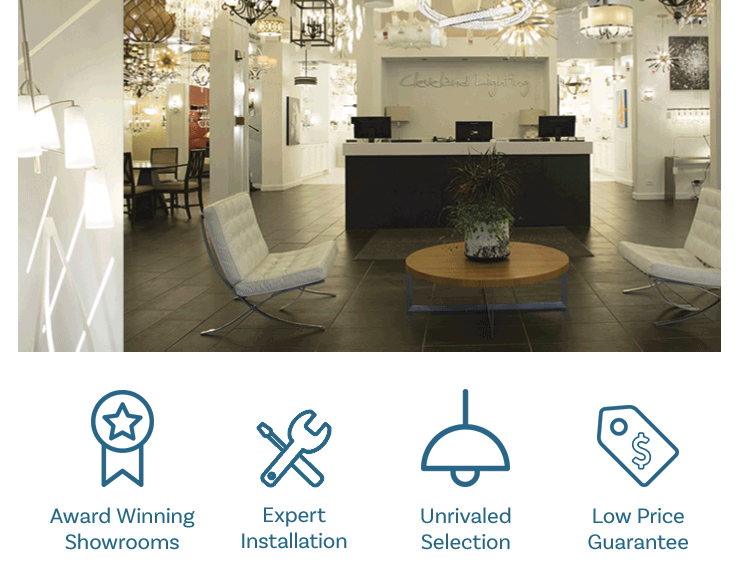 Giving discounts instead of prizes has several benefits. To start, it limits the number of entrants you get from people who just like free stuff, which can be a big drawback for brands. Discounts also encourage people who already love the brand to deepen their relationship with Cleveland Lighting by signing up for their newsletter. The discount prize also encourages people to actually come into their showroom. It can be incredibly difficult to drive people from the digital world to a physical location, so this is a valuable benefit.
The takeaway: Use discounts on your products as prizes to limit entries from freebie-lovers and drive sales in physical or online stores. 
Learn More About Your Customers
If you are using a tool like Woobox to create your instant win contest, you will find the form fields are completely customizable. Which means you can use the forms to learn more about your customers. For example, Calanthe Art Cafe used the entry form for their recent contest to ask for phone numbers of entrants.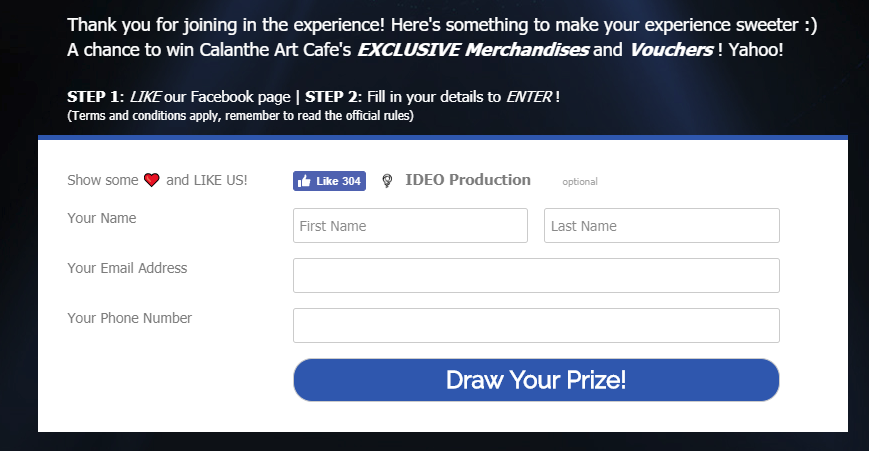 You could add a field asking if they are already a customer, and ask about their preferences, though this would require building a custom field. You could ask for their birthdate and build goodwill by sending entrants an email or discount code on their birthday. This data could be used as a guide for building further contests or product offerings. You could also use the information to segment your email list and send more personalized messages.
Within the Instant Win builder on Wooobox, there are tons of options for form fields, including the option to add your own HTML coding.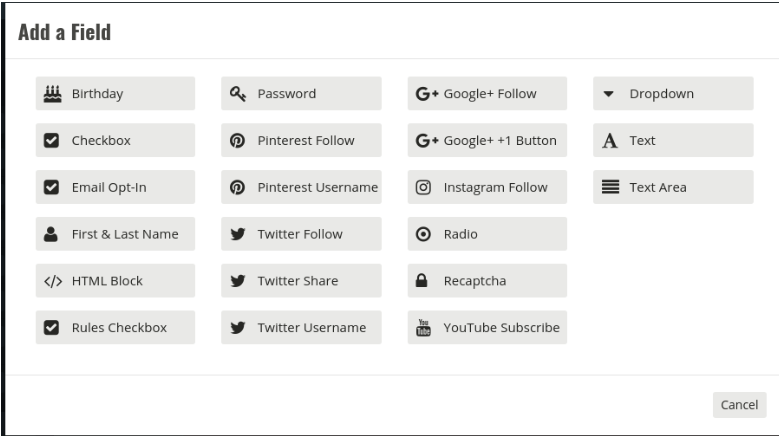 It is, however, important to limit the amount of unnecessary information you request. Asking for too much information creates an undue barrier to entry for your contest. and will limit the number of people who will be willing to fill out your entry form. Try to limit the request to 3-4 fields and consider making some questions optional.
To gather more detailed information about preferences or demographics, consider creating a survey and sending it to all entrants who signed up for your email list. You could offer a gift card or other prize to encourage people to fill out the survey.
The takeaway: Leverage the fields in your instant win entry form to learn more about who your customers are and use that information as a guide for further messages or products. 
Align The Prize With Your Goals/Brand
Lip balm company Carmex UK gave away 500 pots of their famous lip balm just in time for summer. Around the same time, they also launched several limited-editions versions of their popular lip balm, including a watermelon flavor with SPF and a leopard print pot.
Entrants were given the chance to win a prize by attempting to 'break' the (virtual) glass.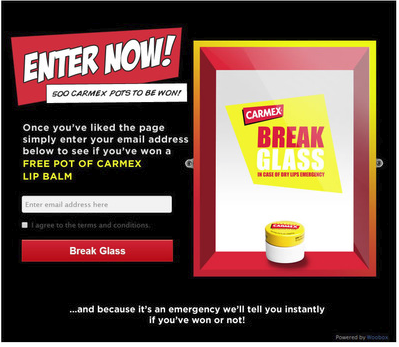 As we've seen with several other instant win contests, Carmex used the entry form to gather email addresses. By giving away their own product as a prize, they are helping to build brand awareness and loyalty. By pairing the timing of the contest with the launch of their limited summer products, Carmex can capitalize on the additional engagement on social media.
Before you choose the prizes for your instant giveaway, think about how you can align the prize with your brand and the goals you have for your contest. Sure, giving away a $1000 Amazon gift cards might result in thousands of entrants, but are those entrants going to be interested in your brand? Aligning the prize with your brand attracts higher quality entrants who are more likely to be interested in your brand.
The takeaway: Align your instant win prize with your brand and your goals in order to attract more qualified entrants. 
Amplify Your Social Reach
Apparel company Lee Jeans used their recent contest to increase likes on their Facebook page. Entrants were given the chance to win a pair of free jeans. The page shown to non-winners was used to highlight some of the brand's most popular jeans and educate customers on the differences. They also included a 20% off coupon, which will help drive sales.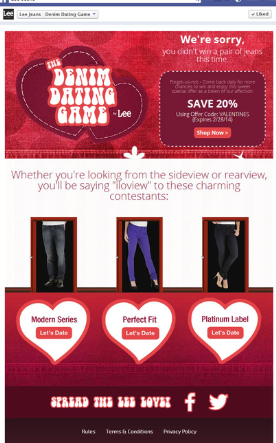 Then, down at the bottom, they asked entrants to 'share the love' by sharing the contest on Facebook or Twitter. Keep in mind that social media platforms reward engagement by showing popular posts more often. Since running a contest is likely to increase your engagement, it is a great time to increase engagement even further by making it easy for entrants to share.
Remember, you cannot require that entrants like or share your contest on Facebook, as it is against the platform's terms and conditions. During or right after your contest ends is also a good time to launch paid promotions on social, if that is part of your social media strategy.
The takeaway: Get the most out of your instant win contest by leveraging the increased social media engagement by boosting posts and making it easy for entrants to share your contest. 
Conclusion
Instant Win contests capitalize on our love of games and our desire for instant gratification. For brands, they are an effective way to increase email signups, learn more about their customers, and increase social media engagement. The strategies above will help you build an effective campaign that your customers will be excited to enter!
Ready to build your Instant Win contest? Create your free Woobox account and start creating your contest today. You pay nothing until you are ready to launch.