When it comes to marketing, Pinterest can get overshadowed by platforms like Facebook and Instagram. However, it is a shopper's paradise. People head there to plan and make purchases. Pinterest reports, "People use Pinterest with intent. Pinterest isn't about killing time. It's about finding something to do or buy."
With more than 320 million people using Pinterest all over the world, brands with a clear strategy get results. But, Pinterest marketing is less familiar, and many folks don't fully utilize the platform.
Yet, with Pin-to-Win contests and Facebook tabs for Pinterest, you can incorporate Pinterest into your strategy with ease. Learn more about the top trends on Pinterest and how to create a giveaway for maximum impact. Plus, choose from 100 keywords and phrases to add to your Pinterest campaigns.
10 Pinterest Trend Categories
How Pinterest Boosts Website Store Traffic
As a visual platform, Pinterest attracts individuals from all demographics, including 73% of US women. 41% of Pinterest users come from households earning $75,000+ per year compared to only 27% earning $30,000-74,999 per year, according to Pew Research data.
Moreover, Pinterest members use the channel to find products to buy. So, while awareness campaigns are worthwhile, it's essential to focus on intent-based decisions and direct your giveaway campaigns towards current shoppers.
Let's look at the key statistics about shopping and purchasing on Pinterest.
Shopping on Pinterest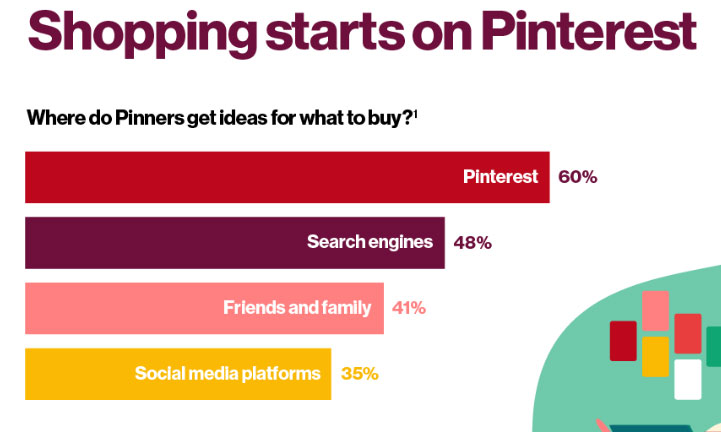 Buying on Pinterest
61% respondents said they've found new brand or products from promoted pins and half purchased after seeing one
82% of weekly active users on Pinterest say they have bought products based on their brands' content on the platform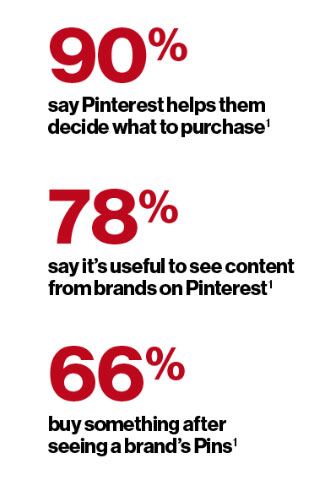 How to Incorporate Top Pinterest Trends Into Your Giveaways
Every year Pinterest puts out a huge list of the top trends. The company reviews data to determine what users are searching for and repinning. Now, for some brands, your products and services might fit into these trending topics. For others, you may need to brainstorm Pinterest ideas and get creative.
It's critical to remember that the main reason people use Pinterest is for relevant content. So, if you use a top-searched keyword, make sure your landing page delivers what your audience expects.
Ways to Attract Giveaway Entrants
If you sell brewing equipment, then you'll appreciate the 411% increase in interest on Pinterest. But, what if nothing you sell falls into these 100 trends? Well, there's a good chance that you can find a way to make it fit. For example, perhaps you don't sell brewing equipment. You sell glassware. You have a few options here.
Team up with an industry influencer to cross-promote a giveaway that incorporates your product
Partner with another company to give away a combined prize
Create a giveaway for your product but tailor your message to homebrewers
Pinterest helps people find content that is highly personalized and customizable. The search bar pulls up products and ideas that support their objective. So, it's vital to understand your audience and develop a campaign specific to their desired results.
Pinterest Giveaway Process
When it comes to giveaways on Pinterest, you can either create a Pin-to-Win giveaway just for the platform or cross-promote giveaways created on other platforms.
Pin-to-Win. With this giveaway, you create a selection of pinnable images. Then you ask participants to repin one of the graphics for a chance to win. A Woobox Pin-to-Win campaign keeps users on the page using a popup as opposed to directing traffic offsite. This reduces your drop-off rate.
Cross-promotion. If you're hosting a giveaway on any other platform, then get extra views by adding a graphic highlighting your current giveaway. Attach your landing page link to your image and direct entrants to sign up for the giveaway.
Consistent visibility. In between giveaways or campaigns, don't forget to remind users that you value their experience and often host giveaways of your popular products. Do this by adding the Pinterest tab on Facebook. Plus, pin graphics that tell your audience to check back soon.

10 Top Pinterest Trend Categories
In Pinterest's Top 100 trends for 2020, the company lists ten main areas of interest to users. Consider planning a giveaway that builds upon trends and extends your reach. Pinterest works as a search engine. So, it's crucial to use specific keywords in your Pinterest title and copy to show up in a search.
Below you'll find a snippet of each trend along with an example of how other brands are using the trend to fuel their latest giveaway campaign.
1. Gender-Neutral Options
Although the colors pink and blue are far from outdated, more parents and gift-givers shop for gender-neutral gifts. For instance, Pinterest reports an increase of 527% in users repinning unisex nursery items. Craft a giveaway that combines your branding elements with a gender-neutral theme for maximum repins.
Gender-Neutral Keywords and Phrases
Gender-neutral names list
Tuxedo dress
Kids playroom ideas gender-neutral
Unisex nursery gender-neutral
Androgynous wedding dress
Inclusive education posters
Unisex gender-neutral baby clothes
Gender-neutral haircut
Androgyne flag
Gender-neutral party theme
Gender-Neutral Pinterest Giveaway Example
If you sell baby, wedding, or hair-related items, then create an inclusive giveaway. Head over to Pinterest and type in a keyword or phrase. Then, scan for Promoted Posts. Paid advertising gives you a good overview of what type of content people click on.

2. Eco-Friendly Habits
Boost website traffic with a giveaway that helps followers live an eco-friendly lifestyle. Many brands can add eco-friendly tips or product recommendations with a targeted campaign. Drive traffic to your website by sharing a downloadable guide or tip sheet on a low-waste lifestyle for your target market.
Eco-Friendly Keywords and Phrases
Thrifted home decor
Thrift store crafts
Low-waste lifestyle
Low-waste wedding
Eco-friendly swaps
Solar light crafts
Thrifted wedding dress
Secondhand fashion
Climate change protest signs
Ocean trash art
Eco-Friendly Pinterest Giveaway Example
Bambaw develops eco-friendly alternatives, like straws and shavers, to aid with the zero-waste movement. This giveaway draws attention to the brand's low-waste products while focusing on a specific audience. The use of keywords to narrow your audience is a great way to personalize your giveaway and attract viewers that are ready to buy.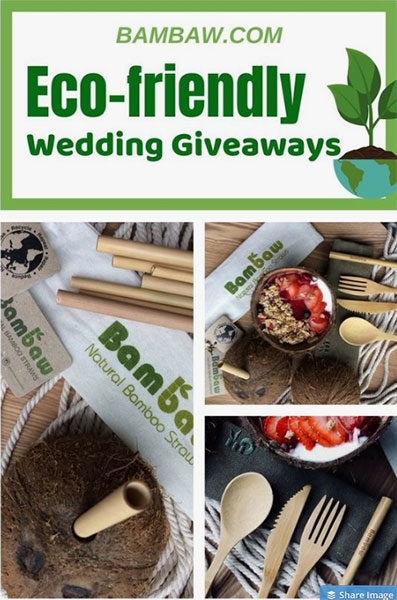 3. Everyday Wellness
Pinterest says that searches for "social media detox" increased by 314% while art therapy activities surged by 444%.
Help your audience bring wellness into their everyday lives with a thoughtful giveaway. Even companies that don't sell wellness products may benefit from using these keywords. For example, if you're a travel company, then create a giveaway campaign so the winner can use their trip for a social media detox.
Everyday Wellness Keywords and Phrases
Self discover journal prompts
Social media detox
Embrace being single
Chicory root benefits
Art therapy activities
Sea moss benefits
Mood booster playlist
Ylang ylang essential oil benefits
Feng shui decor
Cucumber juice benefits
Everyday Wellness Pinterest Example
This giveaway example requests user-generated content, which is a fun way to engage your audience. Either send users to a landing page with a photo gallery or create a Pin-to-Win contest. Ask followers to pin their favorite recipe from your list of pins.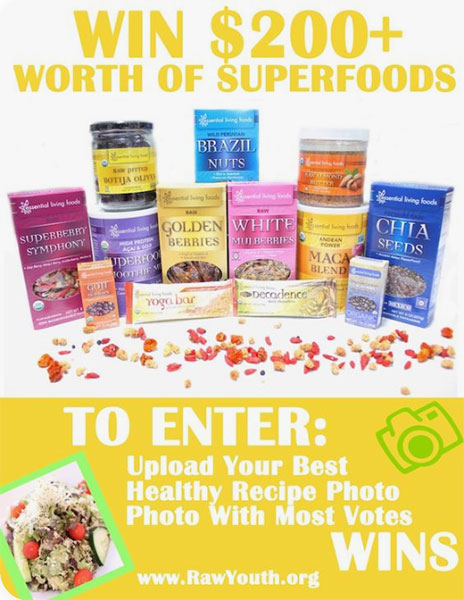 4. All About the Home
From staycations to home brewing, more people are kicking back at home. This trend isn't only about B2C brands as more people work from home, which is possibly why the phrase, "work from home outfit," saw an increase of 82% in Pinterest searches. Take advantage of this trend with a campaign focused around at-home activities and products.
All About the Home Keywords and Phrases
Home theater design
Microgreen growing indoor
Audio room
Work from home outfit
Garden room
Brewery equipment
Granny pods backyard cottage
Homemade baby food
Indoor water fountains
Home coffee stations
All About the Home Pinterest Giveaway Examples
Even potatoes get into the mix with a home-focused giveaway. Green Giant delivers a captivating headline and appeals to customers on an emotional level. As a visual platform, an image like this increases clicks over to a landing page with further contest details.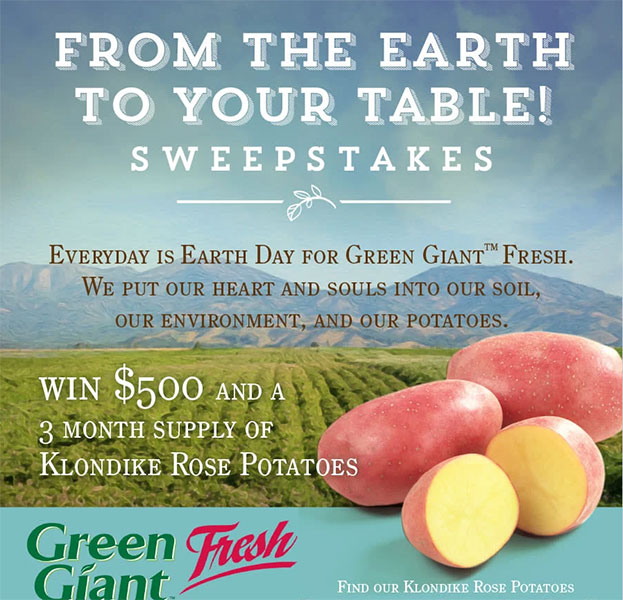 5. Global Awareness
International food, decor, and antiques interest people across the states. Pinterest reports searches of the phrase, "Indian Living Rooms," increased by a whopping 2080%. If your brand doesn't specialize in global goods, then partner with other brands or lifestyle bloggers for a giveaway.
Global Awareness Keywords and Phrases
Indian living rooms
Spanish style bathrooms
Japanese soaking tubs
Filipino desserts
West African food
Arabic treats
Kerala food breakfast
French antiques
Macedonian food
Australian garden landscaping
Global Awareness Pinterest Giveaway Example
Notice how this giveaway puts the keyword "Antique French" at the beginning of its Pinterest caption. Although this giveaway includes many other home decor items from several different bloggers, this keyword attracts a specific audience.

6. Pets: Goats, Cats, and Dogs
We live in a pet-orientated society. Even non-pet owners pause over a puppy video on Facebook. But, on Pinterest, users do more than pause. They're shopping. Your audience searches these keywords with an intent to purchase. Appeal to the pet-lovers in your audience with a giveaway customized for pet owners.
Pet Keywords and Phrases
Pet resort
Cat playground outdoor
Pet fashion
Dog patio ideas apartment
Goat playground idea pallet playhouse
Blind dog halo DIY
Dog toilet area garden
Dog safe cake recipe
Pet memorials
Cat bday party ideas
Pet Pinterest Giveaway Examples
NHV combines an adorable pooch with the phrase "natural products." While not a keyword on this list, the giveaway draws attention from people who search for natural products in general. In some cases, this builds brand awareness as those searching for natural products may not have considered natural pet products yet.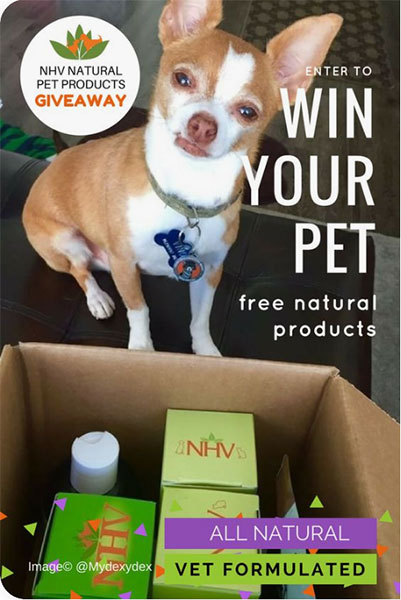 7. Ecotravel
Whether your audience wants to save money or save the earth, a giveaway that helps them accomplish their goal adds value. Compare your target audience demographics to determine which of these trending topics interest them. Then design a giveaway campaign.
For example, Pinterest reports an increase of 125% for travel stories. Consider sharing user-generated content from a Facebook photo or comment contest in a Pinterest Pin-to-Win giveaway.
Ecotravel Keywords and Phrases
Train travel
Zero waste travel essentials
Travel stories
Weekend staycation
Reduce car footprint lips
Eco-friendly travel
Agritourism ideas
Abroad education
Ecotourism architecture
Eco-city concept
Ecotravel Pinterest Giveaway Example
In the giveaway below, the winner gets a staycation plus products for their pets. Combining two topics helps you further define your target market and identify their priorities. In this case, the audience wants to enjoy a vacation but stay home with their pets.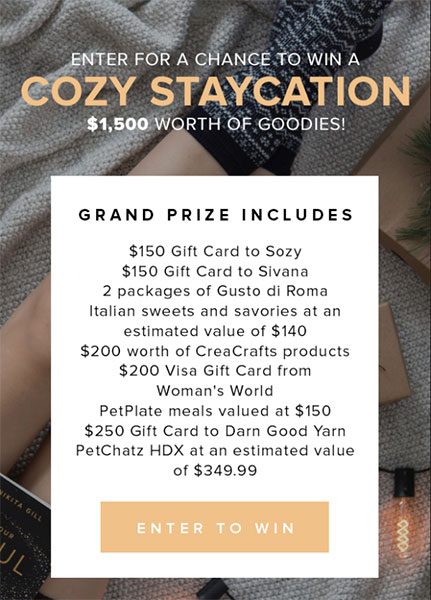 8. Back-to-Nature Lifestyle
Pinterest reports a 2795% increase in searches for outdoor kitchen bars. But, that's only one type of outdoor person. Take a look at the keywords below and see if your audience shares any of these interests. If so, then consider creating a campaign around a back-to-nature theme.
Back-to-Nature Keywords and Phrases
Lake fishing
Rockhounding
Nature travel
Rabbit hutches
Aurora borealis northern lights
Outdoor kitchen bars
Bring outdoors inside
Hiking fashion
Bushcraft camping
Outdoor play areas
Back-to-Nature Pinterest Giveaway Example
By adding keywords like a giveaway, contests, or sweepstakes on your Pinterest post, you'll attract a broader audience. People search Pinterest to find giveaways to enter. While this helps with your brand visibility, this term doesn't show an intent to purchase. But, with a targeted campaign, you can turn new followers into fans by sharing a stream of content centered around your central theme, such as back-to-nature.

9. Spectacular Space
Space-related activities aren't limited to children. Take advantage of the popularity by creating a campaign for your cosmetic brand featuring out-of-this-world color combinations. Or send Pinterest users to your landing page to sign up for a coupon to save on party supplies.
Spectacular Space Keywords and Phrases
Astrology party theme
Planet makeup
Piercing ear constellation
NASA hoodie
Easy galaxy painting
Geometric space tattoos
STEM space activities for kids
Galaxy themed birthday party
Two the moon birthday party
Pipe cleaner constellations
Space Pinterest Giveaway Example
Subjects like science, technology, engineering, and mathematics (STEM) interests children of all ages. If you have a local storefront, then consider building brand awareness by partnering with a local school or children's program. Encourage your audience to pick a local organization or a specific prize in your Pin-to-Win promotion.

10. The 90s Make a Comeback
It should be no surprise that what's old is new again. Pinterest finds hair scrunchie searches are up by 6309%. Scrunchies are relatively inexpensive, and a fun treat to add to your next giveaway. Or go all in and create a 90s campaign with related weekly giveaways.
90s Keywords and Phrases
90s cartoons
90s outfit party hip hop
Y2K outfits
90s music artists
Hair scrunchie
90s braids hairstyles
90s fashion grunge
Streetwear 90s
Lip liner and gloss
Hair clips 90s
90s Pinterest Giveaway Example
Design a few Pinterest graphics of your staff showing off their scrunchies. Then ask your audience to choose who wore the scrunchies best by pinning their favorite image to their 90s board. Don't forget to link your graphic to a 90s-themed landing page.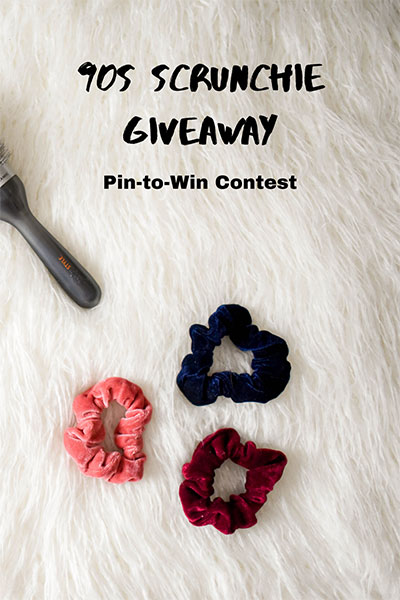 Conclusion
Pinterest differs from other social platforms because people are buying or planning a purchase while using the channel. Take advantage of this by designing campaigns that target intent-based or trending searches.
Get Help With Your Pin-to-Win Contest
Are you ready to get more traffic and from Pinterest? Our team at Woobox Support is available from 8 am to 5 pm PST, Monday through Friday at 1-360-450-5200 and support@woobox.com.