Are you one of those marketers who still hasn't run an Instagram or Facebook contest? What's holding you back? Facebook and Instagram giveaways that encourage your audience to leave a comment are an easy way to drive engagement with your brand. All you need is a fun idea and a trusty comment picker to get started.
But maybe you need a little more convincing than just that opening paragraph. If so, you're in the right place. In this post, we're going to load you up with important facts, some how-to tips, and terrific contest ideas that will help you understand why these types of contests make sense and just how easy they can be to run.
Benefits of Running a Comment Contest or Giveaway on Facebook or Instagram
Facebook and Instagram have enormous audiences, and those users likely include your target customers. Figures for data as of December 2019 show that Facebook has 1.66 billion daily users and 2.5 billion monthly users. Instagram has over 1 billion active accounts every month, with 90 percent of those users following businesses on Instagram.
Beyond the massive pool of people to target, there are other benefits when it comes to hosting a comments contest or giveaway.
Run Contests That are Easy, Powerful, & Fast
One of the most awesome things about "comment to win" promotions is how EASY and fast they are to set up. All you have to do is:
Create your promotional post content (a photo, a graphic, a video, or even just a status update in the case of Facebook)
Include details on how to enter with your post (how to make an eligible comment entry)
Provide important dates — deadline for entry, random drawing date, winner announcement date
With a comment selection contest, you don't have to go crazy setting up entry pages and creating tons of different graphics and promotional copy that you might need for a different type of contest or giveaway. Your workload when running an Instagram giveaway or Facebook contest based on "comment to win" can be as simple as your normal social content creation process. Just add a little extra pizzazz with your promotion name and prize to get people excited.
Here's a recent Instagram comment contest example from Papa Murphy's. We've highlighted all of the important details that they included in the caption.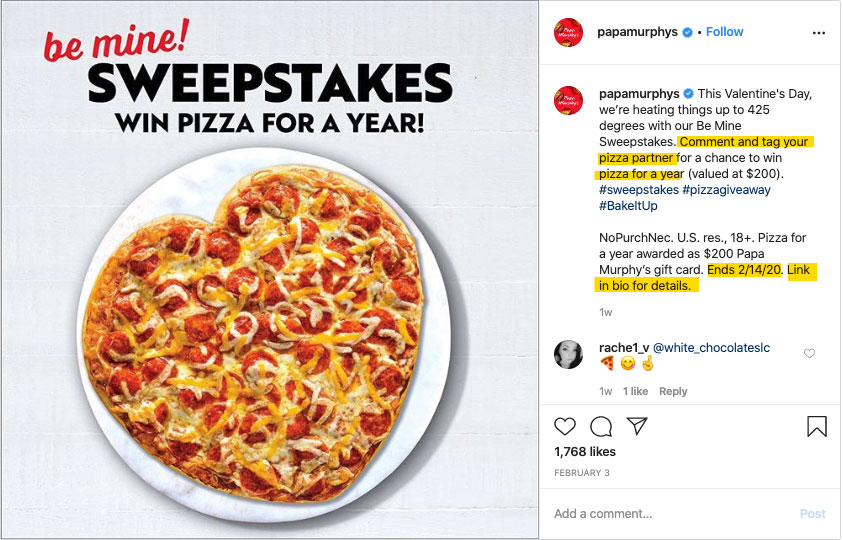 Facebook and Instagram comment contests are easy for you to set up, but they are also super easy for people to enter. All they have to do is follow your directions provided with your post.
If you'd like them to tag a friend in the comments — like the Papa Murphy's example above — or use a specific hashtag, make sure you make that clear in your giveaway post. Just don't make it too complicated. Remember that most people will likely enter from their smartphone. Don't make them type a novel, and your participants shouldn't have any problems entering.
What makes these types of giveaways powerful? You've removed friction from the entry process. All someone has to do is leave a comment. No form fill required! Plus, these types of contests are easy for people to share, and they are super-convenient because people can easily enter from their smartphones.
Comments Contests Drive Targeted Engagement
When you run a Facebook contest or Instagram giveaway centered on comments as entries, you're incentivizing people to interact with your page. Even better, your fans will probably tag friends and family members whom they think will want to enter, too. You can even encourage people to tag as part of the entry process.
To ensure that people are tagging the "right friends' — your target audience — give special consideration to the prize you offer. Focus on a prize that has value to your specific audience. If you're targeting yoga fanatics, offer a yoga-related prize pack. After plumbing professionals? Give them a prize that features the most sought after tools in the industry. An Apple Watch will drive a lot of entries, but most probably won't be part of your target audience.
What if you don't already have a big following on your Facebook page or Instagram profile? You can also drive targeted engagement through the hashtags you select. Do a little research to find out what hashtags your desired audience uses. Combine those highly-specific tags with some more general ones like #commentscontest or #sweepstakes to capture the attention of new people.
Comments Contests Can Yield Audience Insights
Maybe you'd like to gather a little feedback from your audience about your products. A comment contest is an easy, low-pain way to get that type of feedback.
For example, Itsa Girl Thing created a "vote to win" contests where participants were asked to leave a comment to vote on their favorite of four Jessie Lynn Designs outfits shown in the post below. Now, their intent may not have been to learn which of these four products is a fan fav, but they could certainly use the results to learn more about what products have the most appeal.
Notice Itsa Girl Thing ran this "comment vote" giveaway on both Instagram and Facebook.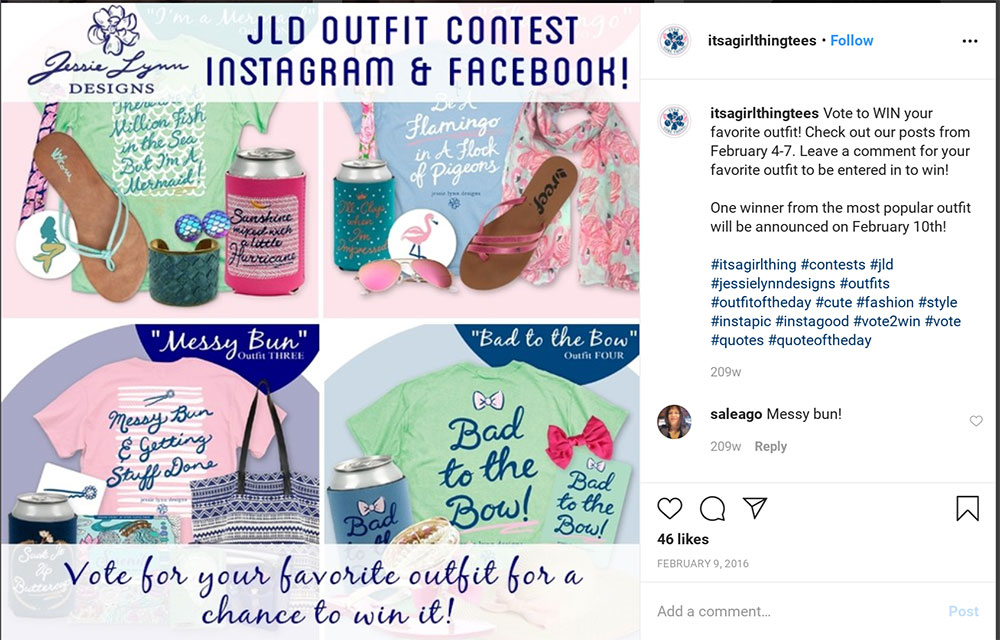 Are there things you'd like to learn about your customers and potential customers that you could turn into a fun and exciting comment-to-vote giveaway on Facebook or Instagram? Keep an open mind. You could ask people to comment to vote on:
New business hours you're considering
Favorite colors for a new product design
Names for a new service
Preferences that give you insights for product or service development
As long as you limit the voting to a specified group of answers, you can tally up the responses to gain insights into the questions you want to be answered.
How to Use Facebook Comments as Contest Entries
Picking a comment winner on Facebook doesn't have to be a tedious, manual process. Woobox's Facebook Comment Picker app has your back.
To start, let's take a quick stroll through the easy process of using Woobox to pick a Facebook comment as contest winner.
First things first, you need to launch your comment contest via a public post on Facebook. When you're ready to pick a winner, log into Woobox and click "Posts" under "Create a Campaign" on the left side of your screen.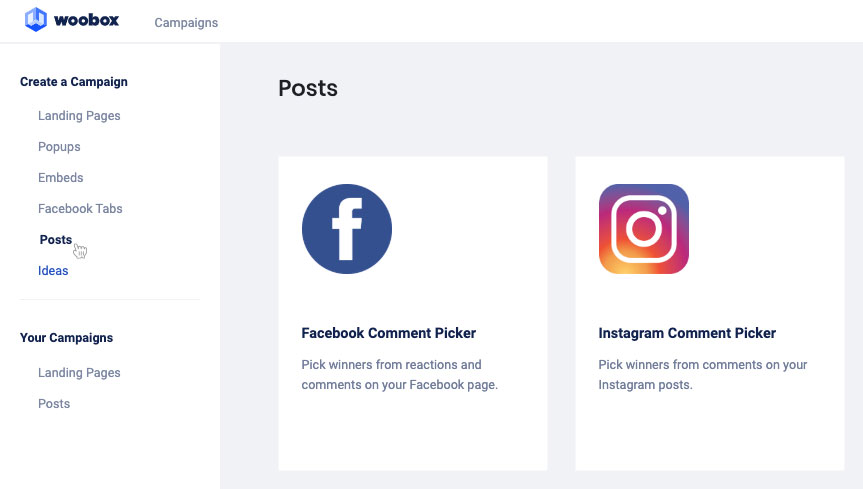 You'll click the Facebook Comment Picker, and then search for and select your promotion post. Click the Select button.

In the Post Details area, make sure your contacts are synced. Then, scroll down to the Comments and Reactions section and click "Pick Winners."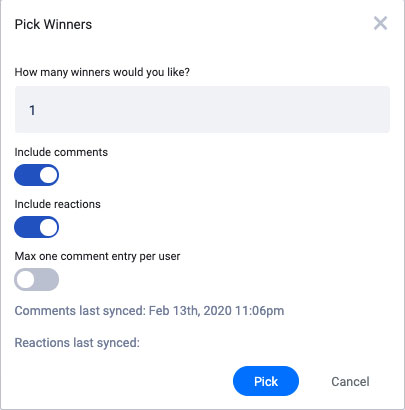 Super easy. Super fast.
How to Use Instagram Comments as Woobox Giveaway Entries
As you may have guessed, you follow very similar steps with Woobox to select your comment winner for an Instagram giveaway.
Launch your giveaway on Instagram and include the rules and details in the caption. When you're ready to use Woobox's comment picker, log into Woobox and click "Posts" under "Create a Campaign" on the left side of your screen.
Click on Instagram Comment Picker.
Next, find your promotional post and click the Select button.

Go to Post Details and sync your comments.

Scroll down to Comments and Replies and click Pick Winners.

Define the number of winners you want to select.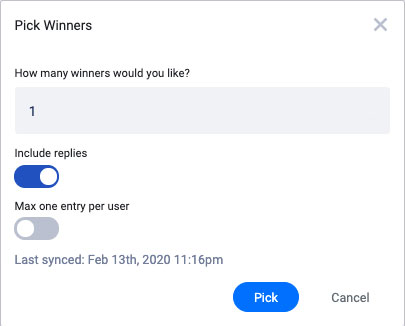 Again, Woobox makes things simple and quick.
Contest Ideas for Facebook Comment Promos
Kettle Brand had fans comment to enter its giveaway contest for Chipmas in 2018. People simply had to comment and include the hashtag #Sweepstakes to enter.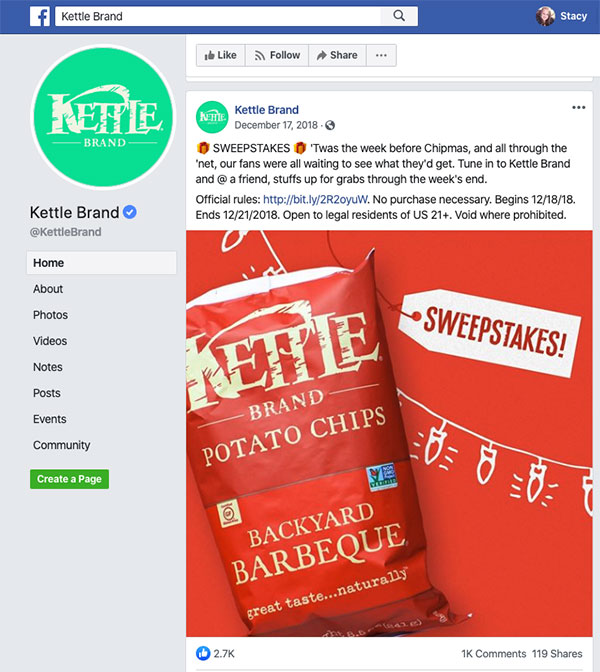 If you offer different varieties of a product (flavor, color, patterns, etc.), this type of contest could work for you.
Local television show Show Me St. Louis holds several different comment-to-win giveaways on its Facebook page. Over the Christmas season, there were giveaways to various events, including this one to win tickets to see the Trans-Siberian Orchestra.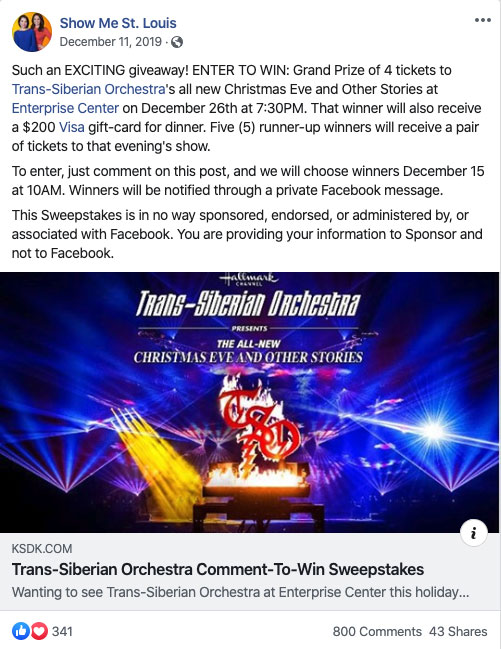 The ways to use Facebook for comment giveaways are really only limited by your imagination. When considering angles for your comment contest, think about:
Incorporating an upcoming holiday
Celebrating a company milestone
Using comments to gain feedback on your product or services
Generating excitement around a new product or service launch
Partnering with a complementary brand or partner for a bigger impact
Giveaway Ideas for Instagram Comment Promos
Instagram sees a lot of action when it comes to comment-to-win giveaways. Just search on #sweepstakes, #commentcontest, #comment2win, and other similar hashtags, and you'll find tons of examples to get you started. Here are a few recent examples we found.
Twix held this comment giveaway for a lucky winner to receive a limited edition pair of Cookies & Creme inspired kicks in collaboration with The Shoe Surgeon. All participants have to do is enter their shoe size as a comment. Twix has racked up 7,051 likes after just posting this 14 hours ago from the time we snagged this screenshot.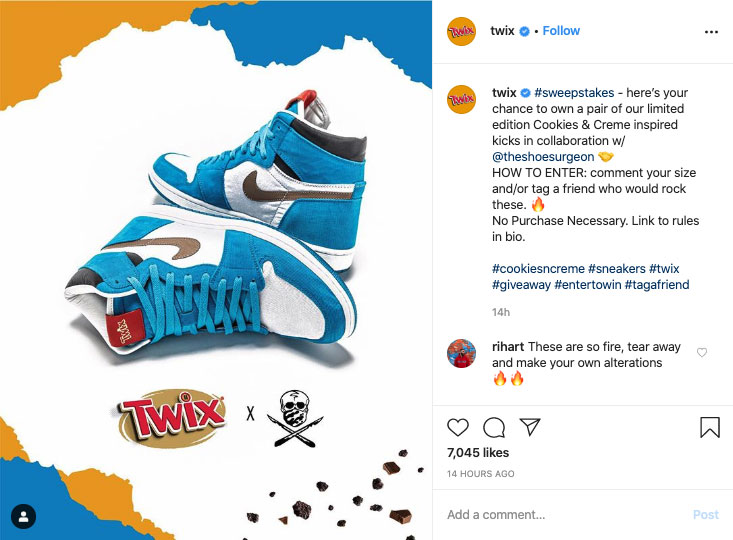 Fabletics Men is celebrating its early access beta launch by teaming up with GNC for a comments contest.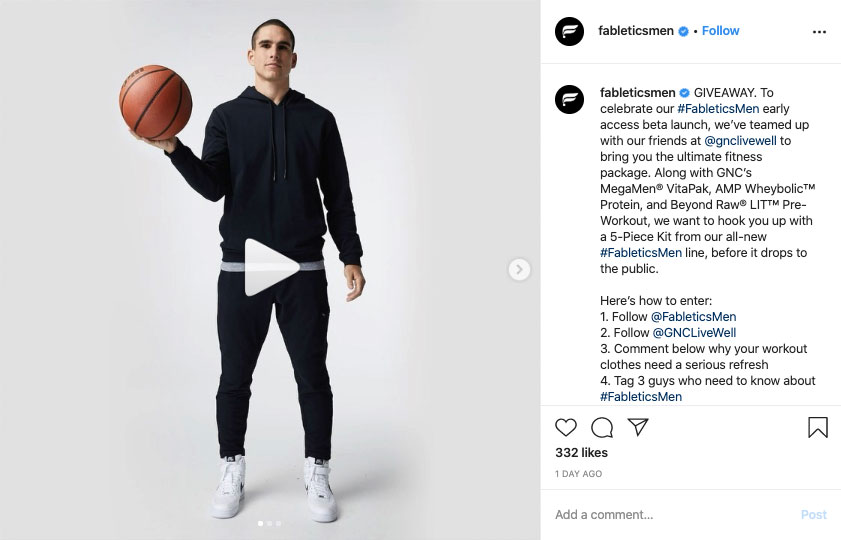 Similar to Facebook, you can use different events as tie-ins to your giveaway: holidays, company anniversaries or other milestones, new product launches, and so forth. You've also got the option to use comments to gather insights about your audience.
Host Your Own Comment Contest on Facebook or Instagram
Facebook and Instagram offer you incredible opportunities to connect with your current and potential customers. A comment contest or giveaway is a fast and easy way to make those connections stronger and drive more engagement.
Just remember the points we covered above:
The benefits of comment contests and giveaways; they:

Are easy, fast, and powerful
Drive targeted engagement
And can deliver audience insights

How to use Facebook comments as Woobox contest entries
How to use Instagram comments as Woobox contest entries
Contest ideas for Facebook
Giveaway ideas for Instagram
Finally, don't forget that Woobox Support is available from 8 am to 5 pm PST, Monday through Friday at 1-360-450-5200 and support@woobox.com. If you run into any problems running your comment contest or giveaway in Woobox, they can help.