Are your Facebook fans welcoming warmer weather and longer days? A fresh season also means it's time to shop for new clothes and beauty items! Spring promotions on social media are a sure-fire way to reach brand awareness, customer engagement, or revenue goals.
But the same-old Facebook posts can bore followers. You need people to stop, click, comment, and interact with your brand. Maybe even like your page. In this guide, we share 25 Facebook contest examples and ideas to inspire your spring marketing campaigns.
1. Leap Into Spring With a Facebook Video Contest
A Facebook video contest is a fun way to brighten up rainy days, especially when you offer prizes geared towards your target audience. Plus, spring contest ideas also can help you meet your social proof goals or get more user-generated content.
Ways to host video contests include:
Ask users to submit a video review of their last product purchase.
Share a brand video where you ask a question, and fans vote for the correct answer.
Get your followers' friends involved with a video snippet of their virtual happy hour.
Use a gallery for your video contest and encourage fans to choose their favorite one.
2. Vanguard: Women's History Month Madness
Start the celebration of women in March with a Facebook contest. Our Vanguard example uses a bracket game to keep customers coming back day after day to vote. Social media brackets are a great way to bring awareness to a subject, gather user information, or just have fun!
3. A Contest for Make Life Beautiful Day
From a kind passerby to spring flowers, National Make Life Beautiful Day is all about recognizing the little things that turn a so-so day into a magical one. Tie your brand or products into your Facebook post to show how your company helps make life better.
Promote #MakeLifeBeautiful across multiple social media channels. This spring contest attracts a wide variety of people, so you can create pins for Pinterest or Instagram Reels to drive more contest entrants your way.
4. Facebook Photo Contest Ideas to Engage Followers
A photo contest is a fantastic way to attract Facebook users. Give winners a prize worthy of their time and offer to showcase entrant's content on your main Facebook page. But photo contests aren't only for spring!
Ask fans to share the love on Valentine's Day or combine your photo contest with a national social media holiday. Every March 23 is National Puppy Day, and National Pet Day falls on April 11. Both are perfect for your spring campaigns.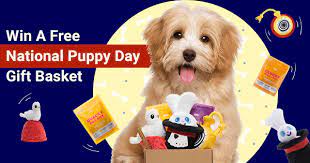 5. Mauro Pet Care: Friends Only Facebook Coupon
What better way to celebrate Best Friends Day on June 8 than a friends-only Facebook discount code? Whether your best friend is a dog or a human, you can increase your follower count by giving coupons for your products as a prize.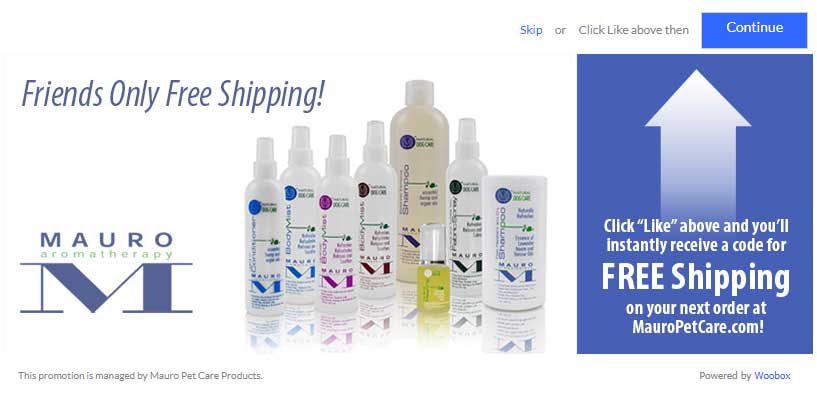 6.Ma Mawi Wi Chi Itata Centre: March Wellness Month Giveaway
Health and wellness trends aren't going away. Jump on the bandwagon and ask your Facebook fans to spring into action with a photo challenge. For a month-long giveaway, like our example below, consider offering one unique challenge per week.
Of course, there isn't only one type of contest suited for wellness. Increase engagement by using a quiz to assess wellbeing or post a daily poll related to mental, physical, emotional, or spiritual wellbeing.
Don't forget to share your post on various channels and send an email to customers and leads. Let people know how your brand supports wellness while encouraging participants to find ways to boost their mental health using ideas from your sweepstakes comments or social media channels.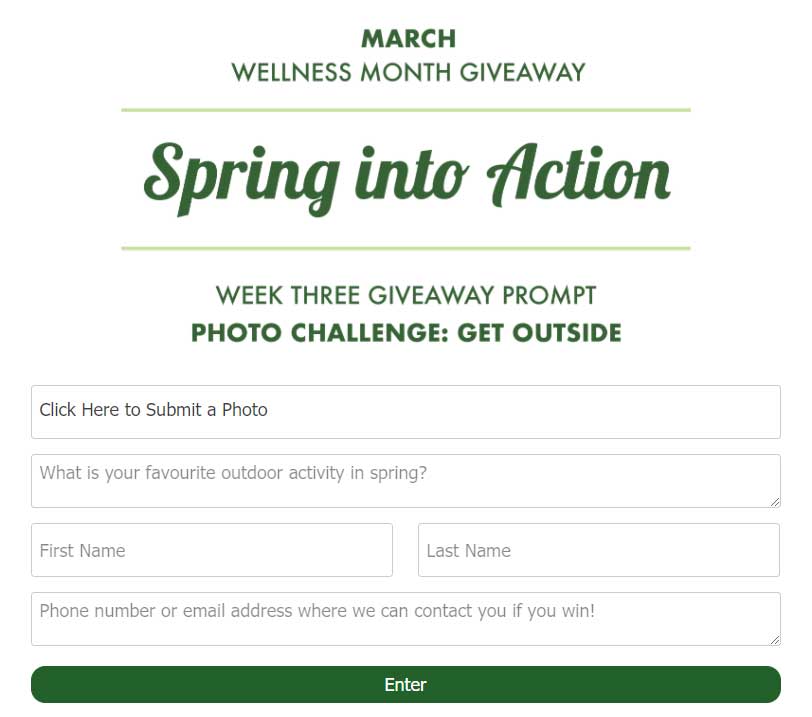 7. Make Spring Cleaning Fun
One thing people have a love-hate relationship with is spring cleaning. There are tons of ways to host a spring cleaning sweepstakes. Share a hilarious photo or video with a "Caption-This" headline or ask fans to submit before and after photos or the craziest (or grossest) item they found under their couch.
Delight winners with prizes related to cleaning or rewards after the job is done. In the spring contest example below, Hirschfeld Homes asks participants to clean their balconies and submit an image for a chance to win a Facebook photo contest.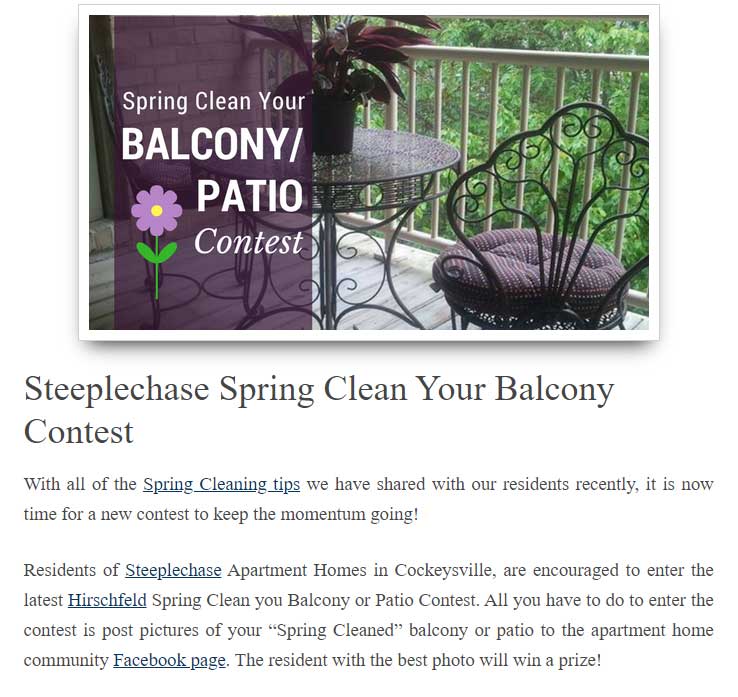 8. San Diego Humane Society: March Meowness Bracket Contest
March Madness isn't only for sports fans. The San Diego Humane Society uses a March bracket contest to call attention to the purrfectly presentable photo contest entrants. Each day, users come back to vote for their favorite felines. Use these bracket contest ideas to showoff your products while collecting user information, such as their likes and dislikes.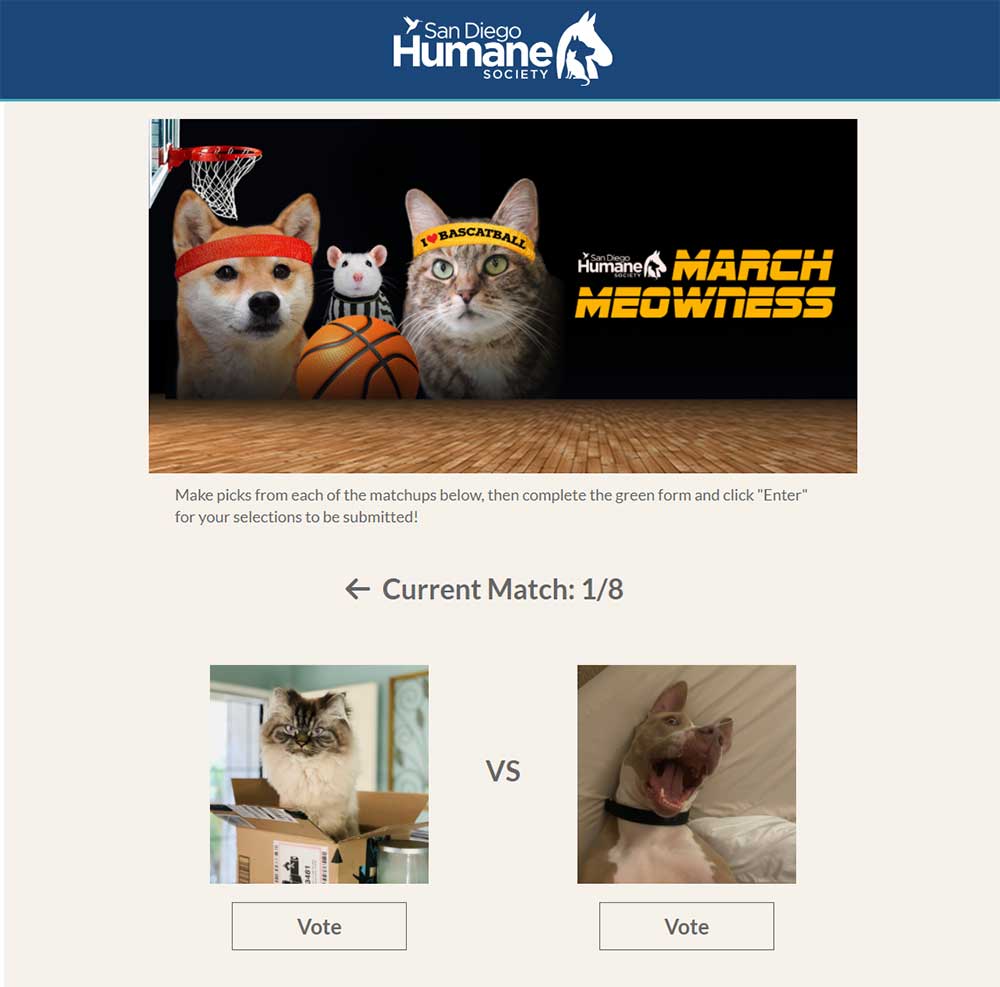 9. Reward Healthcare Teams on National Nurses Day
Pass out the kudos to hardworking nurses by brainstorming unique contest ideas suited for your target audience. Consider sharing a business story about a co-worker with a nurse in their family. Or mention an experience with a healthcare worker that brightened your day. Use a comment entry, photo contest, or video competition to encourage fans to tag a nurse or share user-generated content.
10. Hit the PAAS Button Photo Contest
With so many cute photos, it can be tough to pick a winner. However, with the Woobox Winner Picker and your custom branded hashtag, you can get more eyes on your Facebook page without spending hours tracking down entries.
In the PAAS photo contest example, entrants add the hashtag #hitthePAASbutton in the comments and fan page posts.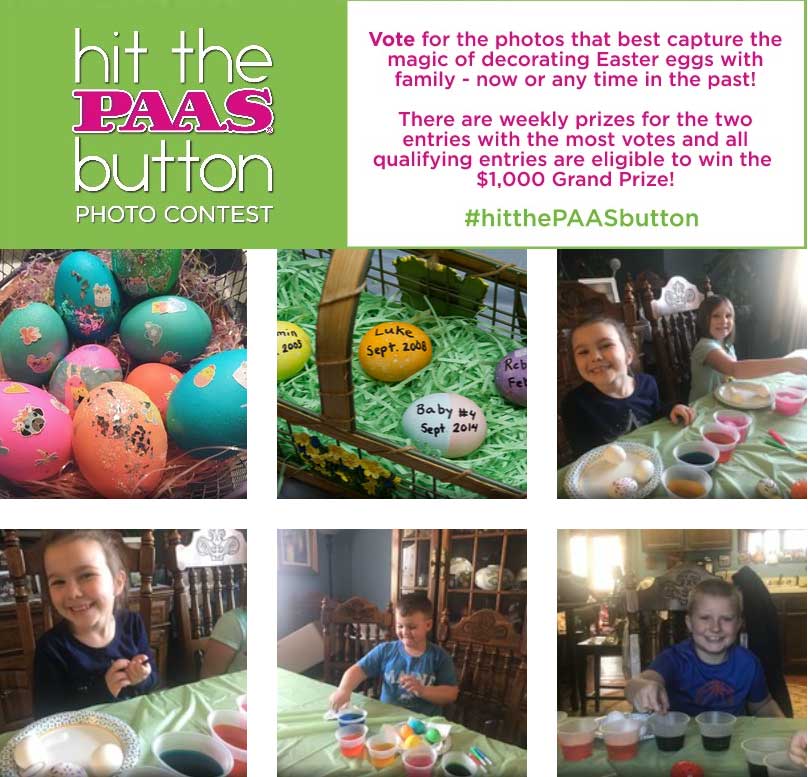 11. Clean & Green Singapore: Facebook Recipe Contest
Give fans an answer to "What's for dinner" or unique ways to turn leftovers into supper by hosting a Facebook recipe contest. After all, everyone needs weekly meal ideas.
In the example below, Clean & Green Singapore hosted a "Love Your Food" contest highlighting meals using leftover ingredients. Afterward, they compiled all recipes into a neat guide.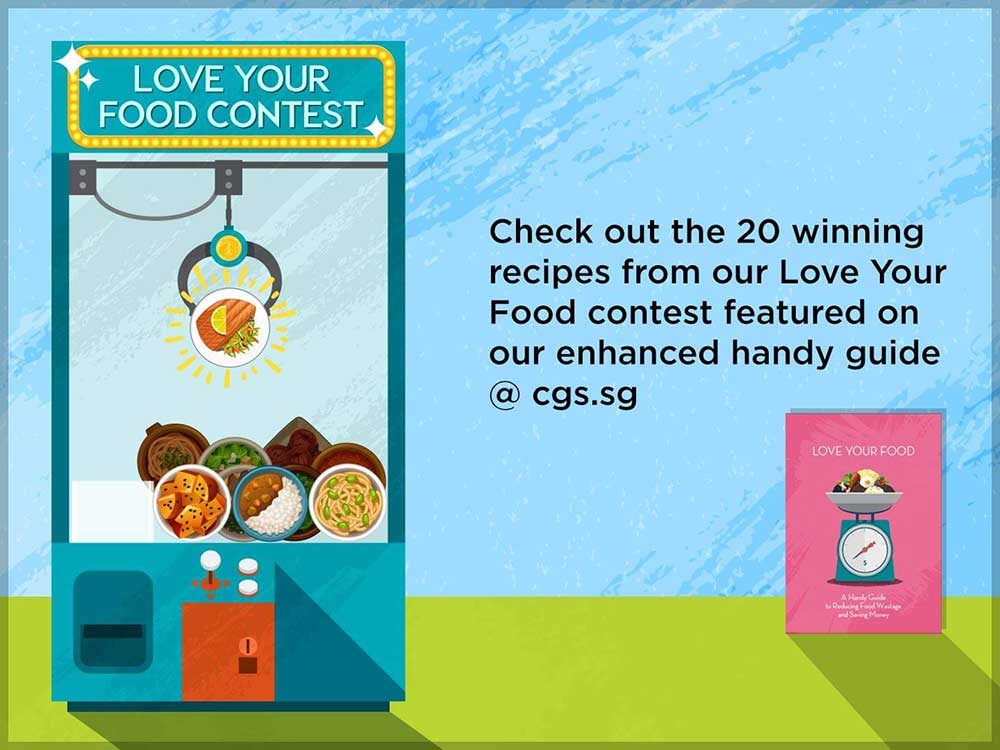 12. Give a Gift With a Mother's Day Giveaway
Wish moms well with a Mother's Day giveaway or appeal to the younger card by giving them a chance to win mom a gift without paying a dime. Keep your audience in mind and consider creating mom-only contests for their special day.
Another idea is to switch it up with a personality quiz and help gift-givers come up with the perfect ideas.
13. America's Test Kitchen: Spring Forward Sweepstakes
Boost your spring contest prize package by partnering with other brands or influencers. America's Test Kitchen ups the game by joining with Valley Fig, Organic Valley, and Victorinox to incentivize fans to participate in their sweepstakes. Plus, people who enter using an email address can join mailers for each brand for exclusive coupons.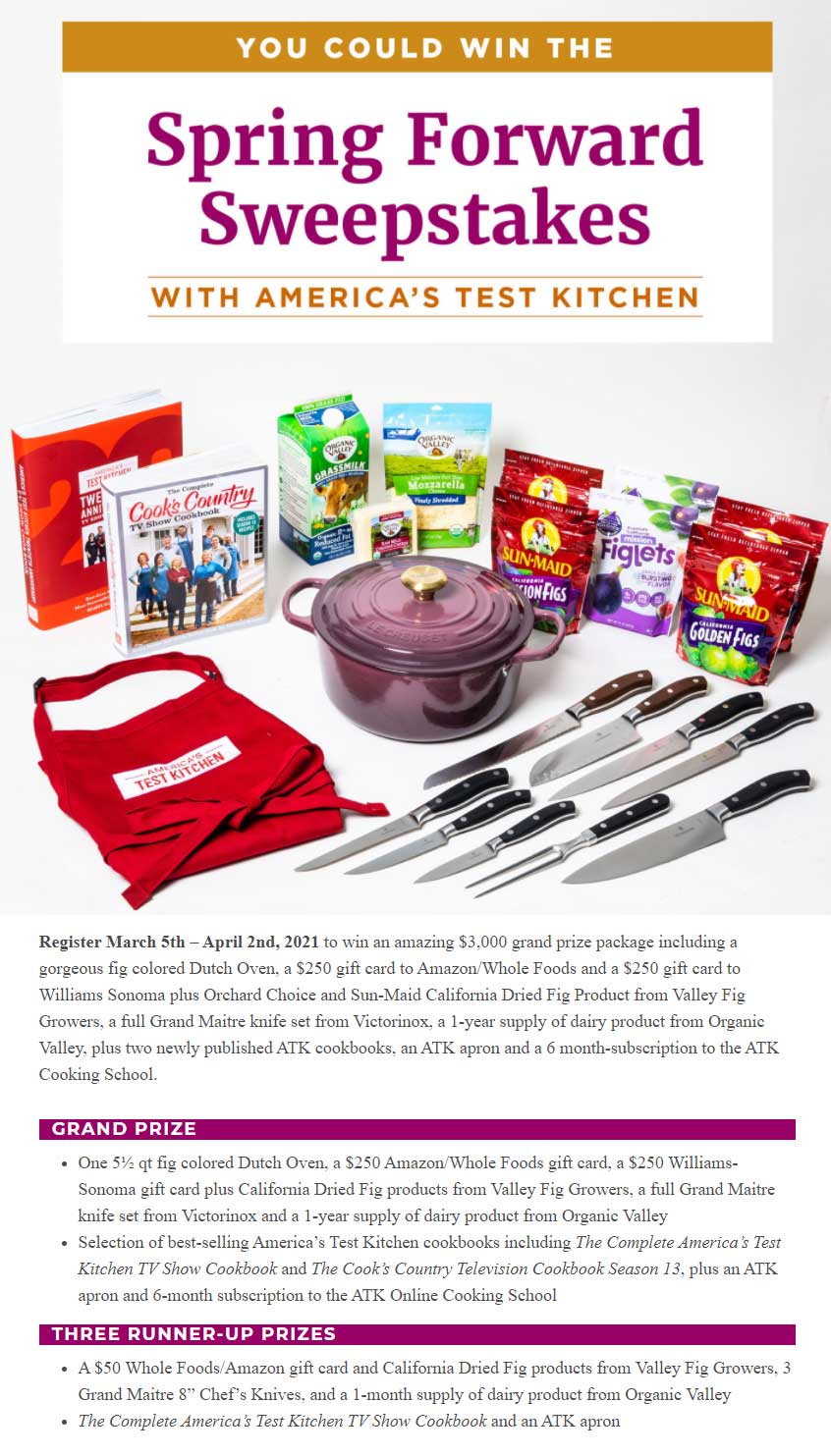 14. Connect With Fans on National Stress Awareness Day
From a stress ball with your brand logo on it to a luxurious day spa getaway, prizes for National Stress Awareness Day run the gamut. However, beyond prizes, social media holidays give you a chance to start a conversation with your followers.
Ask a poll question or share a tip for relieving stress and encourage others to do the same in the comments. Or get a laugh with a caption contest and a photo that anyone feeling tension can relate to.
15. PicCollage: Facebook Timeline Contest
Although photos and videos are popular contests, you can ask social media users to share various content types, from GIFs to collages. PicCollage created a contest for #BestFriendsDay, encouraging Facebook users to make and share their collage for a chance to get featured on Best Friends Day.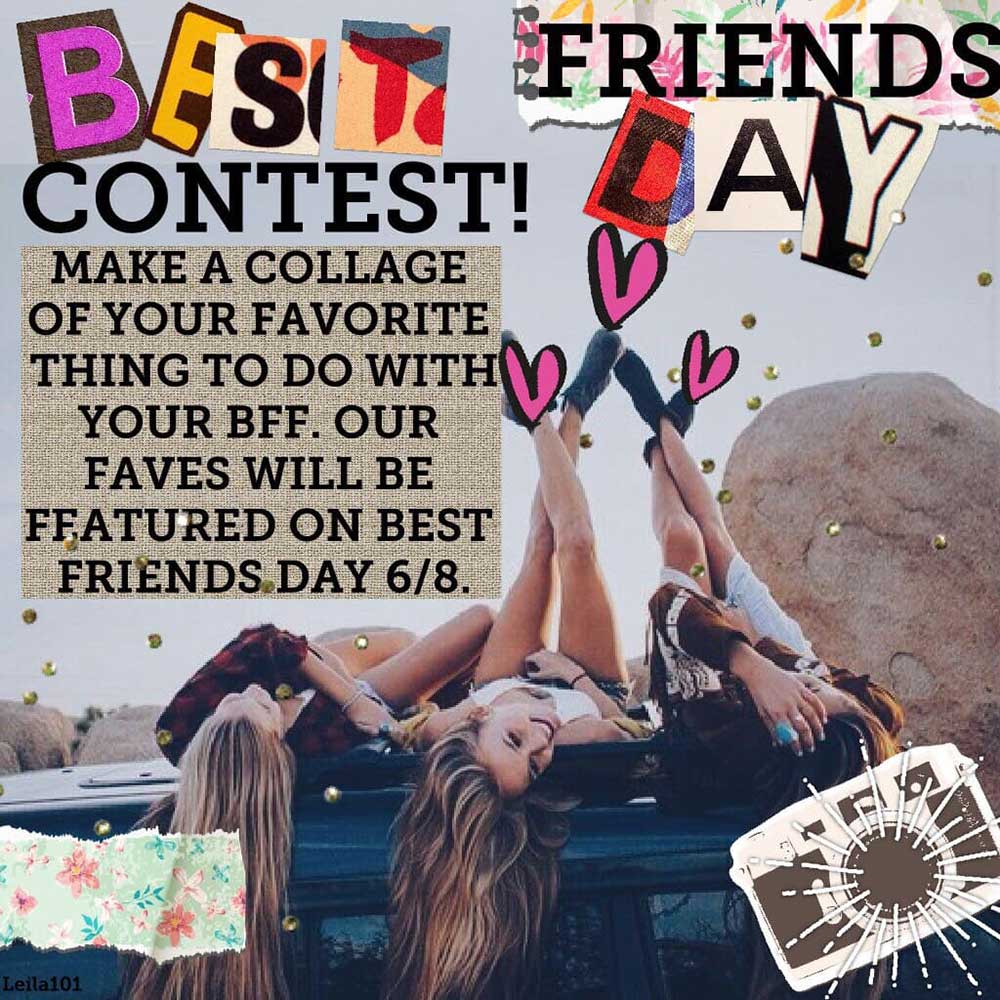 16. Nominate a Teacher Giveaway: #ThankATeacher
Draw attention to the teachers in your community with a #thankful spring campaign. For this social media contest, ask your followers to nominate one teacher making a difference in your schools. Need to select more people? Fan page social shares help get the word out!
Use the random winner picker to choose the lucky teacher, then put your prize (gift cards are great!) in the mail.
17. Arnot Mall: Egg Stravaganza
An instant win contest is the digital world's answer to a scavenger hunt. Except, with an instant win, entrants stop by daily to enter and see immediately if they win. In the spring Facebook contest below, Arnot Mall gives entrants who "find all 13 eggs" a chance to win a grand prize.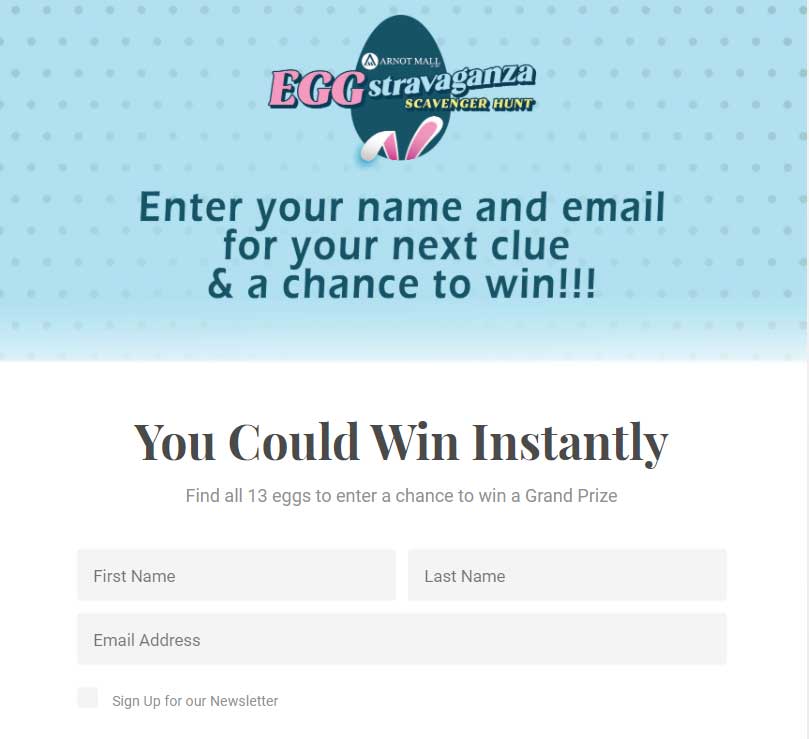 18. The Melting Pot of Louisville: Pay It Forward Contest Giveaway
You can host a pay-it-forward giveaway or ask fans to give a shout-out to someone who paid it forward for them today! Ask your fans to treat every day as an opportunity to give a little, and eventually, we all get something in return. Or another idea is to offer a gift card or another unique prize to a winner. The following Facebook example tells fans to "tag someone who could really use some good news."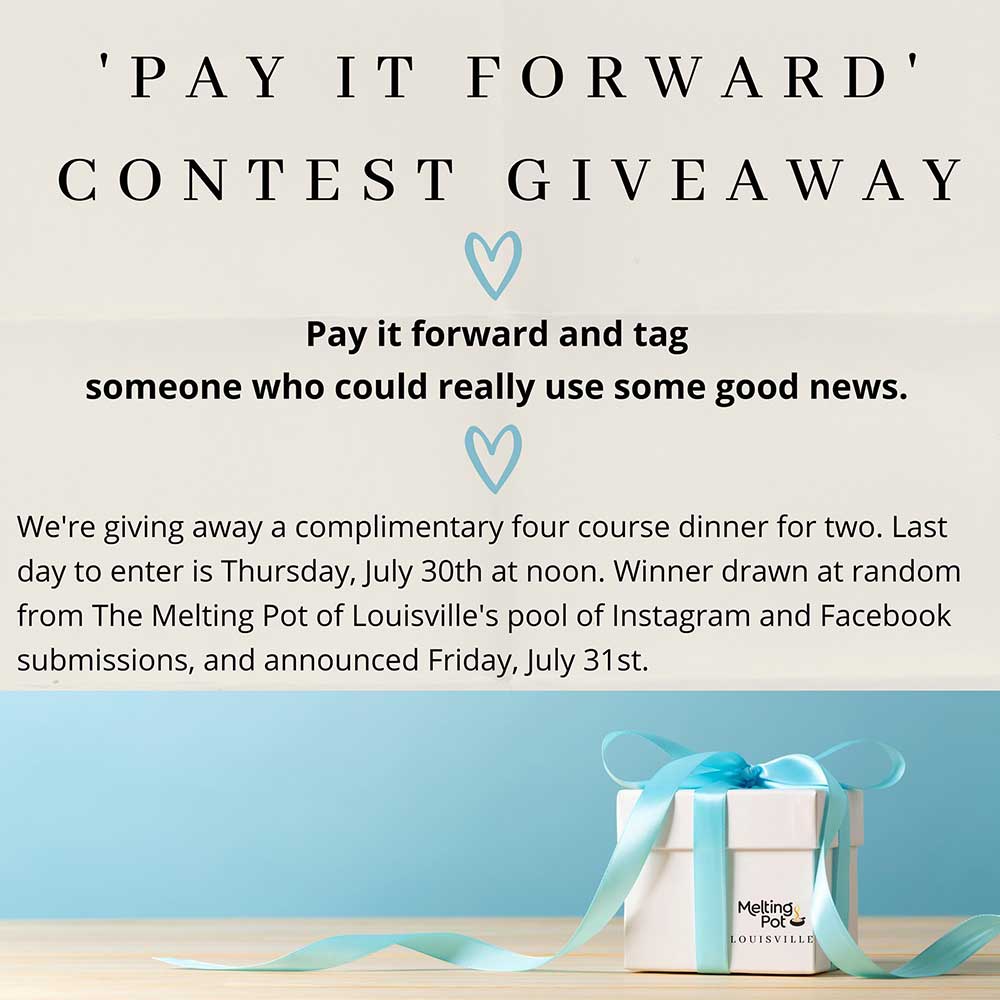 19. No Spring Break? No Worries!
A lot of people are missing spring break getaways. With a spring contest and a fabulous prize, you can make staying at home a little easier. But skip the essay contests. Instead, ask users to invite their friends and join them live for an on-screen party when you announce the sweepstakes winner.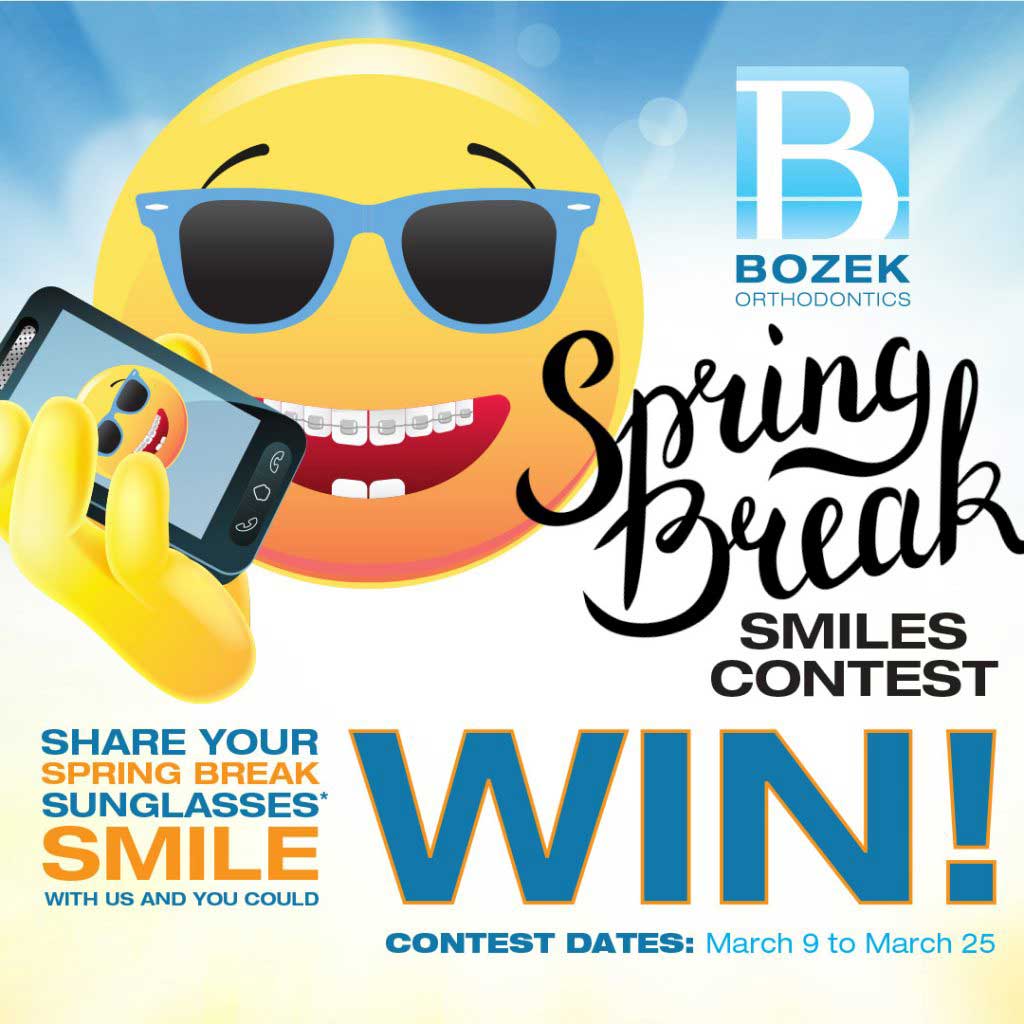 20. Global Day of Parents: A Giveaway for June 1
Create a post, send an email, and share parent-related content to either help caregivers or share a thank-you with them. People appreciate having a public space to show gratitude. You can ask participants to drop a memory in the comments or post a photo. Your page and posts can provide a sense of community, and sometimes that's more important than a physical reward.
21. Wilton: Bring in Spring Sweepstakes
Get extra love on your posts by asking fans to vote on one of these delicious treats or another tempting prize for a chance to win. Retailers can add photos of top-rated products or offer a personalized coupon. Wilton's spring contest example combines show-stopping images and great winner prizes while tailoring content to its baking audience.

22. Promote Winners in Your Business-to-Business (B2B) Contests
Social media contest ideas aren't only for business-to-consumer (B2C) relationships. B2B brands can offer discount codes or free trials in exchange for email addresses, swag, or other brand products.
B2B giveaways help you generate leads and work well in community groups or on LinkedIn. And what better time than during spring when flowers are blooming and tax time is looming. In the example below, Altitude Marketing celebrates its 10th anniversary with year-long sweepstakes!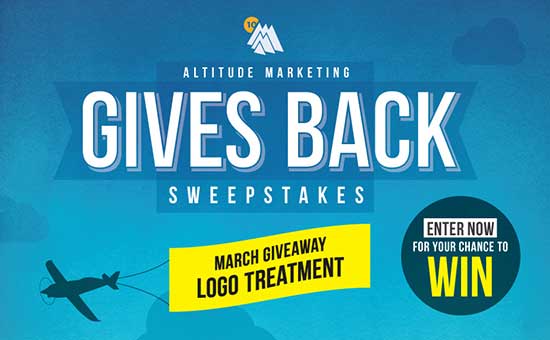 23. An Instant Win for National Scavenger Hunt Day
A spring instant win game is a neat idea for a digital scavenger hunt contest. Users can come back every hour or every day to enter for a chance to win. Brands can gather contact information using a contest sign-up form or ask customers to share your post with a friend after they've played your game. Nothing says spring like blowing off some steam trying to win a prize before getting off of work.
24. Goodness Gracious: Vote to Win Contest
Goodness Gracious passes along goodwill on the first Tuesday of every month. The form leaves a space to nominate next month's shelter or rescue, plus people get a chance to vote.
Animal posts, especially those focused on a local charity, increase engagement and earn brand awareness. Moreover, sweepstakes participants always want to share pet photos or use any opportunity to help fund a good cause.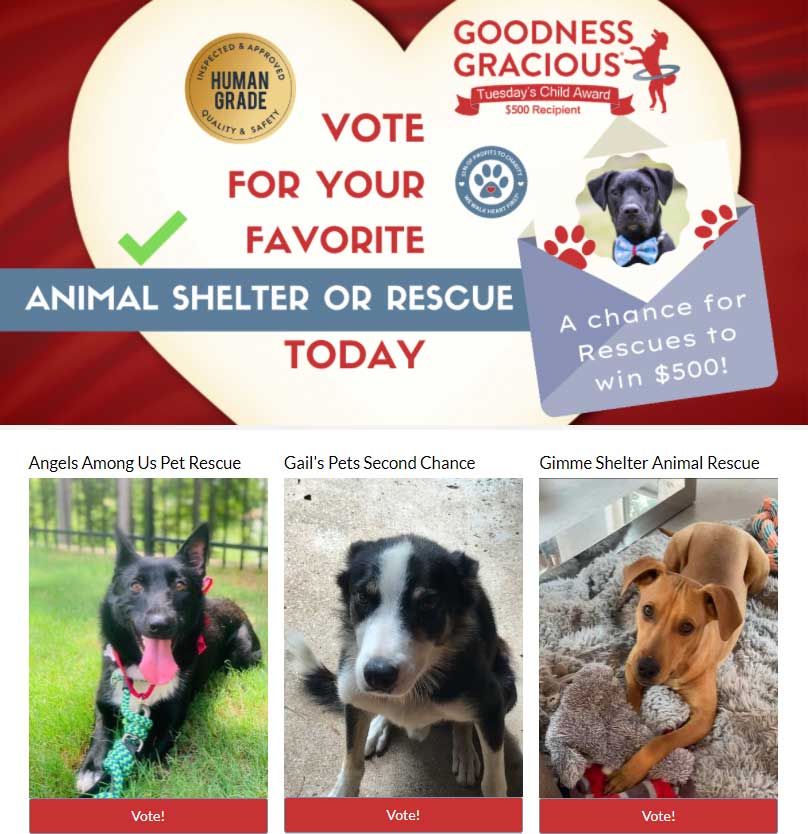 And everyone who votes can share the link to qualify for bonus entries!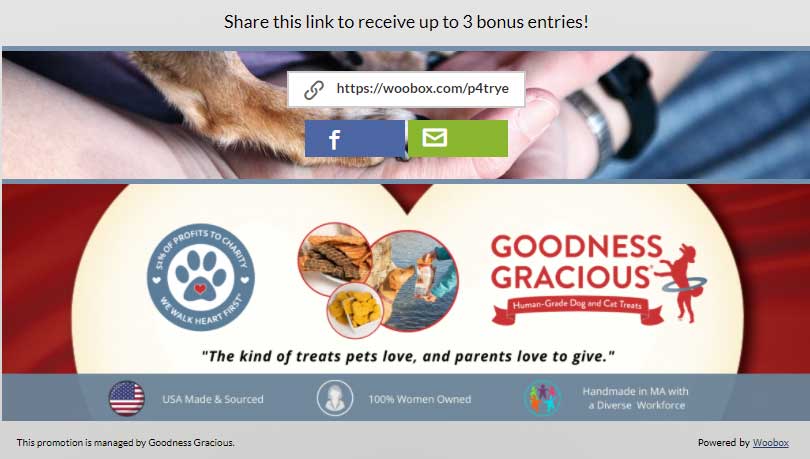 25. World Poetry Day: Poetry Competition
Tie your contest or giveaway into the poetry of spring. Share your favorite poem and ask your fans to tag the first person that comes to mind when they read it. Perhaps followers can leave their favorite line of poetry in the comments or recommend an up-and-coming poet to follow.
Facebook Contests: Ideas for Spring
Ready to run a contest? Spring provides an opportunity to drive traffic, increase engagement, generate leads, and improve visibility. Brands can get customers involved by brainstorming spring contest ideas that tie into a business goal and suit your audience. Take advantage of your photo contest or giveaway by selecting a product or gift card as a prize. Plus, don't forget to collect an email address or other contact information so you can stay in touch with your new fan.
Get More Facebook Contest Examples
Need help finding contest ideas that work for your business? You aren't limited to one contest type, so feel free to brainstorm your sweepstakes ideas with our team. Our Woobox team is here to help. We're available from 8 am to 5 pm PST, Monday through Friday at 1-360-450-5200 and support@woobox.com.