Have you ever created a contest with the perfect prize only to get little to no engagement? Developing a Facebook giveaway is only half the battle. Generate the attention your campaign deserves by creating a contest promo strategy.
Let's face it; organic reach on Facebook isn't the greatest. The average organic range of each post is around 6.4% of the page's total likes. That means for every 1000 likes, only 64 people might see your post.
However, consumers jump from one platform to the next while shopping or scrolling, with 66% of online shoppers relying on more than one channel for purchases. For maximum success, you should probably engage shoppers across multiple platforms to increase your Facebook contest entries.
What is a Facebook Contest Promotion Strategy?
A contest promotion strategy includes a list of ways to communicate with your audience and the tactics you'll use to make the connection. In short, a successful promotion strategy is one where you leverage all appropriate channels to funnel consumers to your Facebook contest. For example, your marketing mix might include:
A Facebook Live video introducing your giveaway.
Embedding the video in your blog post.
A snippet of the video on Twitter.
How to Create a Contest Promotion Plan
Once you've devised your marketing strategy and set your goals, then it's time to focus on promoting your Facebook giveaway. List each channel for reaching your audience. Popular (and inexpensive) ways to expand your audience and attract entrants involve using your:
Company website
Email subscriber list
Social Media accounts
Brand ambassadors
Micro-Influencers and bloggers
Networking connections
Promote Your Facebook Giveaway on Your Website
Regardless of how much traffic you get, there will always be some people who check out your website without ever stopping by your Facebook page. Don't let those users miss out on your valuable giveaway! Instead, turn each visit into an opportunity to showcase your limited-time giveaway.
1. Update Your Website Popup
Give your Facebook contest a boost with an exit popup on your website. In the example below, shared by Printful, an Invision website popup gives users a chance to win a t-shirt.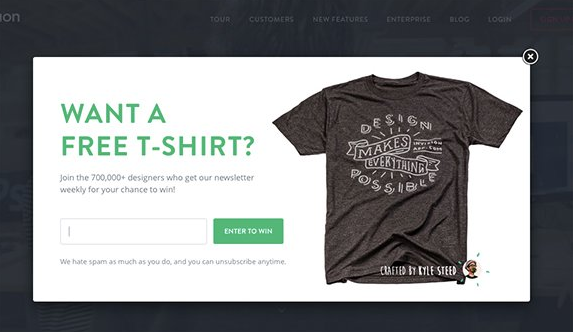 2. Write a Blog Post
Blog posts add SEO juice for website traffic and serve as extra content for social sharing. Plus, companies that blog get two times more traffic from their email than those that don't. When promoting a Facebook contest, consider adding a blog post that:
Shares details about the products or services you're giving away.
Tells a story about how your prizes helped an audience member.
Provides a listicle with all the ways to use your products from your giveaway.
Don't forget to add a call to action at the end of the blog post that directs people to your Facebook giveaway contest. Once you have a blog post or two, then add them to your social scheduler and share across multiple platforms.
3. Display a Notification Bar
Notification bars, also called floating bars, are excellent non-intrusive ways to get eyes on your giveaway. Entice viewers with a concise call-to-action and a link to your contest. Depending on the app you use, you may be able to add a countdown or timer for added excitement. Both Hello Bar and Mailchimp offer free plans for creating notification bars.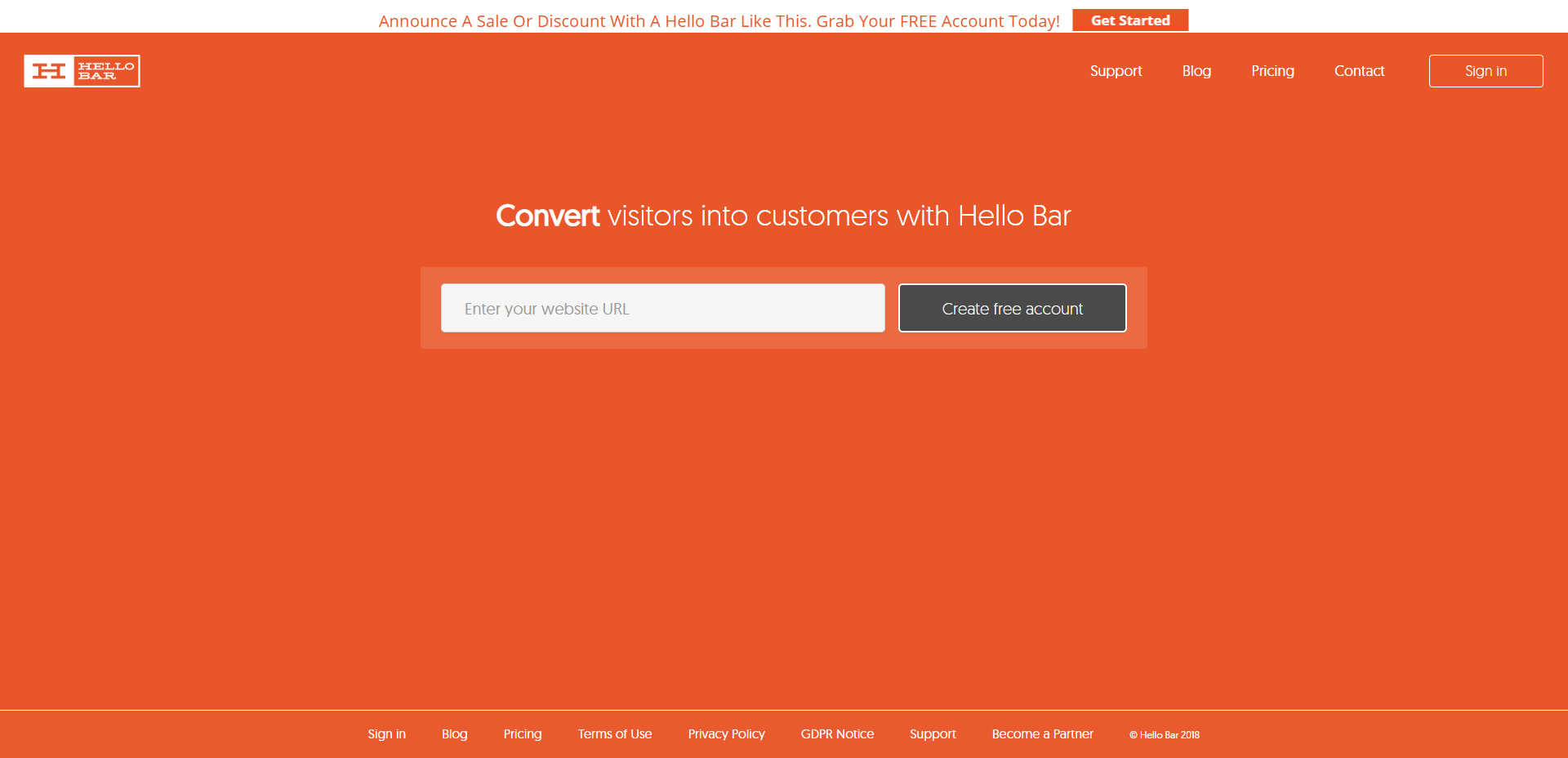 Incorporate Your Email List
Does everyone on your email list regularly use Facebook? Perhaps not. Get more views and sign-ups using email marketing. Make sure to include a call-to-action that takes your recipient to your Facebook contest sign-up page. Plus, don't forget to encourage your loyal fans to share your email with their friends.
4. Deliver a Heads-Up Email
Keep it short and sweet with an email that feels personal. Why is your contest of interest to the email recipient? How does your giveaway benefit or help your email subscriber?
5. Send a "Last Chance" Email
Play on the scarcity concept by sending out a brief email shortly before your contest ends. Coin it as a friendly reminder while playing on the fact that your giveaway closes in 24-hours and you don't want your loyal subscriber to miss out.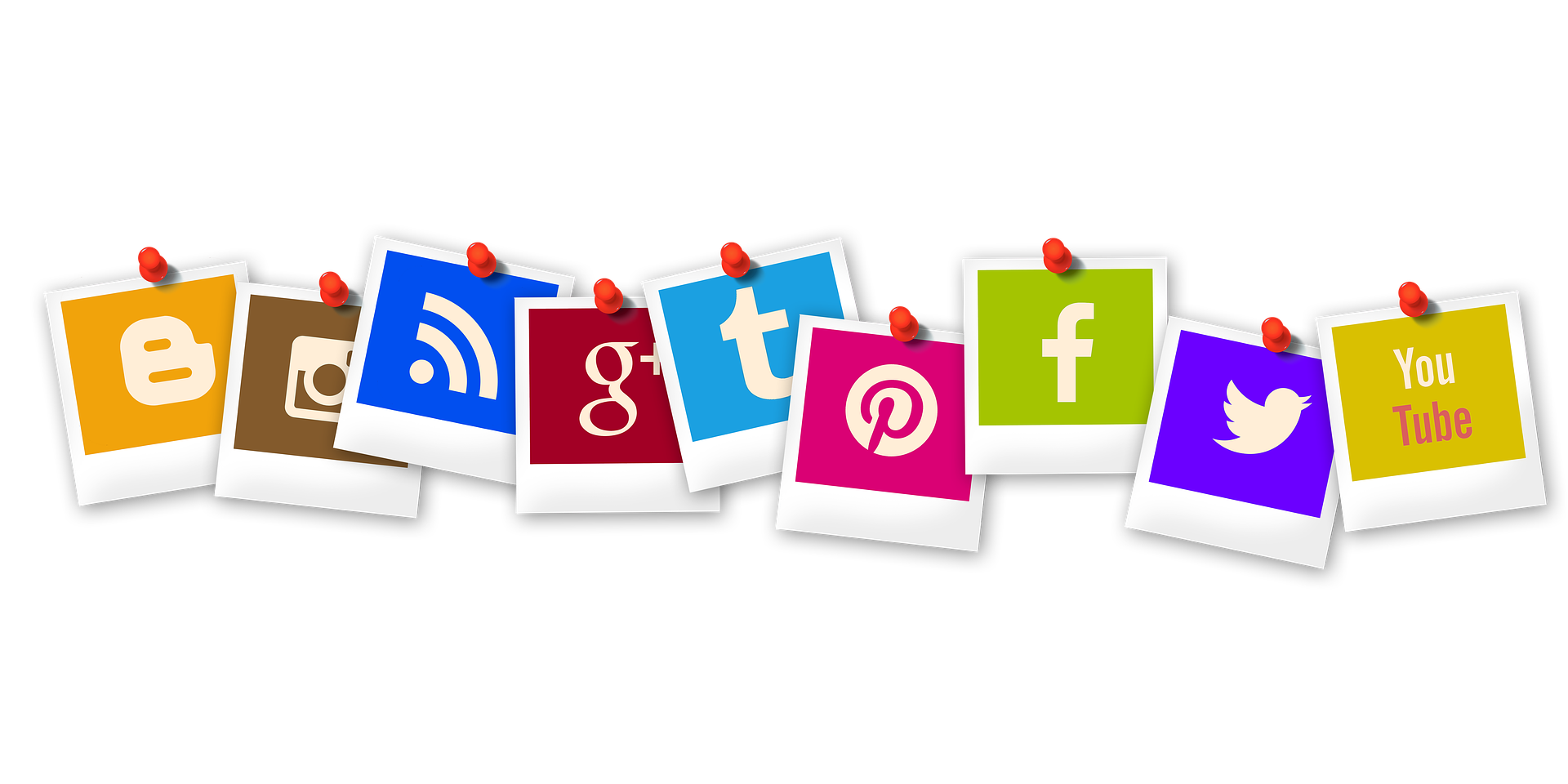 Post Your Facebook Contest on All Social Platforms
Each social media platform may attract a different audience which is why it's important to share your Facebook contest on several channels. You can save time by embedding your promotion using Woobox. Personalize your message and image to each specific social media network for the best results.
6. Create Twitter Posts
On Twitter, the half-life of a tweet is 24 minutes, which means you can post more frequently than other channels. Create a few different Twitter-sized images then schedule your posts across a variety of times for the most impressions.
7. Share an Instagram Story
Instagram Stories are growing 15x faster than feed-based sharing. You can share images of your prizes, add music, and live stream. Plus, you can tag other accounts and include more interactive content. For brands with over 10,000 users, you can use Instagram Stories to promote contests by adding links within your story.
8. Include Your Contest in Instagram Highlights
The downside of Instagram Stories is that it disappears after 24-hours. Instead, use the Instagram Highlights feature to save your posts. Doing so puts your giveaway in a prominent position in your profile and is an easy way to convert clicks into contest sign-ups.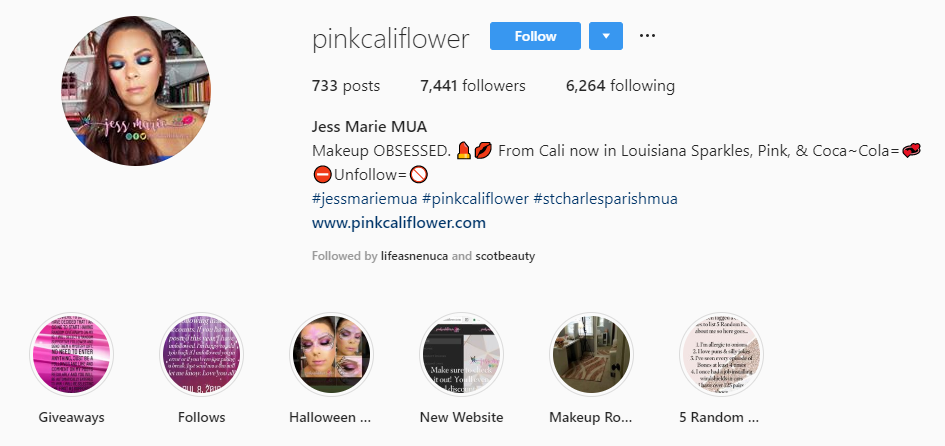 9. Update Your Instagram Bio
By updating your bio with a contest link and adding text that works as a call-to-action, you'll get the most traction from each profile view.
10. Post in Facebook Groups
There are one billion Facebook group members, and 200 million of these members are part of meaningful groups. Meaningful groups feature higher engagement levels and enhance the user's social experience. Use groups to your advantage by adhering to group rules and sharing personalized messages. Consider adding a post in groups like:
Local community groups
Industry or niche-specific groups
Groups that share giveaways
In this example, a user shared a link with a group called Woobox Sweepstakes Giveaways Only. With 1000s of members, it's possible to attract a new following of people who haven't heard of your brand before.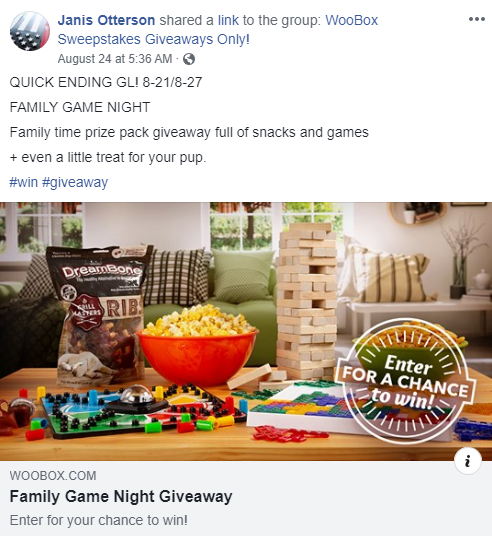 11. Change Your Profile Image
Grab the attention of Facebook users by changing your business page profile picture or cover photo. This is a fun way to mix it up and increase contest awareness without breaking your budget.
12. Hold a Facebook Live Event
Since Live videos standardly receive six times as many interactions as regular videos, they rank higher in the newsfeed. Use this to your advantage by hosting a live video when announcing your Facebook giveaway. You could even do it a second time as the giveaway nears the end.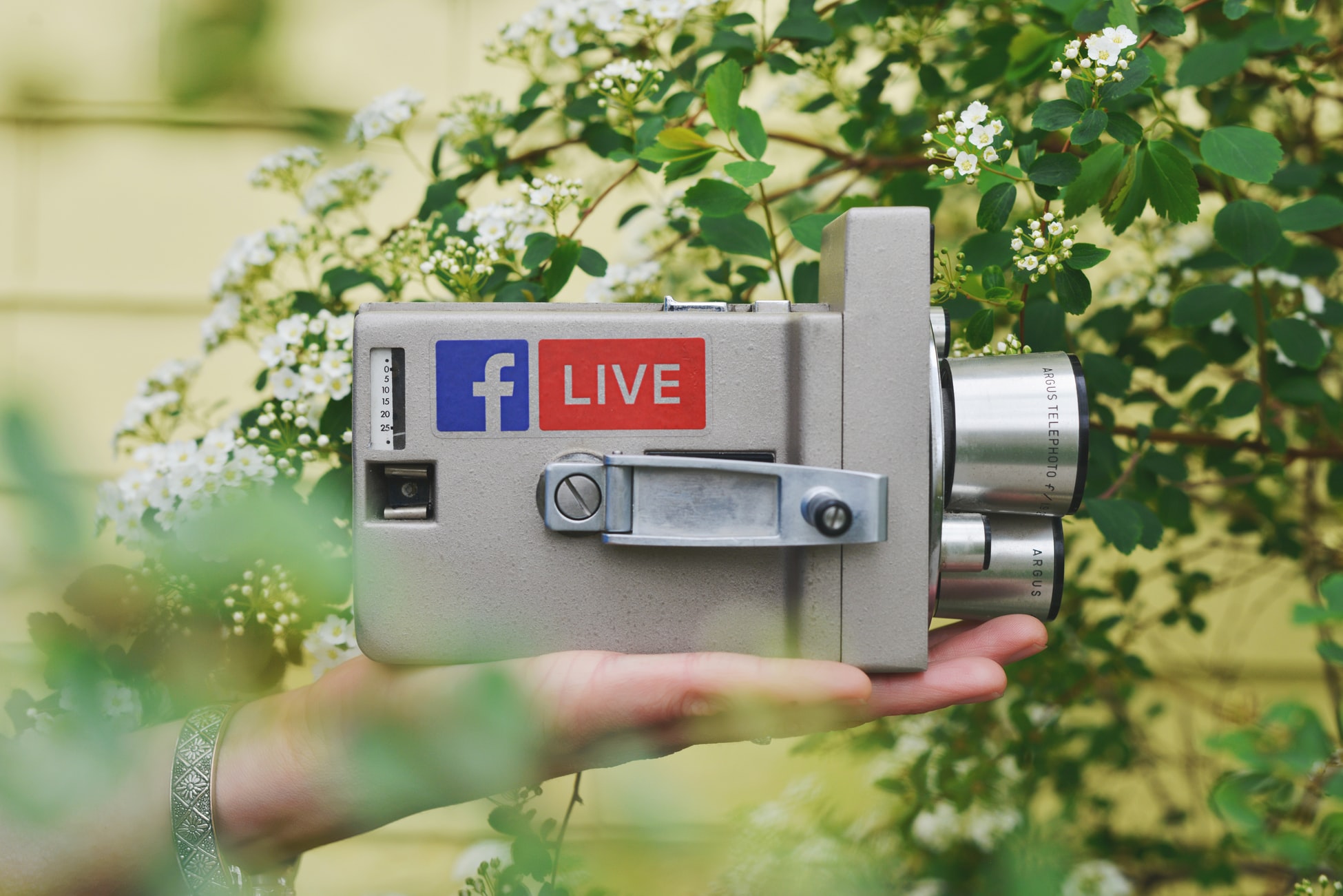 13. Design a Pinnable Image
Pinterest delivers 3.8 times greater sales than the average digital campaign, which is why few businesses can afford to neglect this platform. This social platform is all about inspiration, so demonstrate your holiday spirit with an enticing image. Plus, links on Pinterest are clickable, and users search by hashtags.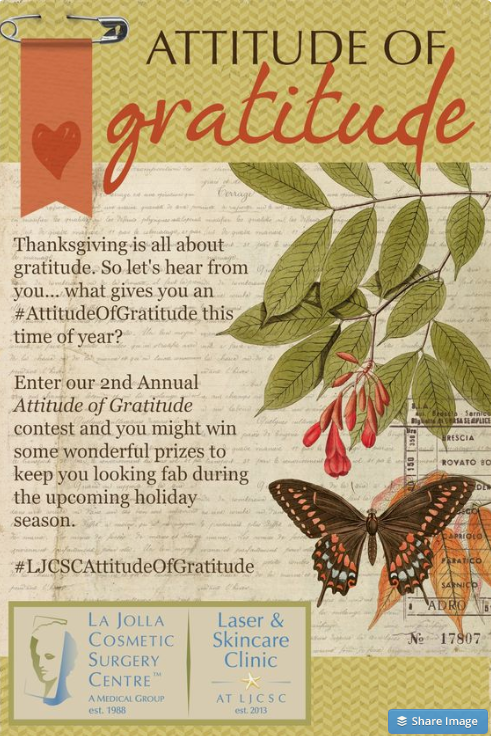 14. Create a YouTube Video
If you're already creating videos for social media or want to improve your YouTube presence, then add this platform to your marketing mix. YouTube gives you access to a younger market and is the 2nd most popular social media platform with 1.9 billion users.
Leverage Your Loyal Fans
Your loyal fans are those who already love your brand. They might share your posts on social media, send a link to your blog on messaging apps, or write about their experience on review sites. Loyal fans are willing to help their favorite brands out, so don't be afraid to reach out and make a connection.
15. Connect With Brand Ambassadors
Take note of who shares and engages with your posts. Before launching a new Facebook campaign, reach out to your loyal fans. Tell your brand ambassadors how your giveaway benefits them and why you wanted your loyal fans to be the first to know about your Facebook contest. Other helpful tips include:
Share a link and image that make it easy for your brand ambassadors to distribute your contest details.
Encourage referrals by asking your loyal customers to share your email or social post.
Reach Out to Micro-Influencers and Bloggers
Consumers love sharing great deals with friends while strangers trust the content that comes from seemingly average people. Make this work to your advantage by reaching out to a variety of people who may share your content.
16. Find Bloggers in Your Niche
Bloggers distribute content that their audience wants, which means that bloggers in a variety of niches share contests and giveaways from various brands. For best results, connect with each blogger before asking them to mention your Facebook contest on their blog or social accounts.
Curate a list of bloggers who share contests or review products similar to those in your industry.
Develop a relationship by sharing their content and tagging their brand.
When you have a giveaway coming up, then email bloggers with the details of your event.
17. Nurture Relationships With Micro-Influencers
Few small business owners have the money to attract big-name influencers. However, micro-influencers feel more down-to-earth, may have local connections, and have seven times the engagement rate on Instagram as influencers with larger audiences. Get started by:
Creating a list of potential micro-influencers in your niche or area.
Contacting micro-influencers with benefit-driven messaging.
Rewarding influencers with free products or entries in your giveaway.
Network with Friends, Family, Co-Workers, and Business Owners
Even in the digital age, networking is critical. Tell your friends, family members, and co-workers about your Facebook giveaway. Let them know that you appreciate their support, and why your Facebook contest is worth sharing. Plus, expand your reach by partnering with other companies.
18. Partner With Other Businesses
Reach out and connect with other business owners, then offer to share an upcoming promotion in exchange for them sharing yours. You may even consider hosting a shared Facebook giveaway. In this example, several companies banded together to offer unique prizes from five different businesses.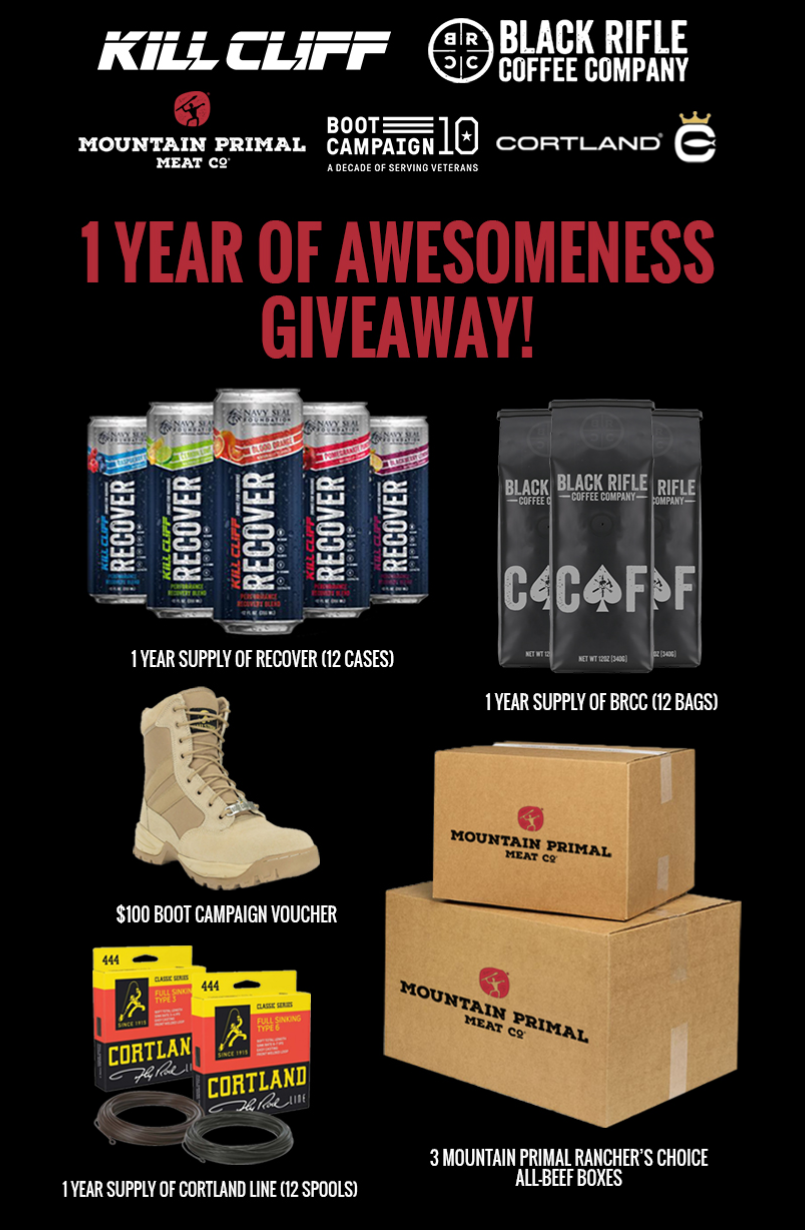 19. Tag Your Tribe
If you think friends, co-workers, or family members would be interested in your giveaway, then consider tagging them in either your initial post or in the comments below. Since you already have a relationship, it's easy to personalize your message while also rewarding them for referrals.
Conclusion
Don't let the lack of organic reach on Facebook keep you from your goals. Improve your engagement level and click-through rate by cross-promoting your giveaway using a Facebook contest promotion strategy.
Get Help from Woobox Support
Need help avoiding these common Instagram comment giveaway mistakes? Woobox Support is available for help from 8 am — 5 pm PST, Monday through Friday at 1-360-450-5200 or support@woobox.com.