Since its launch, Facebook Live videos have proved a most engaging tool on the network. Fans love interacting with their favorite brands and personalities in a video-chat style. Whether it's a live Q&A, performance, or vlog, millions of users are "tuning in" to Facebook Live.
Wouldn't it be great if you could randomly pick winners from Facebook Live and announce them in real-time? You totally can!
How to Host a Facebook Live Giveaway or Raffle
You may have noticed that a Facebook Live video appears on your page's timeline, in chronological order, as if it was a standard post. The difference from a post is that your Facebook page is displaying a live video and interacting with reactions and comments from fans right then and there.
Since these broadcasts appear as posts, they are also pulled into the Posts -> Facebook Comment Picker section of your Woobox dashboard. This happens right after you start the broadcast (no waiting!). As you refresh the Posts section, all of the newest reactions and comments will be pulled in!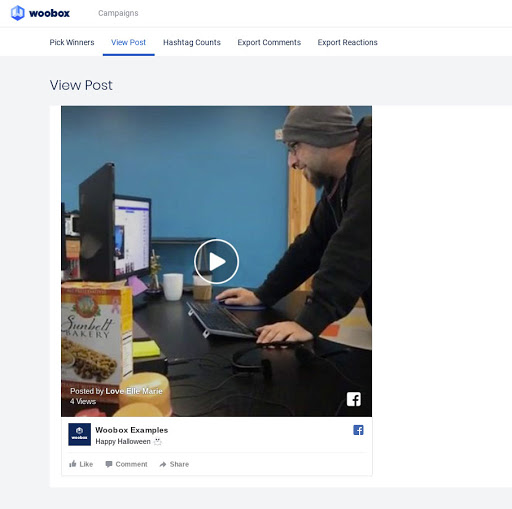 You can use the Pick Winner button to randomly select from reactions, comments, or both and announce that winner during the video. "Alicia, you are the winner! Thanks for your comment!"

Facebook Live is easy to use and your fans love engaging with you in a live environment, so why not get those fans excited at the prospect of hearing their name announced as the winner during your live broadcast?
Have questions or other ideas about using FB Live and Woobox? Drop us a line at support@woobox.com.