Is your message getting lost online? Maintaining brand visibility during an extended shutdown isn't easy. Your audience wants to hear from you, even if they're not ready to buy your products or can't walk into your store.
For top advertisers, this means revising "creative on average once every 10.4 days," according to RJ Talyor, CEO of the predictive marketing AI firm, Pattern89, in AdAge. Yet, tight budgets make it tougher for smaller companies to act on digital marketing ideas quickly.
But that doesn't mean it's impossible. Focus on goals like brand awareness and loyalty. Keep your business fresh and top-of-the-mind by improving virtual experiences using well-designed campaigns and updated digital assets.
What is owned media or digital assets?
Your online presence, from your website to your Facebook page, is owned media. You develop the content and control output. Digital assets encompass your images, videos, and other content used across your channels. Small companies use marketing tactics on platforms like:
Social media business pages
Company website
Loyalty platforms
Email mailing lists
Before the pandemic, many companies relied on foot traffic for sales. Business closures forced owners to upgrade their online offerings. Episerver's 2020 B2B Digital Experience Report finds that "by 2025, 38% of respondents using e-commerce expect their B2B e-commerce websites to be generating more than 60% of their revenues."
But, a hastily thrown together campaign won't generate the same results as one that takes the entire digital experience into account.
Why optimize digital assets and campaigns now?
In short, folks staying home need to find your services online. With an uncertain future, it's vital to find virtual ways to connect with existing customers while engaging potential clients.
Current circumstances are reflected by changes in the buying process and customer perception. New research from McKinsey & Company shows, "63% of buyers who work for SMBs said digital interactions are now more important than traditional interactions with vendors."
Furthermore, Episerver reports that "37% of B2B decision-makers see a brand's social media presence as the biggest online differentiator," followed by:
Digital experience
Self-service options
Content marketing
Community involvement
Any coordinated steps you take to make your customer's digital experiences improve your bottom line.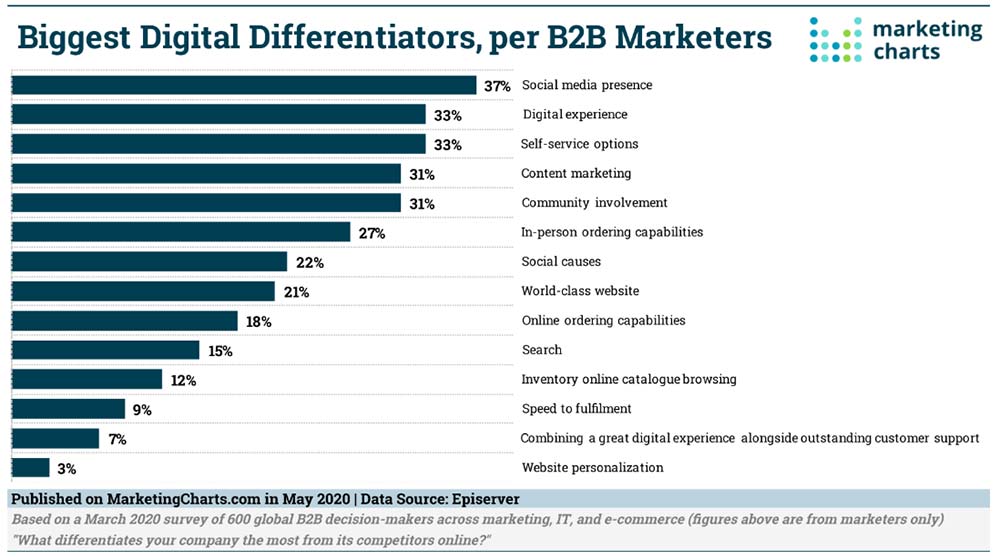 How to Leverage Creative Digital Marketing Ideas
Set your business apart from the crowd with your online campaigns. Think about each of the five differentiators and come up with digital marketing ideas that align with your brand and extend your reach.
Then, update existing assets, like web pages and customer support options. By combining new marketing tactics with updated assets, you're paving the way towards increasing brand awareness.
Tactics to Boost your Social Media Presence
Before the pandemic, you focused on a steady stream of campaigns to get your message out. Your return on investment fueled your actions. Depending on your industry, you may see a drop in sales as people reduce spending. Should you continue to market even if those efforts don't result in conversions?
Absolutely. The key is to spend more time listening and interacting. Put your salesy-type ads or social media posts on pause. Instead, turn to your online community and ask for their help. Differentiate your brand on social media using these digital marketing ideas.
1. Digital Marketing Idea: Reach Out to Fans on Social Media
How well do you know those who follow you on Facebook or Instagram? Take a few minutes to go through your list of followers. In most cases, these are regular folks who follow your brand, not big social media influencers. And that's okay! Consumers want referrals from their peers, both locally and globally. Start by:
Taking note of any public posts about social topics or lifestyle changes and concerns
Marking down your top fans who engage, share, and comment on your posts
Next, consider what campaigns or social posts are most shareable (and why someone would want to share it). For example, a wellness post that helps your target audience stay safe or a message about how or when you'll reopen your doors may generate interest from those who share public messages but rarely promote advertisements.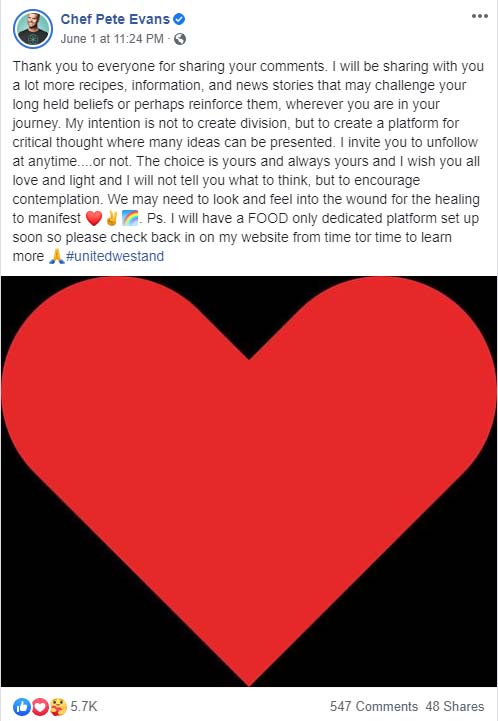 Remember to send a personalized message to new followers along with those who consistently support your brand by liking, sharing, or commenting on your posts.
2. Digital Marketing Idea: Promote Non-Competing Business Content
Are other companies in your area offering great tips or information about what they're doing during the shutdown? Share their business posts on your page and add a supportive statement, like, "We love how our neighbors are keeping our local community members updated."
You can reach out to these companies or simply wait. Usually, goodwill spreads. So, when these businesses see you sharing your content, they're more likely to do the same in return.
3. Digital Marketing Idea: Partner With Other Businesses for Giveaways
Whether you stay local or partner with small global companies, hosting a giveaway with others is a great way to increase brand awareness. For this to work, all parties must bring something to the table.
Perhaps you have a huge Facebook following but are lacking when it comes to Instagram. Look for brands with the opposite problem. Create a giveaway that showcases both companies with a combined prize.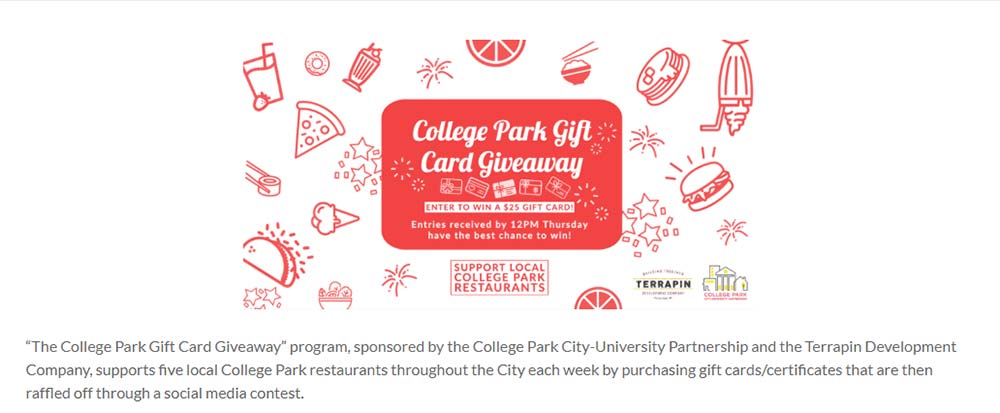 Ways to Improve the Digital Experience
With plenty of social distancing going on, maintaining and upgrading your digital experience takes priority over perfecting those in-store promotions. The digital experience is any interaction your audience has with your brand online. Examples include:
Asking a question and receiving a response on social media
Finding information to about shipping on your website
Opening your email and finding relevant content
This is a great time to follow the customer journey yourself. Think about what questions your audience has about your product or services. Move through various digital touchpoints and see if there's any friction that lessens your online journey. Use these digital marketing ideas to enhance the user experience across all channels.
4. Digital Marketing Idea: Share Interactive Content
Interactive content continues to win big on social channels and websites. Of course, it was popular before the pandemic. But, with more people online, they increasingly want content that offers a distraction from what's going on in the world. Aim for entertaining content that speaks to your target audience. Try adding:
Polls. Ask fans to pick their favorite photo or choose a vacation destination. A poll is an easy way to start a conversation on your social media page.
Instant wins. With an instant win game, there's no waiting. Encourage fans to come back for another chance tomorrow and the next day!
Contest galleries. A photo or video contest gives you the option of using a gallery. Your audience enjoys scrolling through user-generated content and voting for a winner.
For example, when you use a digital marketing idea like a contest gallery, the folks who enter your contests ask friends to view and vote. They share your contest link on their personal page. This provides extra brand visibility and encourages engagement on social media.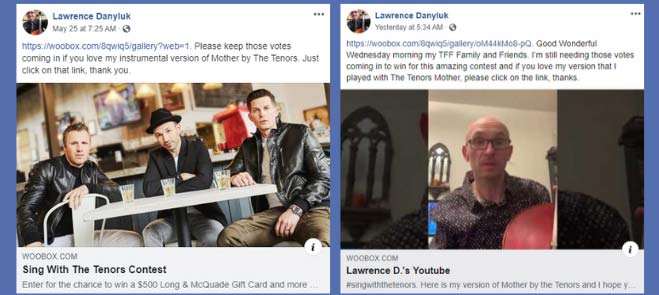 5. Digital Marketing Idea: Offer Low Barrier to Entry Contests
People are experiencing burnout and mental exhaustion. Some giveaways require fans to upload a photo, tag a friend, and sign-up via a landing page. That idea works great when narrowing your scope to users who are ready to buy. But, when you reduce the number of instructions in a brand awareness campaign, you can reach more people.
With a hashtag contest or comment entry contest, your audience doesn't have to follow many steps. It's a great way to invite all users to share images and thoughts without jumping through hoops. Use the Instagram, YouTube, or Facebook comment picker to choose winners easily.
Support Customers With Self-Service Options
Even if your audience isn't buying right now, there's a good chance they're dreaming about future purchases or doing further research. Zendesk reports, "Visits to self-service resources like online help centers or FAQ pages have risen almost 65% since late February, with the biggest jumps for remote work and learning (376%), gaming (110%), and fitness (101%) companies."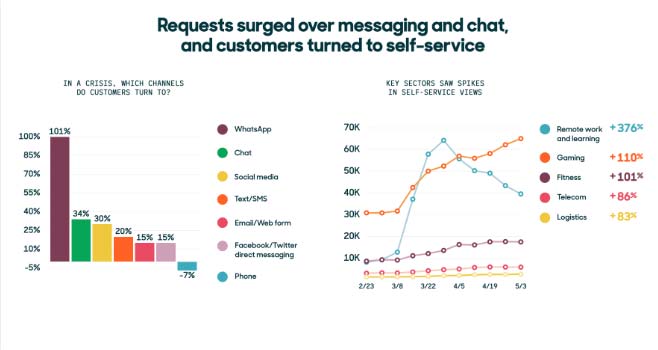 Self-service options such as website support channels and product review videos on YouTube are great ways to support your audience and keep your brand at the front of their minds.
6. Digital Marketing Idea: Share Product Picker Quizzes
Several big brands like Neutrogena and Avon use a quiz to help potential customers find the right skin product for their needs. Quizzes are a fun way to guide customers who are ready to buy. But, quizzes also work well for brand awareness because your fans love sharing results with friends.
Guide your followers by developing a quiz that helps them solve a problem. In the quiz example below, YubiKeys offers a quiz and a product comparison chart. These two options support product research and enable marketers to personalize product recommendations.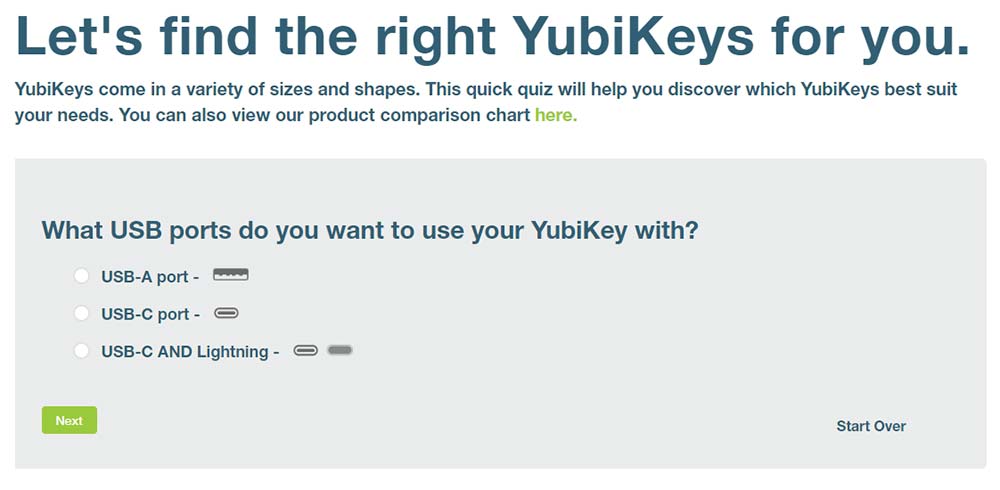 7. Digital Marketing Idea: Provide Live Chat Options
Live chat does double duty. It reduces strain on your customer service teams while improving the customer experience. You can offer live chat on your website and social media channels, like Facebook.
Offering live chat extends your brand visibility by giving you essential marketing insights. You'll find out what questions your audience has about your product or service. This helps you tailor social media campaigns and website support pages with purpose.
Strengthen Campaigns with Content Marketing
Content marketing extends to almost any asset with words. Emails, landing pages, social content, and blog posts are all forms of content marketing. Get the most out of your ongoing campaigns using various types of content marketing to promote campaigns and distribute information about your business during the shutdown.
8. Digital Marketing Idea: Extend Campaign Reach With Content Marketing
Put in place a promotional and distribution strategy to reach your brand awareness goals. For instance, let's say you want to highlight your new online buying options using a coupon. Leverage content marketing by:
Developing a landing page for your coupon
Creating emails for existing and potential customers
Adding a popup to your website with coupon information
Putting posts on social media and asking fans to share
In the example below, Traeger adds links to each of their products featured as prizes. This gives users more ways to interact with your brand and get excited about your prizes.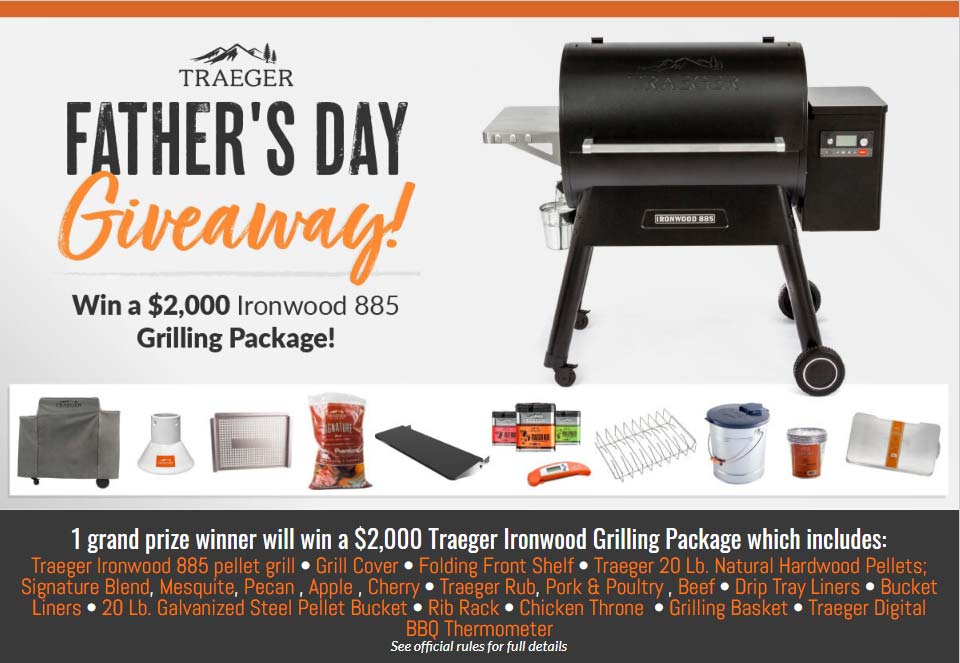 Increase Community Involvement
Incredible stories are coming out about ways community members bond together to support local businesses (and each other) during these changing times. From hosting virtual wine tours to getting folks involved in your Facebook group, brands that increase community involvement achieve greater brand visibility.
9. Digital Marketing Idea: Use UGC Contests
User-generated content (UGC) contests boost brand visibility and increase engagement. UGC contests drive results because people want to share their photos. When you use UGC to support new campaigns, you give fans more reasons to trust your products.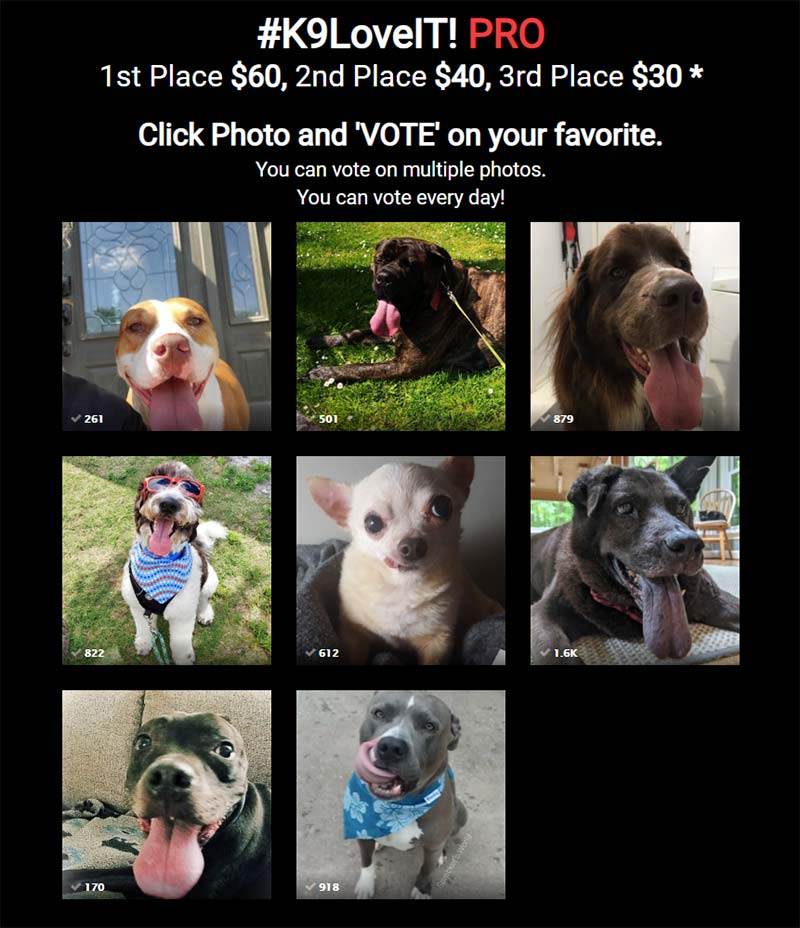 10. Digital Marketing Idea: Stay Involved With Real-Time Interaction
Nothing beats real-time engagement. So if you want to increase brand visibility, then make sure you get on Facebook or Instagram. Reply to comments, ask questions, and tag readers in your follow-up posts. By providing a community feel within each post comment section, you're pleasing algorithms and people.
Use Creative Digital Marketing Ideas to Boost Brand Visibility
Don't let your brand fall behind while your storefront is closed. Instead, focus on consistently increasing brand visibility by perfecting your digital marketing ideas. Use your strategy to improve the digital experience on social media, your website, and within your community.
Need Help Designing Your Digital Marketing Campaign?
Discover fun digital marketing ideas using giveaways, contests, and polls. Our team at Woobox helps you create unique campaigns. Contact Woobox support from 8 am to 5 pm PST, Monday through Friday at 1-360-450-5200 and support@woobox.com.