As businesses struggle with drops in organic reach and saturated markets, it's getting harder to connect and engage followers on social networks. Plus, coming up with a steady stream of content like social media contest ideas is also challenging.
However, with social advertising spending in the US expected to hit $18.4 billion, companies aren't backing down from digital marketing.
Have you noticed a drop in engagement levels? Perhaps your list of followers is stagnant and you want to boost brand awareness or build your email list?
Whether you want to grow Twitter, Facebook, Instagram or YouTube, it's best to shake up your content calendar with a variety of posts that engage your audience (without alienating them.) A powerful way to increase interaction across social media platforms are well-designed contests; one reason why 96% of event creators and marketers consider social media contests an effective strategy.
Consumers engage more with brands who run contests resulting in higher post impressions. Including contests in your strategy can grow your following 70% faster on platforms like Instagram.
If you're stuck for ideas, then reboot your marketing efforts with these innovative social media contest ideas. Tweak each one to reflect your branding and demographics, then share across your social platforms.
Fun and Creative Contest Ideas Using Quizzes
On average a quiz gets shared 1,900 times on social media. That's because consumers appreciate a much-needed distraction. You can educate your audience, help them find the right product, or reinforce their lifestyle choices through thoughtful social media contest ideas.
Quizzes are also a great way to reuse existing content. If you already have an infographic, checklist, or popular blog post, then rework that into a quiz. Tie your contest to books, movies, TV shows, or anything else that complements your brand.v
1. What's Your Book Personality Type?
Cater to your customer base by curating a list of books related to your audience's demographics. Include questions that ask about their taste in genre, time periods, and even day-to-day style. For example, this quiz titled, "What Type Of Book Reflects Your Personality?" asks participants to choose their favorite names for a new kitten.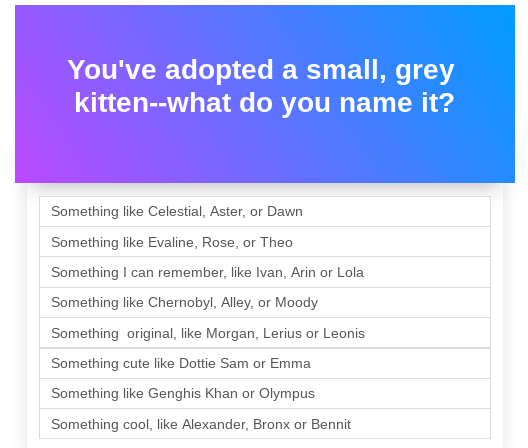 2. Which Product is Best for You?
While you don't want a constant stream of advertising, there's nothing wrong with the occasional social media contest idea that involves your company's products. People often use quizzes like Victoria Secret's Style Finder, to determine their correct size. Lead your followers to their best options and get them excited while doing so.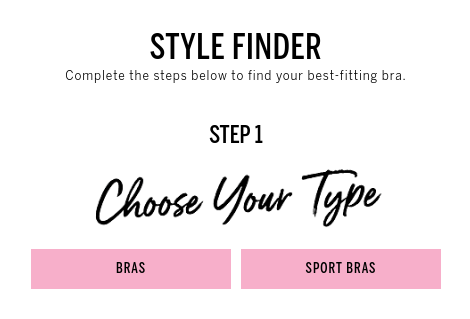 3. How Well Do You Know Your Significant Other?
Quiz or trivia questions that involve others work great because not only does your audience share the results with their followers, but they also request interaction from others to complete the contest. Depending on your demographics, you could switch this up to include friends, children, or co-workers.
4. Can You Finish This Quote?
A quotes quiz is an easy way to dive into your demographics. Choose a fan favorite, and use online resources to develop questions where the quiz takers either finish the quote or pick the show where the line occurs. In this example, users choose the correct ending to quotes from the TV show, Friends.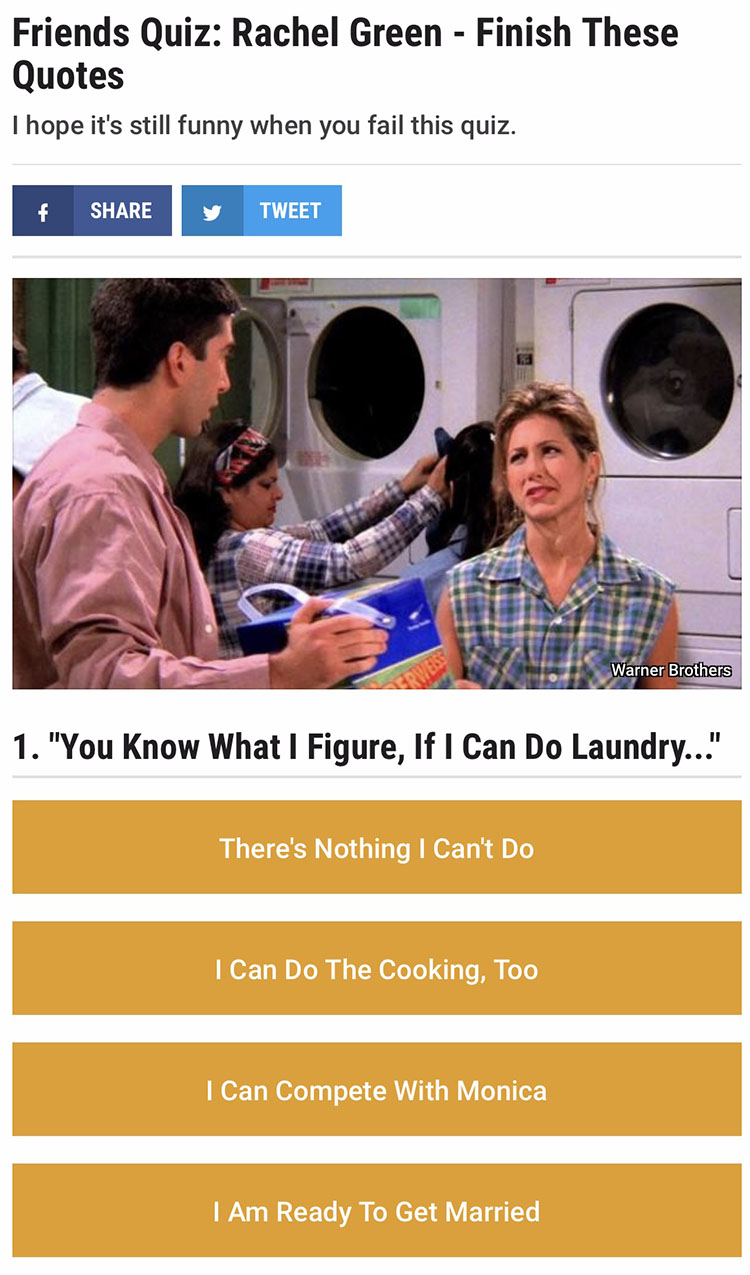 5. What Does Your Favorite Movie Say About Your Personality?
Capture the attention of your followers by associating a popular movie with their life or personality. What does their favorite movie say about their sleep habits, zodiac sign, or relationship? For example, Disney takes a family-friendly approach with their quiz, "What Your Favorite Childhood Disney Movie Says About You."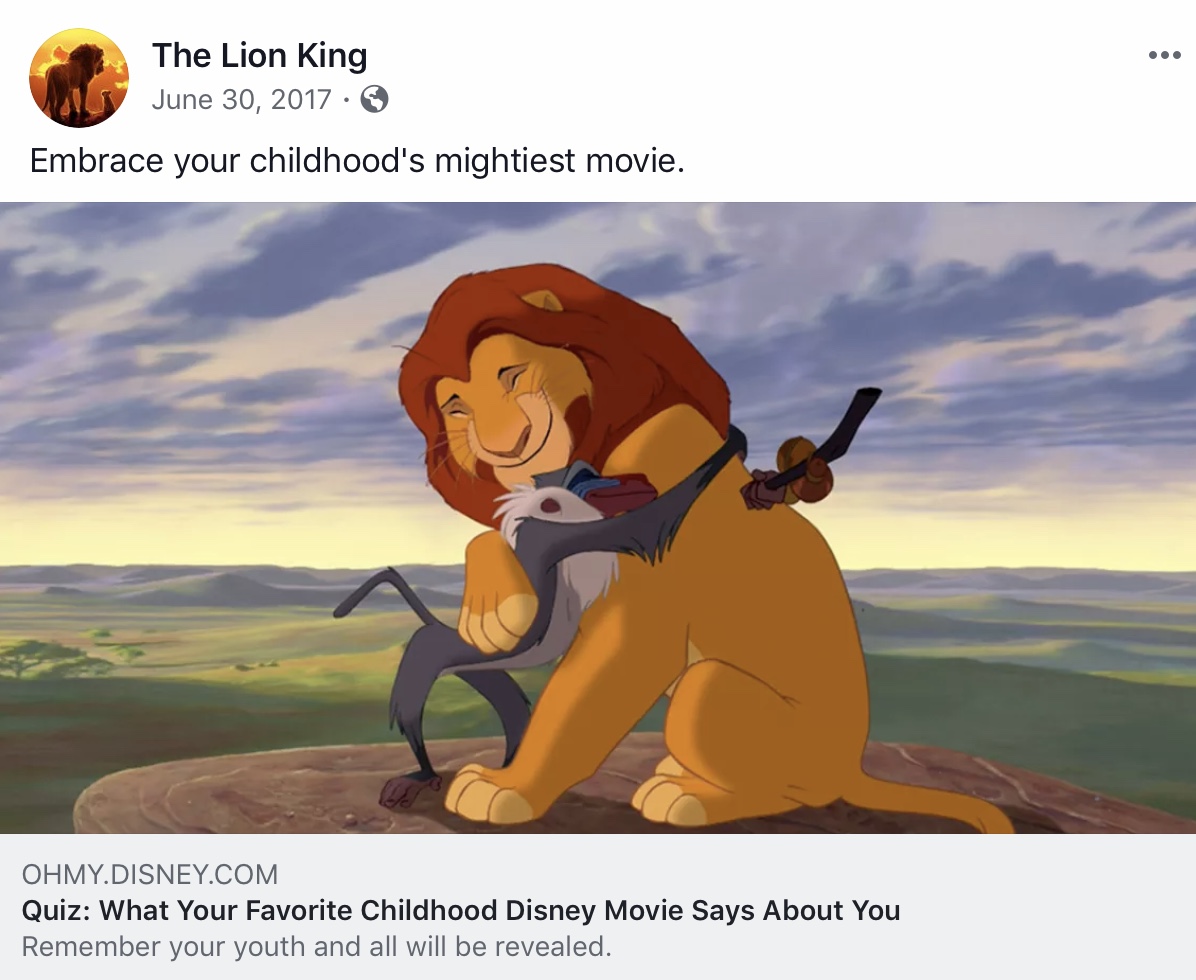 6. Create a Quiz Around a Positive Trending Subject
Use a social media contest idea that connects to a trending topic. If it's National Donut Day, and you sell donuts, then include that hashtag in your social posts and offer a quiz to help your followers figure out if they should get custard or a jelly-filled donut. Avoid embarrassing moments by researching your hashtags before use.
7. How Many of These Foods Have You Tried?
A food quiz is a familiar favorite that never gets old. Pick a food, then ask your followers to comment with their score and share the post. BuzzFeed shares quite a few posts like this one called, "How many of these cheeses have you tried?"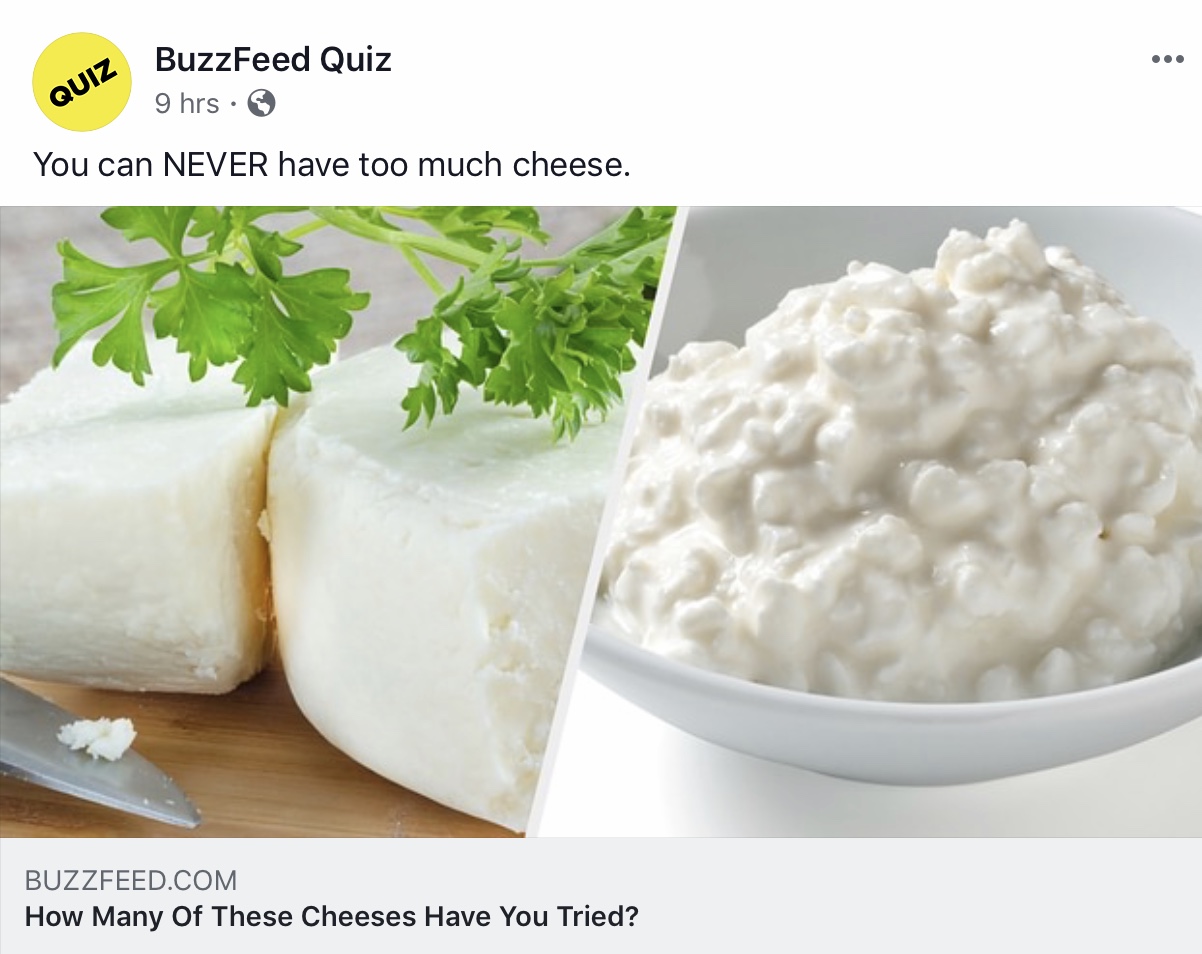 8. Focus Your Quiz on a Life Decision
People enjoy taking quizzes that relate to important life questions. Plus, they like sharing the comical or truthful results. Possible quiz titles include, Where should you go on vacation? Should you save that $500 or spend it on a trip? Is marriage in your future?
Engaging Contest Ideas Using Giveaways
Even with a small budget, you can give away items that have a high perceived value. This is an excellent area to share event tickets, free products, or even to partner with a like-minded business for bundled prizes. However, it's not only about the gift. Sweepstakes offer excitement and mystery with just a couple of clicks.
9. Create a Seasonal Countdown Contest
Whether you want to help your customers beat the summer blues or celebrate the upcoming holidays, a contest that spans a limited period entices people to join in on the fun. For example, Orvis created a contest called the "Dog Days of Summer Giveaway."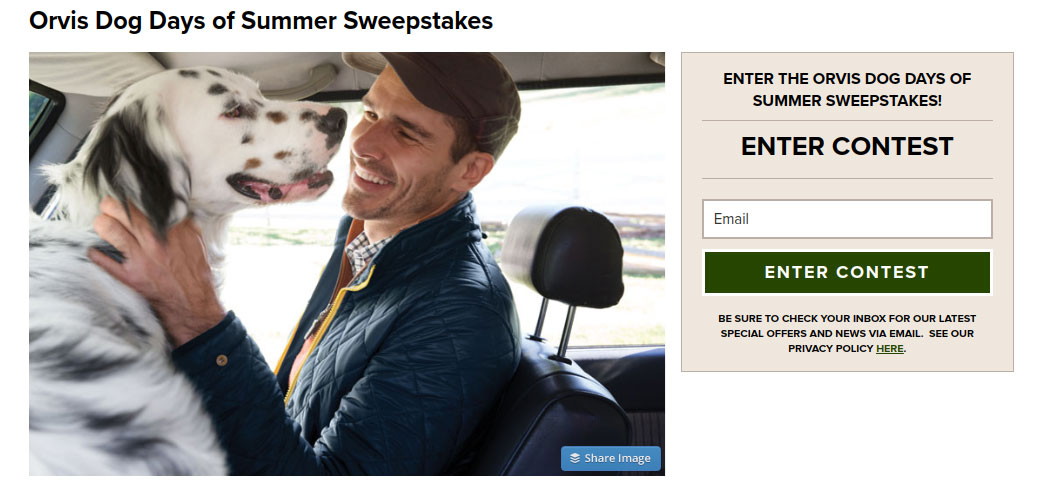 10. Create a Facebook Live Giveaway or Sweepstakes
With 84% of Social Media shares of quizzes coming from Facebook, yet with a drop in organic shares from the newsfeed, more marketers utilize Facebook Live. Turn any social media contest idea into a Facebook Live giveaway or sweepstakes to increase participation.
11. Plan a Monthly or Weekly Giveaway
People like what is familiar and consistent. If your following isn't massive, yet you want to boost engagement, then introduce a monthly or weekly giveaway. For example, this Instagram campaign by OKAY Pure Naturals garners hundreds of clicks each week by encouraging followers to enter their weekly contest.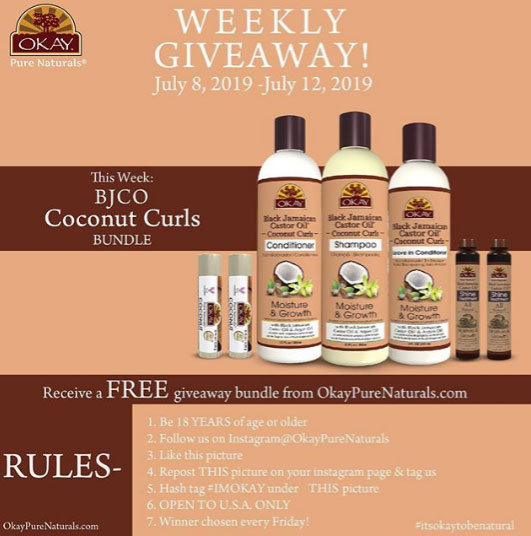 12. Back to School Total Backpack Giveaway
Tie your promotion to an event that your demographics face with trepidation. A social media contest idea that saves people time while giving them a prize is priceless. Plus, you can appeal to those who waited to the last minute by offering a similar promotion just before the school season starts.
13. Create a Successive Sweepstakes
Devise a consecutive giveaway contest where followers can enter daily for a set length of time. Give out small prizes then hold a grand prize event. Boost excitement levels by ending your giveaway with a live event on Facebook or Instagram. For example, Riders Only gives away $30 each day of their seven-day contest.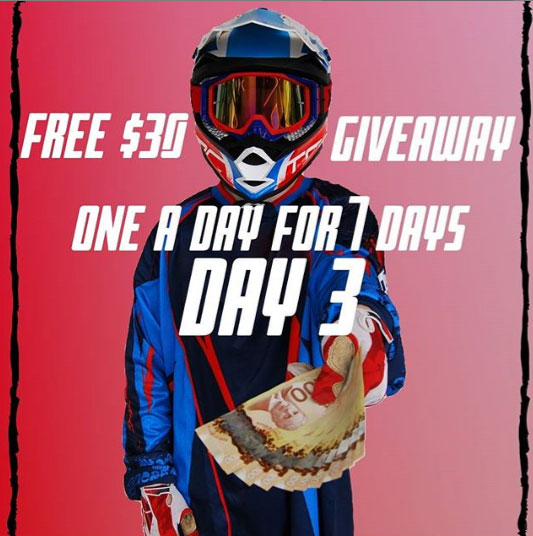 14. Share a Cause-Driven Giveaway
People are motivated by purpose, which is why we see so many personal accounts on Facebook choosing a charity for birthday donations. Generate good karma and goodwill from your followers by giving away supplies or funds to a charity that your audience supports.
15. Design an Instagram Story
With an Instagram story, you're not limited to one post or one landing page. You get to tell an in-depth story. Consider including a testimonial from a previous winner along with exciting details about the prize. For example, the story about HGTV's Dream Home Giveaway allows the user to take a tour of the house.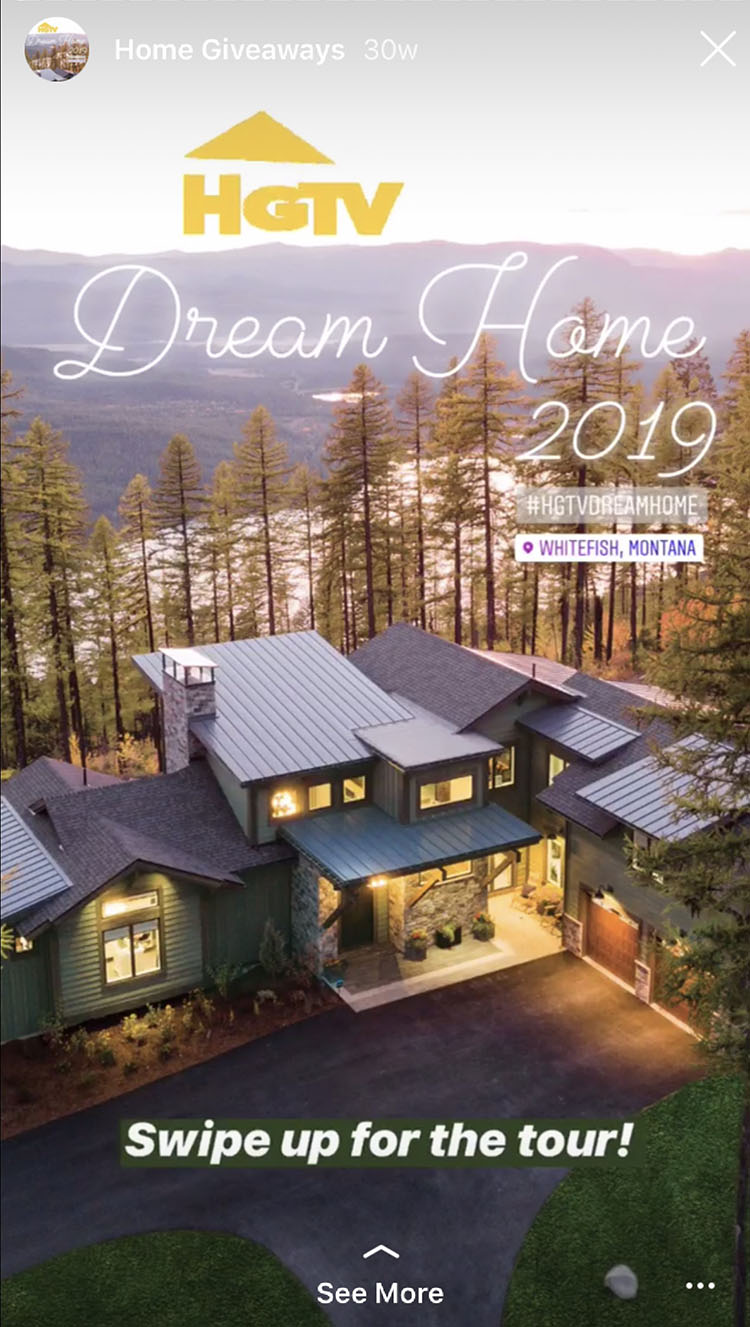 16. Plan an Instant Prizes Sweepstakes
The chance to win anything instantly encourages followers to share, and the limited time frame increases the chances that they'll take action now. Social media contest ideas that provide instant gratification are big winners for brands and followers. For example, Doritos partnered with Marvel to create a massive giveaway with a couple of different trips along with hundreds of daily instant giveaways.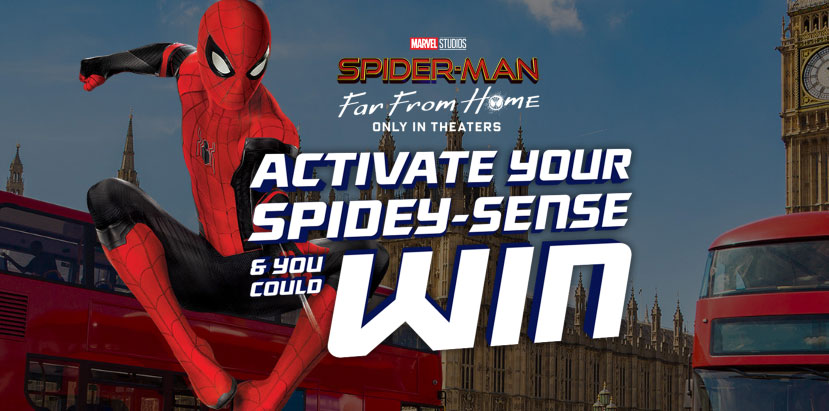 Interactive Contest Ideas Using Polls
Static content bores consumers. Whereas audio, visual, and experience-based social media contests inspire action. Plus, interactive content generates 2x more conversions than passive content. Use a variety of interactive social media contest ideas to boost brand awareness and get your followers clicking on your content.
17. Ask Your Followers What They Want
Not only will you engage your audience, but you'll also gather customer feedback that can help direct your marketing strategy. For example, for the Black Women's Expo, they reached out to their Instagram followers for recommendations on what to include at their next event.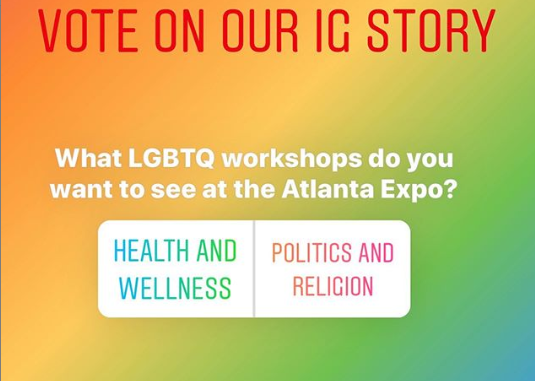 18. Use a "Would You Rather" Poll
People enjoy making choices that don't affect their real life. For example, you could ask, Would you rather camp in a tent or an RV? Would you rather eat pizza every day of your life or tacos? Increase interaction by telling your followers to enter their answer in a text field if neither poll selection appeals to them.
19. Keep it Simple With a Yes or No Vote
Polls don't have to be complicated. If you make it simple, then more people will engage. Yes or no posts fill blank spots on your editorial calendar with minimal effort. For example, GTM Builders asks their followers to vote yes or no on their image of painted cabinets.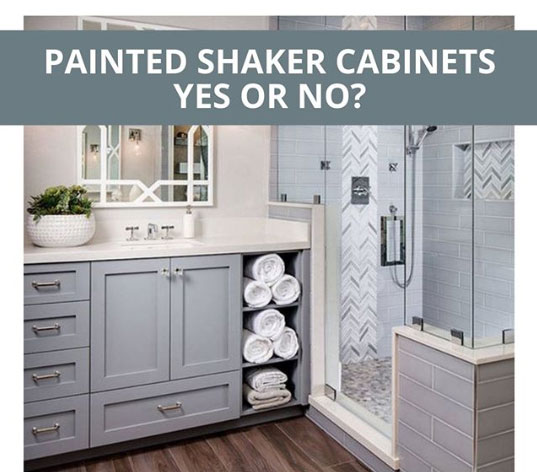 20. Choose Your Favorite Poll
This social media contest idea is a quick way to increase your social reach. Give a choice of two or four photos and ask which one is your audience's favorite. In this example, Red Lobster asks their Facebook followers to vote on their favorite Crab Fest dish.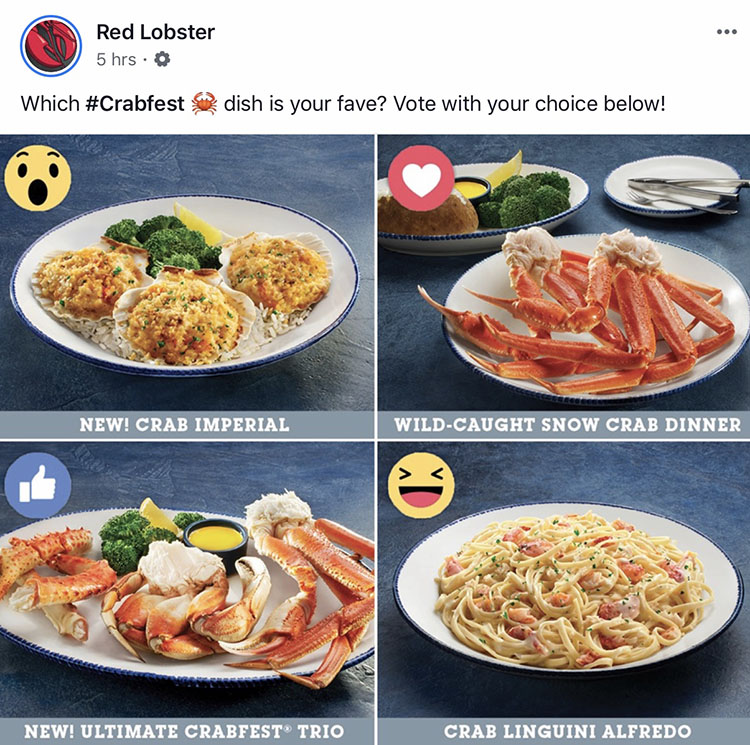 21. Pick the Best Caption or Slogan
Asking your followers to vote on their favorite slogan or photo caption is a fun way to get your audience involved. Use these contests to showcase funny moments at your company or to share ever-popular pet photos. Plus, you'll benefit from customer feedback.
Core Contest Ideas Using Coupons
Digital coupons offer a convenient way for customers to get access to exclusive discounts and deals and require minimal investment from companies. With recent data suggesting that 92% of consumers always look for a deal, you can entice your audience with coupons throughout the year.
22. Share an Exclusive Promo for Referrals
Create a refer-a-friend promotion that provides a unique discount for customers who share your contest details with a friend. Tie the coupon to a specific action, like subscribing to your email list or purchasing your service. In this example, Royal Cable gives away a free month of service for each referral.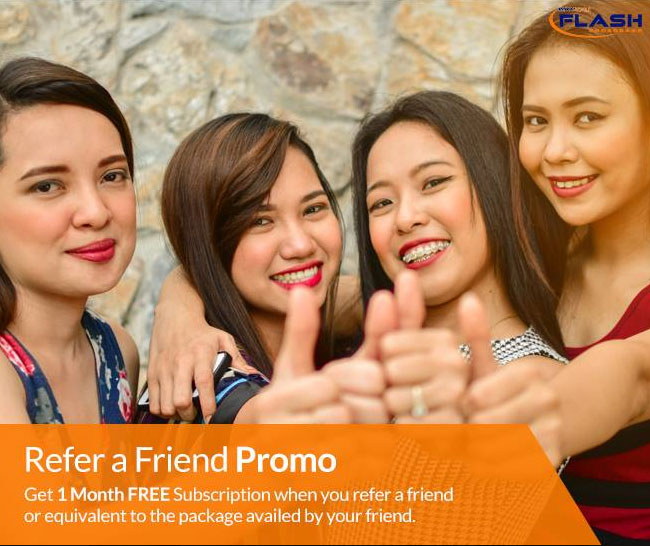 23. Give a Birthday or Holiday Freebie
Leverage social media to publicly give gifts to followers on their birthday or during the holidays. This social media contest idea helps you collect email addresses and target active users. Sharing a low-value coupon, like a free drink, during a birthday month, promotes customer loyalty.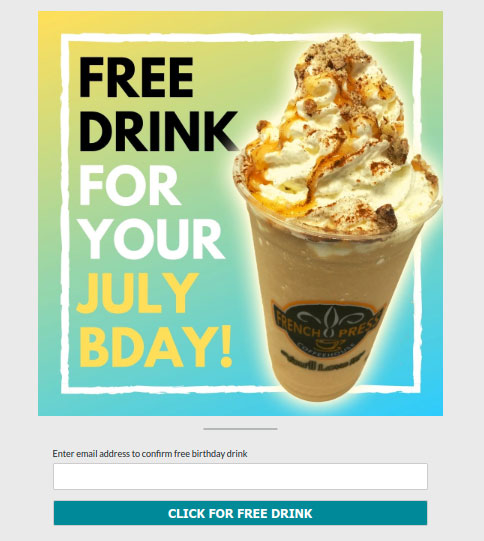 Personal Contest Ideas ft. User-Generated Content (UGC)
It's a selfie nation, and people love to share their private photos of their pets, workplaces, and plenty of food images. Social media contest ideas that incorporate user-generated content provide you with more than a boost in engagement. As long as you put a disclaimer in your rules, then you can share user-generated content across platforms as social proof.
24. Best Of Contest
Encourage your audience to share pictures that show the best of something integral to your brand. Perhaps you ask for their favorite summer vacation photo or ask that participants hold your product in the image. For example, Better Homes and Gardens uses a simple design to request their social following share their best front yard pictures.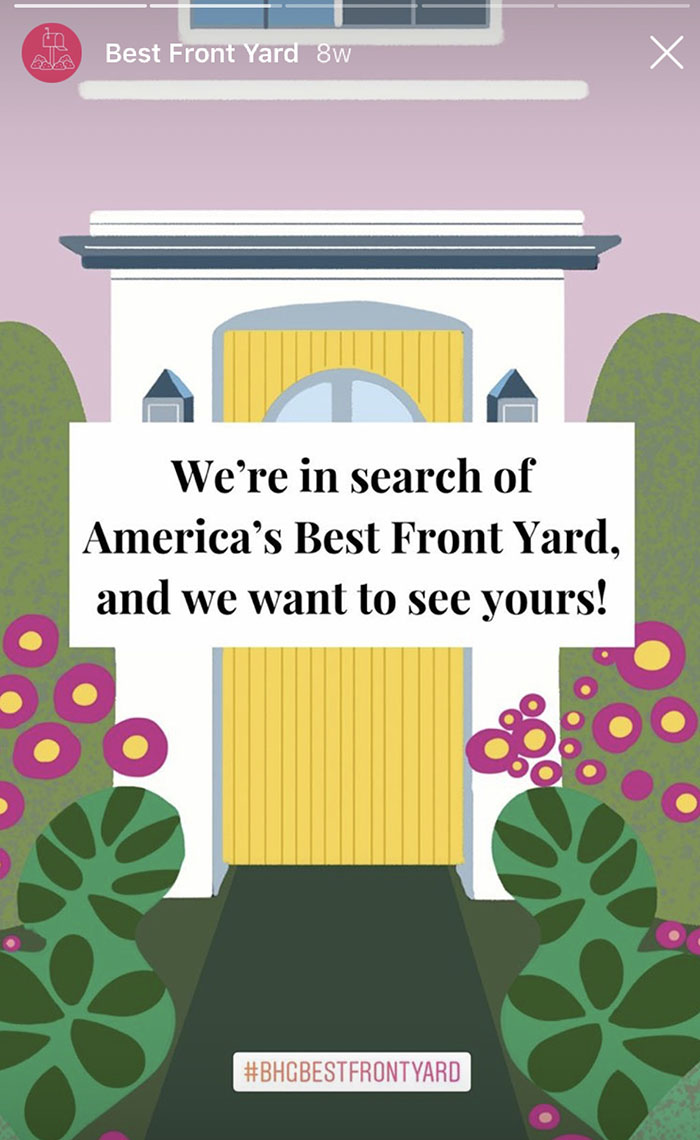 25. Create a Video-Based Contest With YouTube
Video content reigns with 45% of people watching more than an hour of Facebook or YouTube videos a week. Incorporate a Woobox campaign with YouTube to generate share-worthy content. In the following example, users are asked to create a two-minute video.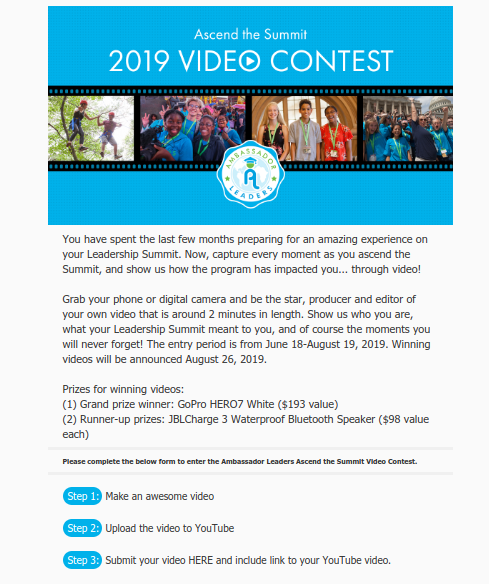 26. Give Your Tips for a Prize
People relish sharing their opinion and telling others how they handled a tricky task. Use this to your benefit by asking your followers to share their best tips on a brand-related topic. For example, Goodwill of New York and New Jersey uses an Instagram post to increase followers and boost engagement levels.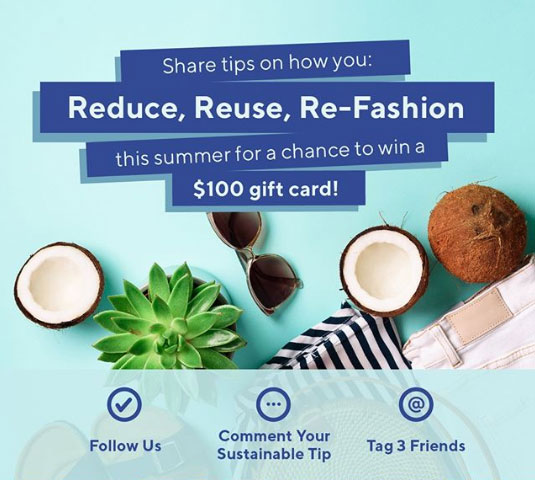 27. Share a Work Selfie Contest
Why stop with just one interaction if you can get the whole office involved? Provide prizes for teams to expand brand awareness and generate brand loyalty. The SMP Shop Team Selfie challenge, complete with a branded hashtag, is an attention-getter.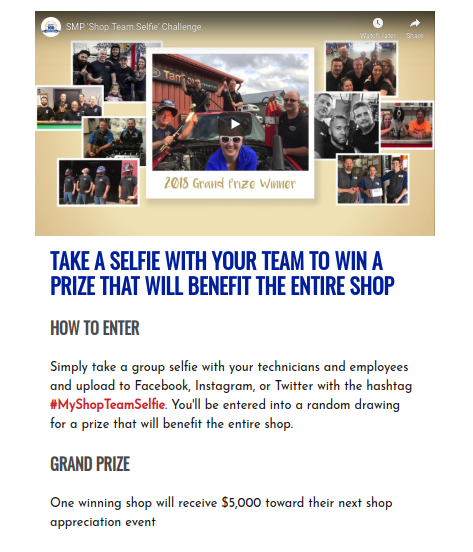 A Last Few Thoughts
With reports of declining social media engagement across platforms, it's essential to find ways to connect and interact with your audience. Social media contests can be long or short, span hours or weeks, and be one click or require more details, like an email address.
However, one thing is certain — social media competitions deliver a high return.
Use these social media contest ideas to turn your social platforms into an engaged arena while developing customer insight and generating leads. There are many ways to invite followers into your brand, products, and world. With Woobox, you can cross-promote and create a variety of social media contests with ease.
Contacting Woobox Support
Our support team is available to help you get started from 9 am to 5 pm PST, Monday through Friday at 1-360-450-5200 or support@woobox.com.