Get creative with giveaways to increase engagement, likes, and customer interest on Facebook.
Many businesses see their slowness during the summer months when people start taking vacations or working shortened hours to spend more time with their families.
This can make it steadily more challenging to get customer attention and avoid a sales dip in June, July, and August. One tactic that has worked for some brands is holding giveaways on Facebook. There are several options available for running and promoting a giveaway on the world's biggest social media platform.
Below we'll cover Facebook's unique benefits, as well as tips and ideas on how to make your giveaway appealing and what to offer your target audience.
The Unique Benefits of Facebook Giveaways
There are several benefits to running a giveaway on Facebook. These include:
Likely getting the most exposure, since 68 percent of all U.S. adults use Facebook. This means your target audience is likely on the platform.
Easy integration through API using a tool like Woobox.
Because they're familiar with Facebook, most users know how to interact with call-to-action buttons for giveaways.
Restricting entry using Facebook profile information, cuts down on fake/unwanted entries.
Great way to grow engagement with posts promoting the giveaway– comments, shares, and likes.
Good opportunity to grow organic Facebook likes.
Even though you're giving something away for free, it's still important to have as little conversion friction as possible when it comes to compelling users to fill out a form. Running a giveaway through Facebook allows users to enter to win through a familiar, trusted platform that they are already using. You are capturing their attention through a site they are already on (so you don't have to rely on enough entrants finding your website on their own).
Additionally, even though you can't require users to like your page on Facebook to enter the giveaway (per Facebook's Terms of Service), they will likely be more compelled to like it if they know your business uses Facebook to give away prizes.
Ways to Create Facebook Giveaways That Stand Out
Giveaways already stand out from the standard post on Facebook, but there's plenty of competition for online attention, so make certain your giveaway is more appealing to enter than others.
Start by doing a bit of competitor research, if you haven't recently, by using Facebook's own search to look for posts from competitors about giveaways or contests. This will show what your competition has done, the audience response, and may give you inspiration for what types of prize packages you should put together for future giveaways.
Avoid completely copying your competitors contests and giveaways; you'll see more short and long term success by standing out and not looking like you're doing the same thing everyone else is doing. Mix up your visuals to fit your brand, think up clever or fun messaging, and consider ways to integrate your giveaway with various promotion types.
Holiday Giveaway Ideas
Capitalizing on holidays is always a great option. There are several holidays or important days of the year during the summer that can be used to celebrate with a Facebook giveaway, such as 4th of July in the U.S. and the summer solstice. In the below example, a furniture store used Valentine's Day to run a date night giveaway.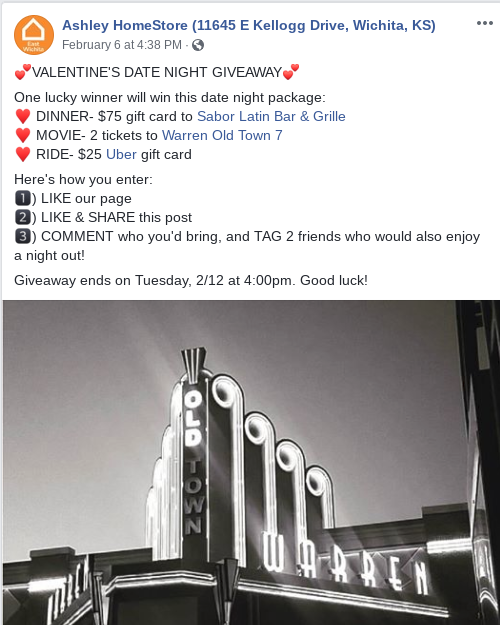 For this type of giveaway, you can use Woobox's "Pick a Winner" feature, which will randomly choose a winner for you on Facebook (and/or Instagram) from those who have liked or commented on the post.
You can also embed a Woobox entry form into a custom tab on Facebook (and it's as easy as a few clicks)! In another Valentine's-themed giveaway, this law firm is giving away a custom Yeti tumbler. This promotional post directs users to the tab to enter.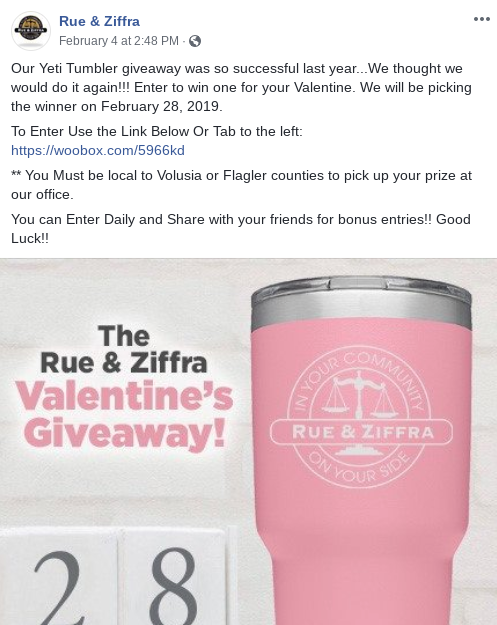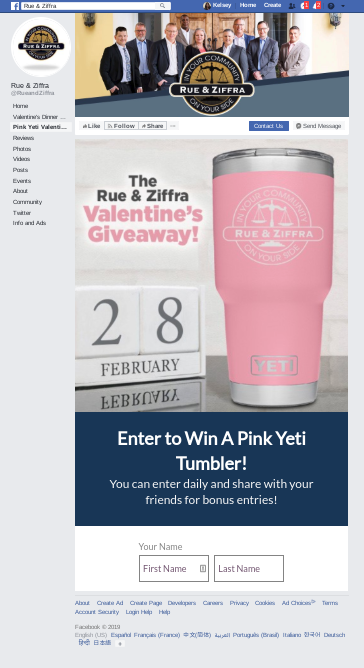 Company Celebrations
If you don't want to use a holiday theme, you can also choose to celebrate a specific milestone for your company or an employee. If your company got started in the summer, celebrating your anniversary of another year in business would be a great way to mark how long you've been established. For a small business, celebrating employee birthdays with a giveaway would also be a fun touch and let users get to know your employees (you don't have to share exact dates or full names for privacy).
Local Events
If your business is involved in any local events, like a 5k or fundraiser, think about how a giveaway could be promoted in tandem with the event. If you'll have a booth, consider setting up a tablet to let users enter the contest directly on Facebook. You could ask visitors to use their own phones to register to win (so they don't have to sign into their Facebook account from your device).
Prize Ideas for Your Facebook Giveaways
There are a wide variety of options when it comes to deciding what your giveaway prize should be. High-quality branded items, such as handheld fans, coolers, or beach towels, could be a great way to get some brand exposure and also provide a fun summer-themed prize.
Seasonal Items
Besides branded items, think about other seasonal items that would be appealing to customers in your local area or target demographic. For instance, a beach umbrella likely isn't as useful to customers who aren't near a beach as it would be if you are located in Orange County, California. Try to choose seasonal items that can be put to use right away. If you want to send a custom Yeti cooler, but it will take 8 weeks to arrive, it will likely cause frustration and loss of interest on behalf of the winner.
What Makes Summer More Fun?
Besides things that can be used around the house, some of the best giveaways include experiences. Many people think of going on vacation during the summer, so perhaps a vacation prize package (even if it's just a staycation or weekend getaway to a neighboring city) will likely get a lot more interest in the summer than it would in the winter, when it may be difficult to travel.
Ways to Promote Facebook Contests & Giveaways
Simply adding an entry tab to your Facebook page isn't enough to get a good amount of entries to your giveaway. There are a few strategies that should be implemented once the content is launched. These include:
Facebook Posts: Like the law firm example above, create some organic posts on Facebook about the giveaway and direct users to enter via your custom Facebook tab or at the Woobox contest URL. If your employees are active in any Facebook groups, write a post to promote the giveaway there as well, if it's allowed.
Email Marketing: If you have an email list, send out an email blast about the giveaway. Just make sure to send them to the Woobox campaign URL to enter. Users won't like being sent to the main URL of your Facebook page and then have to search for where to enter.
Other Social Media Promotion: If you are also active on other social media platforms, like Twitter, Instagram, or LinkedIn, make sure to share the giveaway regularly on these platforms. Follow the same URL protocols as recommended for email marketing.
Blog Promotion: Write a blog post about the giveaway. Embed the entry form (if possible) directly into the blog post or send users to the giveaway link. A blog post could also include more information about the prizes and the official rules for entering.
Website Feature: If you have featured areas on your website, consider a box promoting the giveaway that links to the giveaway URL or the blog post about the giveaway.
In-Store or Event Mentions: If you have a store location or are participating in an event as mentioned previously, hand out flyers or ask customers in person if they'd like to sign up. Mention the giveaway and try to get them to enter on the spot so they don't forget.
Email Signatures: If your company's email signatures can be easily changed, consider adding a call-to-action to employee email signatures to enter the giveaway. That way, everyone employees are emailing with can enter to win (but make sure eligibility is clearly stated, e.g. employees aren't able to win).
Word of Mouth: Ask your employees and customers to tell others about the giveaway so their friends and families can enter as well.
For areas of your marketing that can be pushed out more than once (like social media or email), come up with a specific promotional strategy that promotes the giveaway a few times as it's running. Make sure not to mention it too much (or else users will begin to ignore it), but two or three times throughout the length of the giveaway is a good reminder.
Running giveaways on Facebook doesn't have to be hard or daunting. All it takes is finding a creative prize to giveaway, coming up with the giveaway parameters, and setting it up on Facebook. Take advantage of customers' slower time at work or at home to capture their attention with a fun and summer-themed prize package. You might find that you'll get more overall Facebook post engagement, more likes, and happy customers that enjoy the chance at winning something that lets them enjoy some of the best months of the year!
If you have any questions or need help setting up your first giveaway campaign, feel free to contact the Woobox Support staff from 8 am to 5 pm PST, Mon-Fri at 1-360-450-5200 or support@woobox.com.