Social proof, like testimonials or reviews, plays a massive role in the customer journey. And robust customer review strategies provide a steady stream of fresh content. Yet, many brands saw a huge drop in new reviews over the last few months. Chatmeter reports, "On average, brick-and-mortar locations saw a 72.9% drop in review volume between February and April of this year."
Although the decline is mainly from Google disabling reviews between March 20th and April 10th, May volume remained "half the average monthly count pre-pandemic." Moreover, brands dropped "an average of .27 stars in overall star rating."
Consumers depend on reviews and ratings to make buying decisions, so a lack of social proof erodes trust. Is it time to reboot your review collection efforts? Use these tactics to jump-start your online review strategy.
Why Online Review Management Improves Outcomes
From reviews on Google to testimonials on Facebook, opinions from other people fuel purchase decisions. Your clients may learn about your business from a web search that puts Google reviews at the top. Or they'll add a product to their shopping cart after reading user comments.
However, a robust customer review strategy also drives brand perception. It gives you control over the narrative. Your approach shows consumers that you value their business, which boosts loyalty. After all, your clients appreciate when their voices are heard. A solid blueprint results in a fantastic cycle of lead generation, conversion, and brand ambassadorship.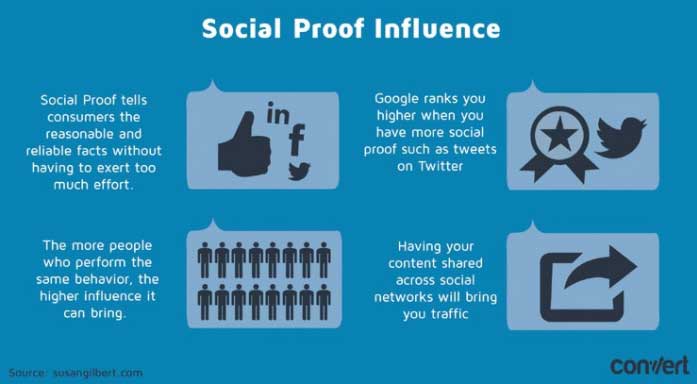 Benefits of Customer Review Collection
When you combine a customer contact strategy that lays out post-purchase communication and an online review management program, you create a cohesive approach that rewards your company. And it's not only about collecting reviews. Your response matters too.
According to Google, "Consumers find businesses that respond to reviews are 1.7 times more trustworthy than those who don't." Top advantages of user-generated reviews include:
Improves local SEO
Protects and enhances brand reputation
Heightens brand awareness
Provides free advertising on review websites
Gives extra insights into customer personas and products
Social Proof and Your Customer Review Strategy
There are tons of third-party review sites, like Capterra, for software or Yelp for restaurants. Each type of social proof has a place in your customer review strategy. Just like a great marketing mix, diverse review tactics satisfy shoppers and build your online presence.
Google My Business (GMB) reviews and ratings. Your Google business listing pops up during many transaction-based searches. Google reviews boost your search engine visibility and impact your ranking. Make it easy for customers to leave a review by sending shoppers a link to your Google review page.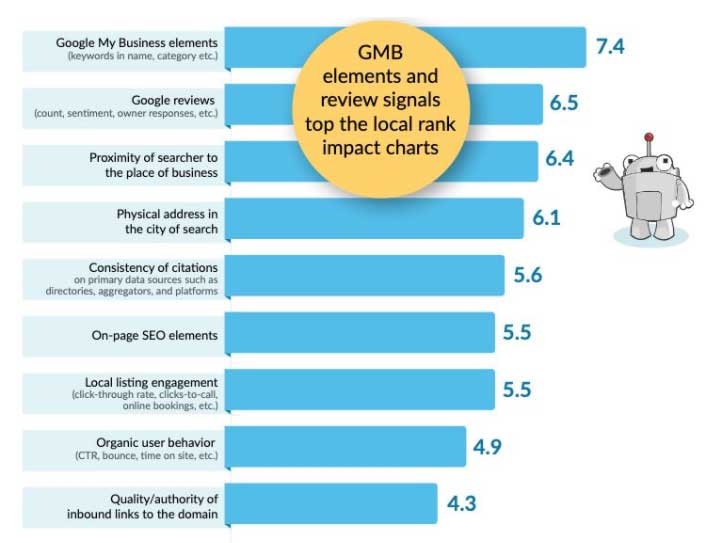 Product reviews. Customer reviews often share details about sizing or shipping, which answer shoppers' pressing questions. Display reviews in your product listings by using a plug-in or app that integrates with your website.
Website reviews or testimonials. All companies benefit from displaying social proof on their websites. Quotes from happy clients, video reviews, and other forms of user-generated content (UGC) add an interesting element to nearly every page of your website.
Case studies. For products with longer sales cycles, case studies help shoppers take the next step. Gather information via interviews, polls, or surveys. Next, develop a cohesive case study that is easy to digest and visually captivating.
Facebook business page reviews. According to Facebook, one in three people use the platform to look for reviews and recommendations. Review collection increases your post visibility, improves your credibility, and puts your brand top of mind.
Tips for Crafting Your Online Review Plan of Action
Your customer review strategies should mirror your brand's vision and mission while supporting marketing and sales goals. Devise a plan that includes best practices. Doing so keeps your customers and shoppers satisfied. It also reduces risks to your brand reputation. For best results, use these tips:
Follow platform-specific guidelines. For example, you can't ask people to write a Yelp review. And you can't incentivize Google reviews with money or a reward.
Define your online response strategy. Take a consistent approach to post-purchase communications by creating a framework for responding to reviews online.
Respond to online reviews. Anyone who talks about your brand deserves a response—set standards for timely replies and use tools for social listening.
Collect reviews and UGC on a variety of platforms. Use of a mix of channels to solicit and display social proof. At a minimum, your review strategy should include customer shares on social media, review sites, and your website.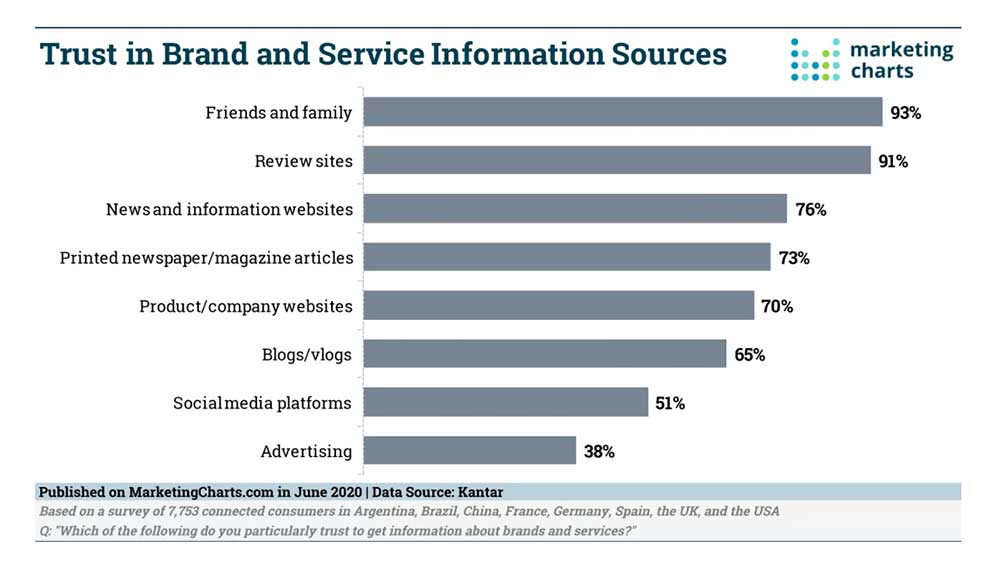 7 Ways to Get Online Reviews for Your Business
What's stopping you from requesting reviews or testimonials? When you show genuine interest and request feedback, many customers happily oblige. In fact, a BrightLocal survey finds, "76% of those who are asked to leave reviews go on to do so, up from 70% last year." So, don't be afraid to ask fans to share their stories. Instead, make it a seamless part of their customer journey. Use these tactics to ask customers for reviews and increase your review volume.
1. Add a Custom Form Field on Your Giveaway Entry Landing Page
Are you hosting an exclusive customer-only giveaway? With Woobox, you can create a custom form with a spot for a testimonial. When your customer enters your contest or giveaway, they'll have the option to leave a note about their experience. Try different wording options like:
Leave us a note about your recent experience.
Could you share your review with our team?
What's your favorite product, and why?
Please give us your best [brand] shopping tips.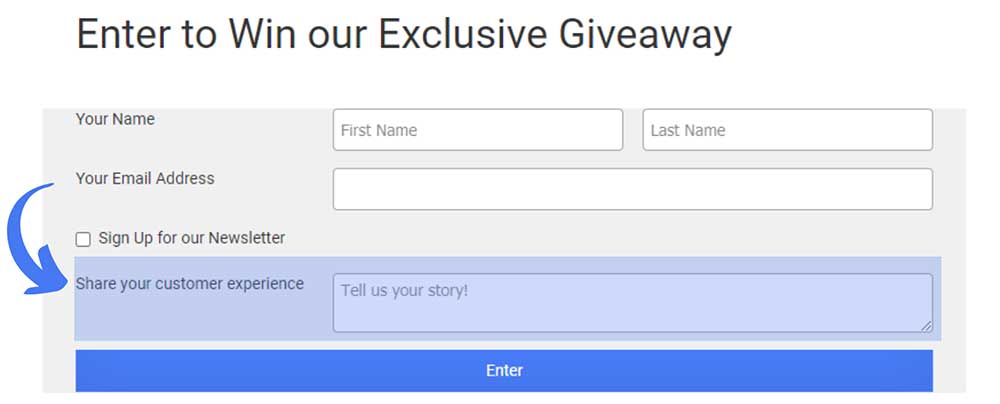 2. Host a Video Testimonial Contest
Data from a Wyzowl survey finds, "Two out of three [people] say they'd be more likely to purchase after watching a testimonial video demonstrating how a business, product or service had helped another person like them." Doritos recently took advantage of this idea by hosting its #CrashFromHome campaign. The company will develop a video using content from its 15 video contest winners.
You can easily incorporate user-generated video reviews on your YouTube channels, sales pages, and website. Use video marketing as part of your customer review strategy by:
Hosting a video contest on social media
Setting specifications for length, format, or product placement
Offering a prompt or theme for the video
Selecting a contest prize that fits your brand
Tagging and promoting winning videos across all digital assets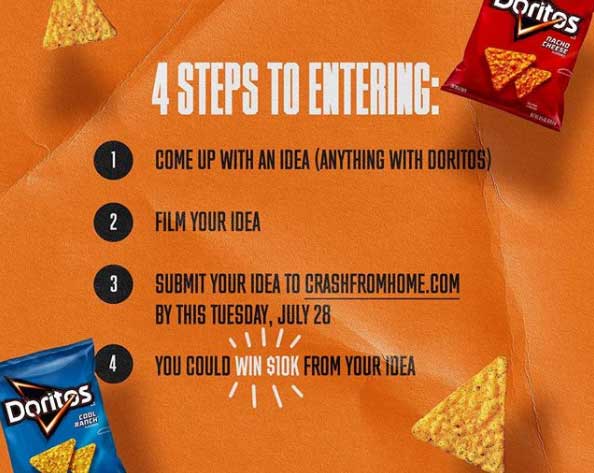 3. Request Reviews Using a Personalized Email
A targeted and thoughtful post-purchase email is a great time to request a review. You may be tempted to send review links to multiple platforms. But, you'll get the best results when you only offer two or three choices. Plus, you'll want to avoid bulk form letters. Instead, take a genuine approach. Keep these things in mind when creating a form for review collection:
Keep it consistent with other brand-related messaging, from fonts to colors.
Use the correct first name and identifying product information.
Say thank you for their purchase and feedback.
Make the form as easy as possible to use and interact with.
4. Ask for Feedback With a Custom Facebook Poll
A custom Facebook poll is an excellent way to produce product or service feedback while also generating brand awareness. Create a survey that asks fans to pick their favorite product or name their favorite salesperson. Get even more UGC with your poll campaign by urging followers to leave a comment about their choice.
5. Create a UGC Contest for Customers
Generate images, videos, or comments by hosting a contest. Your fans want to share their thoughts, so make it fun and convenient to do so. A contest provides you with tons of social proof. For example, Wayfair's #WayfairAtHome UGC campaign delivered more than 50,000 real-life customer photo submissions. Showcase your customers and products on your website, social channels, and emails.

6. Embed a Review Form on Your Website
Your customers head to the brand's website to check out product information or get some holiday shopping completed. While there, it's easy to fill out and submit a review via an embedded form or popup. Consider:
Offering an instant win giveaway or contest entry to all reviewers
Personalizing web pages based on your customers' actions
Sending a custom email with a link to your review landing page
7. Develop a Quiz That Supports Product Development
With a quiz, you can capture valuable customer and product data to share in future social media or blog posts. Earthbound Farm uses a quiz and giveaway to encourage fans to design their dream organic salad kit. This proactive approach gives the company plenty of user-generated content to use when they roll out their new product!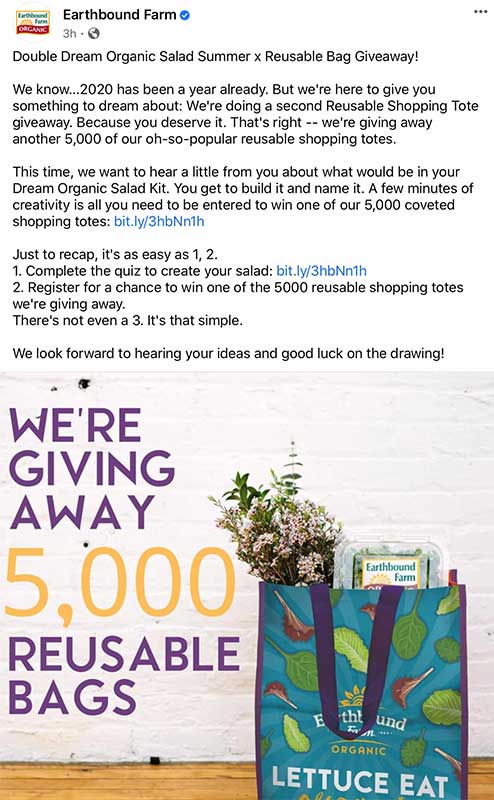 Get Results With Your Customer Review Strategies
Don't let a drop in social proof hurt your brand. Instead, boost your review collection using promotions that support your customer review strategy objectives. Use these easy tactics to inspire fun and relevant user-generated content entries, then share reviews, testimonials, and UGC across your marketing channels.
Boost Review Volume With Your Next Campaign
Do you need help gathering reviews or social proof? Our Woobox support team can help. Contact us from 8 am to 5 pm PST, Monday through Friday at 1-360-450-5200 and  support@woobox.com.