Are you ready to improve organic reach and engage your customers? Social media platforms remain one of the best ways to build relationships and acquire new customers. According to the Social Media Marketing Industry Report, "93% of respondents say social media efforts have generated more exposure for their business."
So, which platforms are worth investing in? And once you commit resources, then how do you increase organic reach? Learn how high-impact campaigns on the top five platforms increase your organic reach and pull traffic to your website.
What is Social Media Organic Reach?
Algorithms differ by channel and change often. But the purpose of an algorithm is to deliver relevant content to platform users. On social media platforms, you use a combination of organic posts and paid social content.
Organic posts: Any post on your page that you spent no money to promote or advertise
Paid content: Posts that you boost or turn into advertisements
So, what is organic reach on social media? It's the number of people who see your organic posts. Organic reach helps you generate leads, increase brand awareness, and convert customers without ad spend.
But, social channels limit your organic reach. For instance, Global Digital Statshot shows that on Facebook, "the average organic reach is only around 6.4% of the Page's total likes." Yet, more views help you attract organic engagement.
Organic engagement: Comments, shares, and likes on an organic post
Many variables affect your reach and engagement rates, such as posting frequency and content quality. To improve organic reach on social media, it's important to:
Understand your audience, their intent, and why they're on the platform
Create compelling social media campaigns that drive engagement
Develop a purposeful posting schedule
Turn reported metrics and data into actionable steps
Although organic reach continues to drop, marketers combat this by using, testing, and improving social tactics on each channel. Below you'll find the five busiest platforms in 2020 based on data from the Social Media Marketing Industry Report, 2019 Global Digital Statshots, and HubSpot's 2020 State of Marketing report. Plus, use expert-tested tips to increase your engagement and reach.
1. Facebook
Although 11% fewer marketers plan on increasing their Facebook organic activities this year, the majority will put more effort into organic marketing. Companies of all sizes appreciate the flexibility of Facebook, from post length to media options. Going forward, Facebook continues to be a top platform for 91% of B2B marketers and 97% of B2C marketers.
Facebook, like other social channels, rewards engagement. Studies show higher engagement rates for video (6.10%) and photo (4.48%) posts. Still, your content reaches only 5.6% of your fans.
But, small Facebook pages take heart. Pages with less than 10,000 fans see increased engagement and organic reach. Organic reach climbs to 8.24%. The average engagement rate is 3.62% and rises to 4.62% for businesses with fewer fans. Yet, getting fans to click or comment on posts isn't easy.
How to Increase Organic Reach on Facebook
Interacting with your Facebook audience is critical to your organic reach. Fun campaigns that encourage followers to share a photo or video are a great way to get people interested. These types of contests get fans to comment on your posts. Facebook polls also increase interaction and are easy to add to any campaign.
A Personality or trivia quiz boost engagement on Facebook, especially ones personalized to specific pain points of your audience. Plus, any type of community-based content works well to rally local fans behind your brand. In the example below, Muskoka Tourism attracts attention from local fans and travelers with a user-generated photo contest.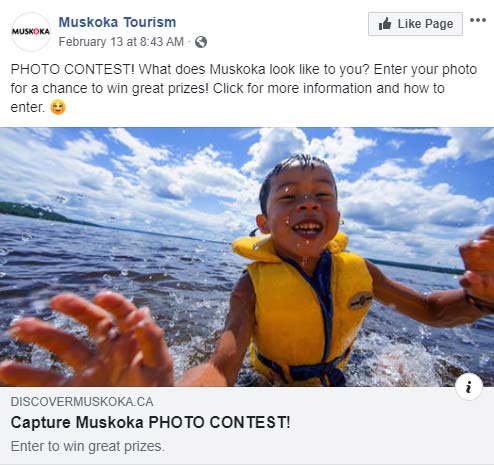 If you look at their Facebook page, Muskoka Tourism also shares tons of user-generated photos in their status updates. They use a camera emoji and tag the person who submitted the image. This helps their brand reach more users without Facebook advertising.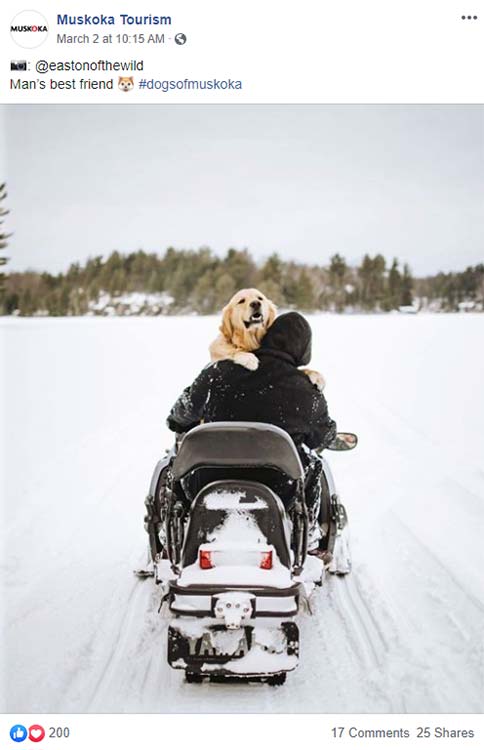 Muskoka Tourism hypes the winners with a Facebook post that links to their webpage announcement. This extra step boosts their website traffic and gives fans more reasons to stay tuned to their Facebook page. Hosting a photo contest generates extra visibility because your audience wants to win! So, they create posts on their personal pages and ask their friends to vote.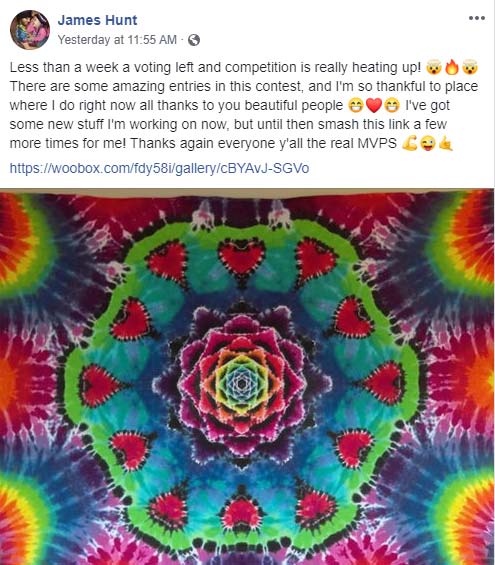 2. Instagram
A beautiful and cohesive Instagram feed attracts attention. But, plenty of brands showcase a gorgeous feed but can't get people to stop scrolling long enough to comment. In fact, the Influencer Marketing Benchmarks Report 2019 shows the average engagement rates for non-sponsored posts dropped to 1.9%.
Yet, Instagram is still a top spot for marketers, with 69% saying they'll increase Instagram organic activities over the next 12 months. That's because customers relax and shop on Instagram. Company data shows:
70% of shopping enthusiasts turn to Instagram for product discovery
130 million Instagram accounts tap on a shopping post to learn more about products every month
To boost organic engagement on Instagram, you need a strategy that creates a buzz. Moreover, it's essential to find ways to start conversations with your audience.
How to Amplify Your Reach on Instagram
Tailwind studied over 60,000 Instagram posts. They found that "accounts that hold Instagram contests grow their followers 70% faster over three months." Yet only 2% of accounts host giveaways and contests! Get your fans excited about your products and ask them to tag friends in the comments. There are two great ways to encourage participation.
Add a call-to-action on your Instagram image
Showcase your products in your photo
In the photo below, a Willing Beauty consultant simply asks her audience to "read the caption." Images with a face "are 38% more likely to receive likes and 32% more likely to receive comments," according to a study of 1.1 million Instagram photos.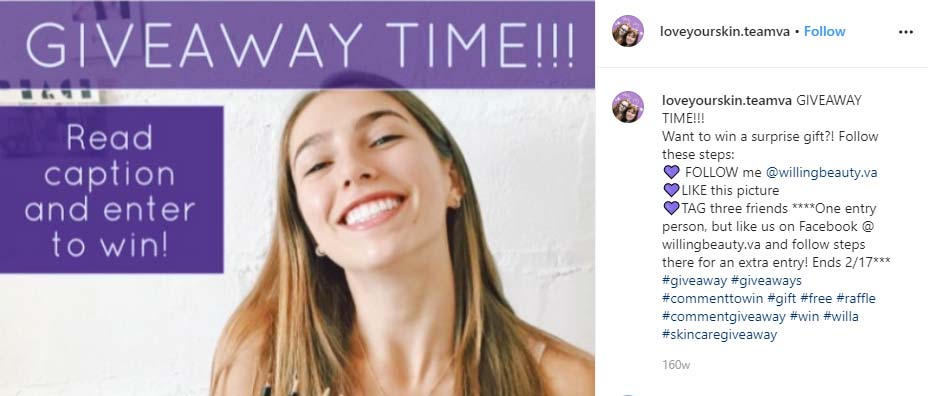 Corner16 provides a clear photo of every item in its Instagram comment giveaway. The instructions are simple: "Tell us which Copper Cellar Family Restaurant is your favorite in the comments." For added visibility, the Corner16 post itself tags all eight brands. Plus, they ask fans to share the post in their Instagram stories.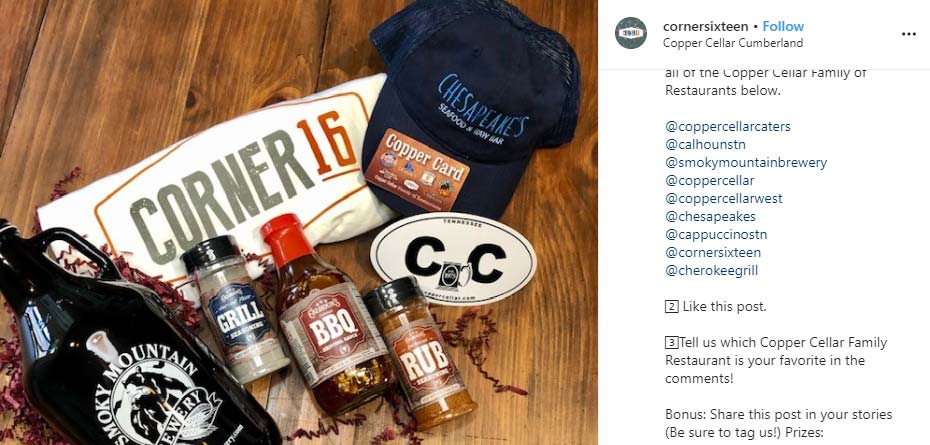 3. YouTube
Let's face it. Video is huge on most social platforms. But, on YouTube, it's all you have. And people flock to the site for a variety of reasons including product installation or reviews. YouTube reports, "watch time for YouTube videos on "which product to buy" doubled between 2017 and 2018."
So, it makes sense that 62% of marketers plan on increasing their YouTube organic activities. Many brands who are unfamiliar with video marketing don't invest resources into YouTube. But, YouTube users care more about relevancy than video quality. A Google and OMG study finds, "when people are deciding what to watch, relating to their passions is 1.6 times more important than whether it has high production quality."
Another bonus of YouTube is that one video gives you tons of footage to repurpose across other social media platforms.
How to Improve Organic Reach on YouTube
YouTube relies on post search engine optimization (SEO). So, it's vital to create descriptive posts. But, your audience sees only the first couple of lines unless they click "show more." It's vital to develop an exciting intro using keywords. According to Hootsuite, there are six areas where users find your video:
Trending streams
Notifications
Search results
YouTube homepage
Recommended streams
Channel subscriptions
Other ways to improve your organic reach on YouTube include adding closed captions and promoting your content on other social media platforms. Increase your brand visibility by hosting a comment giveaway or a product round-up giveaway.
The Mary Doodles channel encourages viewers to watch the video all the way through, which helps boost the post's visibility. Then, enter to win the contest by leaving a comment that "tells us the name of the creatures I just painted." But, Mary also mentions that "there's no wrong answer."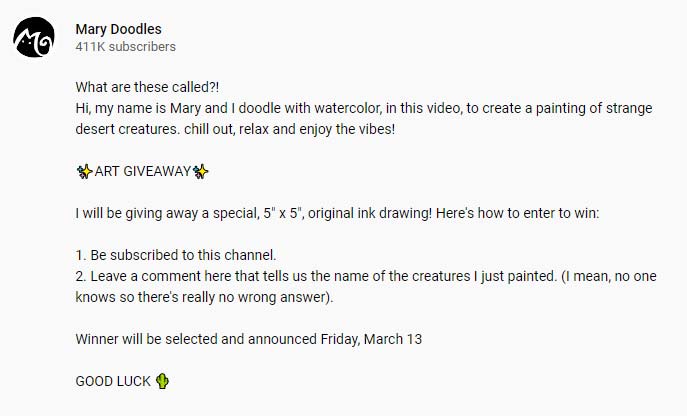 Joshua Bardwell sandwiches a giveaway into his product round-up videos. This type of video is a great way to deliver real value to your audience. You may showcase your products and complete a live demonstration. Or show the various product pages while talking about its benefits and features.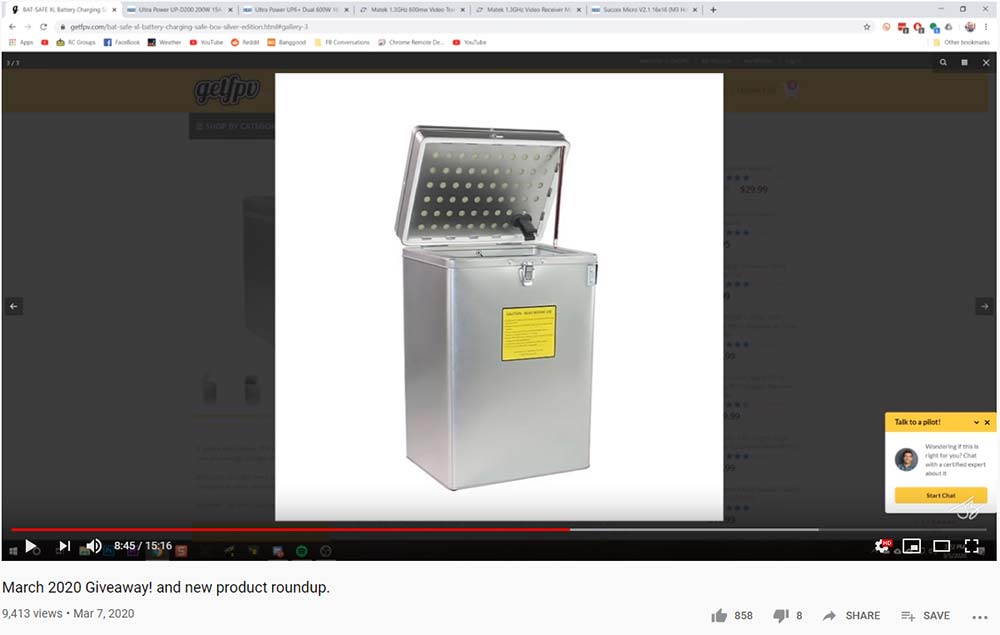 4. Twitter
Like Facebook, Twitter also takes a hit with "35% of marketers planning to increase their Twitter organic activities over the next 12 months, down from 44%." Creating 280 character posts that stand out in a sea of tweets isn't easy. Yet, 59% of marketers continue to use Twitter.
If your audience falls into the demographics of Twitter, then it's a social media platform worth using. Pew Research finds 73% of Twitter users are younger than 50. Plus, 42% have at least a bachelor's degree, and 41% report a household income of over $75,000. Certain brands, like Wendy's and Netflix, really stand out on Twitter. Sure, they tweet seriously funny stuff. But, the company also engages with users and other brands. Both actions drive organic reach and engagement.
How to Raise Organic Reach on Twitter
How do you catch your audience's attention when the average engagement rate per post is only 0.048%? Make it easy to retweet! It's tough to get Twitter fans to add comments or follow multiple steps. So, keep it simple by requiring only a like or a retweet. For added attention:
Add line spaces to your Tweet to make it stand out
Use brand-appropriate emojis and hashtags
Share an image with your Tweet
Make the most of your Twitter contest by spacing out your words. Doing this makes your post stand out. In the example by Soleus, the brand creates a well-formatted post. It uses an image with logos for extra brand recognition. Within 48 hours, Soleus had 4,000 retweets of its Twitter giveaway. And that number keeps rising!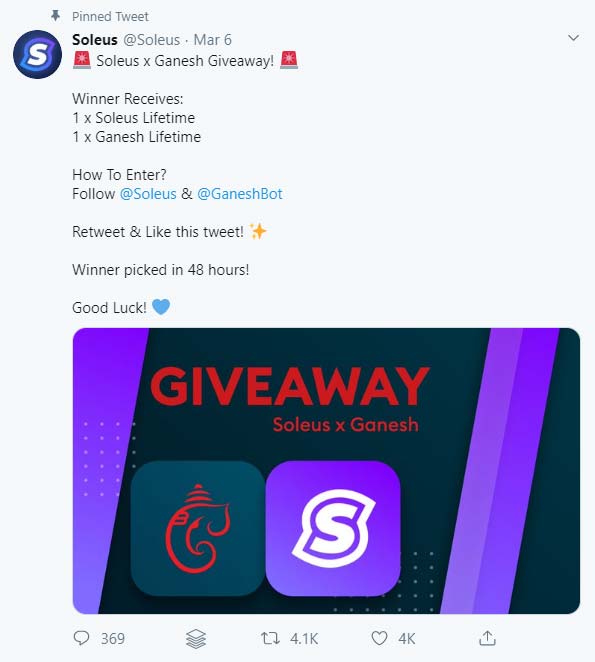 5. LinkedIn
58% of marketers use LinkedIn, and that number is only expected to grow. That's because LinkedIn reports that "80% of B2B leads come from LinkedIn." Furthermore, it converts leads a rate that's three times more than Twitter or Facebook. In 2020, 70% of B2B marketers plan on boosting their LinkedIn organic activities, compared to 44% of B2C marketers.
Professionals turn to LinkedIn for everything business-related. If your products or services help consumers or business owners with their work-life, then it's essential to increase your LinkedIn marketing efforts.
How to Boost Organic Reach on LinkedIn
Use a two-pronged approach to LinkedIn marketing. Develop content for your business page, then encourage your team to share it on their profiles as well. Achieving brand awareness on LinkedIn works best when your staff gets involved. Another key to LinkedIn is to do more than post about your latest giveaway. Professionals look for results. So, highlight the winners of your contest in unique ways and encourage them to share their win as well.
Author, Patrick Lencioni, kicks off his new book campaign with 10-days of giveaways. Along with providing the value of the prizes, he encourages fans to head to his LinkedIn page every day for the latest info and giveaway instructions.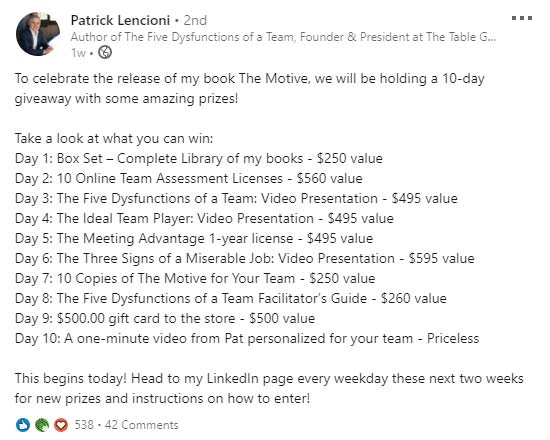 Boost Organic Activities on Top Social Media Platforms
Commit to improving your organic reach on social media in 2020. Start by creating compelling campaigns that use engaging tactics like polls and UGC contests. Give your fans more ways to interact and share your posts.
Need Help Adding Organic Content?
Woobox Support is available from 8 am to 5 pm PST, Monday through Friday at 1-360-450-5200 and support@woobox.com.