Online reviews are gold to customers and businesses: according to a BrightEdge survey, 85% of customers trust an online review as much as a personal recommendation from a friend or family member.
Reviews have become a common feature of both e-commerce and service-based businesses, so it makes sense to think about using them as part of your digital marketing campaigns.
Customer reviews are some of the most popular types of user-generated content (UGC) out there, but many businesses are at a loss as to how to gather and use them effectively to promote trust and awareness of their brand. Getting real customer feedback not only can make your products and services better, but it also gives you some valuable UGC you can re-purpose and utilize in different ways. Below are some of the places you can gather and use customer reviews in your marketing.
Easy Online Forms
No matter your business, the easier you make it give a review, the more likely a customer is going to. A fast, easy online form on a Woobox Forms or Landing Pages work well because they have a very intuitive user interface and make the process seem easier than a traditional form.
Besides choosing the right data collection service, there are also a few things you can do to ease the pain points of leaving a review via an online form:
Lead the request with how long it will take to complete. Wording matters. Saying it will take 60 seconds to complete seems shorter than a minute, and if customers know what they are getting into ahead of time, they are more likely to commit.
Mention what is asked of them. "Answer two questions to give us your honest feedback" is another way of letting customers know what they are getting into. It sets up proper expectations.
Give a global incentive. Mention how this type of feedback helps them. "By answering our 60-second customer survey, you are making the products you use better."
The questions you ask and which form tool you use will likely depend on your audience demographics, but creating an online form is a great way to gather specific feedback in a few areas.
Voicemail Lines
If your business has a podcast or works with media, asking customers to leave their feedback via a voicemail line can work well. Many podcasts do this so listeners can leave feedback and ask questions. Setting it up as an automated recording service saves time and doesn't require anyone answering the phone to record answers. This can easily be set up using your existing phone provider or through a VOIP service like Google Phone, Grasshopper, or Ring Central.
Customers like voicemail lines as an option as well because they are used to using the technology: everyone has left a voicemail before, but leaving a written online review might seem more daunting. Just make sure in your recording you mention these recordings may be used in marketing and have a lawyer review your introduction just to make sure you can use the files free and clear.
Once you have the voicemail files, you can repurpose them into Q&A videos, files that can be played on your website, or integrated into your website.
Contests
Another great way to gather reviews is to run a contest that asks customers to submit their experience with a brand's product or services. This could be via a written review, photo, or video. Woobox has a user-generated content contest that is perfect for this. Users can attach a file to their entry or use the text box to share their experience.
Once a customer as entered, these reviews can be repurposed into a customer review or testimonial page or shared periodically on social media. Seeing the usage of your offerings in the homes and offices of actual customers can convince more users to buy. As long as you are clear about how the review was collected, winners are chosen at random, and the company isn't promising payment for a guaranteed positive review, this method follows current FTC guidelines.
Testimonial Videos
Asking users to be in testimonial videos is also a great way to get some high-quality user feedback. If you have the budget, a professionally produced video like this one from Zoom (featuring their customer, Zendesk) is really well done:
Otherwise, even just asking users for a testimonial from their webcam or smartphone can work just as well if the lighting and sound make it easy to understand.
Here's an entry into a contest when the podcast asked for testimonials via videos posted on YouTube:
As you can see, Eric's story is great as a testimonial because it specifically shows how the podcast changed his life and shows his list of daily tasks inspired by the show. If you do ask customers to record video testimonials and publish them on an outside platform like YouTube, make sure that they include the hashtag or name of the contest so you can find them. If that doesn't work, you could also make it a requirement that they fill out a form via your website or Facebook (like you can with Woobox's UGC campaign) in order to be entered.
Website Review Integration
This seems like an easy one, but does your website have a review section? It seems like a no-brainer for an e-commerce site, but service-based sites can gather reviews as well. Take this example from forensic SEO expert Alan Bleiweiss. He lists reviews on a review page for his SEO audits and also has a CTA button that encourages users to leave a review: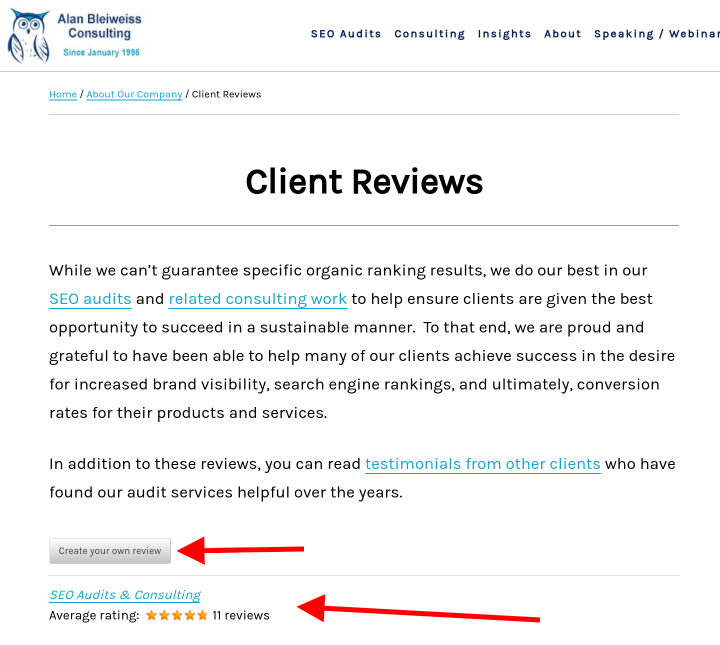 Once reviews are left, a few are featured on the home page and at the top of the review page. Be sure that your review pages also have review schema added so they can appear in Google search results.
Website owners have no control over whether or not the review snippet is included on search results, but optimizing for it is your best bet currently.
Social Media
Social media is a great way to both collect and publish customer reviews. Once reviews are collected, you can create social media images to share user feedback in a stylized format like this: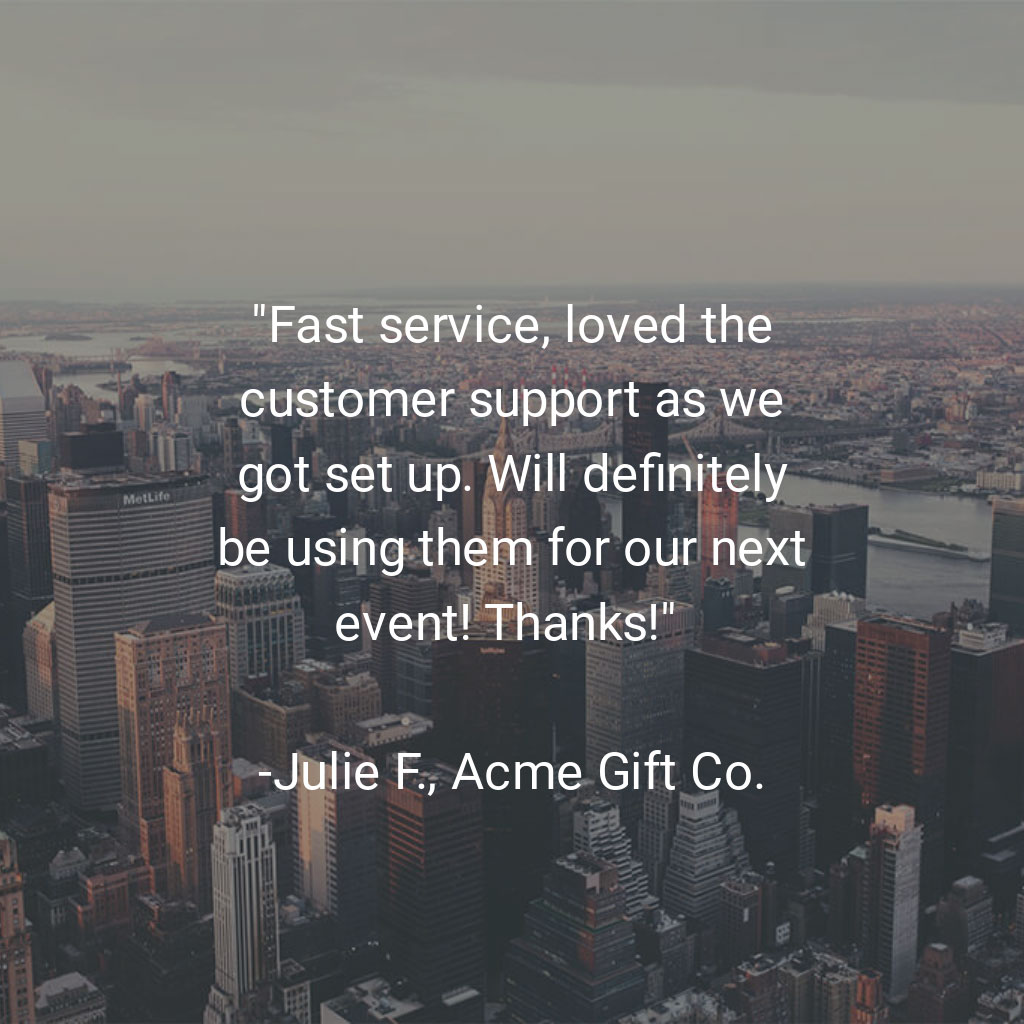 You could also do a horizontal image with the reviewer's photo or logo if they give you their permission.
Social media is also great for capturing reviews. Hashtags are also a great way to collect reviews. Search for your brand as a hashtag (e.g. #target) and also promote a specific hashtag in your marketing for your customers to use. Also look at tags of your brand's usernames and profiles to see what users are saying online about your company on their own accounts. Often, a customer will tag a brand on a platform like Instagram but not message them directly. Make sure these types of mentions are monitored weekly, if not daily, depending on how big your company is. Tracking these messages and compiling them in a word document or spreadsheet as links and/or a folder as screenshots make the repurposing process much easier.
Customer reviews can come from a wide range of places online, whether the company is prepared for them or not. By creating specific places for customers to enter reviews, like user-generated contests or feedback forms, users are able to specifically share their experience with a product or service. However, businesses need to also be prepared to collect feedback in other ways, like social media, where the conversation is started by customers and brands should respond.