Regardless of industry, your clients' lives changed this year. With extra time home, people report spending more time online and streaming. This uptick led eMarketer to update its 2020 social media use forecast from 76 minutes per day to 82 minutes.
But, your audience is changing more than their habits. They're also experiencing higher rates of stress and anxiety. So, what does this mean for brands brainstorming new social marketing ideas?
Right now, some of the best campaigns are rooted in encouragement and empowerment. This combo helps audiences while instilling a sense of trust. Learn how to adjust your social media campaigns with inspiration from these unique marketing ideas and examples.
Why Marketers Focus on Positive Social Content
As people adapt to a new normal, they're also facing higher rates of mental distress. Survey results published by Statista found that 34% of 83,960 respondents "reported symptoms of anxiety disorder" from July 2 through July 7. A number that's steadily risen since mid-May.
Social media fatigue is real. Stress and burnout are happening more. And consumers are wary of almost everything. That's why brands list trust and credibility as vital to positive customer sentiment.
How Brands Build Trust
Although companies often rely on marketing techniques, like the fear of missing out (FOMO) or other emotional triggers that lead to conversions, this may not be the time for that. Instead, brands invest in positive campaigns to inspire and support fans. Brands build consumer confidence using various methods, such as:
A regular social media posting schedule to show reliability and stability.
User-generated content to prove that consumers trust their brand.
Transparent contests that highlight real-life winners.
Content that addresses the whole person, not just buying pain points.
Social Marketing Ideas That Inspire and Support Your Audience
First off, you can gain broad insights from expert reports and predictions. Yet, without analyzing your audience, custom tailoring your social marketing content is difficult. The last thing you want is to leave your audience wondering if they should trust you.
Take a look at your social media analytics and compare it to previous periods. Then, start brainstorming social media marketing ideas that are a great fit for your brand.
Inspirational Social Marketing Ideas
Think about what your audience is going through day-to-day. If you market to parents, there's a lot of stress surrounding back to school. The same goes for college students. How can you encourage and inspire folks during troubled times? Try social marketing ideas like:
Promote wellness in a weekly social media post.
Share positive videos or images of others in similar situations.
Create beautiful images with inspiring quotes.
Supportive Social Media Marketing Ideas
You most likely already offer supportive content on your website, like an FAQ page or COVID-19 resource center. Many brands also provide extra customer support services to offset store closures or social distancing efforts. But, content that informs or helps your audience is also popular on social media. Consider posting:
A daily "most-asked" question with an answer
Top ways to solve an everyday problem, like three favorite meal ideas
Links to the best online (and vetted) resources for a shared challenge
Quizzes that help fans choose between products or services
Tips and tricks from your audience
A wellness check where fans can comment and offer support
Key Points of Social Marketing in 2020
What should you remember as you move forward with social marketing in 2020? Don't throw out your old metrics and benchmarks. But understand that your tone and timing of social media posts may need tweaking. And in two months, all of this may change again. Use these points to guide your social strategy:
Rethink and redefine your social marketing messaging.
Check social and web analytics more often.
Adapt promotion and distribution tactics to reflect changes in consumer habits.
Increase your use of relationship-oriented engagement techniques.
Be there for your social media fans by listening and engaging.
8 Encouraging Social Marketing Ideas and Examples
Want to know how top brands are achieving goals on social media? Many promote various campaigns to targeted audiences, and they've revised regular or broader campaigns for better outreach. Create more content your fans love using these social marketing ideas and examples from brands thriving on social media.
1. Step Back From Day-to-Day and Dream a Little
Help your audience dream of better days by sharing a poll. A simple poll makes people pause and vote regardless of the platform. It's fun to pick a favorite vacation destination or dream about choosing between having a nanny or a chef at home. And Facebook or Instagram polls are highly shareable on personal pages because your fans want to know what choice their friends will make.
Petite Retreats uses its Facebook page to share product information, inspire fans to dream with weekly polls, and offer giveaways with the message "Treat Yourself."
2. Make it Fun for the Whole Family
Kid-friendly content is a win-win for parents staying home with kids. During the shutdown, many brands began offering extra content to kids, even though their products target adults. Your audience appreciates any effort to alleviate caregiving stress and will remember that your company cared enough to support them during this tough time.
Consumer Break recognizes the challenges of caregivers and created a fun comment-entry game on Instagram. The company asks followers to share a photo of their little ones in the comments. But that's not all! Consumer Break added a bonus game for kids, so parents can play a game while kids solve puzzles.
In the next example, Dr. Teodora Todorova makes room on her Instagram feed to host a coloring contest for kids. Make your own twist on this contest by offering free coloring sheets or downloadable puzzles for kids to enjoy while parents post a photo in your latest UGC contest.
3. Deliver a Quick Win to Every Contest Entrant
You hear many people talking about using small wins to get through quarantine. Plenty of marketing ideas ask fans to list their small victory for the day, even if that meant the kids ate one carrot along with three packages of cookies. Inspire your followers to find joy in the little things with instant win sweepstakes or by offering different prize packages.
4. Keep Your Social Feed Lighthearted
Create a fun personality or trivia quiz that inspires or helps solve a problem, then promote it across your social media channels. A quiz is super shareable, offers a distraction from everyday life, and you can even use it to recommend products or inform your audience.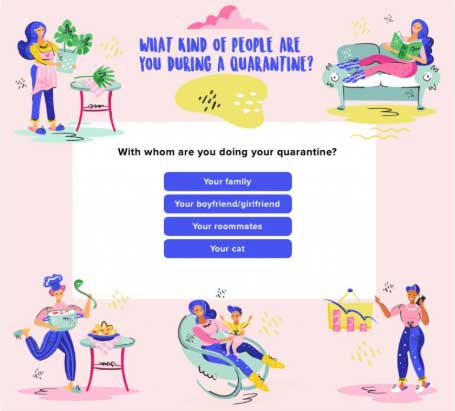 5. Inject Humor Into Your Campaign
First, a caveat. Some things may not appeal to your audience or appear tone-deaf to the current situation. Pass your social marketing idea through different teams to make sure you're putting out the right message.
The Send It company uses a weekly campaign and branded hashtag to get folks laughing and commenting. This occasional injection of fun doesn't deride their brand image or make light of today's situation. But, it does skyrocket engagement and brand awareness. And with 533 comments and 1,400 shares, their caption-this posts are a fan favorite!
6. Build Inspiration Into Every Social Marketing Idea
When it comes to inspiration, Atlantic Self Storage delivers. Chatmeter lists this company as a company that's "spreading inspiration during COVID-19." Its social media feed is chock-full of positivity, including mentions of local events and employees. The company also participated in the #904RainbowHunt challenge then shared photos of winners.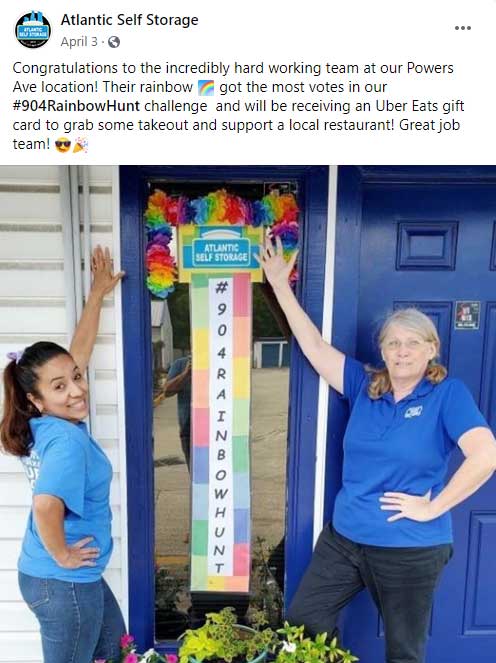 On its Facebook page, you'll also find posts that use a national social media holiday (National Donut Day) to engage fans. Just add your favorite donut in the comments. This is a simple way to connect with your audience and have fun without spending a ton of resources on content.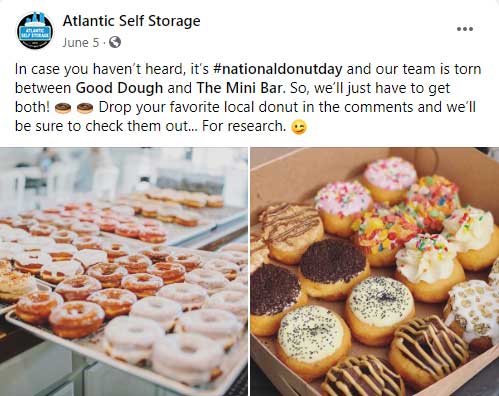 7. Share User-Created Tips and Images
Sharing advice from your fans is a great way to encourage engagement and gain trust. Consider hosting a photo contest highlighting your follower's favorite products or asking folks to leave their best tip in your comments. Get more eyes on your Facebook page by showcasing user-generated content on your page.
NuFace fills its feed with videos and images of users showing their favorite products. The company also hosts giveaways and inspires fans using hashtags like #UpliftYourself.
8. Feature Acts of Kindness
Compassion and kindness never go out of style. In fact, during the pandemic, Kantar found that customers wanted brands to:
Take care of employees' health
Support hospitals
Be helpful to the government
Take a genuine approach by selecting social marketing ideas that highlight kindness and boost your brand image. For example, Maui Jim fills its Twitter feed with messages of wellness, thank-you's to first responders, and exclusive coupons for health workers.
The Best Social Marketing Ideas Build Relationships
During tough times, it's essential to focus on relationship-building. Connecting with your audience increases your credibility and shows people that your brand is more than a collection of products for sale. With so many people online, social media platforms are an excellent place to engage, support, and encourage fans. Brainstorm your social marketing ideas using an audience-first approach to generate loyalty that'll stick with you long after the pandemic ends.
Engage Your Fans Using Woobox Giveaways
Want help using polls, contests, or quizzes to inspire your audience? Our Woobox support team is here to help. Contact us from 8 am to 5 pm PST, Monday through Friday at 1-360-450-5200 and
support@woobox.com
.