In my first post on this series, I discussed the benefits and best practices of YouTube product reviews and giveaways for influencers. This post will cover the other side of the coin: why partnering with YouTube creators for reviews and giveaways of your products can be beneficial, as well as best practices for a successful influencer campaign.
With over a billion users (one third of the internet), YouTube is not only the world's biggest search engine, it's an invaluable content powerhouse that allows brands to connect with new audiences in countries all over the world. The biggest content creators on YouTube are major influencers in their niche, often making millions per year and producing content for their millions of followers across all major social media. YouTube has a wide variety of influencers that cover almost every industry, so brands should consider paid partnerships to create content that is relevant, interesting, and accessible to new audiences.
Sponsored YouTube influencer partnerships bring many benefits for brands, including greater brand awareness, gaining customer feedback, and better relationship building.
YouTube Influencer Benefits
Better Brand Awareness and Audience Reach
The biggest benefit for brands is to reach more potential customers through creators with their own dedicated audience. Often, these audiences are so valuable because they either haven't heard of the brand until the influencer mentions them, or they value the influencer's opinion so highly it convinces them to try and buy.
There's also the point of market saturation — the more content that's about your product online, the higher chance someone is going to be convinced to buy. This means that the more product reviews or mentions of your product, the greater number of people who are going to see it and the higher likelihood someone will actually buy.
One thing especially great about YouTube is that even if something is very niche, there's still likely a YouTube channel about it. Take this channel about coffee, which has over 2500 subscribers and thousands of views. This is his latest review on "Death Wish Coffee" which ran an ad during the last Super Bowl.
While his delivery could be better, this is a good example of a really niche product that is still being reviewed on YouTube. No matter how specific your offerings are, it's worth doing research to see if your products are already being reviewed OR there are channels that cover your industry.
Think you can't work with influencers on YouTube because you don't sell products? If you don't have a concrete product or SaaS platform for influencers to review, you could also simply sponsor a product review of a product that your target audience is likely interested in. For instance, take this Google Pixelbook review from YouTube channel TechnoBuffalo:
He gives a shout out to his sponsor for the video (who may have bought him the Pixelbook to review, which is an option to consider in a partnership agreement) and then links to them in the description. While this style might not get as much air time as an actual product that is being reviewed, it's still an option that could drive real leads or buyers, depending on the approach. Many sponsors give unique discount codes to each creator they work with, which makes the success of the campaign easy to track.
Industry Relationship Building
LIke it or not, influencers/content creators have immense power in their space as their audience grows. For instance, when Kylie Jenner remarked that she wasn't using Snapchat anymore after they released a new design most users didn't like, Snapchat's parent company's stock fell, costing them $1.3 billion in stock value in a single day.
There are several other examples of influencers that have used their reach to affect companies, but the point is that online "celebrities" have enormous pull in the success of brands today. While brands shouldn't attempt to work with influencers as a way to appease them, it can be helpful to build relationships with popular (niche or otherwise) industry YouTube creators so they are aware of your products. They may even mention your brand or work with you on future projects.
Chance For User Feedback
Besides greater reach and building industry relationships, brands can also use YouTube product reviews and giveaway campaigns to get feedback from new and existing users.
For instance, take this review of the 2018 Ford Explorer with over one million views by Kelley Blue Book:
Besides getting valuable feedback from the reviewer himself (who has experience reviewing Ford's competitors), the comments bring lots of great points. Throughout the comments, users are pointing out what they do and don't like about the new Explorer.
In this comment, we see that users are excited that there is a full-size third row and trunk, which makes it appealing to families. This feedback tells Ford that their Explorer might fare well in further campaigns targeted to family or parenting YouTube channels.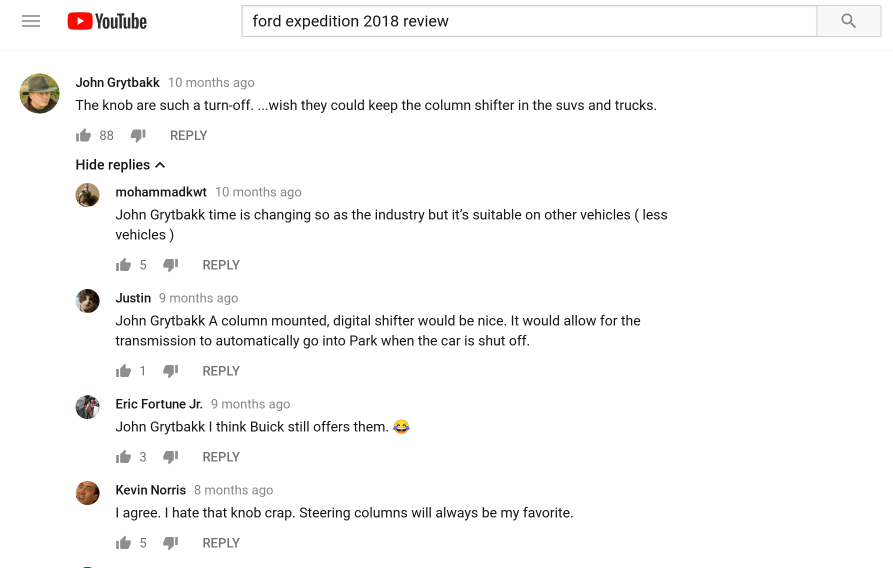 This piece of technical feedback might be something for marketing teams at Ford to consider. It could even be something they pass onto their design and development teams.
User feedback through the internet can be hit or miss, but on a well-produced review, most users will leave comments that can be useful to the mentioned brand.
YouTube Review and Giveaway Best Practices
To work with YouTube creators on product reviews and giveaways, it's important to follow a set of key best practices.
Be Clear With Guidelines
Make sure you and the creator are on the same page and have signed a partnership agreement. With some videos getting millions of views, it is important to make sure the review is content that you and the creator can both be proud of.
Make sure you list everything you'd like the creator to cover, from clear disclosure statements to how they are using the product in their existing life or workday.
If you're doing a giveaway, make sure the giveaway method and prize delivery are spelled out in advance. Woobox lets brands and creators run password entry giveaways through YouTube, which can make the process a lot easier.
The best reviews are when the YouTube influencer has a chance to be creative and do the review in their own style. Make sure expectations are set, but give them creative license so the review matches their own style. It's also important that reviewers give their honest opinion– which doesn't always mean a perfect, 100% recommended review for all brands. This is OK and actually makes the review more genuine and authoritative. If the reviewer just raves about the product and doesn't give any other feedback, viewers may doubt if that's their honest opinion.
Create a Promotion Plan
Another important aspect of working with influencers is creating a promotion plan. Outline the specifics of the following areas to ensure the review gets seen, shared, and engaged with:
When will the influencer and brand share the video URL?
What hashtags need to be used (include recommended FTC hashtags)
Will the review be published on other channels, like Facebook, Instagram, or Twitter?
How long will the giveaway run and when will winners be chosen?
Who is going to deliver the giveaway prize to the winner?
Is this review part of a long-term partnership or a single deal?
How often should the influencer share or mention the review in their other videos or on social media?
Promotion of your paid product review partnership can increase views and interest in your product. Mentioning that the review includes a giveaway, when applicable, can also ensure that there's more clicks and shares coming in as users enter the contest and share it with their friends.
Working on video content for YouTube with influencers can have a positive impact on your sales, brand awareness, and industry influence. To have a successful partnership, create a clear set of expectations for the video creation, the giveaway rules, and the promotional process can ensure that the influencers you are working with have a clear understanding of your agreement.