Feeling stuck on your quest for unique interactive content ideas? Coming up with new ways to engage and delight your social media followers takes time. With everyone spending more minutes (or hours) online, it's essential to stand out from the sea of images and social media posts.
Save time by using one or more of the seven examples found below. You'll find social media instructions, goals, and prizes for each contest, giveaway, or quiz idea. Simply cut, paste, and personalize to fit your audience.
7 Interactive Content Ideas (Click to Jump)
1. Caption This: Weekly Photo Caption Contest
Caption this contests are easy to create, participate in, and share. Find a free photo on a site like Unsplash and ask folks to leave a comment with their caption. It doesn't take long to add this type of comment-entry contest to your weekly repertoire.
Goals: Increase brand awareness and community engagement
Instructions: Choose a photo and add a bubble box if you'd like. Next, create a headline and lighthearted copy. Give a call-to-action for fans to leave their caption in the comments. Keep an eye on your posts, so you can "like" or comment on responses. Select one winner or make everybody a winner. You set the terms.
Prizes: A weekly caption-this contest doesn't require a giveaway every time. Many fans are happy to comment on a funny photo without an added reward. But, consider incorporating a monthly giveaway into your plan:
Create a poll using your four winning photos and captions.
Ask fans to vote on their favorite combination.
Select inexpensive, whimsical, or just-for-fun prizes.
Examples of an Interactive Caption-This Contest
The International Thriller Writers Association uses a weekly contest to delight fans. They use simple yet eye-catching emojis to differentiate their post from others. Plus, they encourage engagement by asking fans to vote on their favorite caption by liking it. This helps their post (and brand) get more views.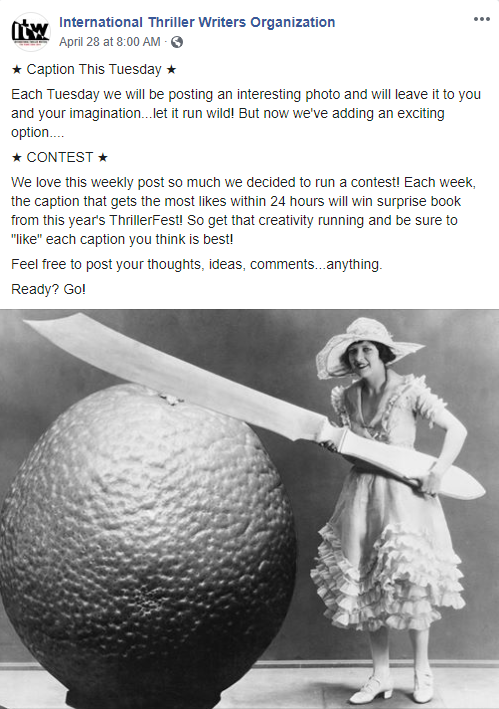 Create a Caption-This Contest
Use the free image below from Unsplash to design a caption-this contest. Personalize your headline, copy, and prizes to suit your fans and engage fans on social media.
Headline: Eeeek. What Happened While You Were on That Conference Call?
Copy: Caption this photo for a chance to win a basket of kid-friendly games to keep even the youngest in your household quiet during that last minute Zoom session. Add a funny caption in the comments for a chance to win!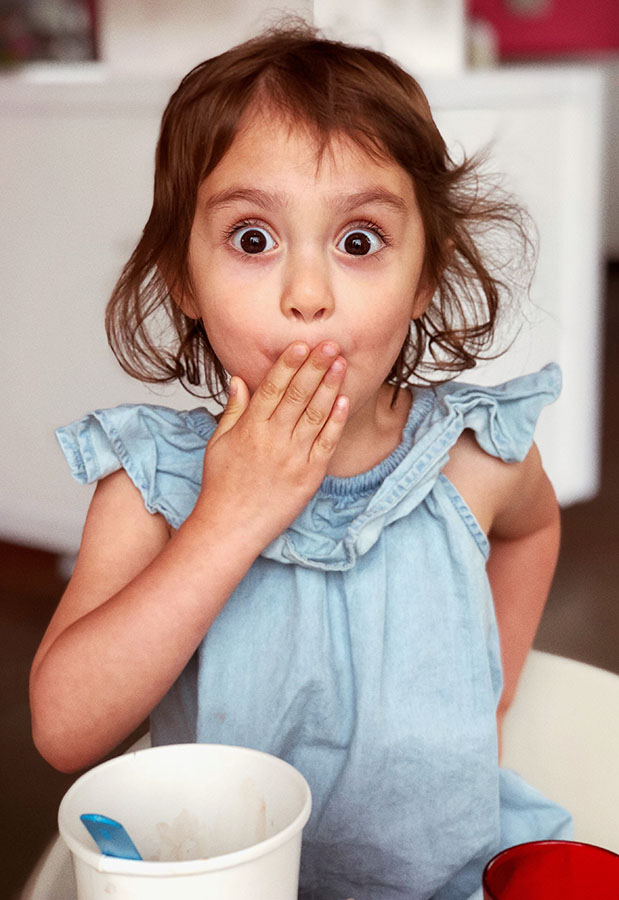 2. Interactive Bracket: Which Idea Will Win?
Your sports fans long for the season to start. They missed March Madness and all the fun of betting on tournaments. Now, your audience is living life in new ways. Brackets are a fun way to engage fans. Plus, it's an easy way to bulk up your social media calendar using a series of polls.
Goals: Boost brand awareness, product engagement, and community interaction
Instructions: Pick a category where people have favorite items and strong opinions. Then create mini-contests for each item on your list by comparing one to the other. Fill in your bracket as you go and share it as a separate social media post.
Prizes: Pick prizes that match poll and bracket winners. So, if you're comparing sweet or salty candy, then gift candy bars or a sweet and salty prize combo.
Examples of Interactive Brackets
In the public group, Lil Bracket Madness, followers create and share popular contests. In many cases, you'll see that they target a few things that people are thinking about during the pandemic (or thinking about to keep their mind off the pandemic). These include sweet versus salty food choices, the best snacks, or top stay-at-home activities.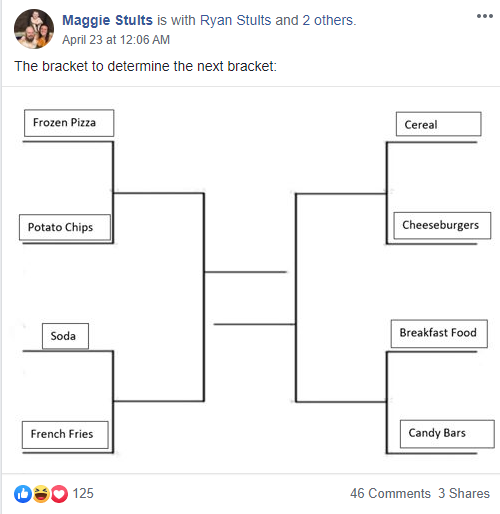 Design an Interactive Bracket
The MetroWest Daily News hosted a fun interactive bracket by asking folks to vote on natural ways to de-stress. Create your own spin on this bracket by coming up with eight ways to relax at home.
Headline: What Are Your Top Ways to De-Stress at Home?
Copy: What's your favorite way to relax? Pick the winner of today's poll and check back for winners at each round. Do you have a better idea for de-stressing at home? Leave us a message in the comments!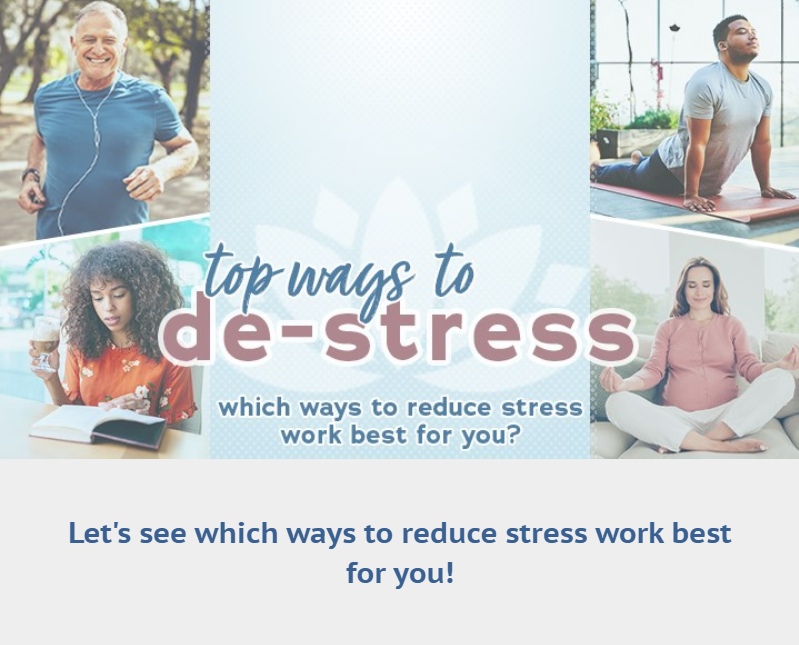 3. Customer-Exclusive: Help a Friend Out Contest
Your customers use a variety of products in different ways. Ask them to share their solutions on what works (or what doesn't). Doing so satisfies their desire to connect with or help others. Plus, your fans appreciate real-life takes on the best products for their circumstances.
Request submissions either by photo or by leaving a comment with their solution. You can even ask your audience to vote on their favorite or most useful answers! Get permission to use fan ideas in an upcoming blog post or for testimonials in your emails or on your website.
Goals: Customer retention, client research, generate UGC, increase product and brand engagement
Instructions: Create a contest on your social channels. Ask clients to post their best answers or a photo of how they use their favorite products. Remember to send out an email to your customers with a link to your post.
Prizes: Award customers with a coupon or basket of their favorite products.
Example of an Interactive Comment Entry Contest
Create a comment entry contest that matches your audience and aligns with your brand. Target current customers with your post copy, but boost brand awareness by asking fans to tag a friend who could use this solution or like their favorite comments.
Headline: Fellow Parents Need Your Help!
Copy: We're seeing a lot of chatter about how to entertain small fries while meeting work obligations. Jennie from Milwaukee writes that Guby's Animals by Numbers App gives her at least 15 minutes of free time. We want to hear from our customers. Which product keeps your child entertained the longest? Leave a comment with your solution. And for everyone else, hit like on your favorite ideas! The comment with the most likes gets a 15% off coupon on your next purchase!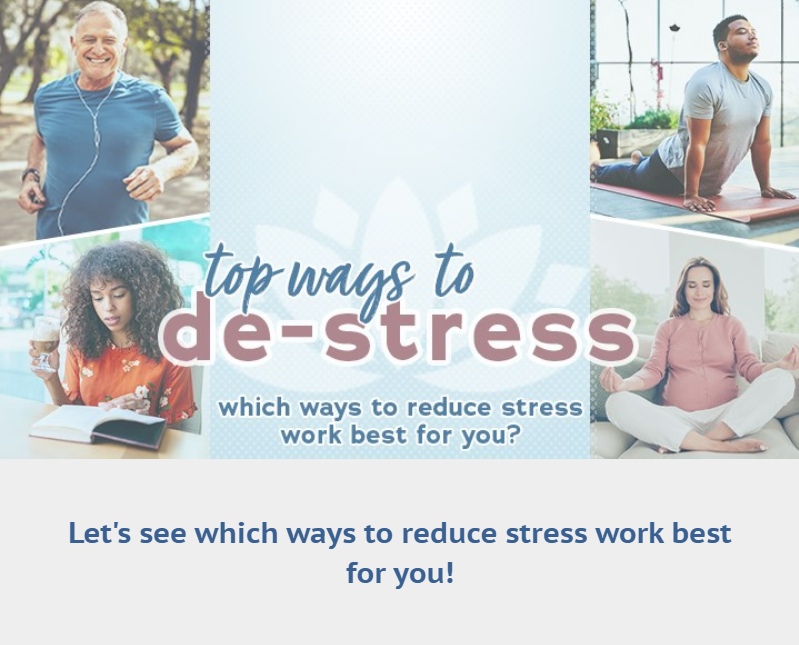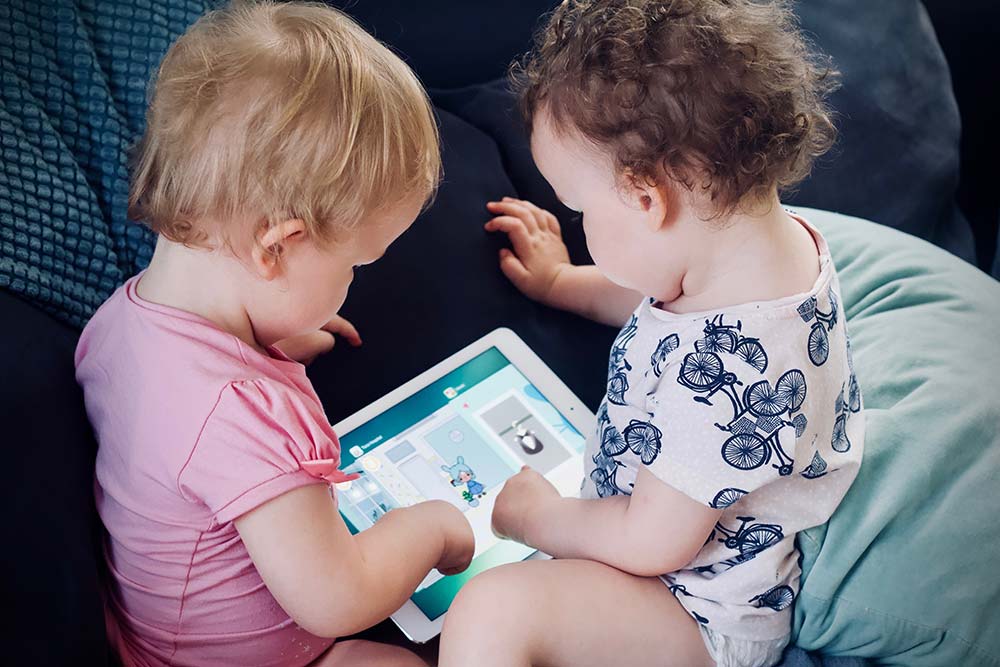 4. Video Contests: Entertaining and Helpful
Do you want fans to share their latest Zoom call fail or highlight a solution working for them? Invite your audience to join a video contest. Make it fun for everyone by asking followers to vote on the video that made them laugh the hardest or offered the most useful solution.
Goals: Generate UGC, increase email subscribers, grow following on social media
Instructions: Be precise by setting a time limit, defining a category, and telling users how to submit their video. Popular ways include by hashtag or direct entry submissions. Compile your videos then ask fans to vote on their favorite.
Prizes: A video contest is a great place to give a grand prize along with one or more other awards to the runner ups. Product-related rewards encourage fans of your brand to participate and even share a testimonial.
Example of Interactive Video Contests
Trew created a hashtag video contest to get fans sharing whatever is on their minds. They increase brand awareness by asking their audience to share it to Instagram with their hashtag and by tagging the company. The brand leaves the details up to their fans with a few caveats:
Use social distancing best practices throughout the footage.
Keep the length between 15 and 60 seconds.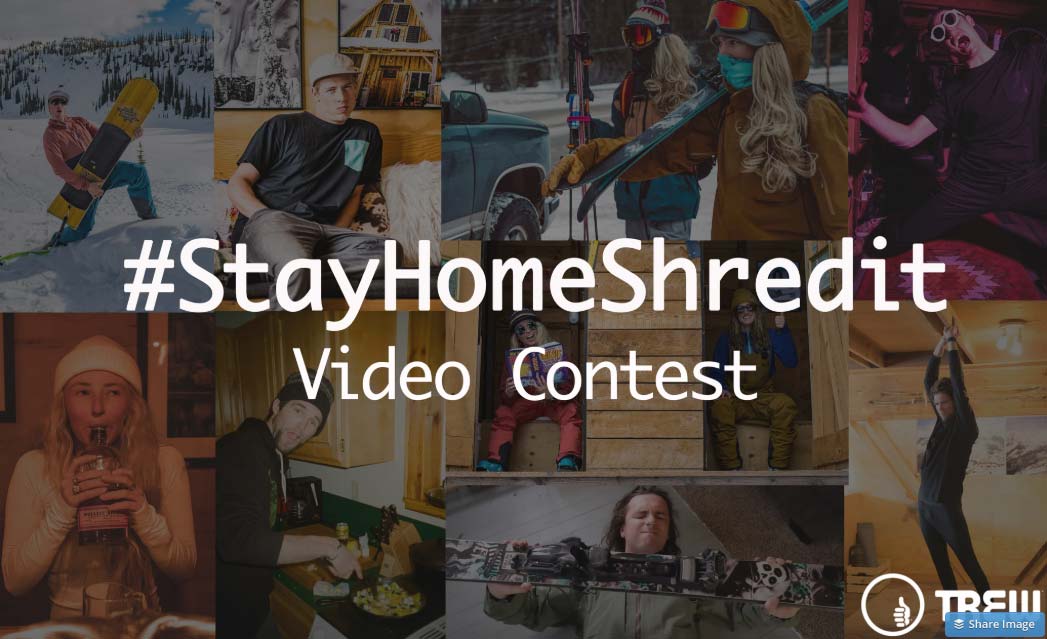 Develop a Video Contest
Videos do take a bit more work than snapping a photo. So choose a topic that's of high interest to your audience. Whether that's sharing a story or filming their home office space, keep it simple and fun.
Headline: What's Your Best Work-From-Home Blooper?
Copy: Do you have a funny story about quarantine life? Send us your 15-30 second video for a chance to win a product that makes working from home more comfortable.
5. Personality or Trivia Quiz: Who Are Your Fans?
A fast quiz on social media is fun and easy to share. It requires more effort on your part, as you need quiz questions, answers, and a results page. But, quizzes also generate a good ROI. Gather email addresses while boosting social shares that increase brand awareness.
Goals: Increase your email list and brand awareness, generate leads, acquire customer research
Instructions: Target potential customers with an engaging personality or trivia quiz. Create five or more questions with multiple choice answers. Mix it up by asking your audience to pick a photo answer.
Prizes: You don't need prizes for a personality quiz. You may want to host a comment entry giveaway by asking followers to share quiz results for a chance to win. Pick awards related to your brand, products, or your quiz topic.
Examples of Fun Personality or Trivia Quizzes
The Center for Relationship Education uses a fun personality quiz to beef up its email list. The center overlays text answers on images to boost user experience. From the quiz page, you can sign up for their monthly newsletter or join more than 3,000 others in liking their page on Facebook.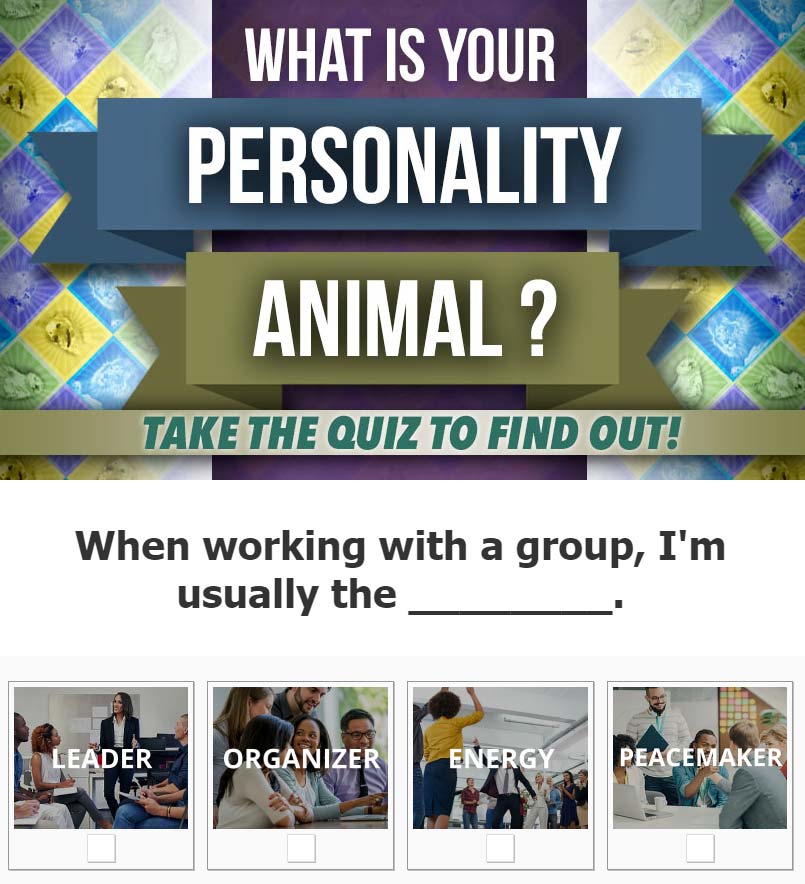 Make a Quiz for Your Fans
Design a quiz to fit current lifestyles. Consider asking fans about their work-from-home style or what their weekly meal choices say about their personality. Here's one example:
Headline: What's Your Work From Home Style?
Copy: Are you suddenly working from home? Answer five questions to see what your work from home style is and get tips on boosting your productivity.
6. Photo Contest and Gallery: Submit Your Photo and Vote for a Winner
Everyone wants to share their experiences while staying at home. Add a bit of humor to your photo contest by requesting blooper photos. Or ask folks to share the fifth photo on their camera roll. Use the Woobox Gallery option so people can vote on their favorite images.
Goals: Grow community engagement and following, generate brand awareness
Instructions: Create a photo contest that fits your current marketing campaign. Ask fans to share photos via social media or your landing page. Then, add social media posts that encourage your audience to vote for a winner.
Prizes: Award a grand prize along with a couple of runner-up prizes. Reward fans with your products or fun giveaway swag that fits your topic.
Example of an Interactive Photo Contest
Many of us have new co-workers, thanks to our stay-at-home adventures. We've seen photos of irritated cats, overjoyed dogs, and kids bombing Zoom sessions. Ask your fans to nominate their favorite (or only) co-worker of the week. But, don't leave out those who are solo! Remember, inanimate objects provide support as well. So, keep your contest light, airy, and inclusive.
In this example, Mari Vineyards created a photo contest to highlight special co-workers (and their favorite drink!).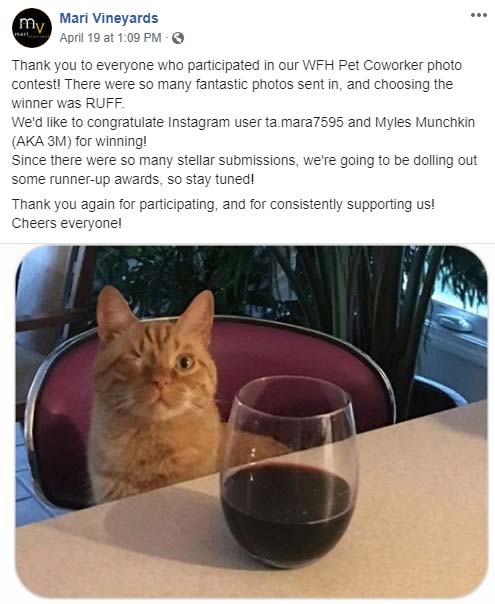 7. Take a Poll, Pick Your Prize
Polls are a fast and easy way to boost engagement on social media. Social media polls can be simple, with an image and a question. Your fans vote and share your post. But, you can also use a post for product and market research. Ask your audience to choose from your products or answer questions that give you information about what they need.
Goals: Boost brand awareness and community engagement, get customer or product research
Instructions: Create a poll with two or 20 polling options. Design a custom results page with a tailored message for sharing on social media.
Prizes: Reward a winner with a basket of your products or a prize related to your poll topic.
Example of an Interactive Poll
Granite Belt Wine Country encourages fans to explore its product line and choose which gift package they'd like to get. The brand uses original images and describes the prizes.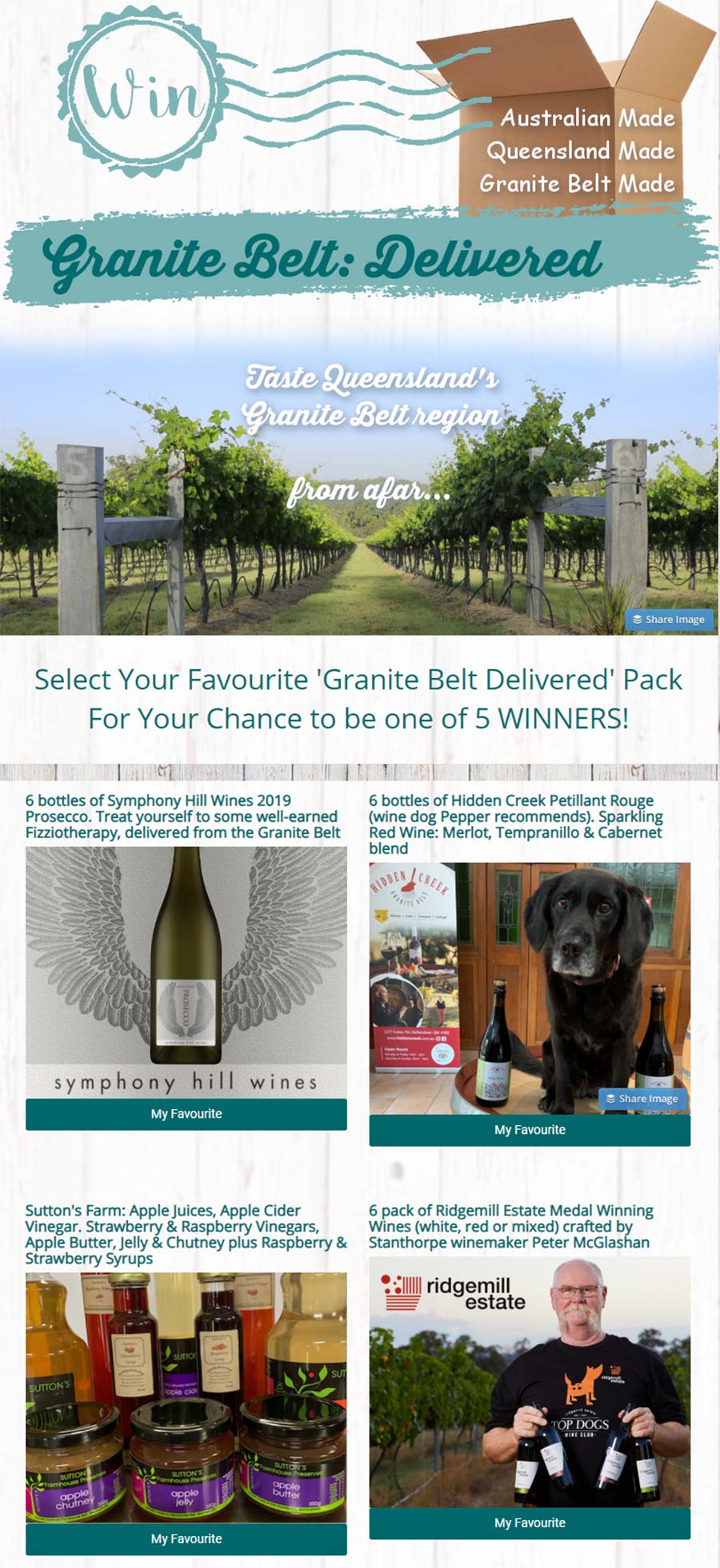 Easily Add Interactive Content to Your Campaigns
Give fans more ways to stay connected and find solutions by offering a mix of interactive polls, quizzes, and contests. Customize your prize to your audience and your contest topic. Get started by using Woobox templates. And don't forget to repurpose entries into blog and social media posts to share social proof.
Need Help Choosing the Best Interactive Contests?
Hosting a contest or giveaway doesn't have to be time-consuming. Our team is here to help you with your next campaign. Woobox Support is available from 9 am to 5 pm PST, Monday through Friday at 1-360-450-5200 and support@woobox.com.