If you're not sure how to create a giveaway or how a sweepstake benefits your brand, then you're not alone. Only 55% of companies have a digital marketing strategy, and 24% of marketers report challenges with choosing the right tools and technologies for their needs.
A lack of strategy and tools make building successful campaigns tricky. This is part of the reason why only 43% of companies with online stores report seeing significant traffic from social media.
However, with a solid plan in place and the right tools, like a giveaway maker, you can leverage the power of giveaways to reach your objectives on social media and beyond. Use these expert tips to create a giveaway that provides an excellent return on investment (ROI).
Why Do Giveaways Work?
Giveaways appeal to basic human emotions and strike a chord that encourages entries. Consumers want instant gratification, happy, feel-good emotions, and a chance to win at something. By building a giveaway that meets those needs, companies see significant results.
For example, a Tailwind study proves, "Instagram contests get 3.5 times as many likes and 64 times more comments on average than regular posts."
That type of engagement delivers several benefits for companies, including:
Community building
Brand awareness
Increased sales and subscribers
Plus, each click, entry, or social share boosts your SEO and improves your position on the search engine results page (SERP). With a higher rank, you'll increase your web traffic immensely as sites in the first position earn 17.1% more clicks than those in the tenth position.
Tips on Creating Giveaways With Advice From Professionals
Successful giveaways don't happen by accident. Instead, each is the result of a communications strategy that includes powerful attention-getting campaigns. Marketers who proactively plan projects and campaigns are 356% more likely to report success.
Creating a giveaway involves more than picking a prize. A solid strategy starts with pre-planning, enlists the help of giveaway makers, and emphasizes promotion. But, don't forget about your game plan after the contest ends! Use the advice from these experts to develop a promotion that delivers results.
1. Start with a Concise Goal
Before you can choose your audience, pick a prize, or create a giveaway, you need an objective. Different business goals include increasing your email list and boosting brand awareness.
Nathan Latka, host and executive producer of 'The Top Entrepreneurs' podcast tells Agents of Change, to use contests to meet business goals. He says, "utilize your social media following by running a contest or giveaway in which fans enter by giving you their email address. You'll get new leads and improve your brand engagement and visibility tenfold."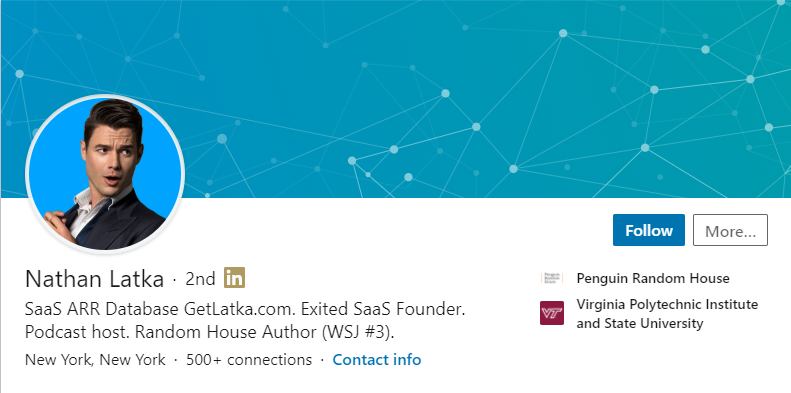 2. Set a Defined Time Frame
Provide consumers with a definite starting and ending date, including an exact time like 11:59 PM Eastern. This eliminates questions about when the last entry is collected. Plus, it appeals to the scarcity and fear of missing out (FOMO) mindset which piques interest in your giveaway.
In Thrive Global, Jonny Videl, owner of Viral Contest Marketing, says, "in some respects, contests are all about supply and demand. A limited supply will always increase demand. This scarcity, especially when combined with a limited timeframe to enter the contest, makes the prize highly desirable."
3. Review Rules on Each Social Platform
Not only does each social network specify rules for contests, but the terms you mention have different meanings. Tirena Dingeldein, content manager, and senior analyst at Gartner Digital Markets tells Business News Daily that "a sweepstake is when the winners are chosen by luck alone. The winner of a contest is chosen on merit. A lottery winner is chosen from entrants who pay to enter, and a giveaway is an overarching term of all the different promotions."
Before publishing your giveaway, review current rules on all social media sites. Then, inspect your campaign's language to ensure that you're using the correct terms.
4. Piggyback on National Event or Holiday
Broaden your reach by incorporating a local or national event into your giveaway theme. On Shortstack, Shama Hyder, CEO Of Zen Media, says, "the goal is to think like your fans, and then help them with their holiday challenges!"

By creating a giveaway around a popular event, you have a greater chance of virality. For example, you can use holiday-specific hashtags to boost your views and create images that incorporate both your brand and your theme.
5. Choose Prizes that Complement Your Brand
Jay Baer, the founder of Convince & Convert, explains, "the best contests have prizes that tie directly back to the company itself." Instead of picking any old prize, choose one that increases brand awareness, so entrants associate the award with what your company sells or whom you serve.
Baer goes on to say, "you want to activate and attract people who are genuinely interested in your business, not just "contest hunters" who enter everything they can find. If you sell fishing gear, give away fishing gear as a prize, not an iPad." Whether you promote your company's products or partner with similar companies, it's essential to align your prizes with your brand.
6. Enlist a Giveaway Maker for Creation and Management
Using the right tools saves you time and ensures that you meet the rules across various social platforms. That's why famed marketer, Neil Patel suggests using third-party apps to boost participation and awareness. A giveaway maker eliminates the hassle of managing sweepstakes across multiple platforms while providing support to business owners.
7. Plan a Promotion Strategy
It's impossible to meet your giveaway goals without developing a plan for promoting your giveaway. Neal Schaffer, keynote marketing speaker, and consultant says, "if you plan to host a Facebook giveaway, then share the link in your newsletter, blog about it, share it on Twitter and Instagram along with any other social channel you favor, such as a hosting Facebook Live or talking about it in your Instagram Stories."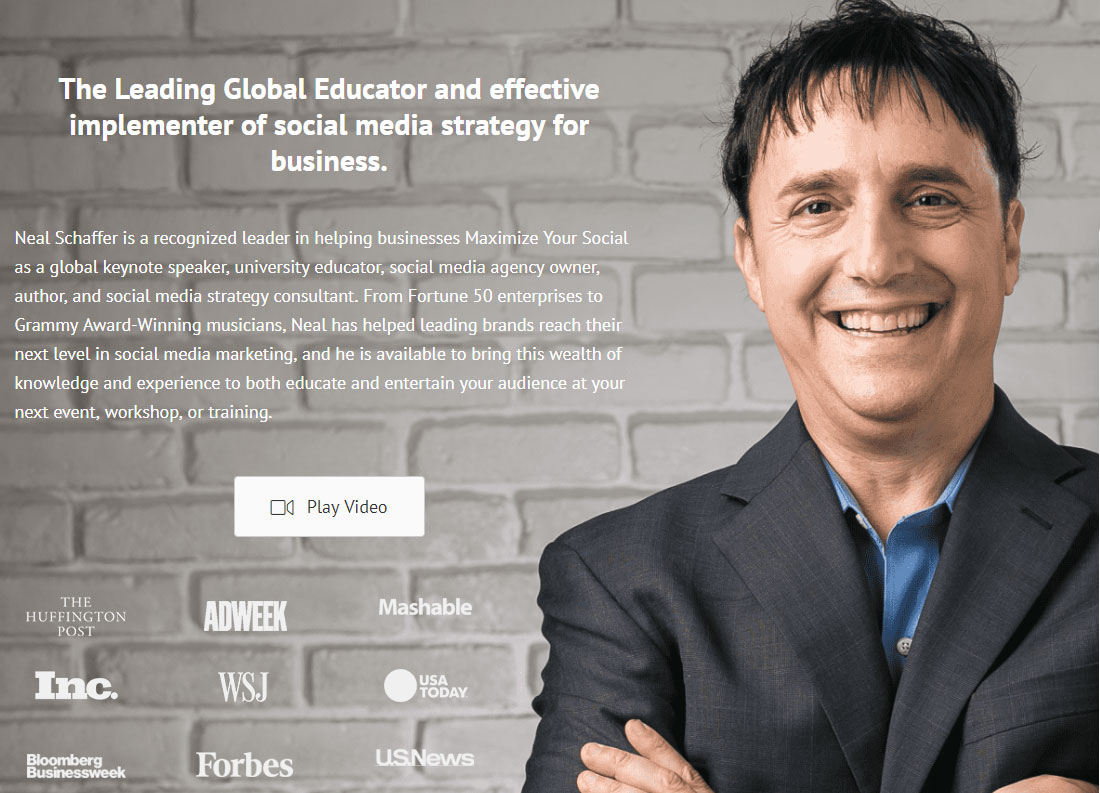 Meet your objectives by creating platform-specific posts and images to promote your giveaway. Doing so ensures that you're following the best practices which please the algorithms and increase your impressions.
8. Develop a Post-Giveaway Plan
Don't stop promoting once the contest ends. Instead, use the opportunity to boost brand awareness by showing the human-side. In Forbes, Steve Cooper, co-founder, and editor-in-chief of Hitched says, "put the winner on a pedestal. You put a lot of time and energy into getting people to participate in your giveaway, and you now have a winner. Let the world know that a real person has actually won!"
Giveaway Ideas Inspired by Tips from the Pros
What can you take away from this professional advice? A successful giveaway requires a well-thought-out plan that aligns with your goals and brand. For the ultimate ROI, combine the right:
Timing
Theme
Prizes
Messaging
Tie these elements into your strategy then get assistance from a giveaway maker like Woobox to save you time.
A Giveaway with a Focus on One Goal
WD-40 doesn't distract users with links to social media sites. Their main goal is to build their email list. WD-40 does this by eliminating any CTAs for a follow or like on social media. Instead, the only requirement is an email address. Plus, as a bonus, they provide the option for users to subscribe to their email list.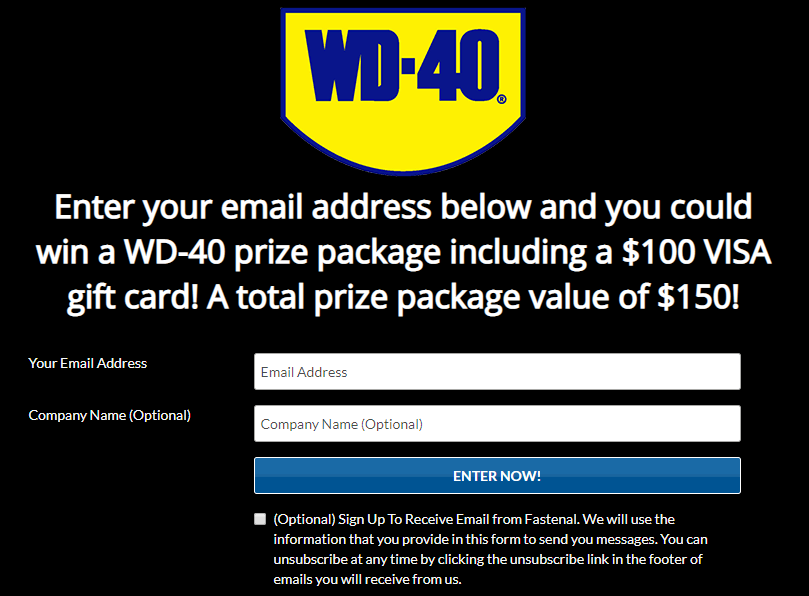 A Timeframe Listed Front and Center
Harris Boats specifies the timeframe at the top of their contest page. Not only does it tug on the scarcity complex, but it also gives users hope by showing that they have ten chances to win.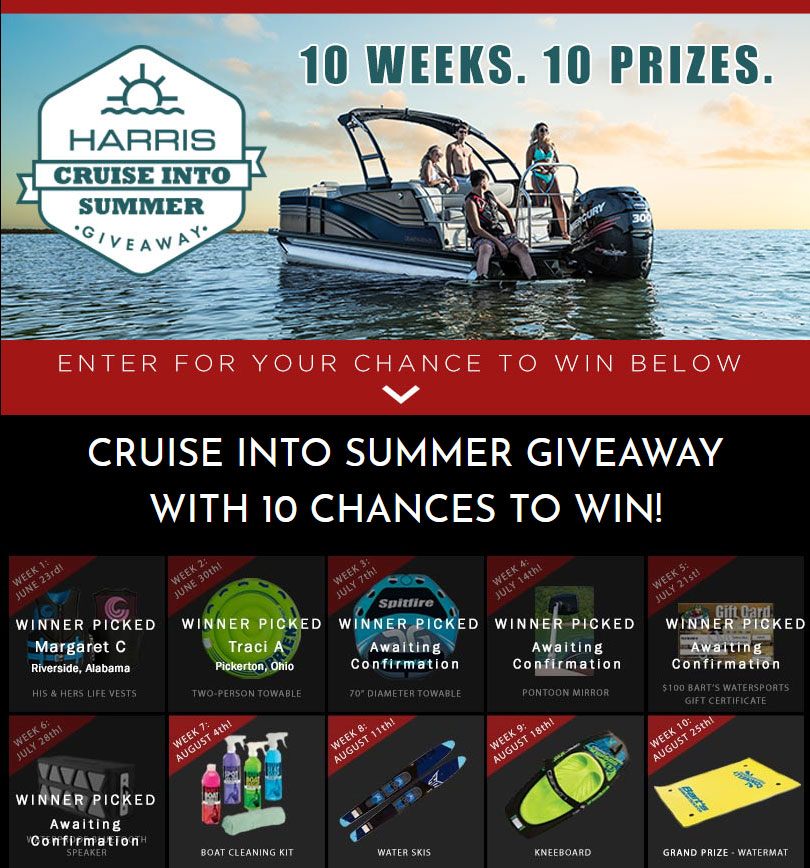 If you review each of their prizes, then you'll notice that they chose products that align perfectly with their watersports brand from water skis to a boat cleaning kit.
A Theme with Broad Reach
Sonage leverages the back-to-school season with a giveaway that includes several beauty supplies. By combining their moisturizer, perfume, and deodorant and calling it a "Back-To-School Selfcare Kit," they capture the attention of busy parents who might not otherwise indulge in their products.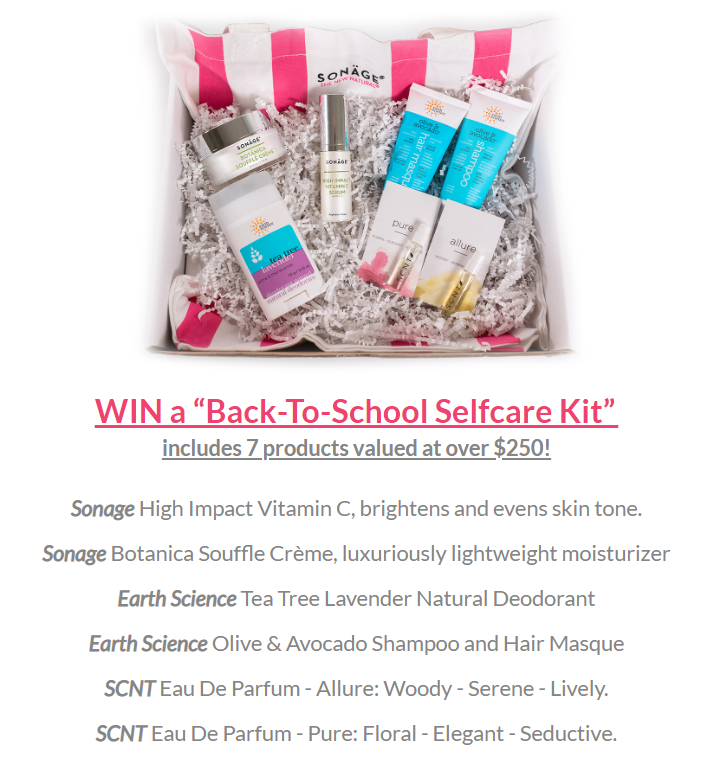 Giveaway Prizes that Match the Brand
Lil Gen Toys gives their products away while also subscribing contest entrants to their email list. Since 85% of people do business with the advertiser after receiving a promotional item, using your company's items as prizes create a winning giveaway.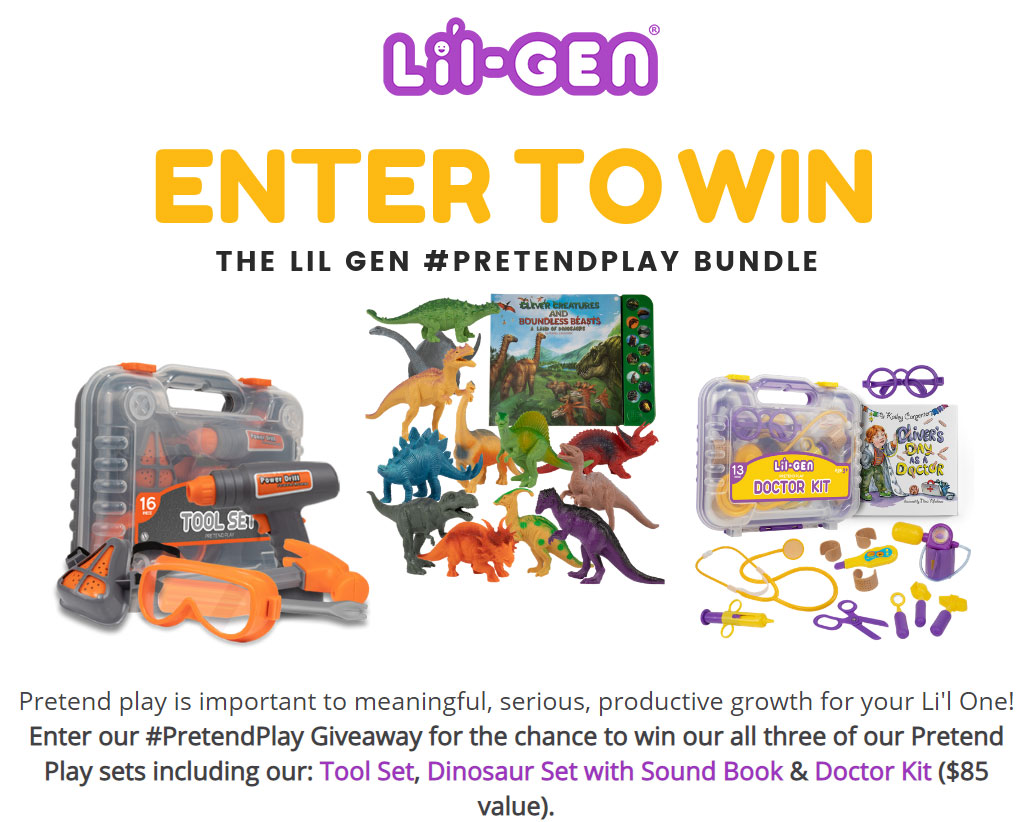 Promote Your Giveaway Constantly
Step2 attracts attention with a consistent giveaway that begins every Friday. This consistency, along with family-friendly gifts, encourages bloggers to share the giveaway on their websites and social media. Step2 also serves up branded images with the hashtag prominently displayed.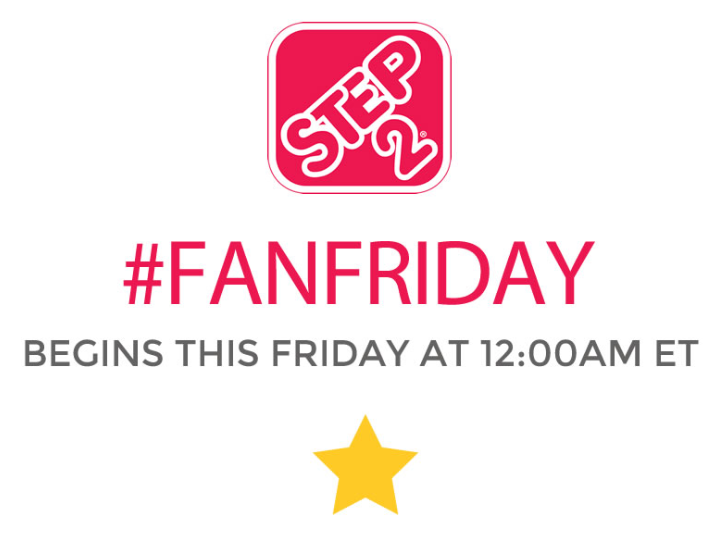 Conclusion
Hosting a giveaway delivers plenty of benefits without much risk or (depending on your prize) investment. While set-up can be time-consuming, professionals use tools like a giveaway maker for the best results.
Get Help from Woobox Support
Creating a giveaway doesn't need to give you a headache. Ask Woobox your questions from 8 am until 5 pm PST, Monday through Friday at 1-360-450-5200 or support@woobox.com.