For years, brands have leveraged the popularity of celebrity figures, such as athletes and actors, to advertise their products. The rise of social media platforms like Instagram and Snapchat have also given rise to social media influencers.
In most cases, social media influencers are not traditional celebrities, such as actors, comedians, or athletes. They tend to be well-known social media users with large followings who blog, vlog, offer advice, advocate for marginalized populations, or share tips and recommendations.
They might have millions of followers, like YouTuber and vlogger Jenna Marbles, or a few hundred thousand, like Chicago blogger and activist The Badass Breastfeeder. Influencers have been effective because, though their reach might be smaller than traditional celebrities, their audiences are more targeted and trusting.
Brands have been leveraging influencers through paid sponsorships for years, often with great success. However, a new survey shows that might be changing.
The Decline of Social Media Influencers?
A recent survey by Stackla brings the future impact of influencers into question. As a brand owner or manager, should you partner with influencers or is there a more effective way to reach your target audience?
According to their report titled The Consumer Content Report: Influence in the Digital Age, Stackla discovered:
57% of consumers think most of the content brands create doesn't feel authentic.
Consumers are three times more likely to think content created by another shopper is authentic.
60% of respondents say content from friends or family influences their what they buy.
Only 23% said content from celebrities and influencers impacts their purchase decisions.
These stats show the power of influencers is dying. More and more consumers are choosing to ignore what brands and influencers share and rely, instead, on unbiased, honest opinions from their friends.
The marketing landscape is constantly changing, and influencers may still have an impact on shopping habits. However, these stats point to a more effective, and arguably cheaper, strategy — user-generated content.
What is User-Generated Content?
As the name implies, user-generated content is content your audience creates about your brand. It might include:
Reviews of your products on e-commerce sites or social media sites
Comments on your company blog or social media posts
Organic posts on social media sites about your brand
Photo contest entries
Hashtag contest entries
Testimonials
Any content your users or customers create about your brand is UGC. Here are a few examples.
Search for nearly any item on Amazon, and you will find user-generated content in the review section.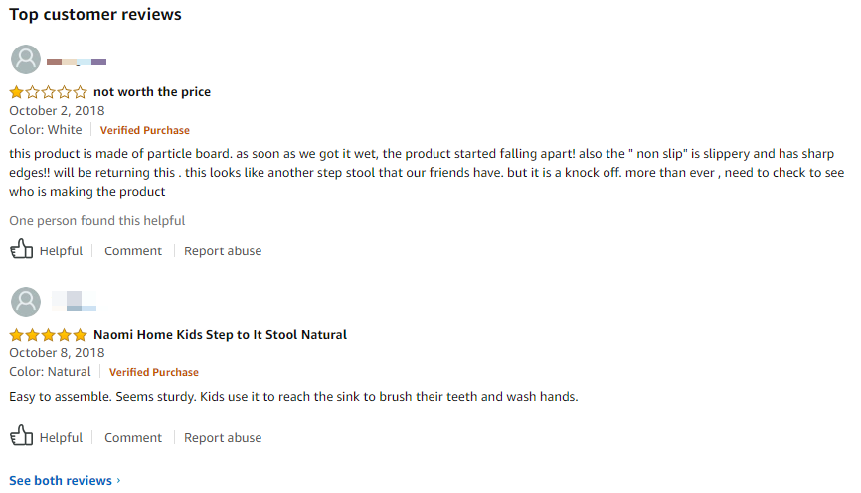 This post on Facebook was posted by a visitor to Cantina Laredo in Chicago. It showcases the restaurant's location, and their table-side made guacamole.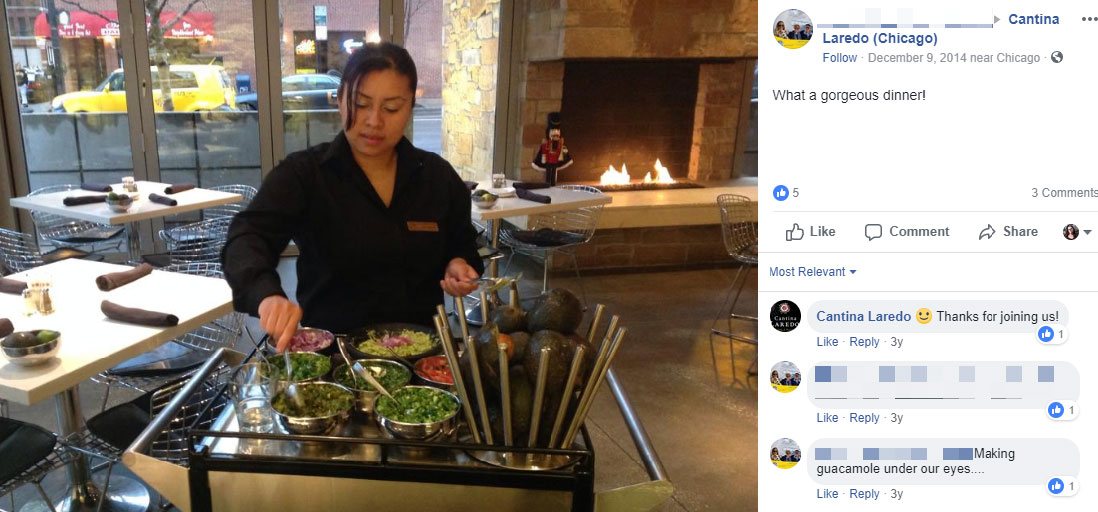 Eyeglass company Zenni Optical asks their customers to post photos of their glasses with the hashtag #justgotmyzennis.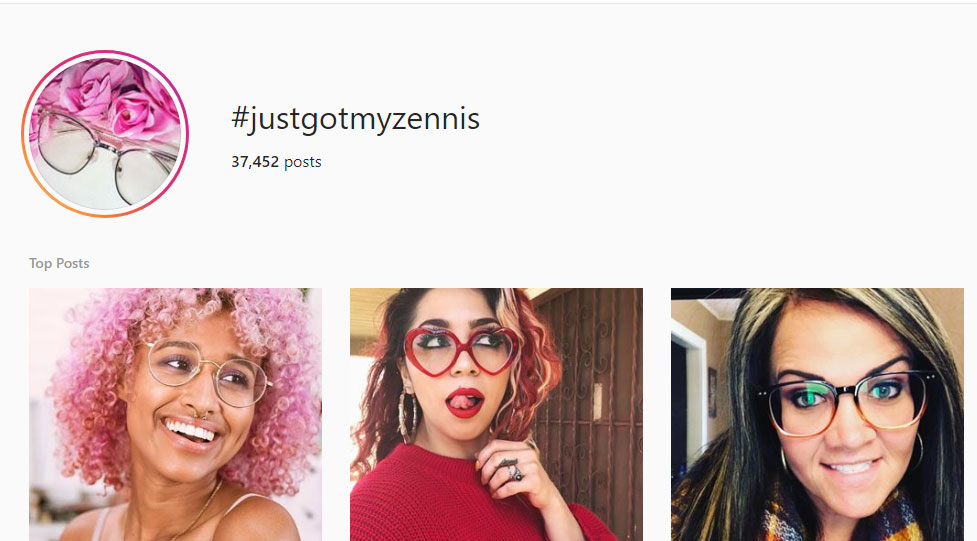 User-generated content is particularly effective for Zenni, as most people who wear glasses want to try them on before they buy. Seeing other people wearing the glasses offers social proof and lets prospective buyers see what the glasses look like in the real world.
Zenni uses some photos on their product pages, to show how specific pairs look, like these patterned cat eye frames.

What Are the Benefits of User Generated Content (UGC)?
Surveys and reports have shown again and again that authenticity matters when it comes to marketing online. People don't trust brands, but they do trust other shoppers. This is one of the reasons why online reviews are so important, particularly for ecommerce companies.
In addition to building brand trust with your audience, other benefits of user-generated content include:
Boosting your social media reach, particularly if users tag your brand profile
Improving your ranking in search engines
A better understanding of your audience and get insights into your strengths and weaknesses
Offering social proof
More than half of Millennials have made travel plans or chosen to eat at a restaurant based on an image or video they saw a friend post on social media. [Stackla]
The bottom line is user-generated content is more effective and more cost-effective. If you are struggling to compete in the noisy digital world, you can't go wrong with UGC.
Now that you understand the benefits, how to do you encourage UGC?
There are many ways, from simply asking visitors to tag your brand in their photos to creating contests that ask entrants to share a picture or a story with a hashtag for a chance to win a prize. Here are a few more ways to encourage your users to create content around your brand:
End your blog posts with a question to encourage readers to respond.
Pose questions on social media.
Create and use a brand hashtag. Ask customers to use it as well.
Regramm (repost on Instagram) photos users post of your products. (Be sure to ask permission and tag the original poster.)
Ask for testimonials, pictures, and stories about how your customers use your products.
Host contests or giveaways where entries require UGC.
Here are a few examples of how brands encourage user-generated content:
Imperfect Produce
Imperfect Produce, a produce delivery company dedicated to reducing food waste, includes a postcard with each box they send out. The card has a prompt encouraging their customers to post a photo of their box with the hashtag #cookingugly. For every post using the hashtag, the company commits to donating 5 pounds of food to a local food bank.

Based on the nearly 7,000 posts using their hashtag, this simple approach works well.
Rothy's
Shoe company Rothy's is known for creating washable, sustainable footwear made from recycled fibers. They promote the use of the hashtag #rothysinthewild on their Instagram account.

Other than using the hashtag themselves, the brand doesn't appear to have done any other promotion, yet the hashtag has been used over 1,500 times by hundreds of users. Pictures on the hashtag are mostly from real users sharing their obsession with the shoes.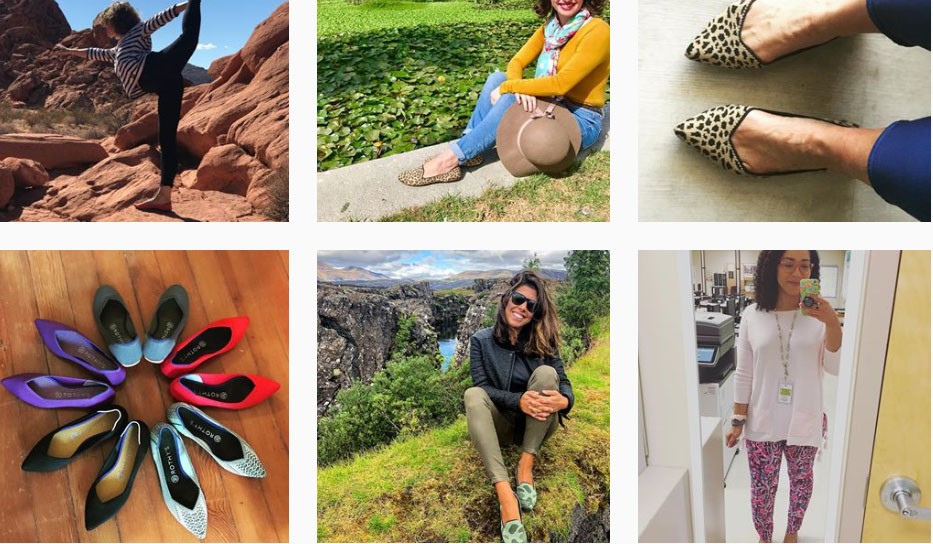 As you can see, even a simple ask can drive decent amounts of user-generated content. Contests, however, can take it to the next level.
How to Drive User-Generated Content Through Contests 
The competitiveness of contests motivates people to participate for the chance to win a prize. You can use that motivation to encourage users to submit user-generated content such as photos, videos, testimonials, and more.
Woobox provides powerful tools for creating UGC contests that facilitate both photo and video submissions. You can leverage hashtags, passwords, and even allow for video or photo uploads. While you don't have to use a platform to host your contest, you will find many more features, such as the ability to track entries, limit entries by geography, embed the contest into your website, and much more. It is also easier to track and select winners than running the contest manually.
Below, I will walk you through how to use Woobox to create a UGC-generating contest, then show you some examples to inspire your own UGC contest.
How to Create a UGC Contest on Woobox
You can create multiple types of contests, including sweepstakes, photo contests, polls, giveaways, instant win contests, and more. This walkthrough will show you how to create a contest to encourage users to submit their own photos or videos.
Note this walkthrough illustrates just one type of contest. There are dozens of ways to customize your contest.
Sign up for a free Woobox account. You can play around with settings and create as many contests as you like. You pay nothing until you are ready to send your contest live.
Choose where you want to host your contests: a dedicated landing page, a popup on your site, embedded on your website, or on a Facebook page. (For this walkthrough, we will use a landing page option.)
Choose the Landing Page Template. I suggest choosing either Video Contest, Photo Contest, or Hashtag Submissions if your goal is to drive user-generated content.
Give your contests a name.
Edit your contest by setting a date, adding a description, choosing entry formats, etc. There are a lot of customization options, so if you get lost visit their help desk or reach out to Woobox support Monday through Friday 9 am – 5 pm PST, at 1-360-450-5200 or woobox@support.com. O

Once you have selected how entries are submitted, chosen how winners are picked, and created your form, it is time to send your brand spanking new contest live!
Promote your contest by sharing on social media, sending out to your email list, and asking your audience to share.
User-Generated Content Examples to Learn From 
Ready to create your contest to drive user-generated content? Here are a few examples for inspiration. Some were created using Woobox, and some were not. I'll highlight what makes each contest effective so you can determine what strategies will work for your brand.
ILIO MARE Beach Hotel
ILIO MARE is a luxury resort located on Thassos Island. In an effort to increase their Facebook presence, they hosted a photo contest use the hashtag  #iliomaretruesummer. They double down by asking users first to like their Facebook page, then enter the contest. (Remember you can't require Facebook likes, but you can ask and make it easy for users to like your page.)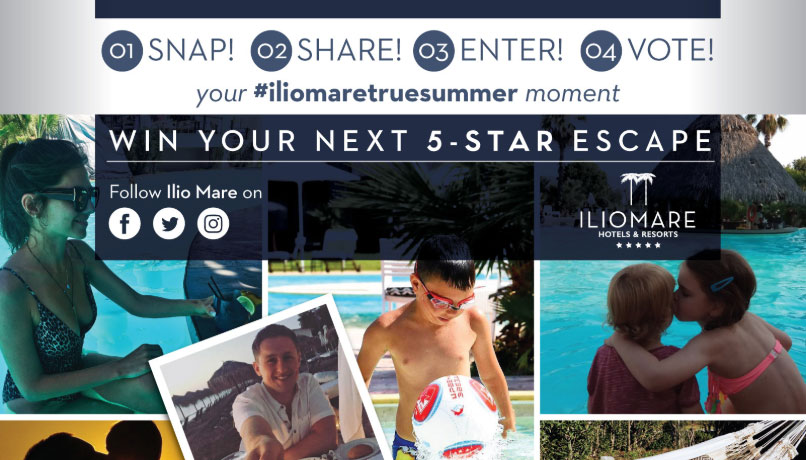 To enter, users were asked to share photos of them having fun at the resort and tell the story behind it. This means more photos of the resort and reviews of some of the visitor's favorite features.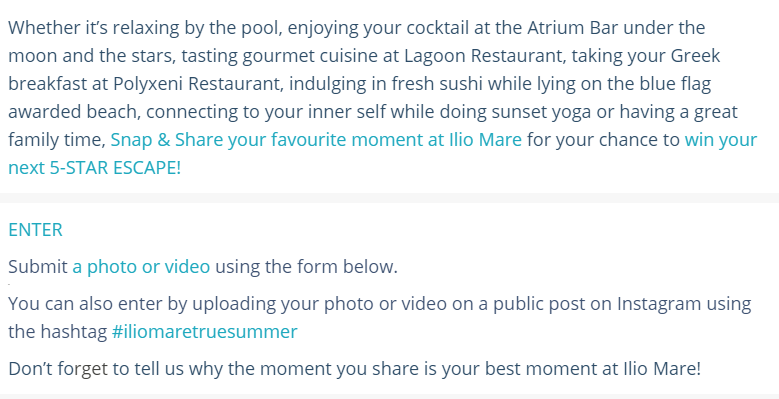 The combo of photos and stories helps increase social awareness and encourages reviews. The free 5-night stay is a huge incentive to their audience, without costing the brand much.
Mr. Sweets BlueBeats Challenge
This contest silly and fun, which fits perfectly with their target audience, who are mostly kids. This candy company shared a video of dancers grooving to different types of music representing their popular candy types. Kids were asked to do their own version of the dance and send in videos.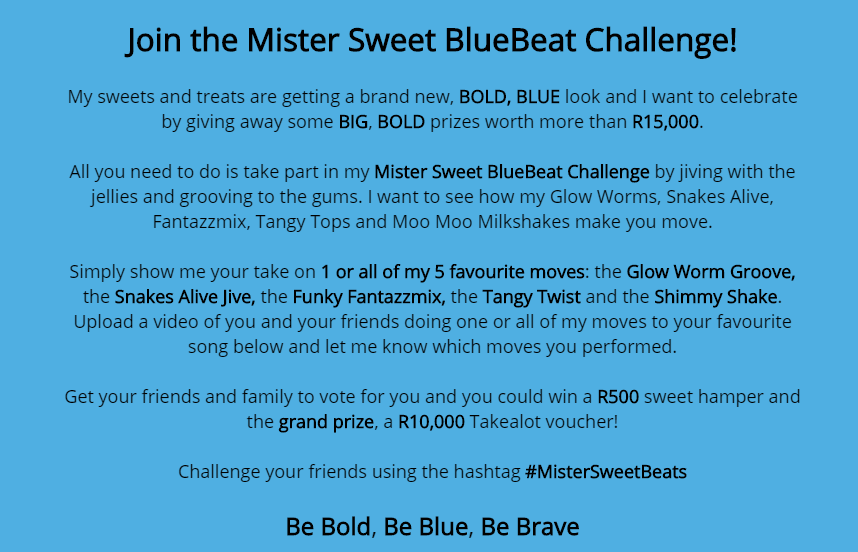 In addition to using the brand hashtag, this contest winner is decided by votes, which means entrants are encouraged to share and ask for likes from their friends and family.
Corpus Naturals
Vegan deodorant maker Corpus Naturals recently ran a giveaway on their Instagram account. To enter, followers were asked to tag friends on a post. In just 19 hours the post got 385 likes and dozens of comments,  far more than previous posts by the brand.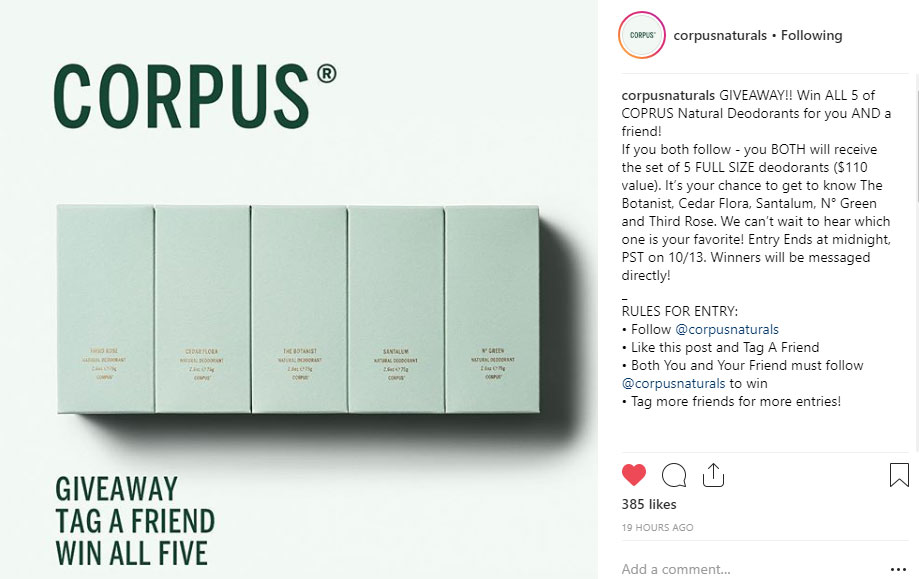 They also ask users to share which scent is their favorite, which drives more user-generated content in addition to the Instagram comments.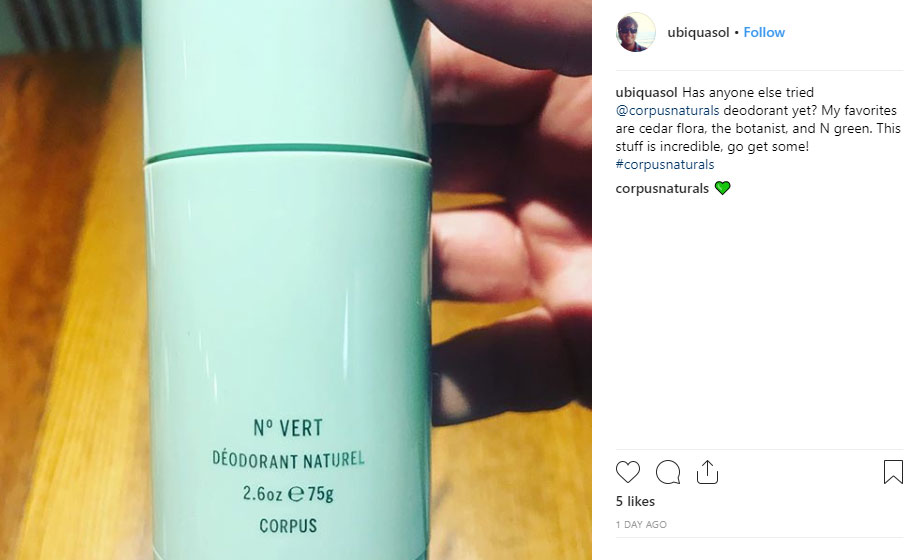 Unlike previous examples, Corpus does not appear to have used a contest platform to host their contest. While their contest has been effective to drive engagement and user-generated content, it won't help them gather emails or other demographic information.
PDSA
UK-based veterinary charity PDSA recently hosted a giveaway for a ticket to a dog-friendly music festival and a digital camera. To enter, users were asked to share a photo of their #PetBFF.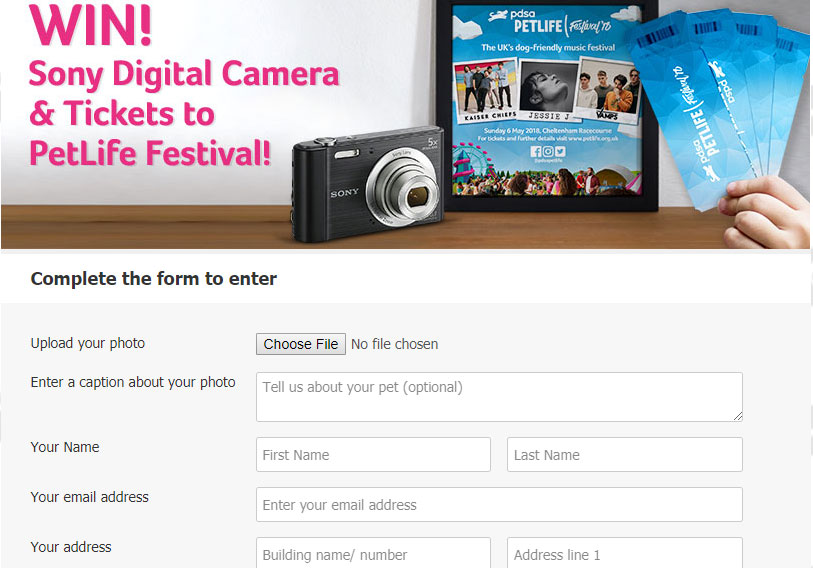 Winners were chosen based on votes, which encourages users to share the contest with their friends and family. They also use the entry form to gather email, addresses, and full names, which they can use for marketing purposes (with permission, of course.)
Key Takeaways
Consumers are savvier today than ever before, and a recent study shows that user-generated content is becoming even more effective than influencers. If you're looking for an affordable, effective way to grow your brand, using contests to increase user-generated content is the way to go.
Here's what you need to know to make it work:
Most consumers don't trust brands. Instead, they're turning to friends and family for recommendations.
User-generated content is an effective and cost-effective way to drive sales and increase brand trust.
User-generated content comes in many formats, including social posts, photos, and blog comments.
Contests are a highly effective way to encourage customers who already love you to share their thoughts and photos on social media.
Using a platform to host your contests makes it easier to gather information about your audience that you can use (with permission) to send email updates and other materials.