The Internet is a crowded, crowded place. What's a Real Estate Agent to do to cut through the clutter and generate leads?
The concept of online quizzes is probably as old as the Internet itself. Besides being an indispensable tool for assessment, interactive quizzes have proven their mettle when it comes to engaging audiences. Plus, because interactive quizzes are fun and easily digestible content, they often get shared over and over again, making them ideal for publishing on social media and watching the traffic roll in.
Let's explore why Interactive Quizzes are so effective and the best way to execute them to accomplish your goals and objectives.
Here's what we're going to cover: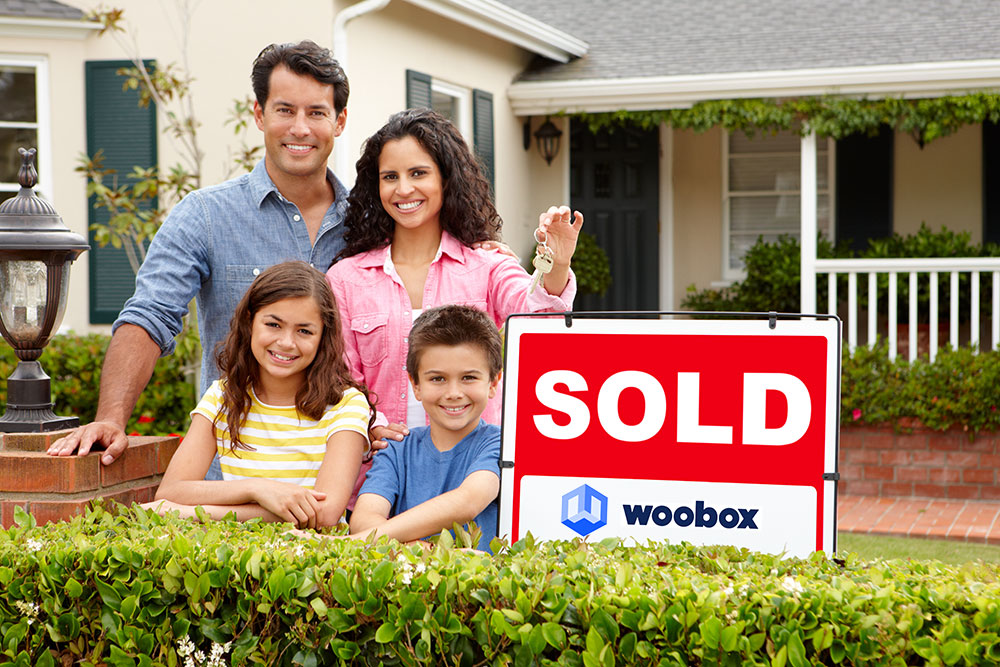 Interactive Quizzes Are Proven Traffic Generators!
According to a recent Slate.com article, BuzzFeed quizzes can attract anywhere from 300,000 to 10 million views. BuzzFeed is, of course, a huge organization with a massive reach to begin with. But that doesn't mean that real estate agents can't tap into the potential of online quizzes for their own use.
For Real Estate Professionals, the rationale behind using quizzes for lead generation is relatively straightforward – there's something magical about quizzes and tests that seems to draw most people. So much so, that they do not mind trading their contact information for the opportunity to take the quiz. Even if that means having to give up their email address to check out their results. According to a report from Conversion XL, a well-designed quiz can generate opt-in rates north of 50%, helping Real Estate Agents generate far more leads as compared to other strategies.
"-a well-designed quiz can generate opt-in rates north of 50%"
It is also a terrific strategy for new Real Estate Agents that haven't yet built up significant online presence. Interactive quizzes have inherent virility. And the best way to acquire new leads is to get in front of as many people as possible, at the right time, with the right message. And while Interactive Quizzes are extremely popular, they are only being used by the savvier Real Estate Agents. So, for a new Agent, interactive quizzes are an excellent way to compete with the name recognition of competing Top Producers in market.
Woobox's interactive quiz builder is capable of generating higher-converting quizzes while also offering an entertaining, educating and engaging experience. And, when used in conjunction with your static content marketing efforts such as blog articles, graphics, and videos, Woobox quizzes can increase the results of your lead generation and social media efforts exponentially.
You can sample a Woobox Real Estate interactive quiz here.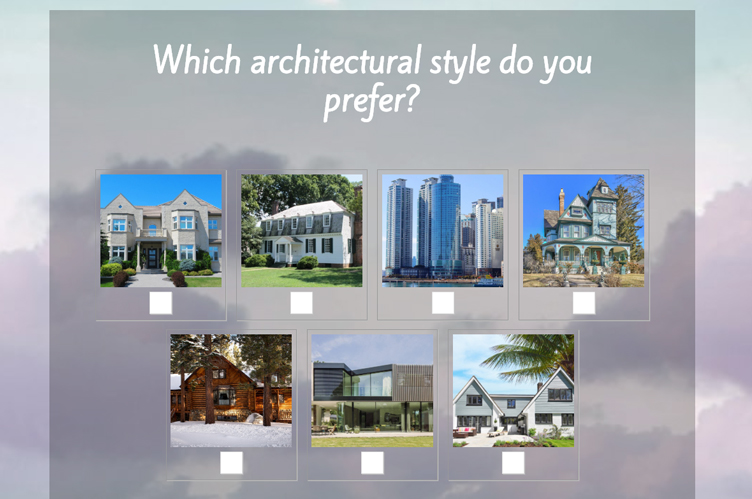 Wait, How Exactly Does A Quiz Get Me Real Estate Leads?
Increased traffic created by quizzes doesn't always translate to leads. What does translate to leads is requiring that a quiz-taker enter their contact information if they want to see their quiz results, specifically their email address.
Acquiring email addresses through fun quizzes that don't strike the quiz-taker as being salesy is a great way to grow your email list so you can enhance the return on your email marketing efforts. Plus, the right kinds of quizzes will help you grow in a targeted way, so your new leads are more highly qualified and open to receiving your message.
So, What Are The Best Kinds Of Quizzes For Real Estate?
If your goal is to increase targeted leads, then your quiz content needs to be targeted accordingly.
Let's say that you really want to reach first-time buyers in the Greater Seattle Area. To reach them, create a quiz that's most interesting and relevant for them, and make sure it delivers value.
For example: "Answer These 10 Questions to Find Out Where in Seattle You Should Buy Your First Home." This quiz would guide quiz-takers through questions that would identify their priorities, lifestyle, their future goals, and so on.
The results — shared only once they've completed the data capture webform — would offer valuable insights to help assist in their home search. And, now that you've identified and gathered email addresses of prospective first-time buyers in the Seattle area, you can begin sending them targeted information and converting them from leads to clients.

How Do I Craft My Interactive Quiz To Generate Leads?
Step 1. Choose a Goal
Before creating an Interactive Quiz, it's essential to determine the purpose. Choosing a goal helps you focus on your audience and their specific needs. It ups the chances of appealing to your audience and expanding your marketing reach.
If your goal is to generate new Real Estate leads, then a contest that engages your current audience and encourages them to share the contest with others works best. However, if you want to create brand awareness, then focus your quiz around a theme that aligns with your brand message.
While it's possible to meet a couple of goals with one well-placed social media quiz, start with one objective and tailor your quiz accordingly.
Step 2. Align Your Goal to Your Marketplace
Now that you have a goal, your next step is to make sure that objective aligns with your market. Facebook Audience Insights provides excellent insight on your current connected audience, along with Facebook users as a whole.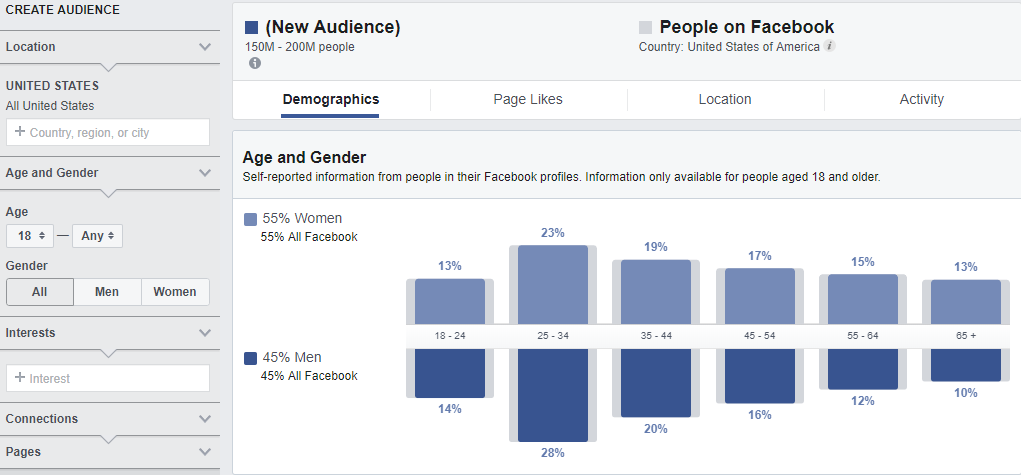 Demographics. Discover the age, gender, or location of your current audience.
Interests and hobbies. Does your audience drive 2-doors or minivans? Perhaps, they're interested in household DIY projects or smart home technology.
Lifestyle. This result combines relationship status and location to give you an overview of your audience's lifestyle.
With Facebook Audience Insights, you'll see what types of devices your audience uses, how many ads they've clicked, and which posts they've liked. Combining this information should help you understand your audience more deeply so you can define an "ideal client."
Step 3. Brainstorm and Discover Your Quiz Questions
Once you've defined your ideal client, you can brainstorm a list of questions that will resonate with them. While your quizzes shouldn't be too long, this brainstormed list should be.
Create a scoring system from 1 to 10 and ask yourself with each question you brainstormed:
Will this entertain my ideal client?
Will this educate my ideal client?
Will this inform my ideal client?
Grade each question based on these 3 criteria and choose those questions which score highest. Don't be afraid to go back to the drawing board and recraft.
Step 4. Brand Your Interactive Quiz for Maximum Consistency
Consistency is far and away the first rule of branding. It is essential to recognition and recall.
Regardless of your quiz objective, well-branded content captures the attention of consumers over the long haul. In fact, brands that are consistently presented to consumers are four times more likely to experience brand visibility. When you share social content that repeats your brand's color, style, and tone, then you deliver a sense of trust and familiarity with your audience. In return, this increases engagement and generates leads.
Keep a copy of your brand guidelines close by as you create your Interactive Quiz so you are sure to maintain the integrity of your brand's visual identity.
Align each element of your quiz with your brand standards to ensure consistency throughout your quiz social promotion.
Customize your images, landing page, call-to-action and all messaging to reflect your brand voice.
Step 5. Promote your Interactive Quiz across all social channels
Remembering that not all social channels should be treated the same, craft captions that will create buzz around your quiz and excitement surrounding receiving the results.
Choose a dedicated hashtag for your quiz and encourage sharing of the quiz and posting of results, all using the hashtag. The hashtag should be relevant to your ideal client. In the earlier example; #seattledreamhomequiz vs. #dreamhomequiz would eliminate attracting leads that are outside of your service area. And, don't be afraid to be kitschy and humorous so long as you know how to be. It will give the entire post additional virality which again, is a key component to a successful Lead Generation campaign.
Remember, the more specific the hashtag the better as it is a campaign surrounding you and your quiz specifically. Choosing a hashtag with too many search results will get your content lost among higher-level posts less targeted to your ideal client.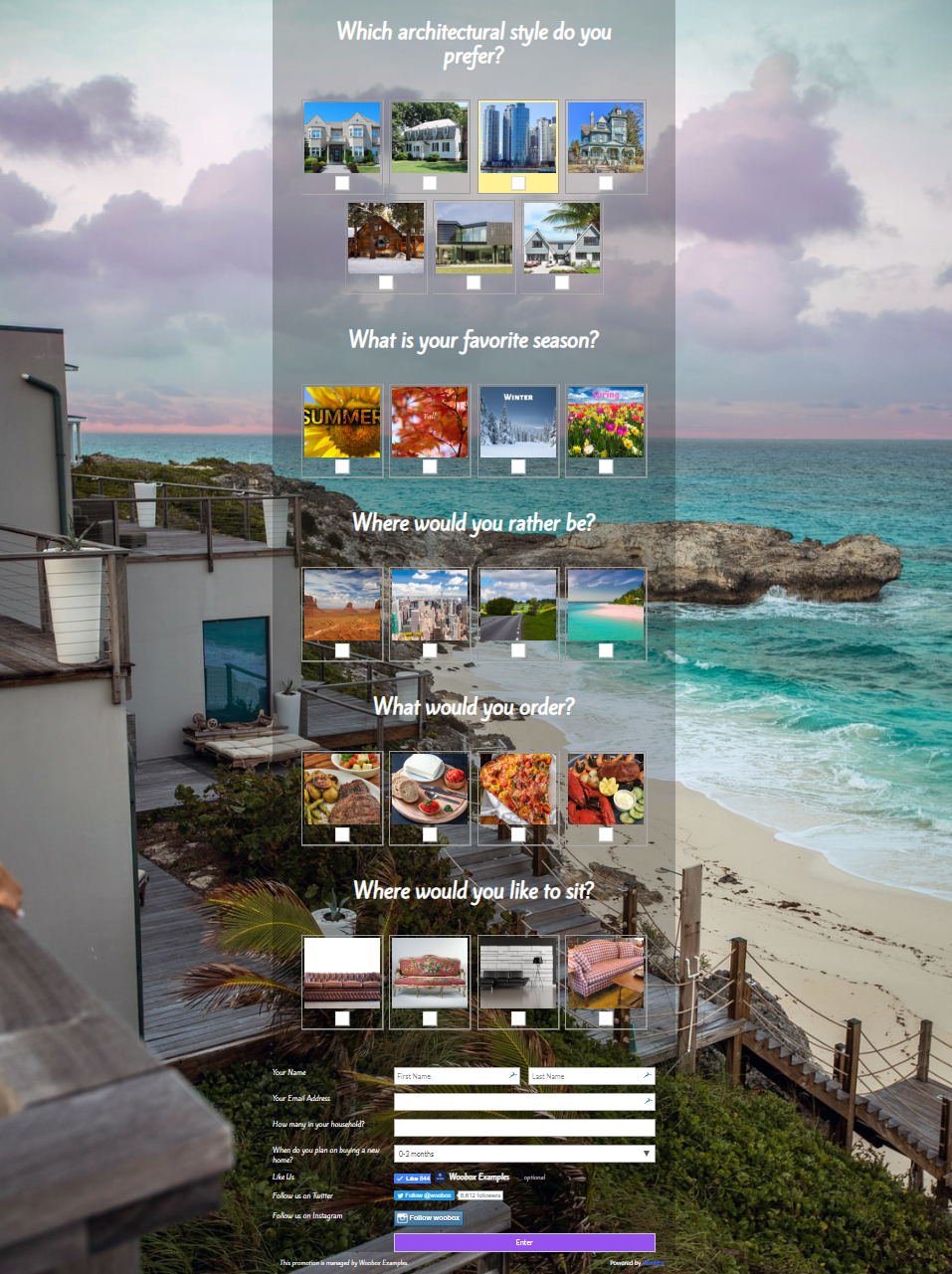 How Do I Create a Woobox Interactive Quiz?
For detailed steps and help setting up your Woobox quiz, take a look at our interactive quiz setup guide.
Example Interactive Real Estate Quiz
Need to see an example quiz made with Woobox? Sample this Interactive Real Estate Quiz to get an idea for what kinds of marketing experiences you can create.
FINAL THOUGHTS ON INTERACTIVE QUIZZES FOR REAL ESTATE AGENTS
We've reviewed why interactive quizzes rise above the clutter of the crowded social landscape. We've also reviewed why, whether you are a seasoned agent, or just starting out:
Quizzes are proven traffic generators! A well-crafted interactive quiz can generate opt-in rates north of 50%, helping Real Estate Agents generate far more leads as compared to other strategies.
The right kinds of quizzes will help you grow in a targeted way, so your new leads are more highly qualified.
The viral nature of interactive quizzes makes them ideal tools for lead generation.
Crafting an effective interactive quiz means defining your goal, defining your ideal client, keeping your brand integrity intact and understanding social media tactics that assist in increasing reach such as hashtag strategy.
So, now that you know how effective interactive quizzes can be in your lead generation strategy, what is your first quiz idea?