The internet is a crowded, crowded place. What's a marketer gotta do to get a lead or some engagement around here? Well, we've got a few interactive quiz ideas you can steal that may just help you out. How's that sound?
Of course, maybe you're not sold yet on the whole "interactive content" concept. After all, you've been working hard on blog posts and social media marketing efforts to build awareness for your brand. You don't want to abandon that hard work — and you don't have to.
Written content, video, social media — all of these tactics are still relevant, and they often work hand-in-hand with interactive quizzes and content. Start thinking of interactive content as the way to help your brand and other content assets stand apart from every other company that's filling the internet with those static content pieces.
Why do interactive quizzes work?

People across all generations love personality and trivia quizzes. (Don't tell us you don't know which Hogwarts' house you belong to.)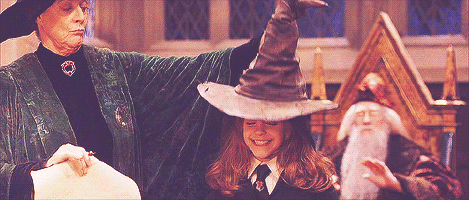 Even before the internet, magazines had quizzes to engage readers. Interactive quizzes are simply a techy twist on a classic audience engagement tool. Plus, quizzes can address the need to feel like a brand's collaborator and contributor — an attribute especially important to Generation Z.
So, are you ready for those interactive quiz ideas you can steal? Let's get started!
1. Quiz Idea: Uncovering Knowledge Gaps and Misconceptions
Pew Research's Quiz: How Well Can You Tell Factual from Opinion Statements?
This quiz from Pew Research focuses on helping quiz takers understand their ability to discern factual statements from opinion statements. This type of interactive content serves the purpose of educating readers and customers about the things "they don't know that they don't know."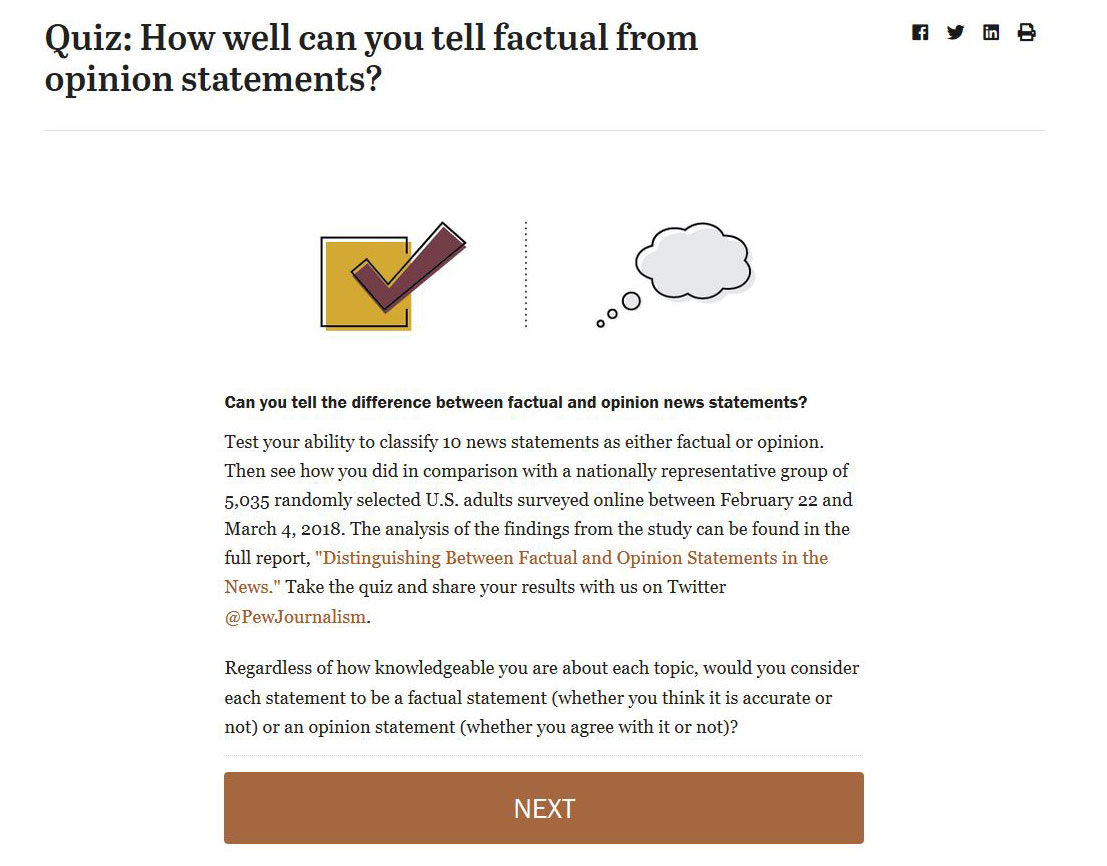 Why this is genius. The "they don't know what they don't know" type of quiz is genius because it gives you, the marketer or brand, the opportunity to reveal misconceptions or knowledge gaps without coming off like a smartypants know-it-all.
What's cool about it. Pew Research has simply given readers a set of statements to evaluate as either factual or opinion-based. They don't interject any editorial or hints that would sway the participant one way or the other. The person can see a breakdown of how people involved with the original study answered, and he or she can click a link to read more about the original research.
In today's emotionally-charged political climate, letting people discover the difference between news fact and fiction allows them to arrive at answers without feeling "told what to think."
How you can steal this idea. Maybe you aren't dealing in anything as potentially explosive as politics. However, you may have some subjects that can be just as delicate for some people. Can you rock a pixie cut? Do you have what it takes to become an entrepreneur? Can you get away with short shorts? All of these questions can have heartbreaking answers depending on the quiz taker. If you can create a quiz that reveals points for the quiz taker to evaluate — and provide constructive, useful guidance with your quiz results, a "they don't know what they don't know" quiz could work well for your audience.
2. Quiz Idea: Community Building
PBS' Quiz: The Great American Read — How Many Books Have You Read From the List of 100?
The "How Many Books Have You Read From the List of 100?" quiz from PBS is a terrific example of a quiz that implies something about the level of intelligence or belongingness of the quiz taker while also acting as a promotional tool. This quiz was used to promote The Great American Read series focused on uncovering the nation's 100 most-loved novels.

Why this is genius. People who watch PBS are typically seen as well-educated, well-read individuals, obviously — what other television station does shows about novels, right? Not only does this quiz help promote the PBS series, but it also gives PBS supporters a way to show their "belongingness" to the PBS tribe.
What's cool about it. PBS made sure that participants can share their results across multiple social media channels. But what about those friends who don't use the internet (or those who keep claiming they never got the link to this quiz that you sent them)? Not a problem. PBS has set up a link to download this list in a PDF format.
How you can steal this idea. Take a good look at your brand community and its characteristics. What do the people have in common? What do they all aspire to? What draws them to your brand? Distill those elements into a quiz that helps make people feel like a part of your tribe.
Maybe your brand is known for first aid supplies — create a "how prepared are you?" Sell environmentally-friendly products or services? Think about how a quiz could help someone show off their enthusiasm and dedication to "going green."
The beauty of this category of quizzes is that you can deliver in the form of a test your knowledge quiz (do you know what to put in a first aid kit?) or a fun personality quiz (how "green" are you?),
3. Quiz Idea: First-time Buyers Guidance
Thrive Causemetics' Shade Finder Quiz
Thrive Causemetics helps new customers select the right shade of foundation with its Shade Finder Quiz. If you've ever tried to pick out a shade of foundation by yourself, you know what a help a quiz like this can be.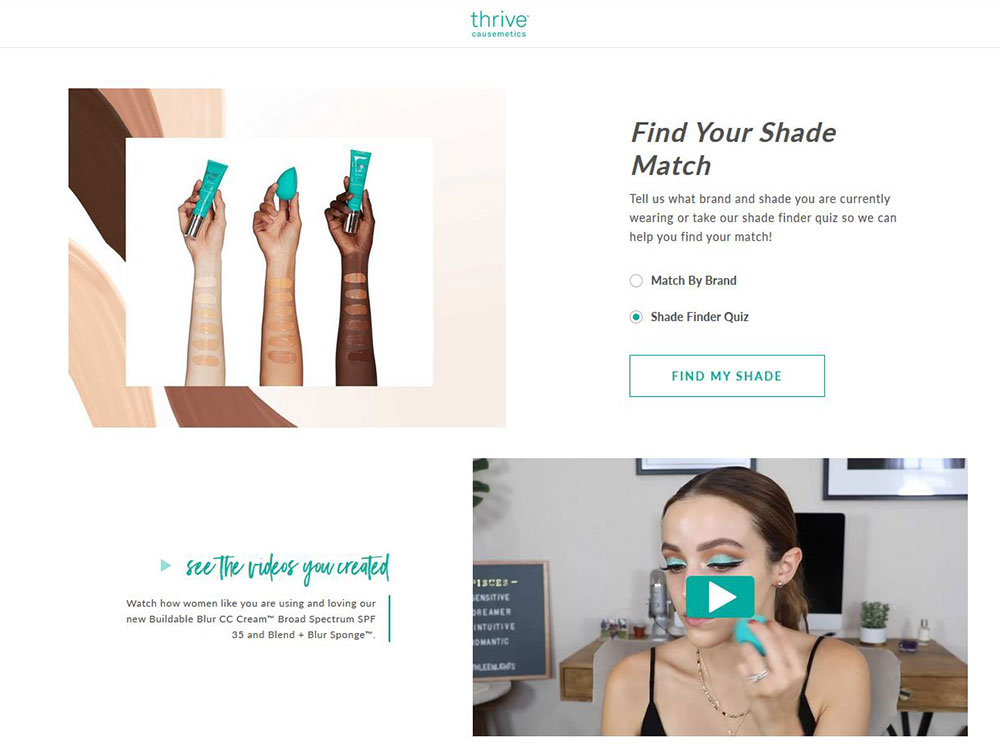 Why this is genius. Thrive Causmetics doesn't sell its luxury makeup products in stores, so the company needed a way to help customers make the right shade selection without seeing the product in real life first. The brand decided to create interactive options for selecting the right shade.
What's cool about it. When you make a purchase of a high-end makeup product for the first time, especially online, it can make a customer a bit uneasy. What if you don't like it? Can you easily return it? You want to feel confident the purchase will be a good decision. Thrive Causemetics not only gives customers a helpful Shade Finder Quiz, but the company also gives you the option to pick a shade based on your current brand, too. That gives quiz-takers a little more piece of mind. They can check their results against a real-life shade they already use.
How you can steal this idea. Online quizzes for assisting first-time buyers can focus on any number of product attributes or benefits. Think about the most common questions and concerns you receive from first-time customers. Use that information to develop a buying guide quiz to make the process easier. You may find that you increase online conversions with one simple quiz.
4. Quiz Idea: Personalized Recommendation
Stitch Fix Style Shuffle Quiz
Stitch Fix is a subscription service that gives you a personal stylist as a service. Your stylist selects clothing and accessory styles that get delivered to you periodically after you choose (monthly, quarterly) favorites. When you first become a Stitch Fix customer, you take a style quiz. However, the fun and feedback doesn't stop there.
Via the Stitch Fix app, customers can provide feedback on styles they do and don't like via the Stitch Fix Shuffle. Customers download the app and rate looks to help their stylists pick the right clothing and accessories.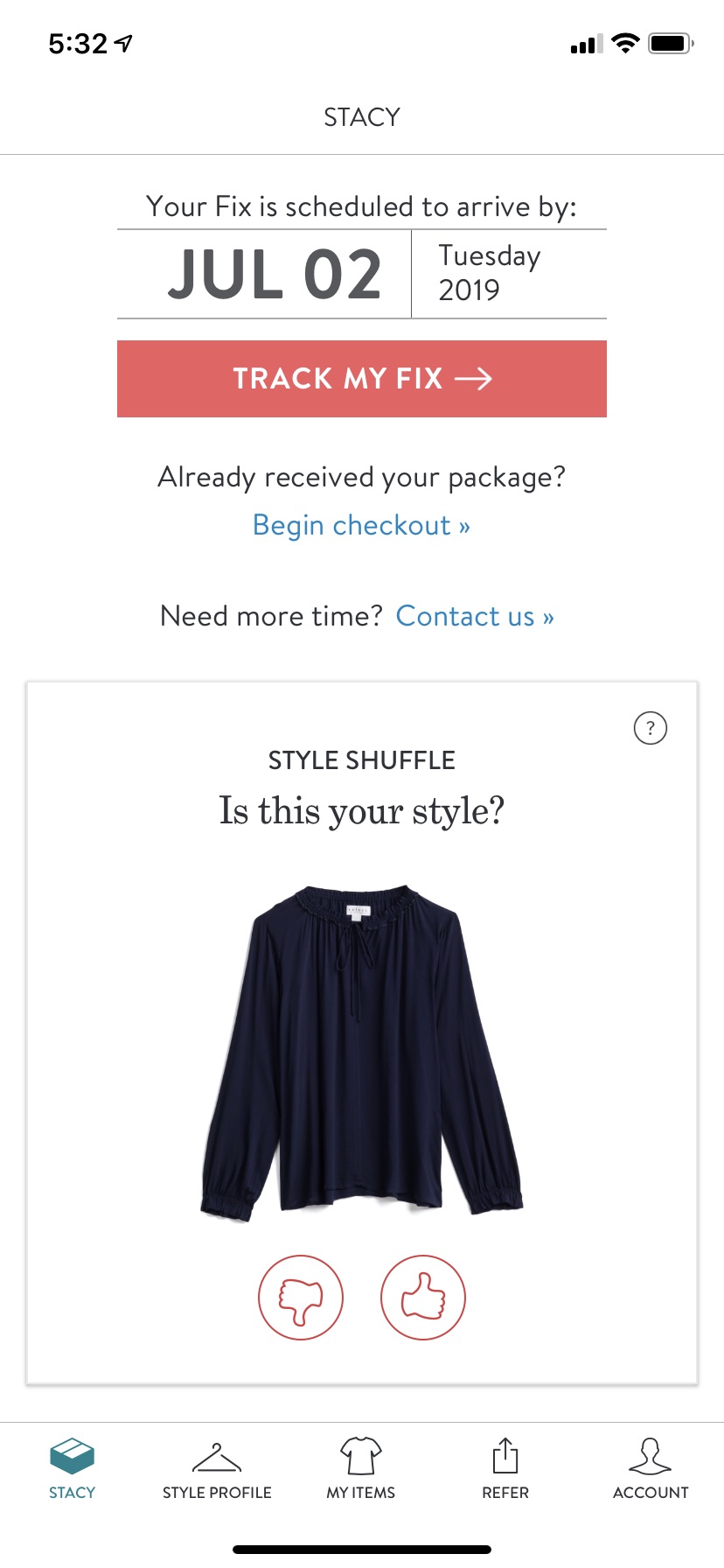 Why this is genius. Styles and tastes change, and sometimes you may like a specific article of clothing that otherwise doesn't go with your overall aesthetic. Stitch Fix gets that, and that's precisely why they use a quiz-type format to gather continuous feedback from customers.
Why it's cool. By gathering reactions from users on the regular, Stitch Fix can take some of the guesswork out of their stylists' jobs when it comes to putting together looks for their subscribers. This quiz approach reduces the likelihood of returns and increases sales, customer satisfaction, and loyalty.
How you can steal this idea. Even if you don't sell something as "fun" as fashion, there is likely a way to use quizzes to gather useful feedback from your clients. If you're a landscaper, have potential and current customers rate different landscaping looks based on the type of property they may hire you to manage. Sell a coffee subscription service? Quiz patrons about brewing, flavor and food trends so that you can recommend the right roast to pair with their favorite breakfast or dessert.
Final Thoughts on Interactive Quiz Ideas
We've reviewed four different examples of interactive quizzes in action. To recap, we learned how quizzes:
Reveal and potentially correct knowledge gaps and misconceptions
Develop a sense of community and build your tribe
Assist first-time buyers
Help you collect information to improve customer experiences continuously
Will you steal any of these interactive quiz ideas?