With a new decade before us, a few things aren't changing. Social media use isn't slowing down. New platforms keep popping up, and people spend more time online than ever before. Sure, you have extra opportunities to reach customers. But, you're stretched thin, trying to juggle multiple channels and keep up with the latest trends.
Guess what else isn't changing? You won't get more hours in your day to manage social media. Your audience still thrives on interaction with your company. And to gain traction, you need a consistent brand presence on social platforms. These are all reasons why 85% of businesses use third-party tools to manage social media.
The right mix of apps, along with a repeatable process, boosts your productivity, and gives you more time to engage with your followers. Explore our list of social media tools that help you balance your time while staying connected with your team and customers.
Best Social Media Tools for 2020
Build Your Editorial Calendar
An editorial calendar gives you a clear view of your campaigns across several social channels. Once you complete your schedule, then it's easy to tweak as needed or automate various elements. Plus, it helps you deliver a continuous stream of content well-suited to the needs of your audience.
Tools for Brainstorming and Planning Content
There are a lot of ways to brainstorm and organize your social content. Traditional methods, like using a spreadsheet, do the trick. But, the format makes it tough to visualize your content and goals in one spot. If multiple people plan, edit, or provide oversight, then making changes or adding suggestions gets complicated.
Fortunately, you can find tons of free templates online that make planning easy. For example, HubSpot offers a downloadable template for Excel. For a more comprehensive solution, consider adding a free or low-cost app. The best tools for planning your social calendar give you:
Flexible viewing options for different types of users in your organization
A way to export data to other apps or for record-keeping
Access on all devices and by several team members
Trello
Trello is a versatile tool that handles a vast range of marketing tasks. Simply add cards with your social media messages, attach links and media, give it a due date, and tag a team member. Use Trello to plan social media content, document processes, and more.
For instance, create lists for different teams involved in social media management. Your content creation team drags and drops their completed cards into the design team's list. Your designers add graphics and drop it into the list for the final review. Plus, power-ups give you access to other features:
The calendar power-up lets you switch from the list view to the calendar view with the tap of a button
The board export power-up transfers your cards into a spreadsheet for easy uploading into a social media scheduler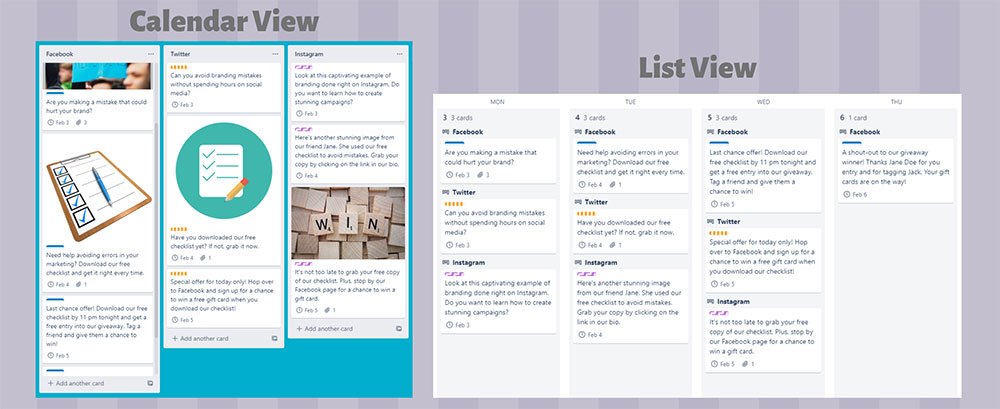 Airtable
For total flexibility, Airtable wins the prize. This powerful combination of spreadsheet and database makes social media management easy. A series of bases hold everything you need to brainstorm, strategize, and collaborate. Airtable also gives you a choice of views: calendar, grid, Kanban, gallery, or form.
Save yourself time by starting with a social media planning and design template. It comes pre-configured with a post gallery and an assets table for storing all your visual content. If you want to export your social posts to your scheduling program, then click the "Download CSV' button.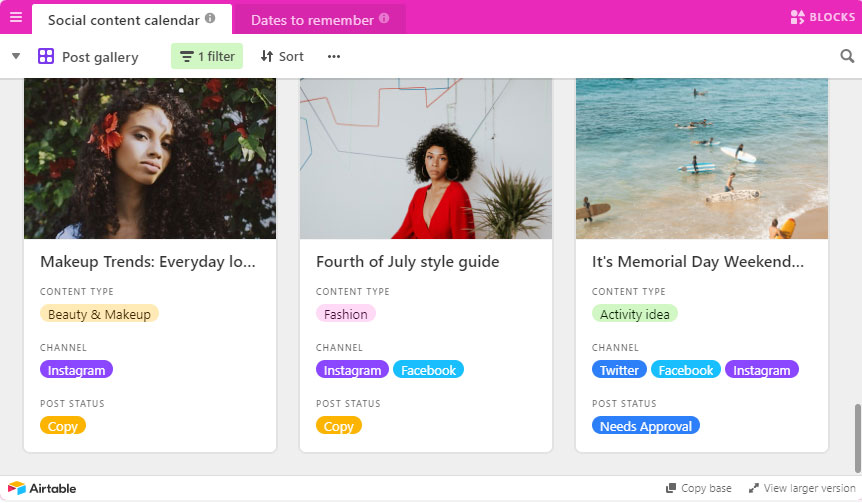 Tips and Resources for Planning your Calendar
Keep teams on track and save time by creating themes by week or month. Add any public or fun holidays to your calendar, then start brainstorming. With the right social media tools, it's easy to switch around your social posts or get an editor's opinion before scheduling.
Need more help with planning your content calendar? Check out these quick reads to make brainstorming and planning sessions easier.
Design Stunning Graphics and Videos for Social Media
"51% of B2B marketers prioritize creating visual assets as part of their content marketing strategy," according to HubSpot. But, with so many images and videos on social channels, it's tough to stand out. Transform stock photos and add captions to a video while showcasing your brand elements with easy-to-use graphic and video tools.
Tools for Image and Video Creation
Tons of graphic and video tools exist. Choosing one or two is difficult. However, the best tools save you time with built-in features for branding and team collaboration while providing an extensive library of stock media options. To keep it simple, we've included our top two favorites below. If you want even more choices, then check out our comprehensive list of video and graphics tools.
Canva
Canva is an all-in-one graphics tool. For example, take one stock image, crop it, add a filter, or change the background with a few clicks. Then use Canva's magic resize feature to crop photos to fit each social channel. Other fun features include:
A graph maker to create custom diagrams
An animator to add motion to your visuals
A brand kit to save your colors and logo

Lumen5
Lumen5 brings a level of automation to your video creation. The tool uses AI to generate videos from your content automatically. Or start from scratch and pair your words with stock video, images, and music. Like Canva, Lumen5 also offers branding options to ensure consistency.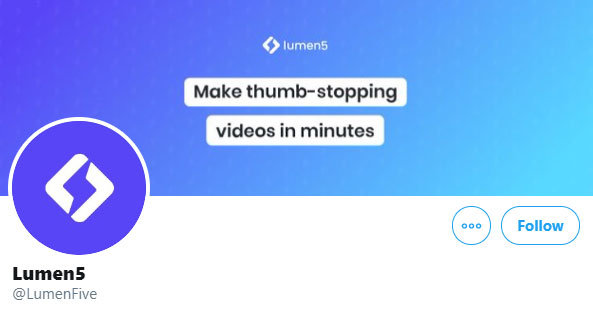 Tips and Resources for Image and Video Creation
Regardless of which tool you use for media creation, it takes time to come up with dozens of unique images for your social media accounts. Save time by:
Creating your pictures and videos in batches
Turning one stock photo into many graphics by cropping and adding filters
If you want more inspiration or to learn about the power of video, then check out these quick reads:
Create Captivating Social Media Messages
Choosing the right words for your social media messages is just as important as selecting the best images. Your tone and voice should match your brand and the platform. Each social media message needs to grab attention and tell your audience what to do next.
Tools for Social Media Copy
From analyzing messages for specific channels to ensuring error-free copy, the best social media tools help you drive traffic while protecting your reputation. Plus, these tools give practical pointers for improvements. Over time, creating outstanding messages will feel like second-nature.
CoSchedule Social Media Analyzer
With the CoSchedule Social Media Analyzer, you pop your message into the box and click on the button. This tool scores your message based on word count, sentiment, and your use of emojis and hashtags. It shows you a score for each social channel, then offers tips for improving your message.
While it's not practical to use the CoSchedule tool for every post, it's worth using when you want to optimize your message for maximum reach and engagement, like hosting a giveaway, or when you're promoting the post as part of an advertising strategy.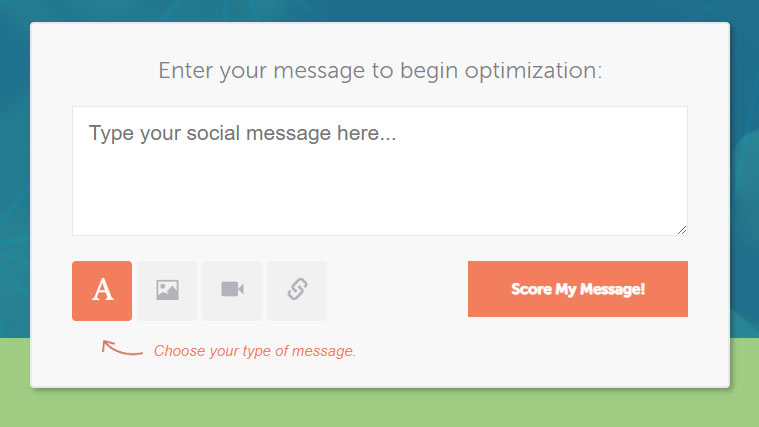 Grammarly
Mistakes reflect poorly on your brand. Grammarly uses AI to detect the tone of your message, along with catching spelling and grammar errors. This editing tool works seamlessly across all channels, such as your scheduling app or on social media sites.
Tips and Resources for Posts
Keep a few templates on-hand and use them to create a mix of messages. Start with CoSchedule's social media message template. Or create your own using basic copywriting formulas. Below are the top three, but Buffer offers a list of 27 formulas with examples as well.
Before-After-Bridge
Problem-Agitate-Solve
Features-Advantages-Benefits
Manage Multiple Social Platforms With Ease
The best way to make social media algorithms happy is to post in real-time. But, let's face it, few marketers have time to post during popular hours. It's a good idea to do a combination of impromptu posts and scheduled messages. Review analytics and see if you notice a huge difference between scheduled and real-time posting, then adjust your actions accordingly.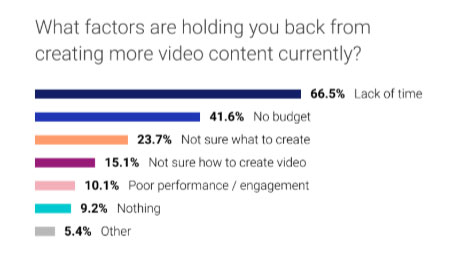 Tools for Social Media Scheduling
With a scheduling tool, you can handle multiple platforms in one spot. Some apps allow you to bulk upload posts to save time. With others, you'll have to use a workaround to get the same effect. Each gives you control over timing, flexibility to move around content, or reschedule popular posts, along with analytics.
Buffer
Buffer is one of the easiest programs to use and works on all devices. But, this app doesn't have a bulk upload feature. Instead, Bulk Buffer integrates with the Buffer to easily upload your CSV file. With Buffer you can:
Create your schedule or let Buffer choose optimal times
Curate content by adding RSS feeds to your content inbox
Tag authors in curated content
Post to LinkedIn, Twitter, Facebook, Instagram, and Pinterest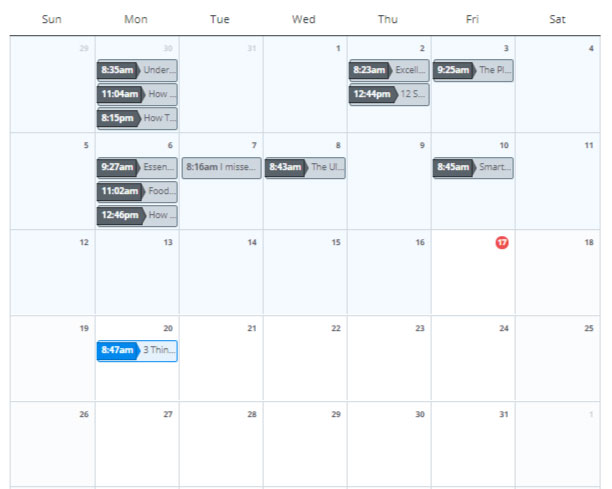 Later
Later works across your devices and platforms. It doesn't offer a bulk upload option. However, Later is the preferred platform for Instagram users. The app helps you:
Collect user-generated content from Instagram
Save your media in a content repository
Upload messages for Instagram, Facebook, Pinterest, and Twitter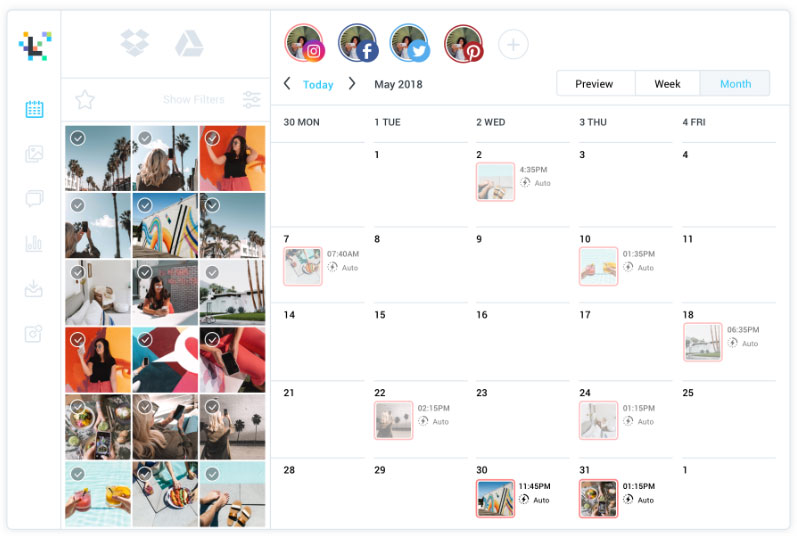 Hootsuite
Hootsuite provides in-depth analytics and advanced features. An intuitive mobile app gives you the freedom to schedule content from anywhere. Plus, Hootsuite has a built-in bulk CSV upload option, which is great for high-volume posting or when scheduling months at a time. Other great features include:
Automatic scheduling for curated content
Set up post-approval options for a smooth process
Schedule posts on Facebook, Instagram, and Twitter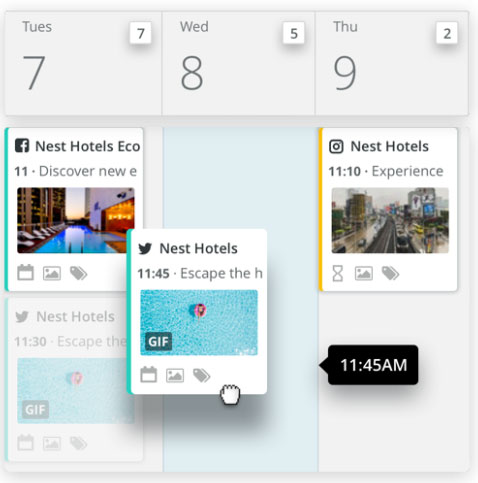 Tips and Resources for Scheduling Social Media Content
Select a platform that connects with your accounts. For example, only Buffer offers LinkedIn scheduling. Then, save time by creating content and bulk uploading a CSV file. To get traction on social platforms, mix it up by scheduling some messages and posting others in real-time.
Develop Traffic-Boosting Giveaways
Adding a giveaway or contest to your social campaign boosts traffic, and increases brand visibility. But, navigating various legal requirements and selecting winners is time-consuming. By using an app for picking winners, you'll have more time to spend interacting with your audience.
Tools for Creating and Managing Giveaways
The best tools deliver an array of features that save you time and increase your reach. You'll have access to analytics and a variety of giveaways, contests, and sweepstakes. With the right giveaway tool, it's easy to build a cohesive campaign across social channels, your website, and email.
Woobox
If you've refrained from hosting a giveaway due to time constraints, then consider using a tool like Woobox. Woobox helps you automate instant win contests and optimize campaigns over time. Create campaigns on YouTube, Facebook, Instagram, Twitter, and Pinterest. Woobox makes it easy to:
Export a list of those who liked or commented on your post
Customize templates to fit your campaign and brand
Integrate with over 500 programs

Tips and Resources for Managing Giveaways and Contests
Bring campaigns to life with a marketing platform that incorporates your branding elements and makes hosting a giveaway easy. Get started with these guides:
Conclusion
Spend more time engaging with your social media followers by creating a process for content creation and management. The right tools support your marketing strategy and encourage cross-team collaboration.
Need Help With Your Marketing Ideas?
Improve your reach on social media with a unique campaign. Explore ideas with our team. Woobox Support is available from 8 am to 5 pm PST, Monday through Friday at 1-360-450-5200 and support@woobox.com.