Except for the early adopters and trendsetters among us, most people like to feel comfortable and reassured when making a purchase decision. Reviews, testimonials, and recommendations from others go a long way in providing evidence that someone is making the right choice in trusting your brand.
One way to gather this social proof — probably one of the most powerful ways — is through user-generated content in the form of photos.
When your loyal customers and fans share photos online that demonstrate their brand love, it piques the interest of their friends and followers. But pictures don't always "just happen" because your product or service is fantastic. Sometimes you have to provide a little incentive, and photo contests are an excellent way to engage your community and build your foundation of social proof.
Below we've identified 20 photo contest ideas that you can make your own.
The 20 Photo Contest Ideas
Photo Competition Ideas to Build Community, Engagement, & Social Proof
1. "Design Your Own" Product-Related Contests
This type of photo contest requires a little flexibility when it comes to your product and much creativity when it comes to your fan base. If you've got a product that allows for a bit of customization, hold a photo contest that allows your customers to "design their own" version of your product or product packaging.
This example from Hornet Watersports is in its fifth year. The contest lets customers submit their artwork to win a custom dragon boat paddle. Hornet Watersports provides a blade outline template that contestants download. Once they've created their design, they can upload entries to the company's Facebook page.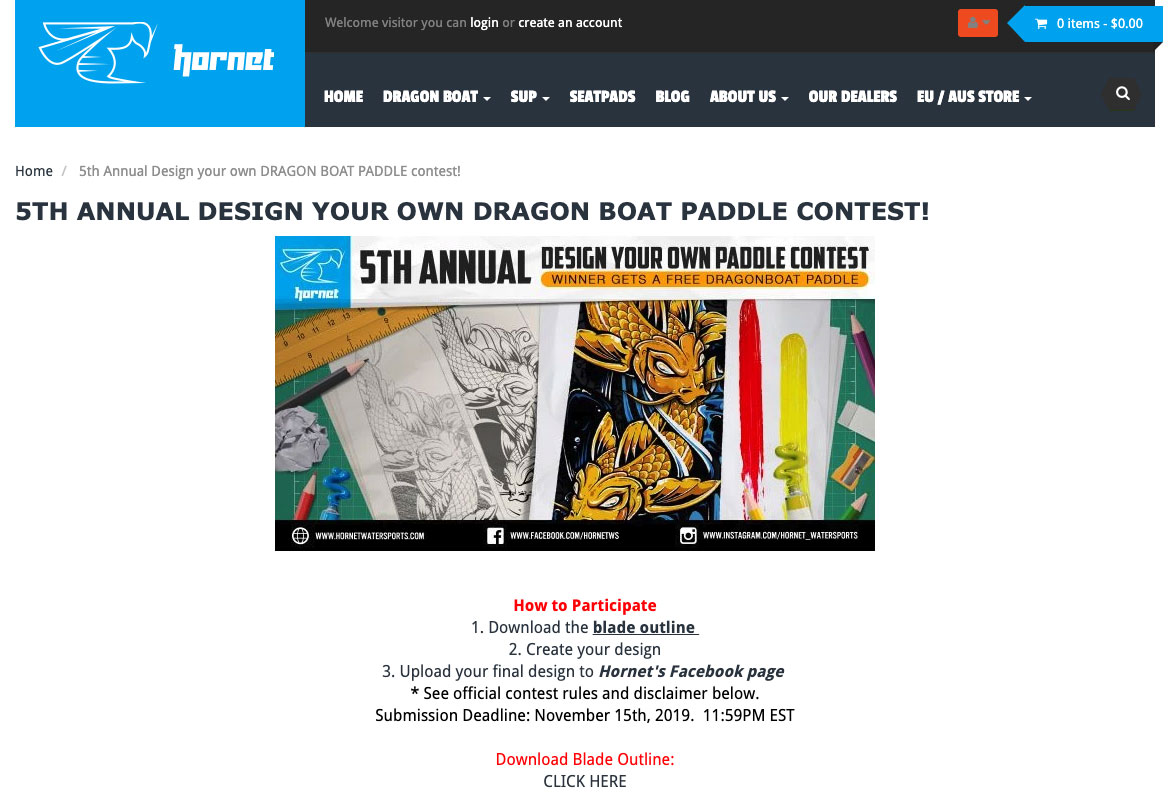 2. "Show Us How You Use Our Product" Contests
Imagine if tons of your happy customers posted photos on Twitter, Facebook, and Instagram, showing the fantastic ways they use your products. You can make that happen with the right photo contest approach.
This example from A.C. Moore Arts and Crafts is a monthly contest where people upload their DIY arts and crafts projects that they made with supplies from A.C. Moore. Entrants must include the hashtag #acmooreinspired, too, with entries on social media. They also have the option of filling out a form and attaching a photo.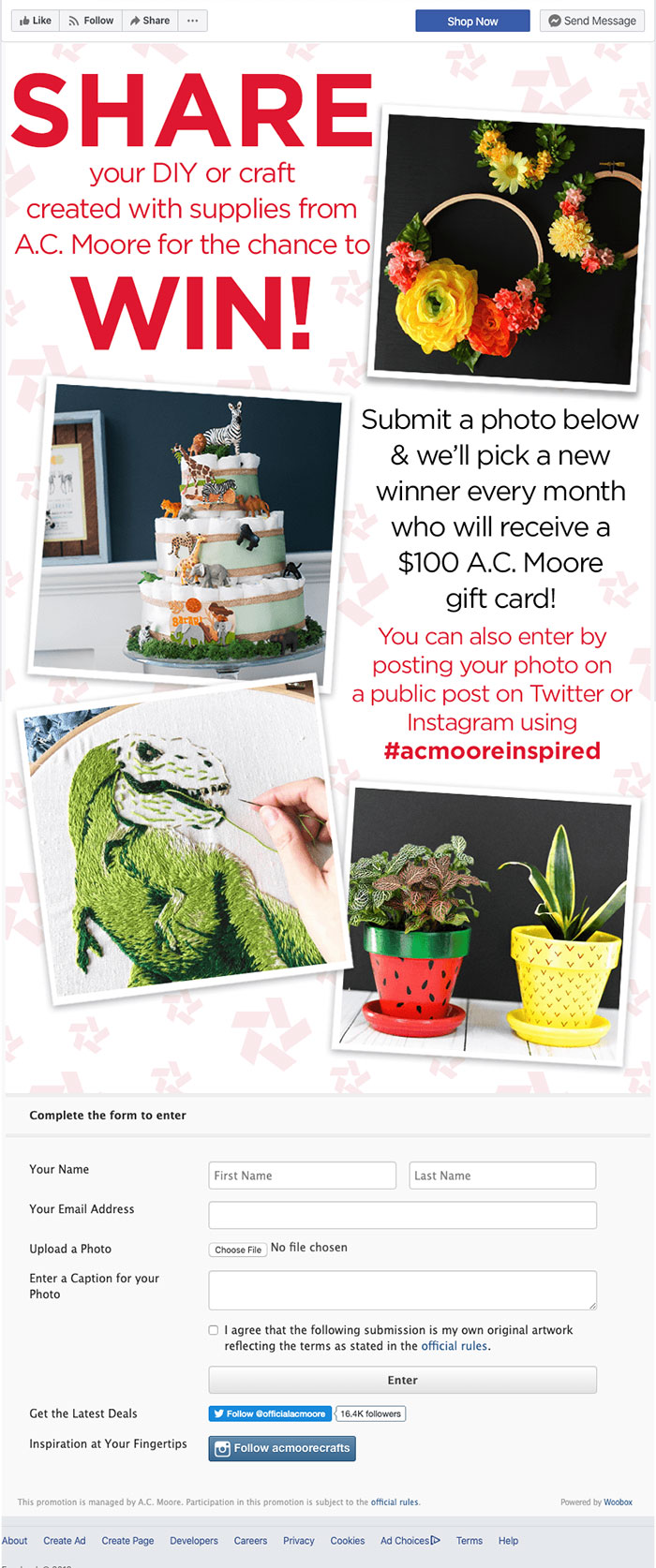 Cuisinart also features contests on its site. This example asks participants to cook one of the recipes in the Cuisinart database that doesn't currently have a photo. Entrants snap a picture of the finished recipe and upload it to enter a random drawing for a Cuisinart Product.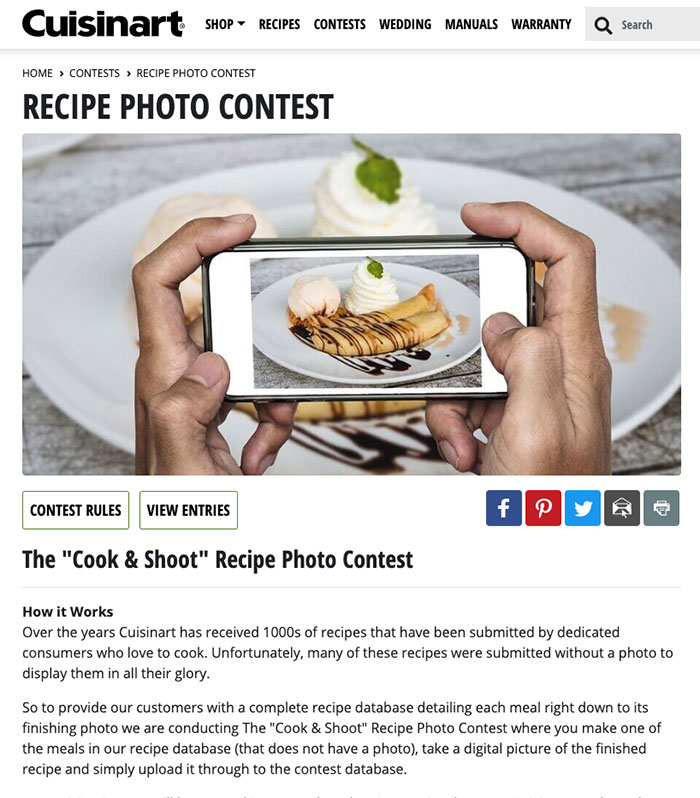 3. "Show Us Why You NEED Our Product or Service" Contests
Sometimes photo contests can take on a "before and after" or makeover type of feel. Whether people enter on behalf of themselves or they nominate a friend, these types of contests can generate much interest. People like to improve themselves — or maybe they want to nudge a friend to make an upgrade.
Surefit Home Décor has The Ugly Couch Makeover Contest, where entrants are encouraged to share pictures of their ugly couches for a chance to win up to $350 in Surefit Products.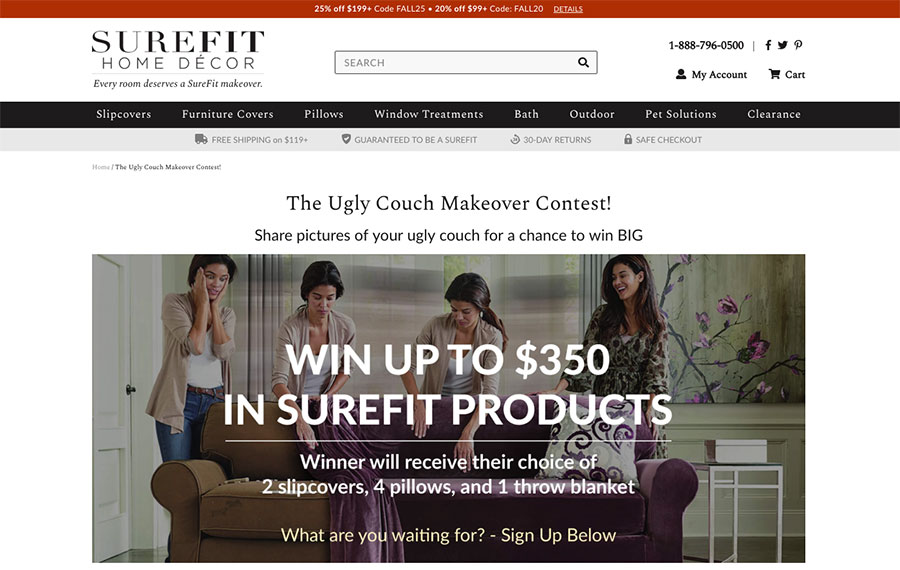 Another example of this type of contest includes the Messiest Room Makeover sponsored by NAPO Michigan.
4. Story-based Contests
Sometimes photo contests prompt your audience to share stories that help build emotional connections to your brand. Examples of these types of contests include:
#MyMintMoment from Intuit Mint. Contestants were encouraged to upload photos to Instagram using the #MyMintMoment hashtag to share a story about how their life goals and finances aligned.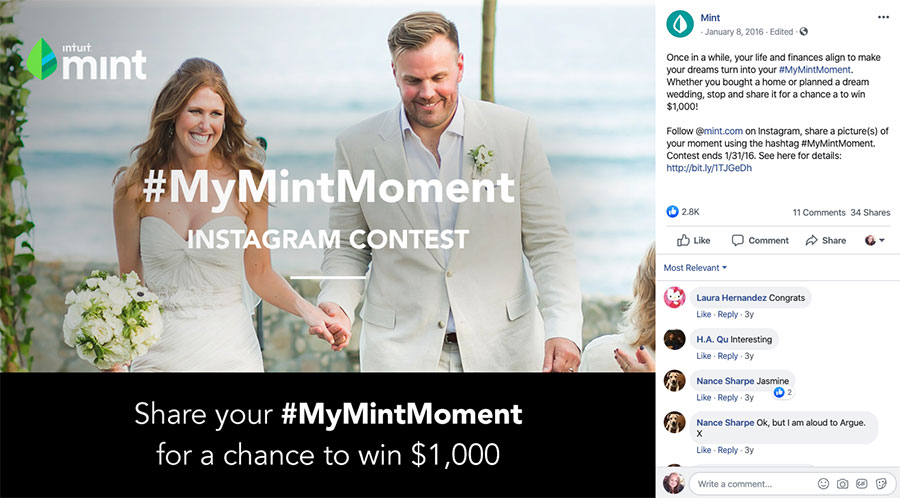 #GOTJOY Contest from Netflix & Tidying Up with Marie Kondo is another great example. This photo contest offered participants a chance to win a personal consultation with the organization guru Marie Kondo. To enter, people uploaded a photo to Instagram or Twitter of an item in their home that "sparks joy." Entries had to include a caption that explained the story behind the object.
5. Event-based Photo Contests
Photo contests that take place at events can be great for both B2B and B2C marketers. Whether it's a trade show or conference or a music festival, you can find creative ways to incorporate photo contests for your event attendees.
The Digital Signage Expo held The #MYDSE2019 Selfie Contest at the 2019 Digital Signage Expo. Entrants had to find all four "selfie zones" and snap photos. Each photo had to be uploaded separately to Twitter and include #MyDSE2019 in the tweet. Participants following @DSExpo who also uploaded photos at all four selfie zones were entered to win a $500 Visa gift card.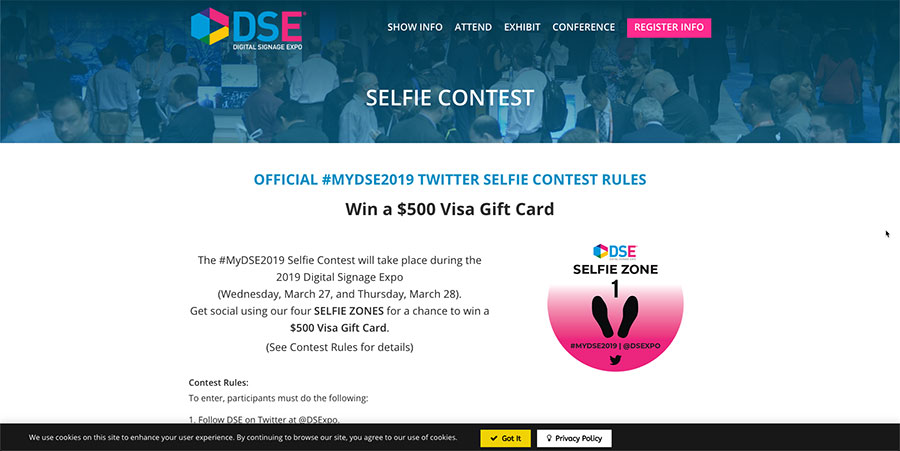 The University of South Florida held an event-based contest for students who traveled abroad with USF Education Abroad over the summer. Students could enter #BullsAbroad Selfies Contests by taking selfies during the travel program. Entrants needed to include the student in the photo, the student's name, the location, the #bullsabroad hashtag, and it also had to tag the @usfedabroad Instagram account.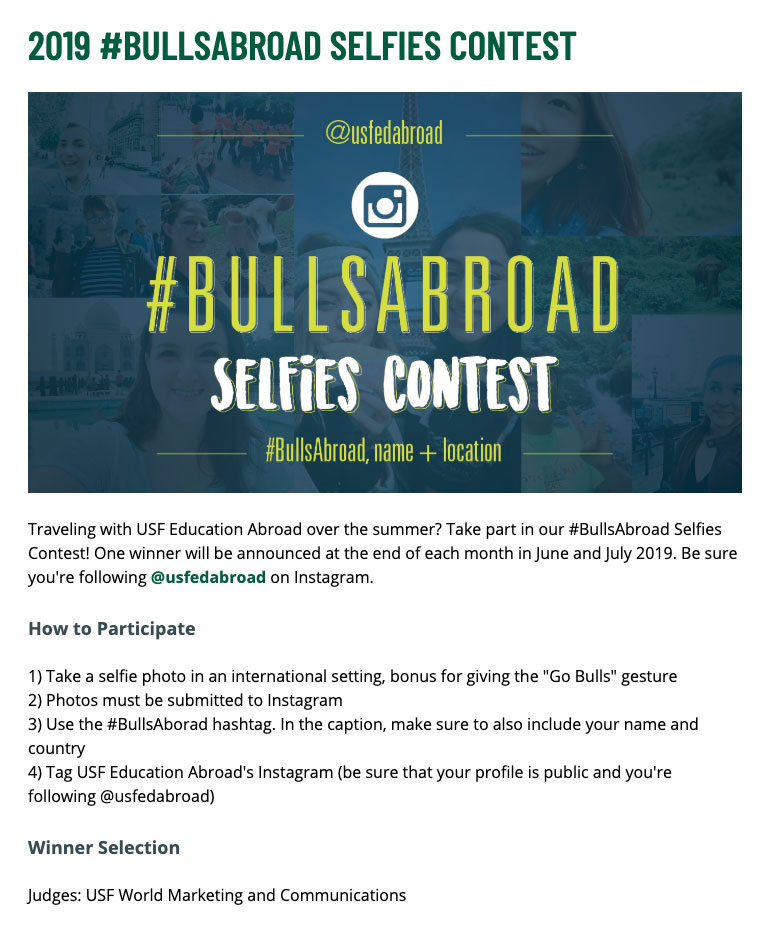 6. "Win a Free Year" Photo Contests
If your product or service is costly to make or deliver, then this contest isn't for you. However, there are some brands where the "free year of" incentive makes perfect sense.
Zenfolio, an all-in-one e-commerce platform for photographers, held a photo contest this past spring, where the winner received a free Zenfolio pro plan for one year.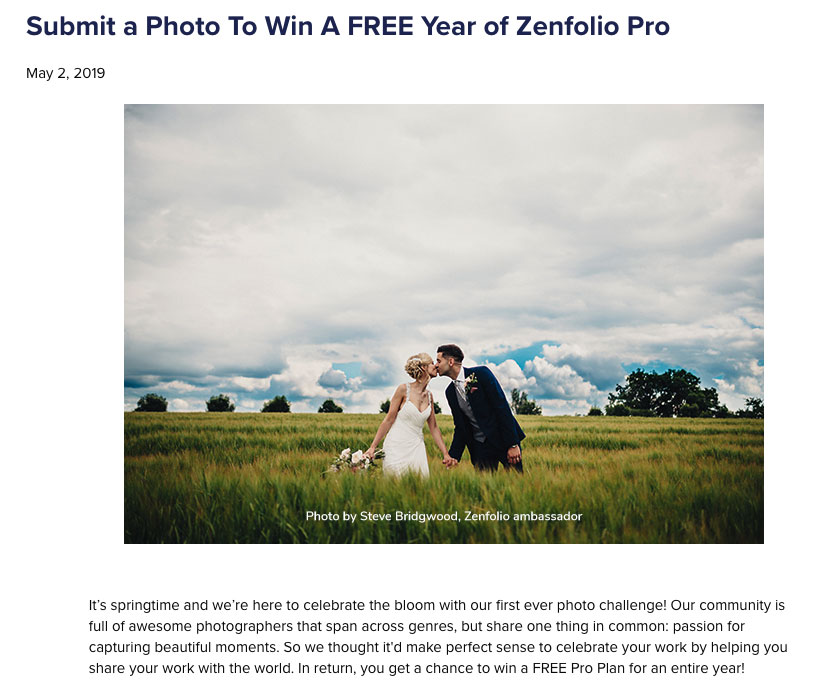 7. Co-marketed Photo Contests
Sometimes partnering with another brand can help you both reach more potential customers. 1-800-Flowers worked with Sniff & Barkens to hold the #TopDogMom Contest for Mother's Day.
To enter, contestants had to:
Post photos on Instagram of dogs who love their human moms

Follow both brands' Instagram accounts

Add the caption "This is my entry in the #TopDogMom Sweepstakes hosted by @1800Flowers and @SniffandBarkens."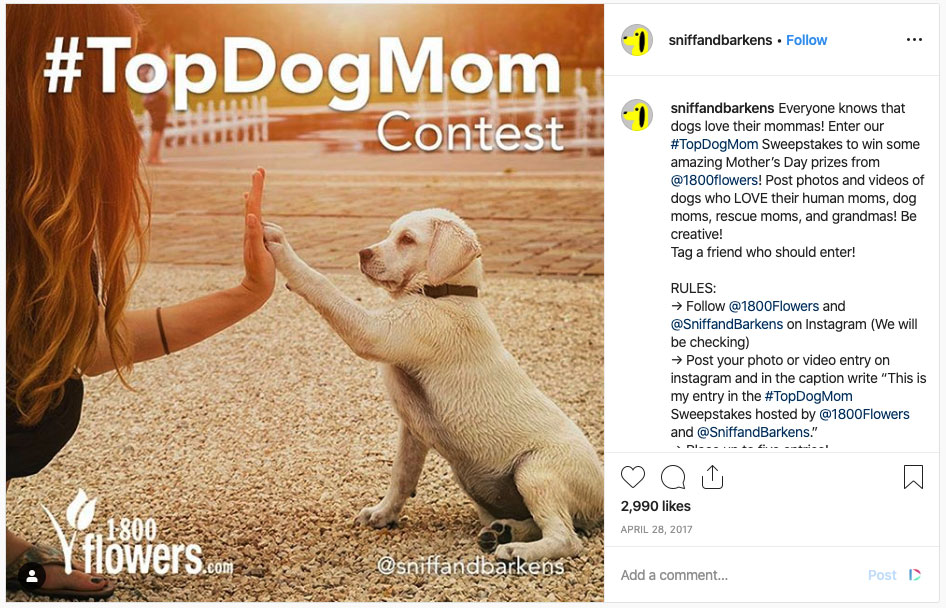 Want another example? Back during the Pokémon Go craze, Ripley's hosted the #RipleysGo photo contest. Participants could take a screenshot while capturing a Pokémon at or inside a Ripley's attraction and upload the image to Twitter or Instagram along with the hashtag #RipleysGo.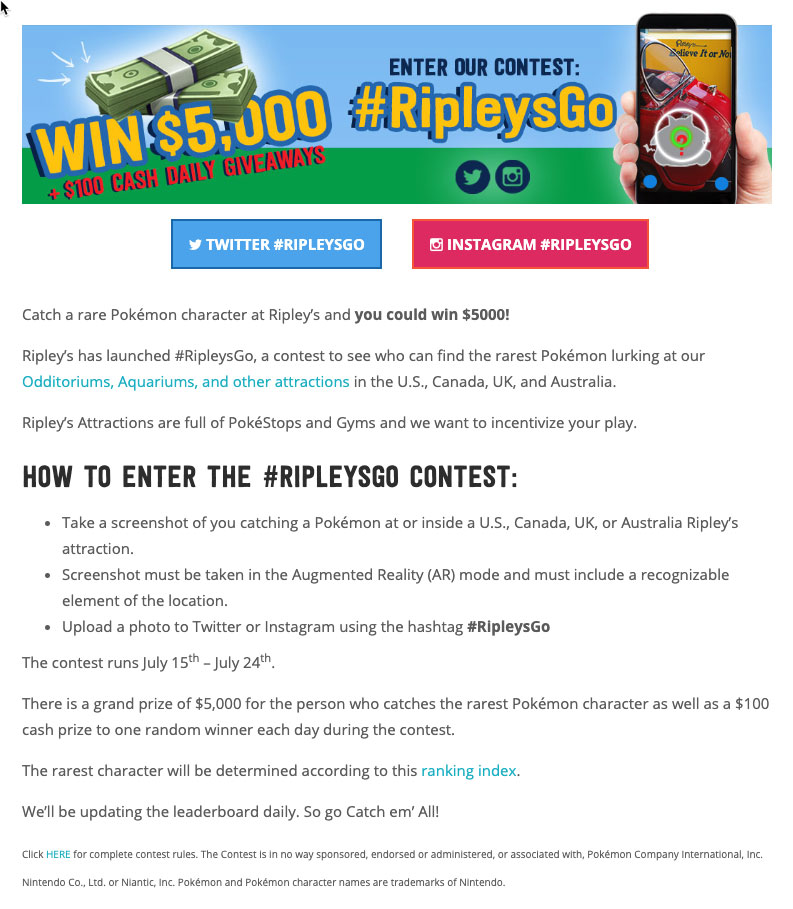 8. Prize Package Photo Contests
Sometimes a fun prize package is just what you need to get people to start sending in photos. Here's an example from Happy Howie's All Natural Dog Treats. Using Woobox, this brand set up a Halloween Costume Photo Contest through it's Facebook page to collect entries through October 14th. A winner will be chosen by popular vote from the gallery of entries.
The grand prize winner gets a prize package of treats valued at over $54. Second and third place winners also receive smaller prize packages.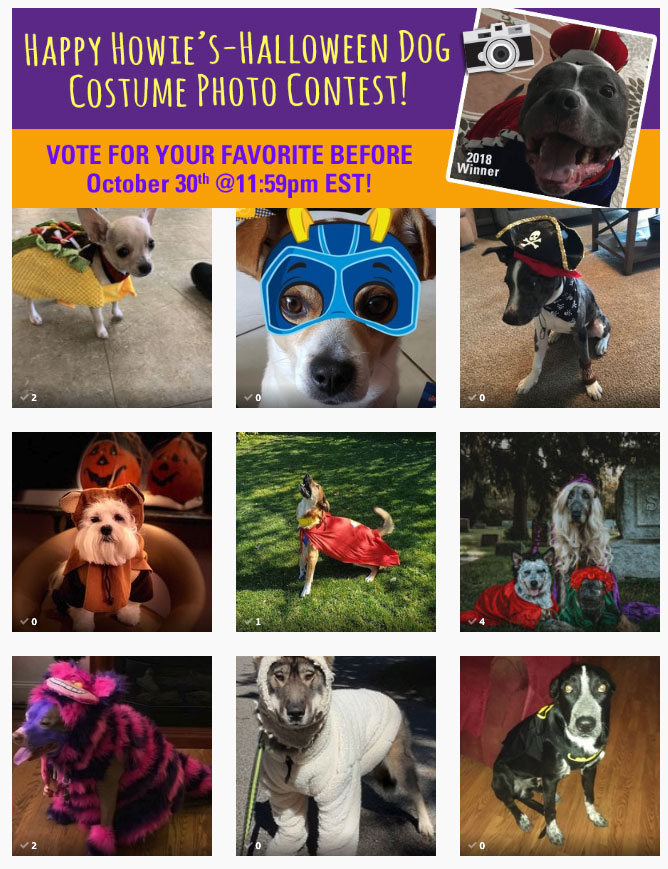 9. Gift Card Prize Photo Contests
Do you have a loyal customer base? Chances are good that said customers would welcome the opportunity to win a gift card from your business. This type of incentive can work for both B2B and B2C scenarios.
If you sell to other companies, hold a photo contest that lets your business customers upload photos of how your product makes their business run better.
If you own a business that serves personal consumers, host a photo contest where customers upload photos of themselves enjoying your location, services, or products. Offer a gift card as a prize like this example from Weaver's Orchard.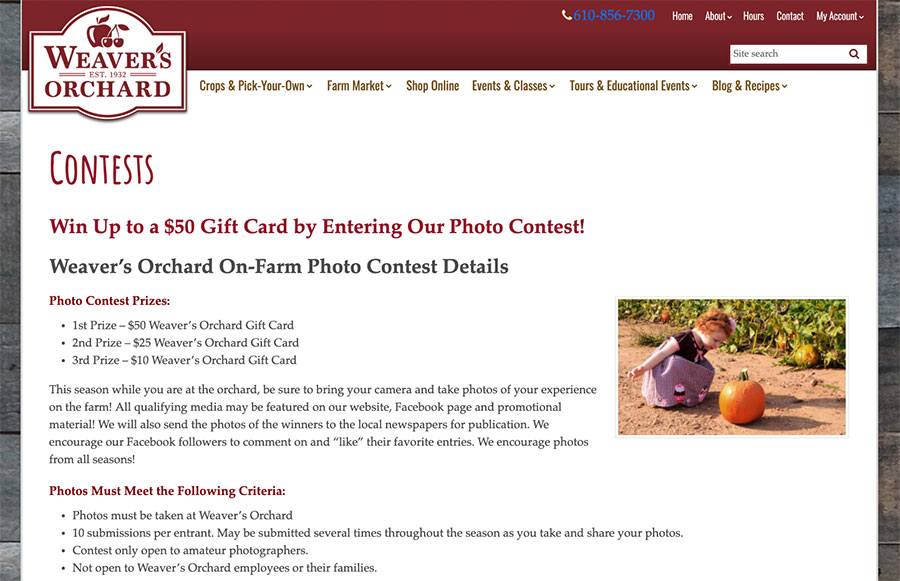 10. Social Good Photo Contests
Photo contests can be a powerful way to motivate people to do good in their communities and to take action on behalf of others.
Habitat for Humanity has held photo contests to award volunteer opportunities to participate in the Jimmy & Rosalyn Carter Work Project in years past. Participants would submit photos that capture the spirit of Habitat for Humanity's mission, and a panel of judges selected a winner. Dedicated Habitat volunteers would be thrilled and honored to win a volunteer spot on the annual Jimmy & Roslyn Carter Work Project.
"Social good" photo contests are perfect for nonprofits. However, they also work for brands that want to support nonprofits as part of their cause marketing and social responsibility initiatives. Take Disney, for example. On Mickey's 90th birthday, Disney partnered with Make-A-Wish to donate $5 for every publicly posted photo of someone wearing their Mickey Mouse ears. While the #ShareYourEars campaign isn't technically a contest, there were definitely winners at Make-A-Wish.
11. Give Away a Getaway Photo Contest
This type of photo contest + giveaway doesn't have to be extravagant to be effective. With that said, this may not be the right contest for every brand.
Hillside Beach Club had the perfect getaway giveaway with its Chief Instagram Officer Contest. Instagrammers could "apply" for the job of Chief Instagram Officer by submitting their best photos. Winners received a free week at the resort and managed the brand's Instagram for the week.
Here are some ideas for how you could approach this type of photo contest:
If your company is a trade show or conference sponsor, hold a photo contest where the winner gets a ticket and hotel for the event. Have contestants submit photos that represent what they hope to learn, what they want to see, or why they like attending.

If you are a small business owner, think about other companies in your area you can partner with to give away a luxury "staycation" package. Just think of the prize package that a local spa, a bed and breakfast, a fine dining establishment could put together for people who need to relax. Contestants could enter their most exasperated selfies
12. Spring-themed Photo Contests
If your business tends to boom when the flowers are in bloom, you should consider holding a spring-themed photo contest.
Allergy treatment brands — ask for photos of people's most dreaded spring allergens

Gardening products — hold a contest to reward the most beautiful spring gardens

Landscaping companies — ask for pictures of yards that are in the most need of a post-winter pick me up

Organization experts — hold a messiest [closet, office, room] photo contest and provide a free "spring cleaning" consultation to the winner
13. Summer Photo Contests
Summer is full of family trips, fun with friends, and lots of photos. Why not take advantage of this time of year with a summer-themed photo contest.
Here are a few ideas to get you started:
AC companies — hold a photo contest that asks entrants to share photos of just how hot things get. The winner receives a free service or inspection.

Ice cream shops — ask your patrons to snap a pic of their favorite scoop for a weekly photo contest giveaway during the summer.

Pet product stores — have a "cool pet" photo contest where owners show how they help their furry friends beat the heat.

Businesses with summer slumps — hold a "goodbye for the summer" contest where your customers send photos of what they're doing during your time apart. Offer a free service or product to the winner when your regular service season starts back up.
14. Fall-themed Contests
Depending on where you live, autumn offers many excellent photo opportunities. Find a way to incorporate the changing leaves, back-to-school, or cooling temperatures into a fall-themed photo contest.
If your business doesn't offer anything in the way of products or services directly related to fall, think about creative ways to tie into that theme.
"Back to school" photo contests can work for a variety of businesses:

Car dealers — throwback photo contest of people's first cars in high school

Grocery stores — best "packed lunch" photos

Salons — "my child cut his/her own hair" photo contest

Photo contests based on how customers use your products during the fall

"I wish it was still summer" fall photo contests
15. Winter-themed Contests
Winter offers plenty of fun photo contest ideas. Imagine photos of snowmen proudly holding your product, or guests taking pictures with their friends while enjoying a warm cup of coffee together at your shop on a cold day. Find a winter theme that resonates with your audience and use that as the inspiration for your photo contest.
16. Holiday-themed Photo Contests
When it comes to holidays, you've got several to choose from. Each holiday has its own set of traditions and expectations that you can incorporate into a photo contest for your brand.
Christmas — cookie decorating, best/worst gift wrapping, ugliest Christmas sweater, best Christmas lights, family traditions

New Year's — photos representing goals, resolutions, best memories of the past year

Valentine's Day — photos of proposals, most thoughtful gifts/gestures

Independence Day — fireworks, cookouts, pool parties

Thanksgiving — favorite family recipes, family traditions
When putting together a photo contest around a holiday, ensure that you've found a meaningful way to tie the promotion back to your brand.
17. Sports-themed Photo Contests
Chances are that your brand has customers who are also sports fans. Are there ways to tap into that love of sports?
Grocery stores and restaurants could host photo contests that as for people to post their best game day photos. Winners get a party platter for their next game-day event.
Sporting goods stores could hold photo contests for the most ragged and worn gear. The winner gets new equipment.
18. Creative Photo Contests
Sometimes a photo contest can just be creative; that's what the folks at Over are doing with their monthly contest. Each month, the #OverDesignChallenge gives Over app users the chance to show off their design skills and creativity with a themed contest.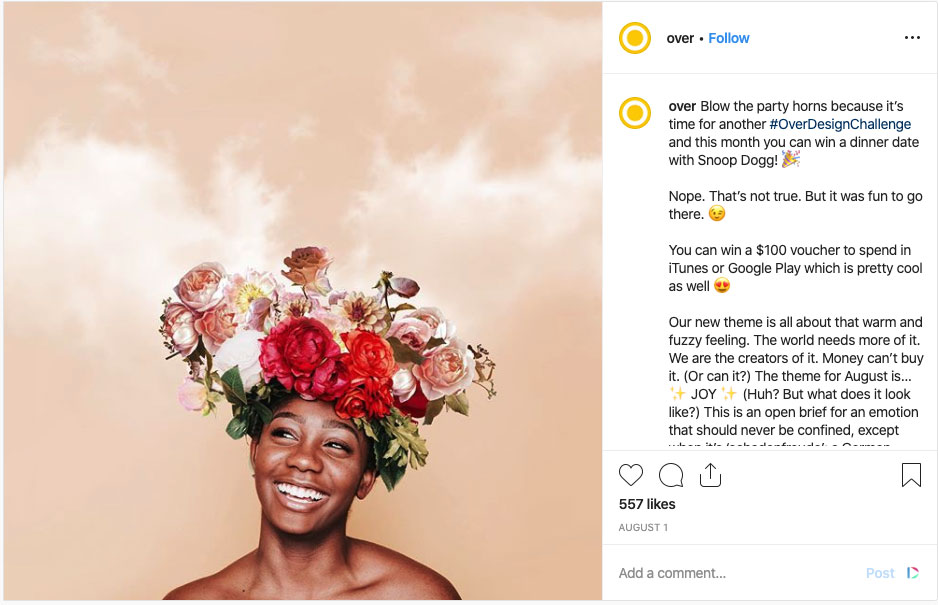 Think about ways your community could get creative with your products and host a creative photo contest.
19. Photo Caption Contests
Photo caption contests take the photo-taking burden off your audience and put it on you. Thankfully, you only have to come up with one good photo to inspire people to write a witty caption.
A caption contest can be a fun way to engage with audiences when there isn't an apparent angle for customers to submit photos for a contest.
For a twist on caption contests, sales engagement software brand VanillaSoft had employees submit a caption for a picture of the CEO. The image with captions was then presented on social media for followers to select the winning caption.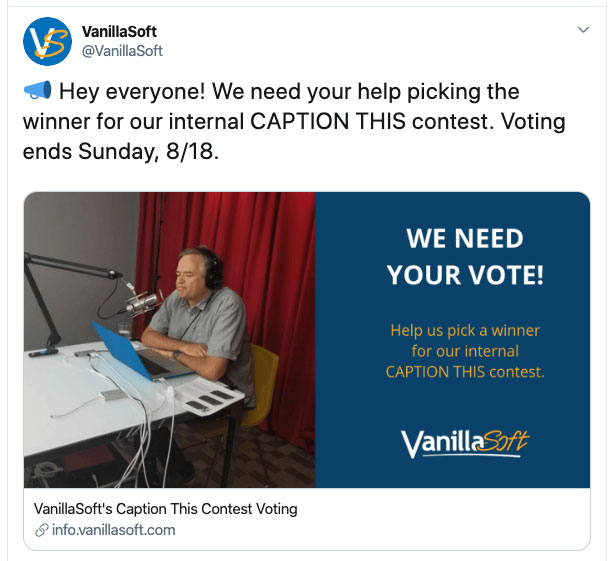 Here's the winner. Yes, the employee kept his job, and the CEO thought the caption was funny.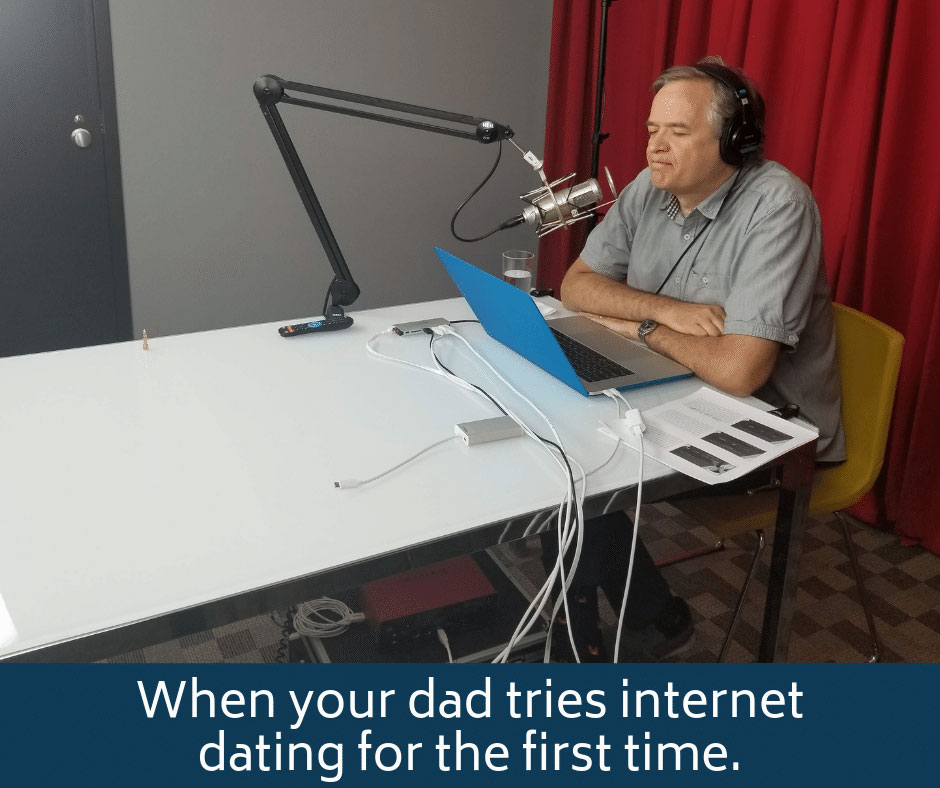 20. Industry Awareness Month Contests
Many industries have a month during the year to raise awareness for specific issues. If your business belongs to an industry that recognizes one of these "awareness" months, consider holding a photo contest to piggyback on the attention that comes with it.
An example of this type of contest is the #JuneDairyMonth Recipe Contest held by Florida Dairy Farmers and Sunday Supper. The contest featured entries of recipes containing milk. Each recipe included a photo entry.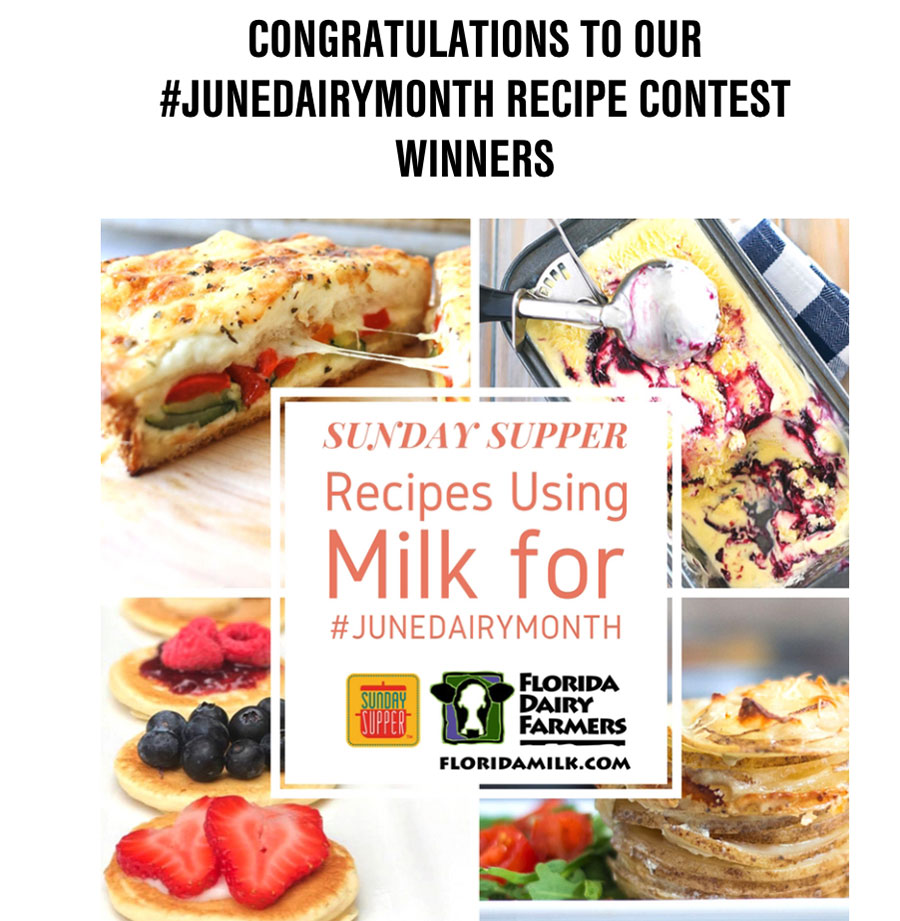 Closing Thoughts
As you can see, there are plenty of angles and options when it comes to creating a photo contest for your business. The most important thing to remember is that user-generated photo contests provide social proof that can make your brand more credible and trustworthy to new customers.
Do you need some assistance? Woobox Support is available between 9 am and 5 pm PST, Monday through Friday at 1-360-450-5200 or support@woobox.com.