YouTube started off (briefly) as a dating site, but over the past 13 years, it has transformed to a powerful video hosting platform with 1.57 billion users, an incredibly engaged community, and $13 billion annual revenue. Every day on YouTube more than 30 million active users watch videos and engage with their favorite personalities and brands.
YouTube is more than just a video hosting platform, though. It is also the second most popular search engine on the globe.
Today, brands are leveraging YouTube with incredible results. According to an infographic by Social Media Today, 61% of enterprise-level brands are using YouTube. And yet, only 9% of small businesses are using the platform. This presents most small and medium-sized brands with an opportunity.
You might think your brand can't compete with names like RedBull. While you might not have the same budget, you can't afford not to leverage YouTube.
Nicola Mendelsohn, Facebook's vice president for Europe, the Middle East, and Africa,  was asked where Facebook will be in five years. She said:
"It will be definitely mobile; probably all video….we're seeing a year on year decline of text." 
From YouTube to Facebook to Instagram, brands today simply cannot ignore the power of video.
Marry the power of video with the shareability of contests, and you have a winning formula. That is why we are going to look specifically at contests on YouTube.
By combining the popularity of contests and YouTube, you can:
Grow your email list
Increase sales
Educate your customers
Engage customers on YouTube
Launch a new product
These are just a few ideas. Depending on your audience and your brand, you may be able to do much more. But, before you dive into creating your YouTube contest on Woobox, let's look at what you can learn from other successful contests on YouTube.
The Ford Fiesta Moment
Back in 2009, Ford Motor Company launched a six-month social media blitz called the Ford Fiesta Movement, which started off with a YouTube announcement that Ford was giving 100 people a new Ford Fiesta to drive around for six months. To enter, you had to record your own video stating why you should win the chance to drive the new Fiesta and share it on social media.
From the thousands of entrants, 100 "agents" were chosen to drive a new Fiesta around. The catch? They had to complete "missions" and share the results on social media.
By the end of the six months, Ford reportedly earned 6.5 million YouTube views and 50,000 requests for information about the car. And 97% of those requests came from people who did not currently own Fords.
What can we learn from an almost decade-old marketing stunt?
Choose A Prize That Attracts Your Target Audience
Ford could have played it safe, stuck with the normal marketing channels. But they wanted to target 20-somethings, and they knew the best way to do that was through social media. The true prize in this campaign wasn't a car they had to give back after six months, but the opportunity to increase their social media reach in a viral campaign.
Ford carefully selected 'Agents' who had at least a modest social reach and knew how to tell a story. The careful selection of partners and the virality was the key to the campaign's success.
Intel's "A Momentary Lapse"
A Momentary Lapse was a series of 21 contests Intel launched to promote their new product line, the Ultrabook, which was designed to be a crossover between laptops and tablets.
Their target audience was technology users who are into content creation, and they saw an opportunity to engage with that audience by challenging them to create and share photos and time-lapse videos.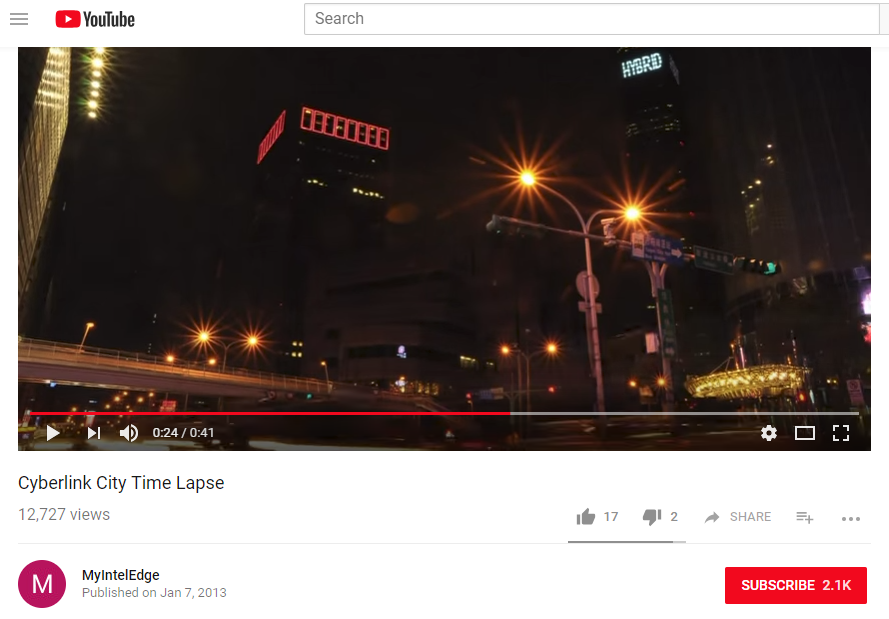 Intel partnered with award-winning photographer Vincent Laforet to create a how-to video showing how to create time-lapse videos, which helped drive even more interest. They also tapped popular YouTube creators to direct and create time-lapse movies.
The contest quickly exceeded all of Intel's goals, resulting in the company extending the contest an additional eight weeks.
Laurie Koehler, the Consumer Campaigns Activation Manager at Intel, said:
"We had created what we thought were really aggressive metrics…Three weeks into the program, we were bumping our heads up against those metrics…The metrics were out of the park. It was the highest conversion rate from ad to response that we'd ever seen,"
Focus on Engaging, Not Advertising
To get the attention of your audience, you have to create an engaging, educational, or informative video that users will find useful. For example, you share a unique how-to video that your audience would find useful. You could also share how to use all the features of your new product.
Focus on offering valuable information, not just trying to sell.
Don't bury the password for your contest five minutes into a boring video. (Learn more about how to use the Woobox password function to create your YouTube contest here.) Instead, use the contest as an opportunity to share beneficial information that your client base will be interested in.
Ice Bucket Challenge
The Ice Bucket challenge was a 2014 viral video campaign started in Boston by The ALS Association. Participants dumped a bucket of water over their head and challenged others to follow suit or donate money to the ALS. Many participants did both, which helped drive the contest's virility.
According to The ALS Association, the viral video campaign helped them raise 115 million dollars for research.
In September of 2014, YouTube views of Ice Bucket Challenge hit 1 billion. The videos were also extremely popular on Facebook.
While the Ice Bucket Challenge was a huge success, the design of the contest made it difficult to track and gather data from participants. (Likely because the creators never expected it to go so far!) But there are still lessons to learn from the unexpected popularity of this contest.
Everyone Loves a Fun Challenge
It would have been impossible to predict the popularity of this contest; sometimes viral campaigns are a perfect storm of timing and celebrity participation. But the contest does highlight the importance of creating a fun contest. 
The Ice Bucket Challenge allowed people to be creative and funny and get in a good-natured jab at friends by nominating them to participate. If you can recreate that balance of fun and competition, your contest will be much more successful.
Best Buy #BestCollege Challenge
In 2015, Best Buy launched their #bestcollege challenge, where students were invited to enter to win one of six prize packages made up of $2,500 worth of "the latest and greatest back-to-school products from Best Buy." To enter, students were challenged to share either the piece of tech they cannot live without or their best college survival tip.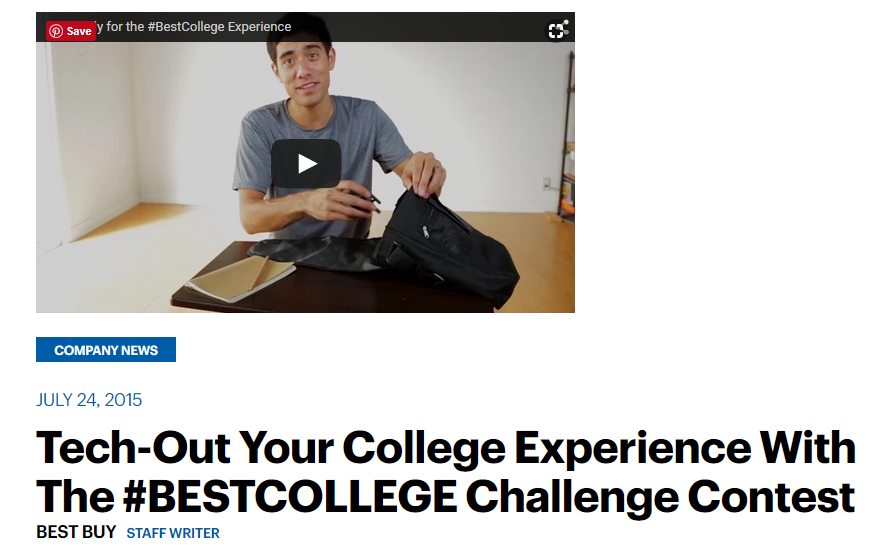 The company also partnered with several popular vloggers including Logan Paul, Manon Mathews, and Zach King, which increased the buzz and encouraged users to submit their videos.
Take Advantage of Social Reach
The easiest way to create a YouTube contest through Woobox is to use the "password" form field. (I walk you through how to do it in this article.) But you could also partner with influencers and use multiple passwords to track which video drives the most traffic to your contest.
It is important to remember that YouTube is more than just a video platform. It is also a community, and you can leverage the following of popular YouTubers by partnering with vloggers who have already built a following in your target audience.
Final Thoughts & Key Takeaways
Successful YouTube giveaways combine the popularity of video with the excitement of contests. If you are looking for a way to create engagement with your brand, YouTube contests are a highly effective way to do it!
Sign up for your free Woobox account and start creating your YouTube contest today.
Key Takeaways:
Choose a prize targeted to your audience. Sure, a prize of the newest iPhone might garner thousands of entrants, but they are not likely to be in your target audience.
Share useful, exciting videos aimed at engaging your audience.
Make your contest both fun and a little competitive to encourage people to participate.
Partner with vloggers or influencers in your target audience to increase the popularity of your contests.