On February 4th, 2020, Facebook celebrates 16 years in business. The Facebook Ads program didn't start until May of 2007. Still, Facebook advertising remains strong with a 2019 third-quarter report showing an increase of 28% in ad revenue over last year. With 1.67 billion daily users and 2.5 billion monthly users, Facebook remains a top platform for marketers to reach their audience.
However, over the past year, organic reach on Facebook dropped to 5.5%. This is a far cry from the 12.05% brand pages saw in 2013. It's challenging to get eyes on your content without investing in advertising. The good news is that the average price for an ad decreased by 4% in Q2 2019, and the number of ad impressions increased by 33%.
Celebrate Facebook's sweet 16 birthday by exploring 16 Facebook advertising trends for 2020. Use these tips to get the most out of your budget, extend your marketing reach, and increase your number of entries to your Facebook contests and giveaways.
1. Develop Engaging Stories Ads on Facebook
The Stories feature has taken over across every platform. With Stories ads on Facebook, you won't lose your content after 24-hours. Plus, unlike regular videos, people listen to the audio on Facebook stories. But, Facebook users consume stories at a quicker rate than other types of posts.
Get the most from Stories ads by adding an emotionally-appealing message at the beginning of your story. Then, add music or voice-over to enhance the narrative. For best results, use a full-screen vertical design with both video and static images.
2. Create Short Facebook Video Ads With Captions
Video is more popular than ever. Watching videos on Facebook is an easy and passive activity. It's also a nice way to pause scrolling. However, 85% of people don't use sound when watching videos. By adding captions to your video content, you can boost view time by as much as 12%.
3. Generate Lead Form Ads
Facebook lead form ads are a great way to connect with your audience or reengage your email subscribers. For example, you can ask previous Facebook contest participants to give you a review or sign-up for your email newsletter by re-targeting them with a lead form ad. Or use Facebook lead form ads in Messenger. Doing so presents more opportunities to generate high-quality leads and build a relationship with your fans.
4. Retarget Video Viewers With Facebook Ads
If your audience makes it through three seconds of your video ad or live stream before scrolling, then consider retargeting them with a Facebook advertisement. In those few seconds, viewers get an impression of your brand. So, a well-placed ad appears familiar.
But, don't sell with your first retargeted ad. Instead, deliver a second video or piece of content that adds value. Further segment your audience by directing highly-engaged viewers (those who watched a higher percentage of your video) to a lead magnet or landing page.
5. Prioritize All Facebook Ads for Mobile
94% of Facebook's advertising revenue comes from mobile. Even with an aging Facebook population, this number holds steady. The thing is that users interact differently with mobile ads. Their attention span is shorter. Facebook finds that, on average, people spend 1.7 seconds with a piece of content on mobile compared to 2.5 seconds on desktop. Capture their attention by:
Displaying brand information immediately
Highlighting your product or service for the majority of the ad
Nailing your key message early
Keeping it short and understandable even with no audio
6. Create Facebook Ads for Custom and Lookalike Audiences
Both custom and lookalike audiences increase your chances of advertising success. Upsell to current customers, engage your email subscribers, or develop a lookalike audience to expand your reach. But, don't blast the same advertisement to everyone on your list. Existing customers may want more information about new products similar to those they've purchased before. However, new fans might need a freebie or details on your services.
Broaden your ad reach by targeting people who share similar traits to those who already engage with your business page. A lookalike audience helps you discover others who show interest in related products or services.
7. Deliver Messenger Ads to Attract Giveaway Participants
Messenger ads present a massive opportunity for marketers. Facebook reports, "People are engaging in 20 billion messages with businesses every month." But, you can't just jump into someone's private messaging space without a good reason.
Instead, use Messenger ads to target people who watched a few seconds of your video advertisement. Or consider adding a Facebook pixel to your shopping cart or FAQ pages. This way, you can send customers a message if they close out your web page without making a purchase or getting their question answered.
8. Leverage Slideshow Facebook Ads in Your Marketing Mix
Although Facebook users love video, producing video content is expensive and takes more time than other ad formats. With a slideshow ad, you get the best of both worlds. You share high-quality images, and the slideshow ad gives your still photos motion. Plus, Facebook says that this ad format uses five times less data than regular video ads. Get the most from this format by:
Using three to ten images
Showing your best image first
Inserting text overlays
Adding music or other audio
9. Benefit From New Formats: Facebook Search Ad Placement
Facebook continues to update its ad platform with a variety of new formats. After testing search ads for about a year, Facebook recently announced that ads in Facebook search results would be available to more businesses. Search ads are similar to placing an ad on Google. Since 15% of Facebook users do shopping on the platform, search ads are a great way to attract those who want to buy now.
You can meet these users at the right time with a relevant search ad. Except, you don't get to choose specific keywords to target on Facebook. Instead, Facebook scans your business page and pulls out terms and phrases. So, it's crucial to update your page to include words for your products, services, and contests or giveaways.
10. Produce Facebook Ads for the Marketplace
Facebook users click the tab to look at marketplace items. Placing marketplace ads is a way to target an audience that's ready to make a purchase. Plus, marketplace ads also show up in the newsfeed, so you get extra coverage. Marketplace ads are a great example of an intent-based advertisement, so create your ad accordingly.
Set up a custom audience that includes previous customers or page followers
Review keywords in product descriptions and reviews to ensure that you're using search terms relevant to your audience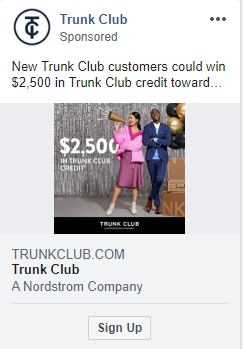 11. Create a Facebook Ad From an Ongoing Contest or Giveaway
Get more eyes on your current marketing campaign by developing an ad for your Facebook contest, giveaway, or sweepstakes. Facebook ads are an excellent addition to your Facebook contest promotion strategy. Use a variety of formats to draw attention to your promotion. Plus, consider selecting a target audience. For example, you can market to just your fans, past entrants, or a custom audience.
12. Boost a Facebook Contest Promo Post
Boosting a Facebook post remains the easiest way to serve up an ad to your audience. This is a great way to extend your reach, increase brand awareness, and get more entrants to your Facebook contest. Get the most from your posts by:
Only sharing ads with high-resolution images with a 4:5 aspect ratio
Reducing or eliminating text within your photo
Selecting graphics that stand out from the sea of stock photos
13. Test Drive an Interactive Advertisement Format
People enjoy interacting with content, which is why quizzes and polls perform well on Facebook. The platform recently added three new ad formats designed for an interactive experience. In a blog post, Facebook says, "People want to be included in your next big idea and are using new innovative ways to do it — less words, more GIFs, Lives, Reactions, emojis, face filters, and stickers."
Use these ads to promote your current campaign or increase click-throughs to your website or even generate new leads. Consider upping your game with video poll ads, augmented-reality advertisements, and using Facebook's playable ad format.
14. Retarget Your Contest Entrants on Facebook
People who have participated in a Facebook contest in the past are likely to do so again. But, they may not know that you have a current campaign. Or they may have scrolled by and said they'd come back, then turned off their screen and your post was lost. Previous contest entrants are warm leads. Nurture them by retargeting them with a Facebook ad telling them about your latest promotion.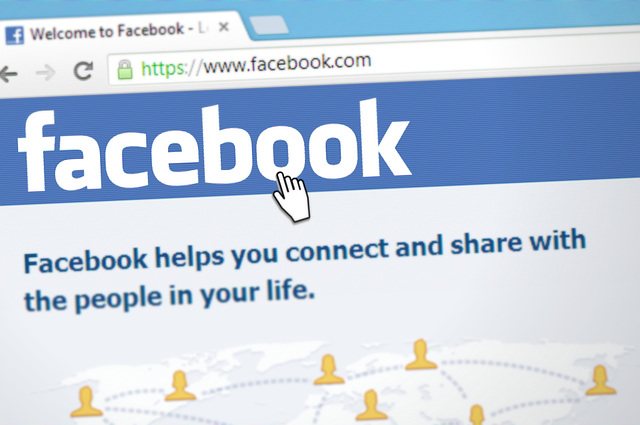 15. Deliver a Mobile Instant Experience Ad
Facebook also recently updated its canvas ads to perform as an instant experience. These interactive advertisements load 15 times faster than standard mobile web pages. Devise your own ad or create an instant experience ad using a Facebook template.
Instant Storefront
Instant Form
Instant Customer Acquisition
Instant Storytelling
Instant Lookbook
16. Excite Audiences With a Facebook Carousel Ad
Place carousel advertisements in the Facebook Newsfeed, Messenger, Marketplace, or Stories. With Facebook carousel ads, you show your audience up to 10 images or videos. Each piece of media includes a link giving your audience multiple ways to connect with your brand. Highlight your latest Facebook contest along with your products with carousel ads.
Conclusion
Connecting with your fans on Facebook is tough if you rely on organic reach. But, Facebook provides many ways to meet your goals. Take advantage of these Facebook advertising trends to promote Facebook contests and giveaways while building relationships with your audience. Want to learn more about 2020 trends? Check out our list of social media and marketing trends to watch in 2020.
Need Help Retargeting Your Woobox Giveaway Fans?
Remember, you can export data about your Facebook contest entrants for use in Facebook advertising. Get help from Woobox Support. Our team is available from 8 am to 5 pm PST, Mon. through Fri at 1-360-450-5200 and support@woobox.com.