There's just something fun about Halloween. Even if it's one tick after midnight on October 1st or 3pm on Halloween, there always seems to be an aura of mischief and trickery shrouded in the air.
If you work in an office, chances are your company is either pro-office decorating or very much not. When it comes to Halloween, it can get as extravagant as stringy cobwebs hanging from the front entrance along with Halloween costume contests, or can be as minimal as one paper banner on the receptionists desk that says "spooky".
Whether you are Team Go Big or Go Home or on the side of Team Couldn't Care Less, in the world of email marketing strategy, it never hurts to add some pizzazz. For the wonderful month of October, we're dishing out some favorite ideas and tips to add the best Halloween flair to your email marketing campaign.
Warning: The following content has Dad-like humor for each subsection's title. Please enjoy (or cringe) at our carefully crafted, alliterative Halloween idea titles.
Email Marketing Ideas & Tips for Halloween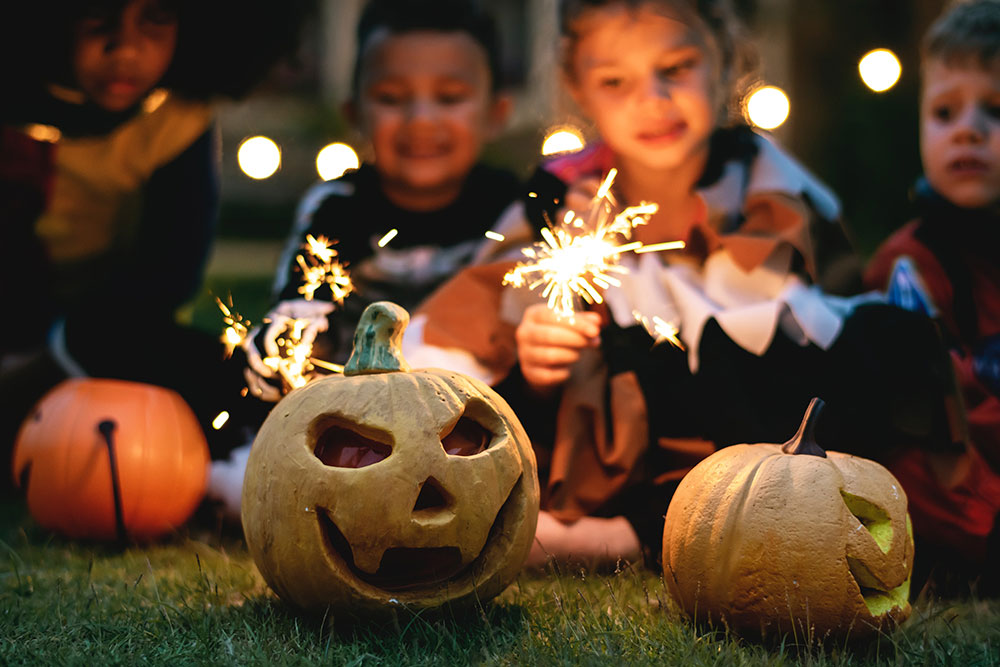 Tips on Ghostly GIFs
Nowadays, GIFs are all the rage. The digital gods have graced us with the ability of adding GIF keyboards to our phones. So now when your flaky friend "so surprisingly" flakes out on your evening plans for the hundredth time, you can send him an animated picture of someone slow clapping.
Is it a little passive aggressive? Perhaps. Is it better than sending an irate two-paragraph text about how they always, always cancel plans last-minute? We would like to think so yes.
Here's an easy and fun Halloween marketing tip for your email marketing: include an optimized Halloween GIF in one or more of your seasonal email. There's no exact science on where you should add GIFs to your email. If you want to grab your reader's attention from the get-go, putting a GIF at the top is a prime location because (let's be honest) only 1 in 5 will open your email on average.
On the other hand, anchoring the end of your email with a cute or funny GIF (relevant to your email's content) will also leave a lighthearted "taste" on their tongue at the end of the email.
Chilling Costume Ideas
While there's no shame in squealing over the mountains of candy you can buy on discount at the grocery stores, for most adults, as we get older the main attraction of Halloween shifts from candy to costumes.
For retail business, e-commerce fashion brands, and makeup brands, one Halloween email tip you should definitely consider is focusing your message on what costumes people can create using your products. Plus, with the influx of creativity on social media platforms like Instagram and YouTube, Halloween makeup looks are getting equally stellar and as over-the-top as clothing and props for costumes.
To create a fun Halloween email marketing campaign, try revealing one Halloween look every week (or for all you uber creative overachievers) a few looks per week. Include the apparel items they can purchase at your store and/or what makeup products that can buy to achieve their ideal Halloween look. Need ideas? Read through [IG Contests Based on Halloween Movies] for some horrifyingly imaginative concepts for movies like IT, Stranger Things, and Coraline.
Menacing Music Playlists
Party hosts and hostesses will rejoice with this tip on how to add Halloween flair to your email marketing. When throwing a party, there are certain ingredients that make for a killer soiree. These ingredients? Food, the cleanliness and aesthetic of the house, and music.
Music can be tossed to the side as a last-minute afterthought, but the background music can really change or dictate how a person feels when they walk into a room. And when it comes to Halloween? That is even more the case.
To step up your Halloween email marketing efforts, try including a Halloween playlist. If you typically send out a monthly newsletter, compile your greatest Halloween playlist of all time. If you send out weekly emails, bust out different playlist themes for a memorable Halloween party.
Some playlist themes to consider:
A classic Halloween playlist (think "Monster Mash," "Ghostbusters," and "Thriller")
A more pop-inspired playlists (like "Bump in the Night" by Allstars, "The Monster" by Eminem ft. Rihanna, and "Demons" by Imagine Dragons)
A rock-inspired playlists that includes fun spookier themes to their lyrics ("Highway to Hell" by AC/DC, "(Don't Fear) The Reaper by Blue Oyster Cult, and "Feed My Frankenstein" by Alice Cooper)
Ruthless Recipes
Trying to earn your "hostess with the most-est" badge of honor? You'll need food—and lots of it.
Going back to our list of key ingredients for a killer soiree in our previous email tip, we had "food" listed as number one. While most dinner parties or events in general focus on the quality and taste of food, Halloween parties allow you to dance on the edge of creativity.
We should however point out this isn't to say the food at your Halloween party can taste sub-par as long as it is creative. Quality still matters, often more so with creative cooking.
You can feature some curated Halloween recipe ideas that will satisfy taste buds and entertain your guests. Checking out places like Pinterest, Tasty by BuzzFeed, or asking that coworker that always posts food photos on their Instagram with the caption "Don't 'gram it unless you made it" are just a few ways to generate Halloween food ideas, especially if you're not a chef.
Create a Tricky Trivia Quiz
This creative tip for your Halloween marketing email campaign might require some extra work on your behalf, depending on how you want to spin it.
One way to make your email marketing more interactive is to host a quick trivia quiz. You can keep it simple and include a trivia question at the bottom of your email or make it more interactive by asking for people's responses and choosing the first person to answer to receive a prize. Do you send out daily emails? Have each week focus on a different Halloween category. One week can be historical Halloween facts, the next can be fill-in-the-blank lyrics to classic Halloween songs (extra points if you intertwine the lyric trivia with the Halloween playlist idea!), the week after can be Halloween candy trivia, and the final week leading up to Halloween can be all about trivia based on Halloween movies.
Candy Corn(y) Promo Code Names
Whether it's Halloween or not, everybody loves a discount — especially with a memorable code name. A great example of a brand making discounts more fun is Postmates, who often sends out emails with discount codes. Yes, the majority of people are opening their email just to see if they got a coupon code, but Postmates gets ingenious when it comes to the word or phrase for their coupon code.
For example, the Postmates 4th of July code very easily could have been "JULY4," but instead, they used "STARSPANGLED."
Postmates also plays well to ongoing trends in pop culture. When the latest season of Game of Thrones began airing, they sent out an email series with various coupon codes to use for your Game of Thrones watch party.
Their codes included everything from "FORTHETHRONE," "WHOSNEXT," "HOUSEGUAC," and "SPOILER."
Are you're planning on throwing a Halloween sale? This is a simple but smart way to help increase open rates for your email marketing efforts. People are more likely to engage when you create a fun or witty discount code to use when shopping online.
Need a bit of inspiration? Take a look at the list below:
HALLOWINNER
IWANTCANDY
SQUADGHOULS
FANGTASTIC
MYBOO
WITCHPLEASE
Eerie Emojis
Looking for the easiest way to add some oomph to your email marketing strategy? The simplest tip we can give to step up your Halloween email marketing strategy is to add a Halloween-themed emoji to your email subject line.
Email management systems like Mailchimp make it super easy to add emojis to your subject lines. All you have to do is press the little smile icon in the Subject field and a menu of emojis will pop up. Choose the pumpkin, the ghost, the lollipop, or whatever else you want to include and your subject line will instantly get some much-needed personality. Ten points if you somehow use the emoji to replace a word in a Halloween pun.
Alternatively, a website like Emojipedia are great resources, especially if you're curious how an emoji will appear on multiple mobile phones and social media platforms.
Wrap-Up
If you enjoyed our cheesy subtitles and got at least one idea brewing from our Halloween email marketing tips, make sure to share this article! For more ways to simplify your digital life, use Woobox to manage all of your quizzes, polls, winner pickers, contests and more.
Looking for support?
Need some help creating your Halloween marketing idea in Woobox? We're here to help! Woobox support is available to help from 9 am to 5 pm PST, Monday through Friday. Call 1-360-450-5200 or send an email our way via support@woobox.com