One of the many fabulous features of Woobox is the ability to create one promotion and execute it across multiple platforms with ease – on your Facebook page, via your Twitter feed, on your website, or all three at once. The entry data will be mined from all sources and is conveniently accessible from your Woobox dashboard.  The first step, however, is embedding your promotion. Here's your handy-dandy cheat sheet on how to add your promotion to Facebook, Twitter, and embed on your website.
Setting up the Facebook Page Tab/App for your Promotion
If you want to install your promotion on Facebook, you will need to go to the Facebook Page Tab section in the Woobox dashboard. You will be given the option to set a custom image and custom text for the Facebook app. If you want to require that fans must "like" your page as a requirement of entry, you need to set that up by using the Fangate option on the Edit page. 
NOTE: If you still have the old Facebook layout, your promotion will show up as a tab, and if you have the new Facebook layout your content will appear as an app in the Apps section.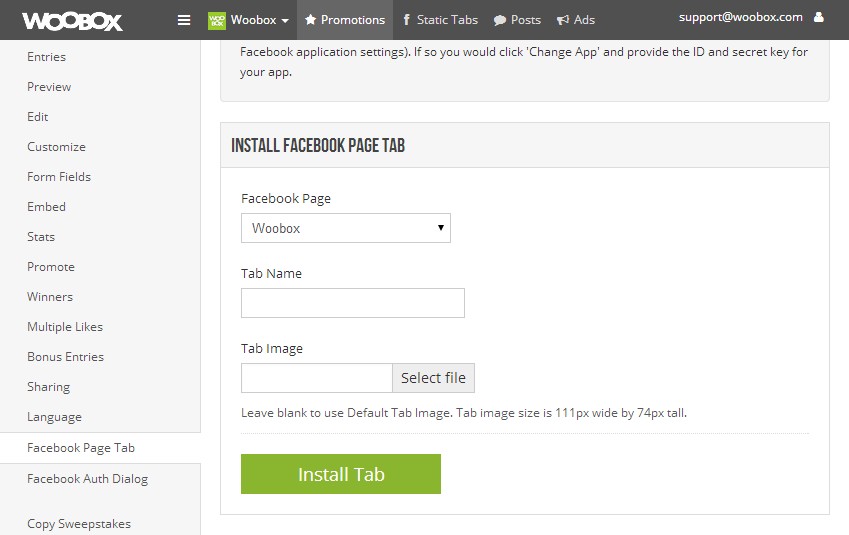 Embedding your Promotion on your Website
To embed your promotion on your website, you will need to use the embed JavaScript code that can be found on the embed page of your promotion. This code comes in two parts and can be placed anywhere in the body of the webpage. If you are using WordPress make sure to embed the code in the TEXT section, not visual.
NOTE: All promotion with forms inside the entry page image will not be responsive.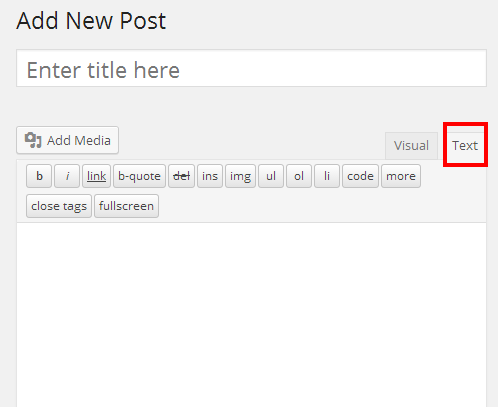 If you would like to turn off required Fangate for users entering the promotion on your website you can make the fangate optional. You will want to uncheck the "Use Facebook Auth to verify Mobile & Non-Tab visitors Like your page" option under the entry page. This will give the user an option to like the page but they will not be required.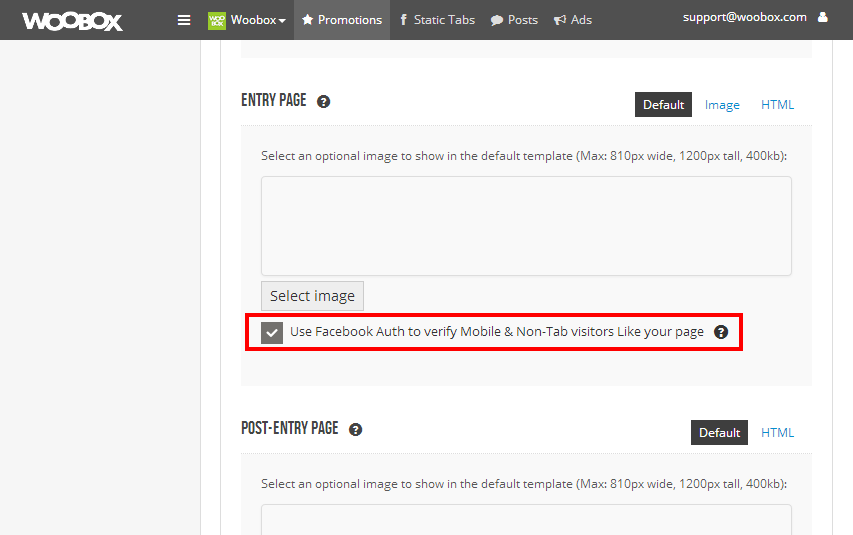 Sharing your Promotion on Twitter
Sharing your promotion on Twitter is as simple as tweeting your shareable URL on Twitter. You can find your shareable url on the Overview page in the dashboard, and it looks something like this: woobox.com/XXXXX. You can also require a follow or share on Twitter and use them to award bonus entries by adding Twitter Share and Follow to the Form Fields section of your promotion.
Thanks for using Woobox! We'd love to hear your success stories and enjoy hearing how our customers use our products in new and unique ways. If you have a story to share, drop us a line at support@woobox.com or share it in the comments section below.