Contests and giveaways are a fun way to engage with your online audience. Users get more active with business profiles and are more likely to share or recommend the profile to their friends as one to follow. Contests and giveaways can also offer you insights into what users are interested in, judging by their entry responses, user-generated content, or feedback about the prize.
For instance, a company like Best Buy could test which products may be more likely to sell more (or at least have better brand sentiment) by doing a giveaway on Instagram. They could run two contests spaced a few weeks apart. One could give away a new tablet, whereas the other could give away a Chromebook.
While these aren't exactly comparable products, they do allow Best Buy to see if users are as interested in winning a Chromebook as they are a tablet. The Chromebook might be more affordable to give away than a tablet (or vice versa, depending on brand and specs), thus allowing Best Buy to run more contests. This would increase the opportunities for users to win, thus likely increasing Best Buy's follower count and user engagement on Instagram.
Growing Your Instagram Followers
It's important for brands that want to be more engaged on Instagram to grow their Instagram follower numbers because that allows them to get more comments, likes, and reshares of posts. Furthermore, once a profile's following gets into the thousands, it gets suggested more as an "account to follow" and may get more visibility in users' feeds (though this hasn't been officially confirmed by Instagram or Facebook). The 10K follower threshold is important too, as it allows you to add links in Stories (We'll discuss this later).
No matter how many followers your brand has on Instagram, you can use stories, which are comparable to Snapchat. These posts do not appear as regular posts in an Instagram profile and disappear after 24 hours. When a user logs onto the Instagram app in the current version, they see a row of circles at the top that are all of the latest stories from the accounts they follow.
Similar to regular posts, users can tag their stories with a geographical location, which allows users to search for stories by location and hashtag. This can help drive more follows and post views.
Combining stories with doing contests and giveaways, which is another strategy that can help increase Instagram followers, can help your profile grow even faster. Below are some of the unique features of Instagram stories and how they will benefit your prize giveaways through the popular social app.
How IG Stories Are Different Than Posts
Stories have a lot of different features and metrics that are different from a traditional post. When you go to create a new post, you choose a photo and then Instagram will ask if you want to post it to your story or your feed. Posting to your feed allows the post to permanently stay on your profile and to also appear on your followers' feeds. A story appears at the top of the Instagram feed in a circle graphic with your profile photo in the middle: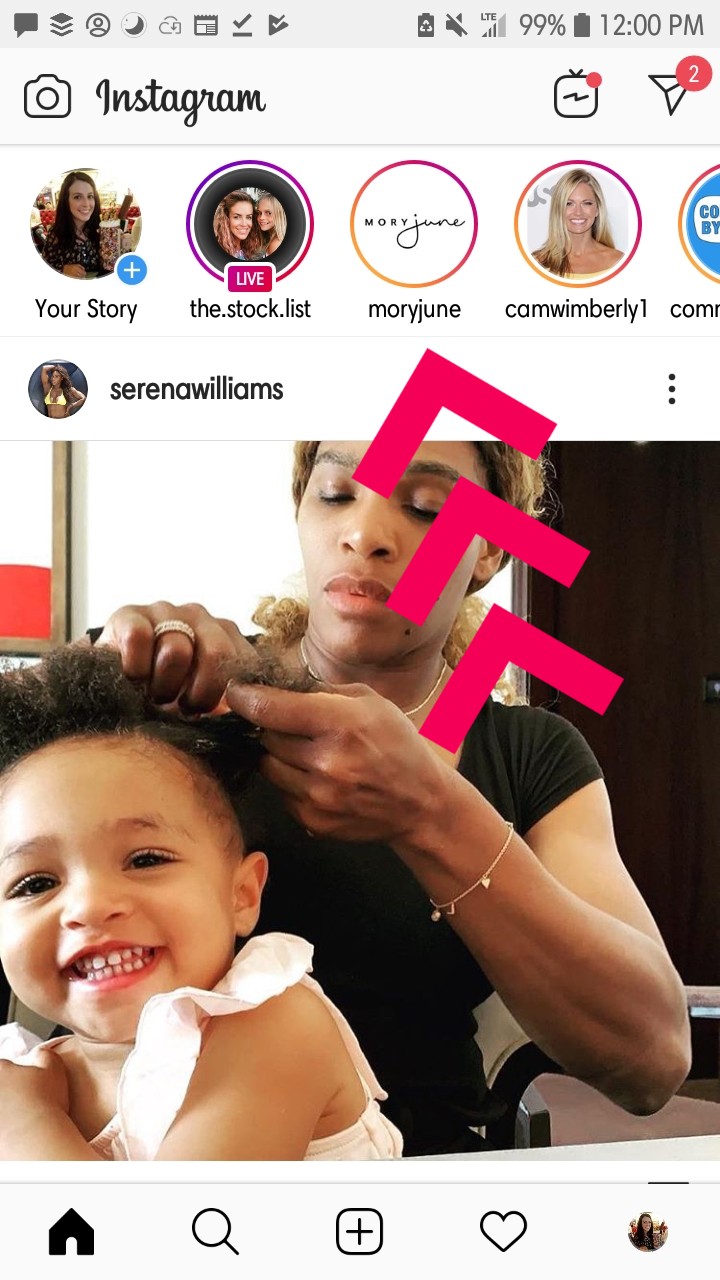 Also seen in the screenshot, this circle also appears when you are currently live with a LIVE box at the bottom. On the far left, you can immediately add to your own story as well from this screen. Once you have at least one story post added, you'll have to add to it through your profile, not the home screen (at least on the Android app).
Time Sensitive
One of the biggest differences between feed and story posts is the impermanence of stories. Unless they are saved to one of your highlights (which we will cover later in this piece), stories only appear on your profile (in the circle area or by clicking on your profile photo) for 24 hours. After that, they simply disappear and you have no way to retrieve them. When the story is live, you can download one post or the entire story (all the story posts at the time) to save them to view later on your phone.
Add GIFs, Music, and Other Features
Another difference with stories is that you can add fun GIF animations and music to your posts. You can also @ mention other accounts directly on the story image (instead of in the caption, as you can with regular posts) as well as hashtags, polls, location tagging, question boxes, countdowns, quizzes, and other interactive elements.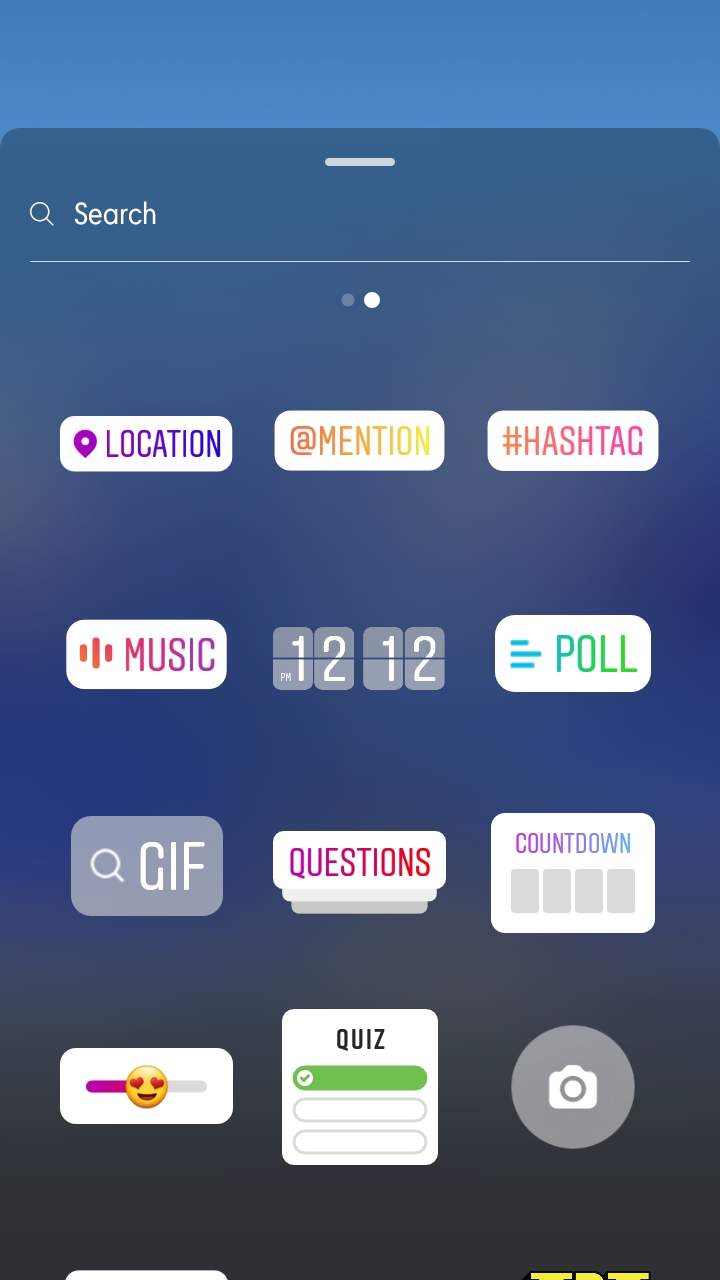 None of these features (except for hashtags, location tagging, and @ mentions in the captions) are available in traditional posts. Many also aren't even available on other social platforms' story features, such as music, countdowns, and question boxes. These fun elements have contributed to the continuous growth that Instagram has seen in the last few years (now over 1 billion users) and also can help you make your contest or giveaway much more entertaining and fun.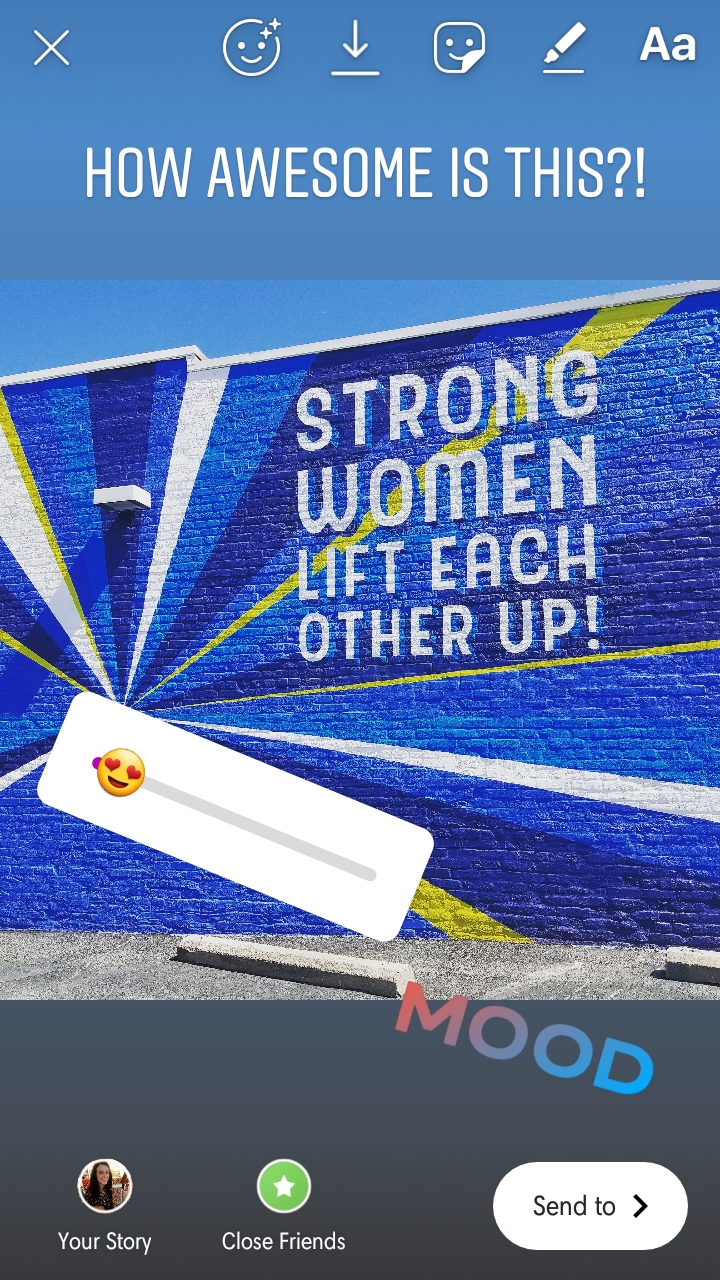 Here are some ideas for integrating these elements into your contest posts:
Hype music to excite viewers
Question box to tell the business what they'd like to win most
Hashtag announcement so users know what hashtag to use to enter
@ mentions of winners, once they are chosen
You can also reshare stories from others that have tagged you. So, if your contest is set up where entrants can use a story post to enter, you can reshare them on your story as a way to further promote the campaign and share examples of entries. These can be shared in your highlights as well.
In addition to including interactive elements to stories, you can also have better metric tracking on story and business posts with an Instagram business profile. This can help you better decipher the success of your prize campaigns that goes beyond data from just an analytics platform (like Google Analytics) and entries. Some of these stats are views, visits to main profile, link clicks in stories and from bio, new follower tracking, and engagement numbers.
Live Streams
Instagram users can use live streaming tandem with their Stories as well. After going live, users can tap share and then choose to save it to stories (where the replay only is available for 24 hours) or to download it to their phone's camera roll. Live streaming can be used to announce a contest, announce the winners, or discuss the prize package. If the video is downloaded after it's done streaming, it can also be shared across other platforms, like Facebook and YouTube.
Instagram Highlights: Creation & Strategy
Highlights allow you to save stories permanently on your profile. These appear in circles in between your bio and your regular posts on your profile: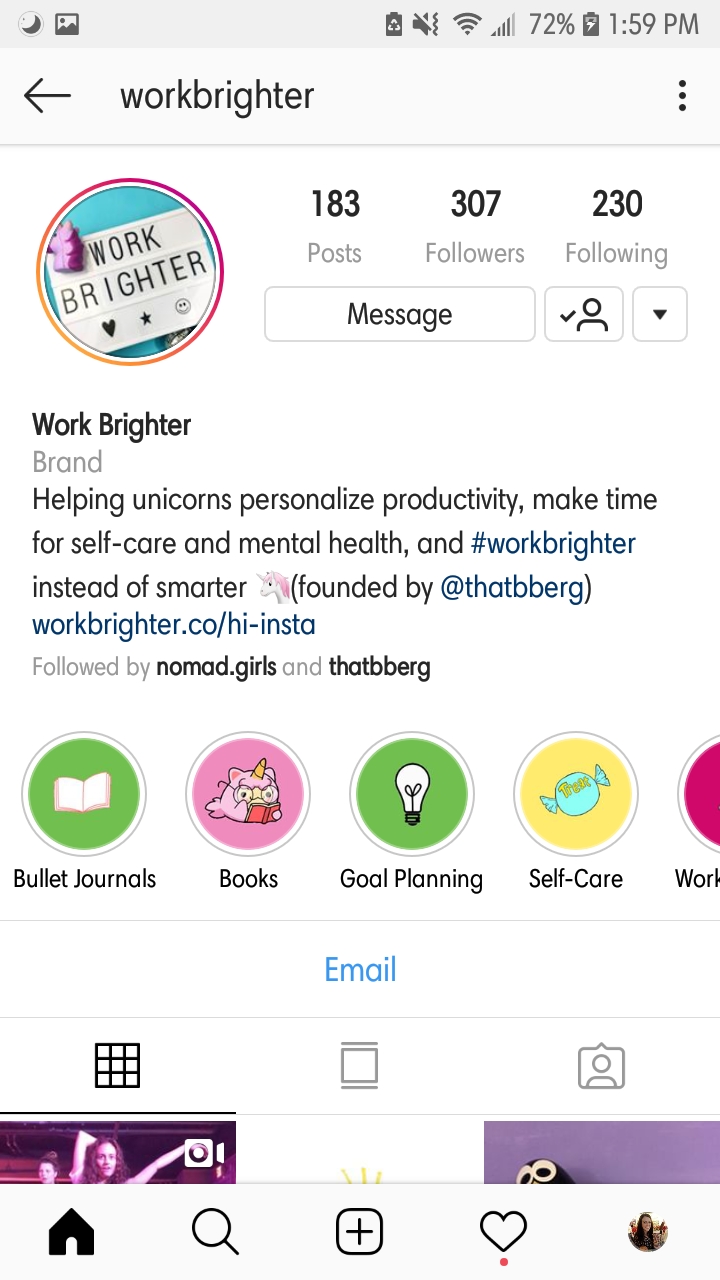 Many people will start a new highlight section with a cover image, so it appears like the above example. Then, they will add new story posts to the highlight topic as they're created. For highlights, they appear in chronological order and a user can't pick and choose which story they view. For instance, they must proceed through them all in order to view the last one.
For contests and giveaways in particular, there are a few ways you can use highlights. 
If any user-generated content is created to enter and then you reshare them on your story, you can save these in an "Our Users" highlight or something similar. This would be especially helpful if the story entry asked users to answer what they liked best about your product or brand, or was a photo or video of them actually using it.
Separating this content from a "contests" highlight section is a good idea because it niches down the content and allows users to access only the information they are most interested in. If there are a lot of entries, it can be frustrating to go through each one just to find more information on the latest contests. Another benefit of highlights is that they save any URLs you add to story posts, which is a key benefit of stories for brand accounts.
Link to URLs
For brands, getting to 10,000 followers should be of utmost importance. This is because once you hit that number, you can start adding links to your stories. This works similar to Snapchat (but Snapchat has no set minimum number of followers). When you are creating the story post, there is a link icon that directs you to where to enter the URLs you want users to go to.
Adding URLs in stories is crucial because currently, the only place Instagram allows links besides stories for accounts with over 10,000 followers is the bio website link. All links in regular post captions are not clickable.
There are many ways you can use this feature to promote contests. You can include multiple links in different stories or repost the same link. Here are some examples of what to link to:
The official contest rules
A contest entry form, if that's the method of entry
Prize package information
A product information page (if that's the prize)
Winner announcement
The blog post announcing the giveaway
These links can also be reshared on multiple days. For instance, having a story every day or every other day with a link to the entry form is a good way to remind users to enter if they haven't yet. You can also add these story posts to your highlights, using a contest announcement or prize highlight section. This lets users see past contests or all the links mentioned above for the latest contest information and rules.
Users are more compelled to click on stories because they know they are time-sensitive. If they don't click now, then they may not get to since the story post only lasts 24 hours from its initial creation.
Instagram Stories, Giveaways, & Contests
Stories are such a great way to promote your contest or giveaway on Instagram. There are so many unique features, such as animations, music, and live streaming, that make it unique from other platforms. It's also a great platform to reach a few different age demographics since it has over a billion users.
If you need our help integrating Woobox tools into your giveaway, feel free to reach out to Woobox support from 8 am to 5 pm PST by phone at 1-360-450-5200 or by email at support@woobox.com.