Do your back-to-school campaigns need a boost? Deloitte predicts back-to-school spending will rise 16%, and digital learning tools will fuel tech sales by 37% over last year. Additionally, 59% of total expenditure will happen by the end of July.
With parents and caregivers looking for a deal, now is a great time to grab their attention with giveaway ideas and prizes. But don't forget about the kids and college students!
The right promotion helps parents and students ease back into the school year while driving traffic to your website and store. Use the following back-to-school giveaway ideas to build relationships with current and potential customers.
1. Keep It Simple With a Comment Entry Giveaway
Many parents welcome the back-to-school season. But it's also stressful. Comment entry giveaway ideas make it easy for people to participate. Skip the extra contest rules, like asking fans to follow your page or share your post. Instead, tell social media users to leave a comment on your post to be automatically entered into your contest.
Try a call to action (CTA), such as:
Are you ready for the school year? Enter our giveaway by leaving your answer in the comments!
Still, shopping for school supplies? Reply to our post with "yes" or "no" to enter our sweepstakes.
What grade is your oldest (or only) child in? Comment on our post for a free giveaway entry!
Plus, save time when choosing winners using the random comment picker. It automatically selects a winner from your social media post.
2. Ultimate Family Back-to-School Season Giveaway
Skip the school supplies and give families a coveted prize that'll make school nights or family time fun. First, determine what problems your audience faces as the school season starts. For instance, it's hard to get back into a routine, carve out family time, or eat a sit-down dinner.
Next, think about prizes the whole family can enjoy. Consider giving a grand prize gift basket with supplies for a family movie night or dinner and dessert. Then offer a few smaller rewards to three to five other people, such as coupons or lower-value gift cards.
An ultimate prize giveaway is a good time to partner with like-minded businesses. Each company contributes to the gift basket and shares giveaway details through social media, email, and their website.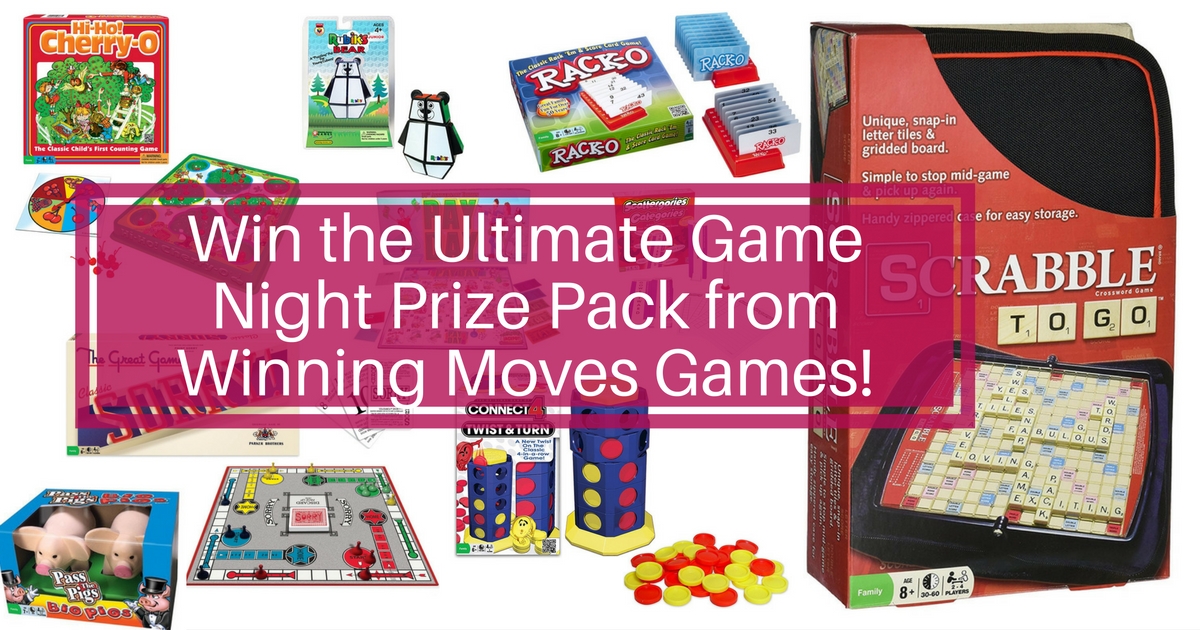 3. Reward Parents With a Grown-Up Only Giveaway
Adult-only back-to-school giveaway ideas give parents and caregivers a treat. Any customer-centric gift will do the trick. Start by adding an age requirement to your giveaway post and landing page.
Next, showcase an adult-friendly prize, such as:
Self-care beauty gift basket
Spa day gift card
Coffee, tea, and snack bag
Pick-your-prize from a list of products
Local winery gift basket
Promote your giveaway using content marketing. Create a listicle of the top 10 things parents could do once the kids go back to school or a list of 10-minute self-care activities. As a bonus, tie your prizes to your blog post.
For example, share five self-care activities and include items you're giving away, like "Steal 10-minutes of "me-time" by lighting a candle, applying a face mask, and putting your feet up until it dries."
4. It Takes a Village: The Best Tip Wins
Increase engagement on Instagram or Facebook by asking contest participants to leave their best tip in the comments. Tell fans to vote for their favorite entry by liking the comment and choose one with the most votes. This type of comment entry contest provides tons of user-generated content.
Consider sharing a tip from your audience in a quote image on Instagram. Or pull a "best of" list together after your contest ends, so your fans can view all the entries.
Giveaway post captions include:
What's your secret for getting kids in a bedtime routine?
How do you save time in the morning?
Share your best after-school snack idea.
What's your family's favorite weeknight dinner recipe?
Add your best tip for navigating back-to-school anxiety (for kids and parents).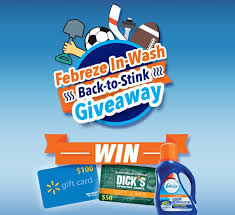 5. Get Kids Excited for a New School Year
Some children are pumped to get school supplies and bags. Others are less enthused about the start of the school year. Get creative with your back-to-school giveaway ideas by giving kids activities and prizes to look forward to.
If your audience is large, break your giveaway into age groups and award different age-related prizes. Older children may appreciate a gift card for in-app purchases, while younger ones like squishy balls or other inexpensive dollar-store prizes.
As a bonus, turn your giveaway announcement into an opportunity for parents to engage with their children. Caregivers ask their school-age kids a question and post the answer in the comments or talk about their coloring page or art activity.
Child-focused giveaway ideas consist of:
First day of school coloring contest
Comment with your school colors
Who put a smile on your face today, and why?
Poll: Pick your favorite school lunch

6. Host a Capture the Moment Photo Contest
Many parents snap photos of the big day and share them on social media. Host your contest on Facebook so your audience can add images in the comments. Do it on your business page or, for more privacy, on your group page.
Photo contest giveaway ideas include:
Bloopers-only: Share your funniest photo from the first day of school.
Customer giveaway: Post a picture of your child holding an item purchased from our company.
Last day of summer break: Add an image from your last days before school starts.
Parent selfies: Share a photo of yourself before or after your kids left for school.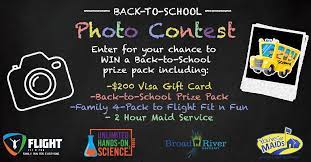 7. Back to College Giveaway Ideas: Video or Photo Contest
As of 2020, Gen Z makes up the majority of college students. According to the Global Web Index, they spend over eight hours a day online, and 26% used social media to make a purchaser in 2020.
Additionally, the National Retail Federation reports students and parents will spend $71 billion on back-to-college items. The top spending categories include electronics, dorm or apartment furnishings, and clothing.
Create a back-to-college giveaway or contest that challenges students to get creative. In exchange for their video or photo entry, offer gift cards to popular retailers and clothing outlets. If your brand targets Gen Z, customize a prize package for them.

8. Help Parents Tackle Their School Supply Lists
Parents are feeling the pressure between school supply shortages and rising costs, which is why many are shopping earlier this year. However, even before shipping delays and computer chip shortages, school supply lists presented a headache.
Schools, teachers, and kids need a lot of stuff. And tracking down those items while balancing costs with children's preferences can get hairy.
Commiserate with, survey, or get tips with the following back-to-school giveaway ideas:
Share a photo of your school supply list in the comments.
Did you find all the required school products? If not, what's missing?
Poll: Pick the retailer with the best back-to-school deals.
Shortage! Do you have a tip for our community on where to find Lysol wipes?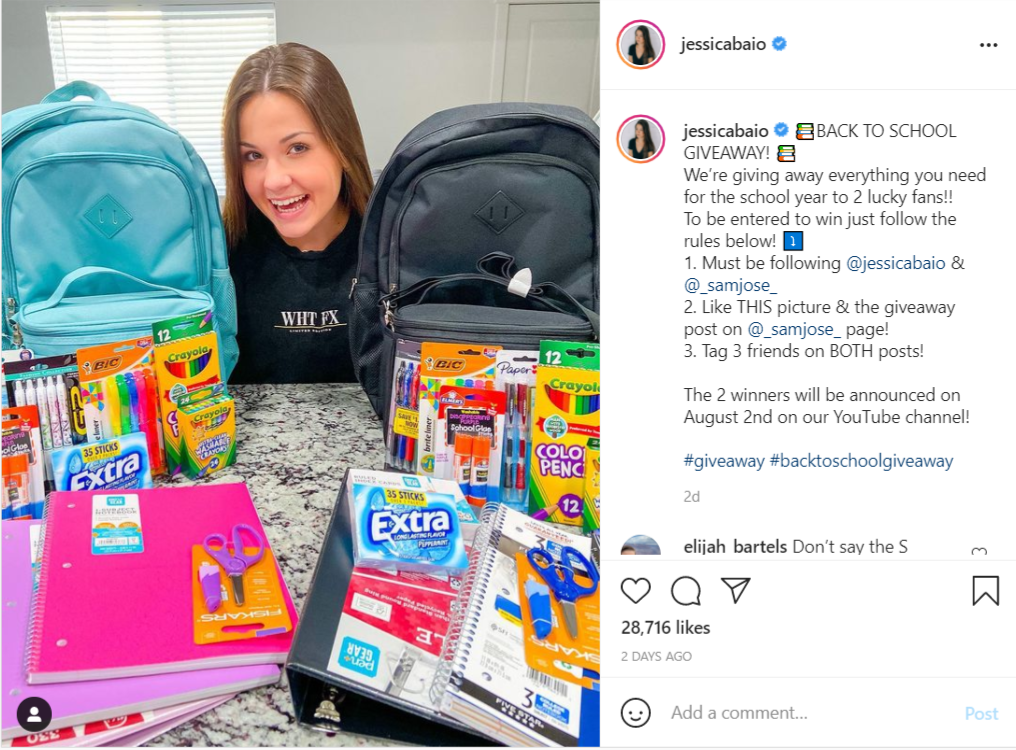 9. Use Giveaway Ideas to Fund a Local School Supply Drive
If you have a brick-and-mortar store, non-profit and community organizations often stockpile school supplies for children in your area. And many are experiencing shortages in 2021.
Engage your community and earn goodwill by brainstorming back-to-school giveaway ideas that bring your online community together around a shared cause.
Start by connecting the organization to see what their needs are and how your company can get involved. In some cases, they may want funds or gift cards. Others may prefer unopened supply donations. Next, create a short marketing campaign, including a supply drive giveaway.
However, if you're an online-only retailer, design a giveaway where participants nominate their local charity as the prize recipient. In both cases, consider awarding the non-profit and a random winner from your comments with rewards.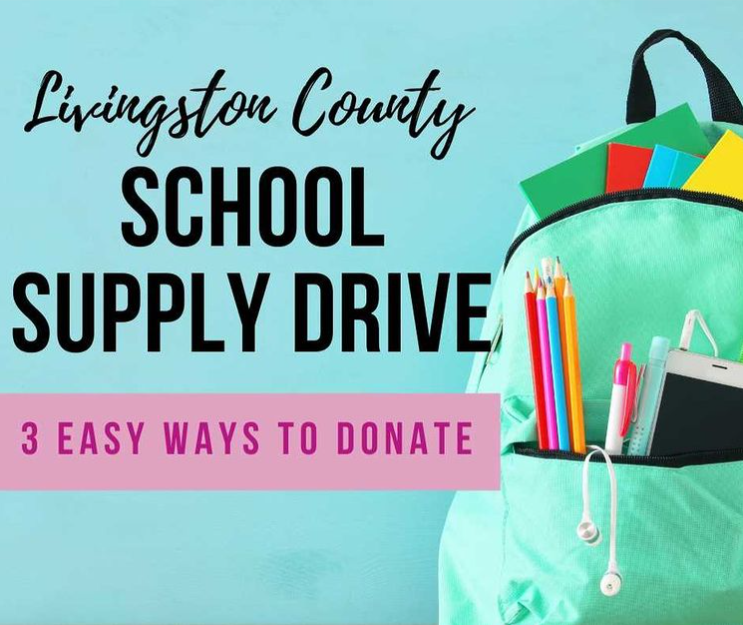 Cash or Gift Card Donations
Host a giveaway and tell fans you'll donate an amount based on the total number of giveaway entrants as of the contest end date. Encourage them to boost the supply drive prize by asking friends to enter either by tagging them in the comments or sharing a link to your campaign landing page. Don't forget to remind followers to donate to the charity, as well.
School Product and Supply Donations
If your local school drive requests specific products, put together a basket for them and a smaller yet personalized gift for your giveaway winner. Amplify your giveaway and the supply drive on social media by showcasing the prizes and asking your community to rally behind a great cause.
10. Back to School Promotion for Teachers
According to the 2020 Adopt A Classroom survey, teachers spend $745 a year on school supplies on average. And the Internal Revenue Service lets them deduct $250 on personal income taxes. In short, they always appreciate funds for school products.
There are roughly 3.6 million teachers in the United States, and they have plenty of friends who'd love to nominate them for a giveaway prize. Consider back-to-school giveaway ideas such as:
Tag a teacher who wants a chance to win a supply basket.
Are you a teacher? How many students are in your class? Leave a number in the comments.
Nominate a teacher, and the random winner gets the prize and a custom card with your child's name on it.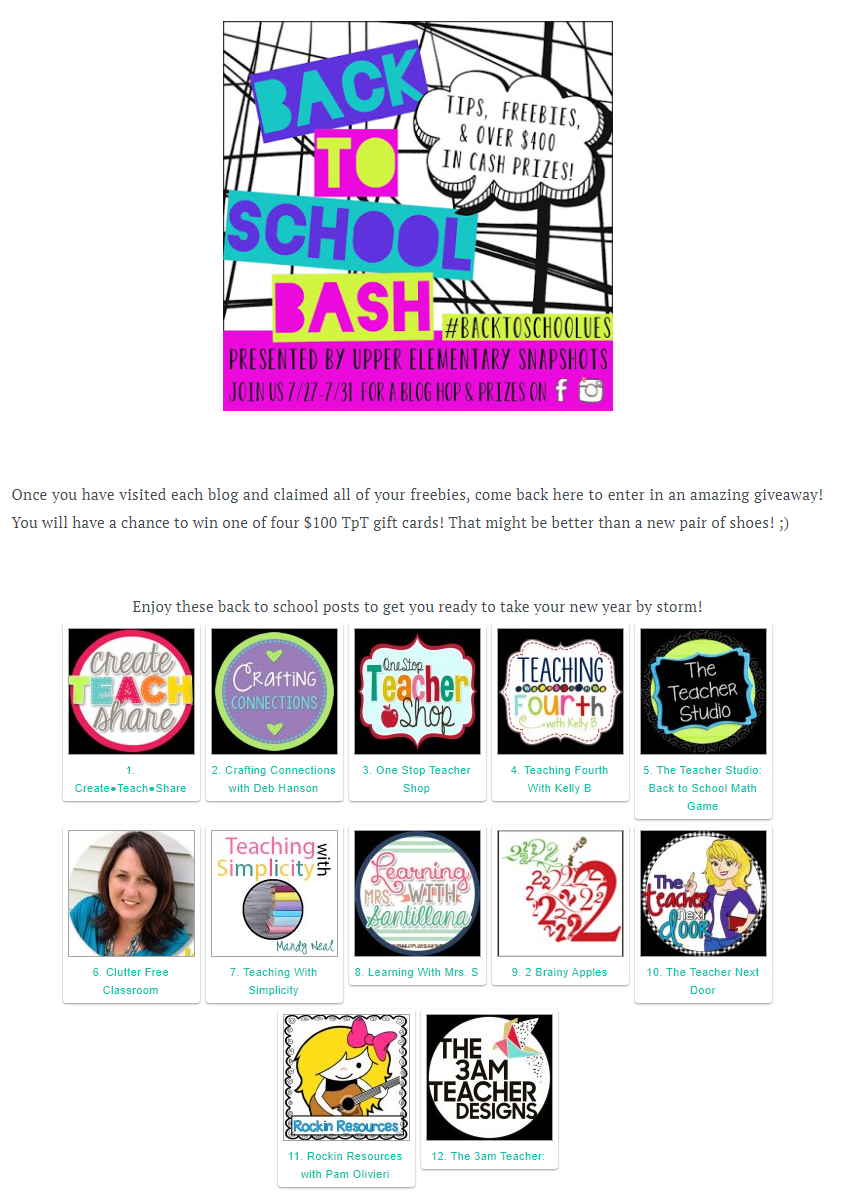 Get Creative With Back to School Giveaway Ideas
Back-to-school giveaway ideas entice parents, students, and teachers with coupons, special promotions, and gift cards. Build relationships with your audience by designing back-to-school marketing campaigns and strategies that support and engage your community.
Need help kicking off the back-to-school season?
Whether you want to save time or decide which Woobox experience is best for your audience, our team can help. Contact the Woobox team from 9 am to 5 pm PST, Monday through Friday at 1-360-450-5200 and via support@woobox.com.